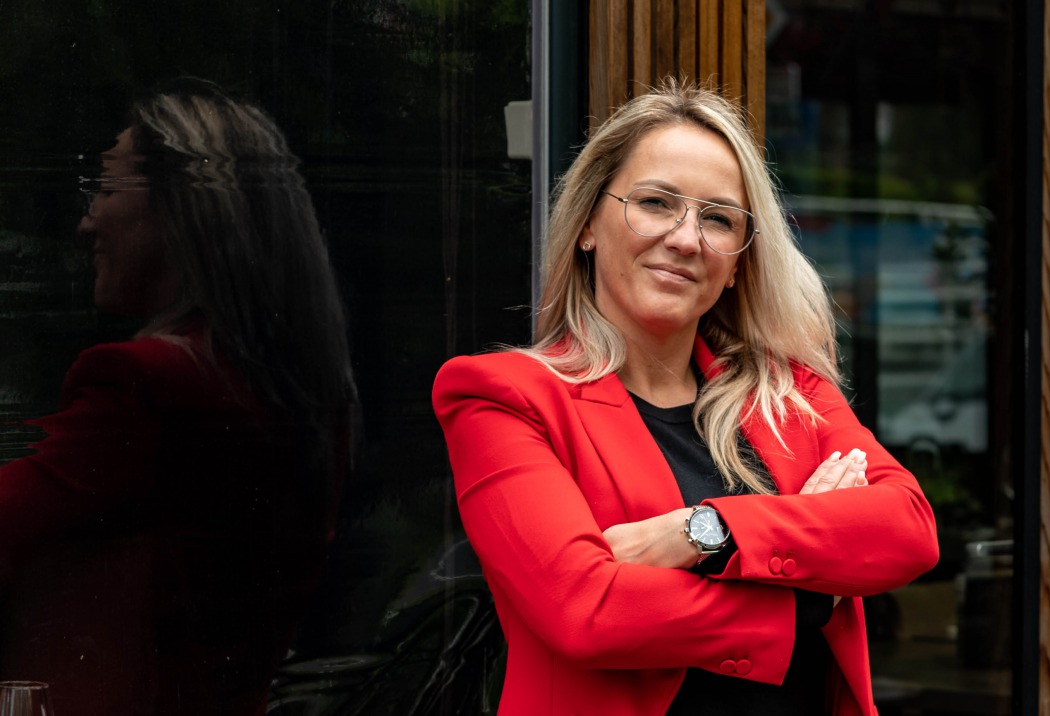 Veiligheidsportret 6 // Ginger
Sectie

Gesprekken
Veiligheidsportretten
Participatie
Ginger is geboren in Hoofddorp en is daar nooit weggeweest. Ze kent het dorp en haar bewoners erg goed, ook doordat ze sinds jaar en dag in de horeca werkt. Tegenwoordig is ze bedrijfleidster bij de horecazaak van haar schoonvader: een restaurant met een cocktail- en wijnbar eraan vast om voor of na het eten nog wat te drinken.
Verantwoordelijk voor veiligheid
In de zaak staat veiligheid voorop. Het is belangrijk dat gasten zich veilig voelen en het personeel veilig kan werken. Dus daar besteedt zij veel aandacht aan. Zeker in de horeca kun je elke avond overvallen worden, iemand kan doordraaien of een situatie kan escaleren. Dus je bent toch alert als je aan het werk bent. Je kan de kans op zulke onveilige situaties wel zo klein mogelijk maken door maatregelen te nemen. Niet alleen is hun veiligheid de verantwoordelijkheid van de eigenaar, het draagt ook bij aan een ontspannen en goede werksfeer.
"Het is een gewetensvraag als het gaat om veiligheid en uitsluiting. Om veiligheid te creëren, moet je regels handhaven die sommige mensen buitensluiten. Dat is soms heel lastig."
Ginger heeft ook maatregelen genomen om de sfeer veilig en gezellig te houden voor de gasten. Het gebeurde vroeger best vaak dat jongeren in de zaak voor irritaties zorgden of vechtpartijtjes veroorzaakten, soms doordat ze te veel gedronken hadden. Daarom is er nu een strenger deurbeleid. Dat is soms heel lastig, want je wilt niemand uitsluiten en niemand het gevoel geven minder te zijn. Maar helaas heeft het verleden bewezen dat regels nodig zijn om een goede sfeer te creëren. Dat kan met die bewakers en dat deurbeleid. En voor het personeel is het goed om te weten dat er iemand is die weet hoe te handelen in vervelende situaties. Zo iemand was vroeger niet nodig.
Veranderende sociale verbindingen
Geboren en getogen in Hoofddorp, ziet ze de verandering die het dorp heeft doorgemaakt. Vroeger was het echt een dorp, waar de mensen elkaar kenden, waar de sociale verbinding groot was. De afgelopen tien, vijftien jaar is het enorm gegroeid. Er zijn er veel mensen van buitenaf gekomen, waardoor de sociale verbinding automatisch minder is geworden. "Het kan toeval zijn, maar tegelijktijd zie je dat er de afgelopen jaren meer incidenten waren. Natuurlijk gebeurde er vroeger ook wel wat, maar het was wel anders dan nu."
"Misschien is het toevallig, maar je ziet dat de sociale verbinding minder wordt en ook het aantal incidenten toeneemt."
Vroeger, toen Hoofddorp nog nachthoreca had, waren er regelmatig akkefietjes. Een tijdlang was het elk weekend raak, en soms liep het de spuigaten uit met echt heftige vechtpartijen. Eén keer zelfs een schietpartij. Maar die generatie is nu ouder en wijzer geworden."
Doordat het horeca-aanbod in Hoofddorp is afgenomen en je vrijwel geen nachthoreca hebt, zijn er nu minder heftige gebeurtenissen. Toch lijkt het over het algemeen niet veiliger geworden. Kijk je naar die man die vorig jaar tijdens het pinnen werd neergestoken door zestienjarige jongens, dan is dat natuurlijk een extreem incident, maar het is wel waar dat er voor jongeren bijna geen aanbod is. Dus de kans is groot dat ze dan op straat gaan hangen. Ze zullen soms het randje opzoeken met kattenkwaad, en heel af en toe gaan er een paar over dat randje. Tegelijkertijd heeft deze groep de afgelopen coronajaren stilgezeten qua sociale ontwikkeling. "Het is de vraag hoe dat straks gaat, als ze weer alle vrijheid hebben. Vroeger ging dat geleidelijker, er werden voor elke leeftijd wel activiteiten en feestjes georganiseerd. Op die manier kon je langzaam je sociale kant ontwikkelen en ontplooien. Dat is wel minder nu, helemaal doordat ze twee jaar stil hebben gestaan."
"Ik denk dat er meer aandacht moet zijn voor activiteiten voor jongeren en dat we initiatieven meer moeten ondersteunen en stimuleren. Als er meer te doen is, ook kleinschalig, kunnen jongeren zich geleidelijk ontwikkelen. Daar zijn ook feestjes voor verschillende leeftijden voor nodig, zoals Up To You."
Veiligheid is voor haarzelf niet zo'n ding, zij voelt zich niet vaak onveilig. Toch bestaan er zorgen. Bijvoorbeeld over de steeds grotere verdeeldheid op actuele thema's. Die discussies zijn soms zo heftig, best beangstigend. Toen het restaurant verplicht was om coronapassen te controleren, stuurden mensen mails dat ze het belachelijk vonden, verschenen er slechte recensies op het internet, zeiden mensen nooit meer terug te komen. Vaak op een agressieve manier. Beveiligers werden uitgescholden omdat ze iemand weigerden vanwege een QR-code. Dat werkt wel intimiderend. Het was al keihard werken om de boel draaiende te houden, en dan had je ook nog veel onduidelijke regels die continu werden aangepast. Eerst mocht je niet binnen, maar wel buiten zitten. Dan mocht je weer wel binnen blijven maar niet staan. Vervolgens mocht je wel buiten zitten, maar niet binnen naar de wc, en dan weer wel. Natuurlijk was dat allemaal voor de veiligheid van het personeel en van je gasten, maar het was wel vermoeiend voor iedereen. De gasten kregen steeds meer lak aan de regeltjes, maar die werden de horeca ook maar opgelegd. Hopelijk is dit nu echt afgelopen.
Veiligheid in het dagelijks leven
Ginger woont in een kindvriendelijke buurt. Daar is een keer een kinderfiets gestolen, dat is eigenlijk het ergste wat er gebeurd is. In de buurt kunnen kinderen veilig spelen en als je er 's avonds een rondje loopt voel je je ook niet onveilig. Wel lijkt het haar onprettig als haar kinderen bij de Toolenburgerplas gaan spelen, terwijl dat vlakbij is. Er zijn daar meerdere incidenten geweest met stalkers en vandalisme. Maar je kunt hier rustig je kinderen veilig naar school laten gaan. Twee jaar geleden waren er wel incidenten rondom haar zoon. Hij werd gepest omdat hij andere interesses heeft dan sommige van zijn leeftijdsgenootjes. Het is een heel ondernemende en maatschappelijk betrokken jongen. Hij is actief op school en zit bijvoorbeeld ook in de jongerengemeenteraad. Dus het is misschien geen doorsnee puber. En dan komt er altijd wel een treiterkop die je eruit pikt en op je af gaat geven. Het was heel knap van haar zoon dat hij dat toen heeft verteld. Ze heeft contact gehad met de schoolleiding en die pakte het best groot aan. Een les werd stilgelegd, de pesters werden geconfronteerd met de gevolgen van hun gedrag. Haar zoon moest vertellen hoe het voelde om gepest te worden. Sindsdien gaat het eigenlijk goed en dat geeft wel een veilig gevoel.
"Veiligheid is ook dat je kan zijn wie je bent en dat er wat aan wordt gedaan als dat niet kan."