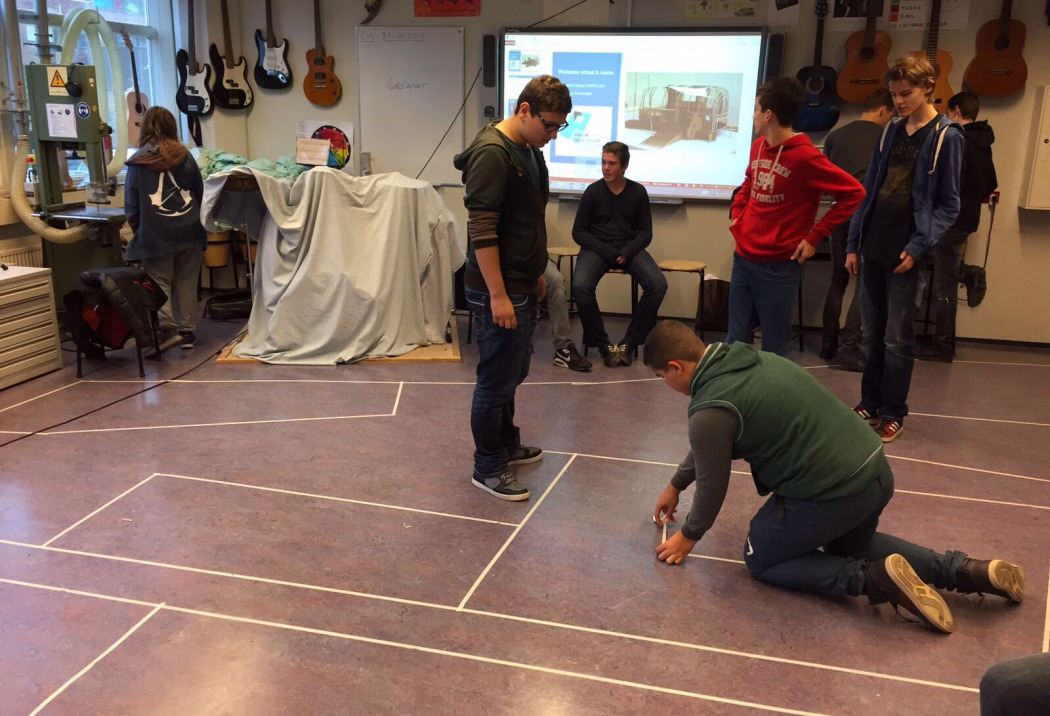 Hoe zou jij willen wonen op 16m2?
Sectie

Wonen
Ontwerpen
Hoe zou jíj willen wonen in een tiny house van 16m2?
Wat heb je in je huis echt nodig? Wat zou je kunnen of willen delen? Hoe wil jij de ruimte gebruiken? Wat vind jij belangrijk in een woonruimte? Jongeren deden in dit project extra onderzoek naar het koppelen van tiny houses (ruimtes delen) en tiny house-buurtjes (groepjes van ongeveer 6 tiny houses.
Opzet
Bij de opstart van het project kregen de jongeren gastlessen van ruimtelijk ontwerpers en architecten over schaal en ruimte. Zij zetten onder andere 1:1 verschillende ruimtes van 16m2 uit met tape. Daarna onderzochten en ontwierpen zij hun ideale woonruimte van 16m2.
Context
Meer dan de helft van de wereldbevolking woont momenteel in steden. De ruimte in deze steden is duur, met het gevolg dat mensen in steeds kleinere huizen wonen. Daarnaast zie je mensen die bewust in een kleiner huis gaan wonen omdat ze graag meer vrijheid en minder kosten willen hebben. Verschillende mensen delen daarom ook gemeenschappelijke ruimtes naast hun eigen kamer/ kleine woning.
Wereldwijd zijn er talloze voorbeelden van Tiny Houses (kleine huizen). Variërend van een kamer in een woontoren midden in de stad tot een opvang voor vluchtelingen. Maar ook een mobile home (verplaatsbaar huis) midden in de natuur is een voorbeeld van Tiny Houses.
Uitwerking
De jongeren gingen aan de slag als ontwerper en maakten kennis met verschillende ontwerpvaardigheden. Ze mochten de Tiny House helemaal voor zichzelf ontwerpen, maar mochten ook samenwerken om ruimtes te delen (bijvoorbeeld een woontoren met een gemeenschappelijke ruimte). Ze werken toe naar een ontwerp in tekeningen, een moodboard, een plattegrond, een maquette en foto's, filmpje of stop-motion animatie van de maquette waarmee ze tonen hoe het ontwerp werkt. De maquettes en de filmpjes werden tentoongesteld in Het Cultuurgebouw in Hoofddorp.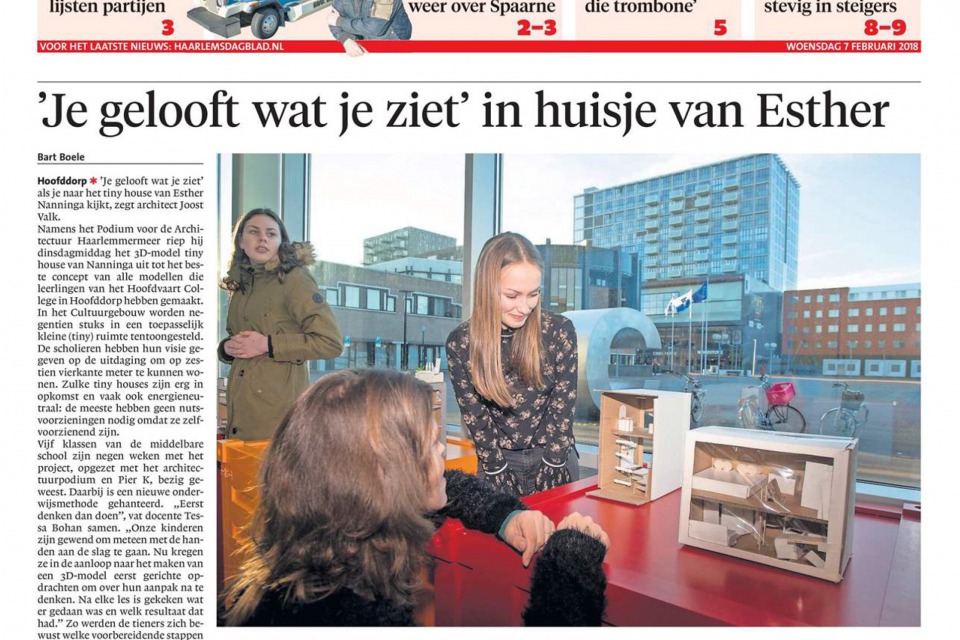 Thema's
Design Thinking, tiny houses, mobile houses, bouwen, ontwerpen, schaal, ruimtelijke vormgeving, private ruimte en gedeelde ruimte