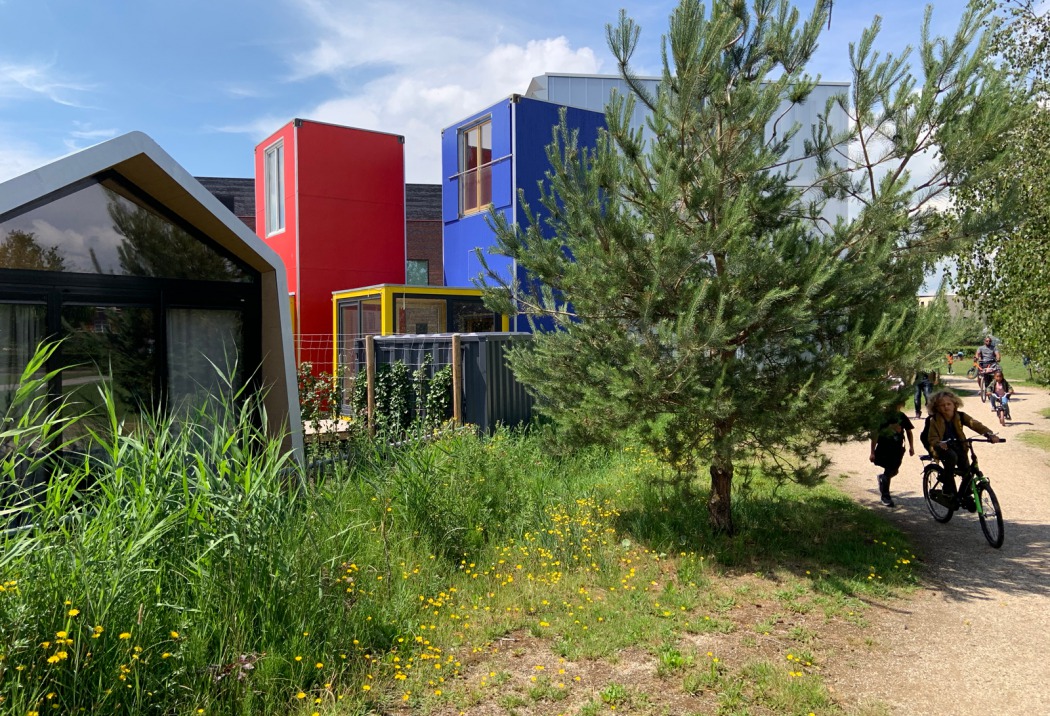 KIJK TERUG // DWVDA | Thuiswonen tot je 35e: jongeren in dialoog
Sectie

Wonen
De woningnood onder jongeren is groot. Wat is er aan de hand, wat is het probleem en waarom kunnen we dit probleem niet oplossen?
Thuiswonen tot je 35e
Dit is de ietwat verontrustende titel van een online dialoog met jongeren benoemde HC en Witte Weekblad de dialoog met jongeren op 17 juni. Een titel waar zorg uit spreekt vraagt om een goed gesprek, vanuit professionals die weten hoe de woonmarkt in elkaar zit. Vertellen wat er speelt, en weten hoe het komt dat er zo weinig aanbod is, helpt, niet om snel en woning te vinden maar om de oorzaken te begrijpen. Stefan Kollaart leidt het gesprek op deze warme avond.
Richard Dijksma vastgoed- en gebiedsontwikkelaar bij Timpaan benoemt de moeilijkheid voor jongeren om betaalbare woningen te vinden. Duidelijk zet hij de oorzaken op een rij:
Beperkingen in gebruik van grond door Schiphol (geluid).
Aantrekkelijke woonomgeving dichtbij Amsterdam. Veel vraag naar woningen.
Een woningvoorraad die vooral bestaat uit eengezins-woningen en maar beperkt uit appartementen.
Lange inschrijfduur bij de sociale huur van ca. 18 jaar en 8 maanden.
Bouw van woningen die steeds duurder wordt door nieuwe wet- en regelgeving.
Er is veel aandacht voor betaalbaar bouwen. Want ook Timpaan ziet het probleem van grote aantallen inschrijvingen voor een beperkt aantal woningen. Er wordt gekeken naar kansen voor geluidadaptief bouwen. Of meer woningen voor één- en tweepersoonshuishoudens en juist bouwen voor jongeren en senioren.
Wat hebben we nodig? Hoe kunnen we stappen maken? Architect Richard Proudley groeide op in de wijk Overbos en woonde ook noodgedwongen thuis tot zijn 25ste. Hij is afgestudeerd op Overbos en heeft onderzocht of de wijk aanpassing nodig heeft, of gebieden toegankelijker kunnen, groen beter benut en of er kleinschalig verdicht kan worden. Willen jongeren wonen in een wijk als Overbos?
Alleen goedkoop bouwen kan niet vertelt Richard Dijksma: goedkoper bouwen kan alleen in combinatie met duurdere woningen. De kosten blijven op die manier in balans. Richard geeft een kijkje in de bouwkosten en de verkoopprijzen zoals de Smartwoning in bijvoorbeeld Aalsmeer. De rug aan rug woning van ca. 68 m2 GBO heeft een kostprijs ca. € 190.000,- excl. BTW. Kostprijs incl. BTW is € 230.000,- VON. Minimale marktwaarde € 280.000,- VON. Inzet van Koopstart voor betaalbaarheid.
Zo ziet de stapeling van kosten eruit:
€ 20.000,- grondkosten;
€ 20.000,- bijkomende grondkosten (zoals: grond geschikt maken, slopen, gemeentelijke begeleiding, leveringskosten, etc.)
€ 125.000,- bouwkosten;
€ 20.000,- bijkomende kosten en rente;
€ 10.000,- AK, winst en risico.
Duizelt het? Richard Dijksma doet een oproep:
Laten we vooral slimme ideeën samen verzinnen om meer kansen voor jongeren te creëren. Bijvoorbeeld een jongerenraad / adviesgroep van jongeren bij nieuwbouwplannen? Laten we samen de eerste locatie vinden voor Smartwoningen in de Haarlemmermeer en concreet betaalbare woningen toevoegen.
Intussen zijn er vragen via de chat en deelt Yasmine, een jonge belangstellende, een belangrijk punt: Moeten we niet als jongeren een groot geluid maken naar Den-Haag toe? Daarbij illustreert zij ook haar eigen situatie en benoemt ze het belang van de focus op jongerenwoningen en de mix van woningtypes.
Enkele andere vragen die er tijdens de online dialoog gesteld werden:
''Ik word vanaf de 23ste dakloos doordat mijn antikraak woning verkocht is, wat word er aan dakloosheid gedaan onder jongeren? Zelf heb ik gereageerd op kamers, maar daar reageren veel mensen op.''
''Waarom niet ook focussen op überhaupt jongerenwoningen/starterswoningen ipv alleen maar "Sociale huur"-woningen? Genoeg jongeren die van alles mislopen, omdat ze onder verdienen of enorm overboden worden door "gezinnen". Dit geld eigenlijk voor zowel huur als koop.''
''Hoe wordt er aan jongeren gedacht die te veel verdienen voor sociale huur, maar te weinig verdienen/geen vast contract hebben voor een koopwoning met hypotheek?''
Richard Proudley wil als architect beter begrijpen waar jongeren aan denken, waar zij kansen zien, wat oplossingen kunnen zijn.
Bart Kessels van de gemeente ziet ook lichtpuntjes. Verspreid door Haarlemmermeer zijn verschillende projecten in ontwikkeling, gericht op jongeren. Zoals kleine units in Nieuw Vennep. Ymere ontwikkelt voor twee leeftijdsgroepen sociale huur- voor 18-23 jaar en voor 23-28 jaar met tijdelijke contracten van 5 jaar. DUWO ontwikkelt 500 studentenwoningen rond Hyde Park met een campus contract.
Waar dromen jonge mensen van? Kunnen we dat beschrijven? Kan een workshop helpen om elkaar te laten zien hoe het eruit kan zien? Hoeveel m2 is groot en hoe goedkoop is betaalbaar?
Dat helpt ontwikkelaars, gemeente en ontwerpers om beter te begrijpen en hun werk goed te doen.
Bart Kessels sluit af; hij vindt het stellen van deze vraag wel een mooie taak voor Podium voor Architectuur.
En zo besluiten we - er komt een vervolg dit najaar met een vorm van interviews en een workshop. Hoe willen jongeren wonen, wat zijn hun wensen, hoe ziet het eruit en zien zij kansen op onverwachte plekken? Wat kan wel?
KIJK HET ONLINE TERUG!
---
Uiteraard is ook de organisatie jong: Organisatie Jip Blom | Moderatie Stefan Kollaart | Techniek Dylan Hoogeboom