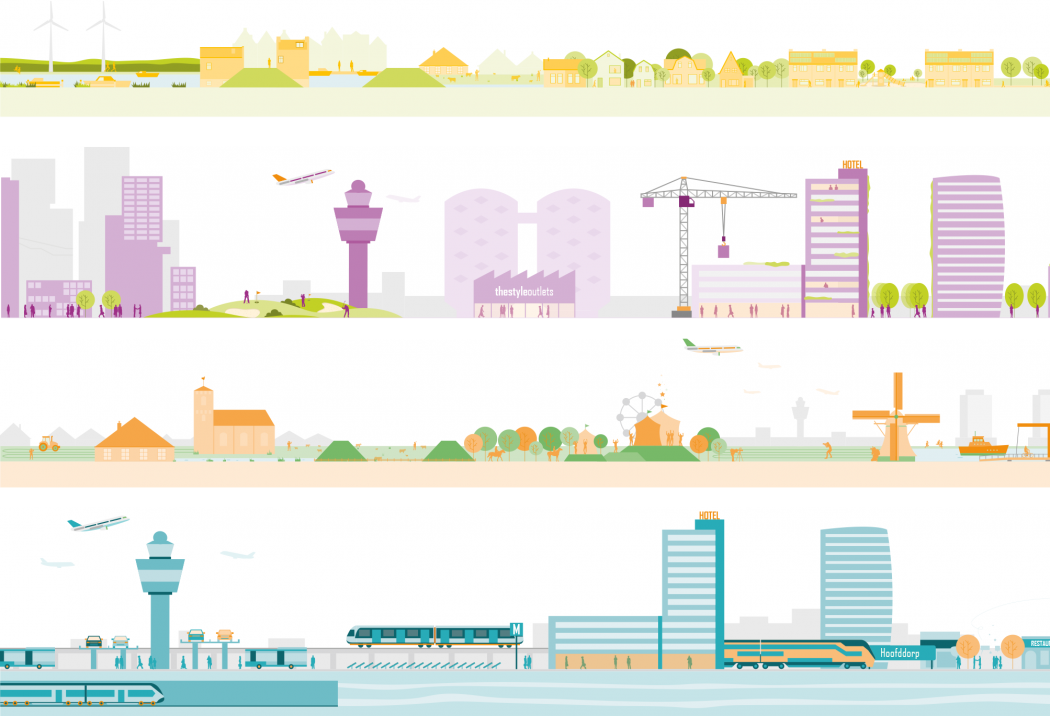 Ontwerp-Omgevingsvisie Haarlemmermeer 2040
Sectie

Visies HM
Hoe ziet Haarlemmermeer er over twintig jaar uit? Hoe kunnen mensen hier gezond en veilig wonen? En hoe blijft de gemeente goed bereikbaar en economisch welvarend? Daarover gaat de omgevingsvisie. Het college van burgemeester en wethouders heeft de ontwerp-Omgevingsvisie Haarlemmermeer 2040 besproken in juni 2021 en hem naar de gemeenteraad gestuurd.

Haarlemmermeer groeit door richting 200.000 inwoners in 2040. Ook dan moet het een fijne plek zijn om te wonen en te werken. Het moet goed bereikbaar, schoon en groen zijn met veel pleinen en parken waar mensen met anderen afspreken en veel ruimte om buiten te sporten of te ontspannen. Mensen moeten hier gezond en veilig kunnen leven, ook met Schiphol, snelwegen en bedrijven in de buurt. De gemeente wil in stand houden wat typisch is voor Haarlemmermeer: het open agrarische landschap en de oude polderwegen, de Ringvaart, de Geniedijk, de 31 dorpen en kernen met elk hun eigen sfeer en de bedrijvigheid en de luchthaven. De omgevingsvisie helpt om slim en zuinig met de ruimte om te gaan.
Tip: Lees onderstaande uitgebreide pdf (30MB) op een computer of laptop om goed gebruik te kunnen maken van de linkjes in het document.

Eén visie voor heel Haarlemmermeer
De omgevingsvisie vervangt alle structuurvisies, beleidsplannen en beleidsvisies van de gemeente. Het gaat in de omgevingsvisie bijvoorbeeld om verkeer en vervoer, water, milieu en natuur. Maar ook om het gebruik van natuurlijke hulpbronnen, economie, wonen, landbouw en cultureel erfgoed. Voor zover het gevolgen heeft voor de ruimtelijke ontwikkeling ook om sport- en recreatie, toerisme, veiligheid en gezondheid. De omgevingsvisie is geen optelsom van losse stukken, maar één visie voor heel Haarlemmermeer.

---