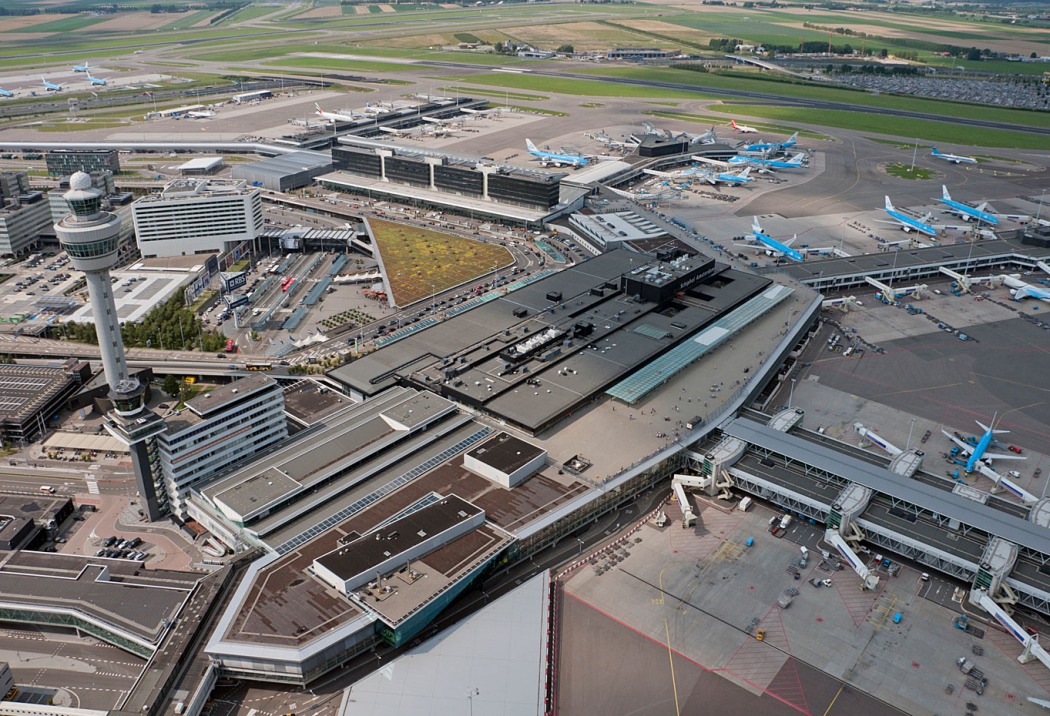 WeMaketheCity // Make Some Noise II
Sectie
In deze Make Some Noise, WeMaketheCity edition op 19 juni 2019 stond de vraag centraal: Hoe kan vliegtuiggeluid-adaptief bouwen circulair worden gerealiseerd en tegelijkertijd bijdragen aan een goede leefomgeving en microklimaat?
'Haarlemmermeer is leukste en de economisch sterkste gemeente van NL, op Amsterdam na dan…'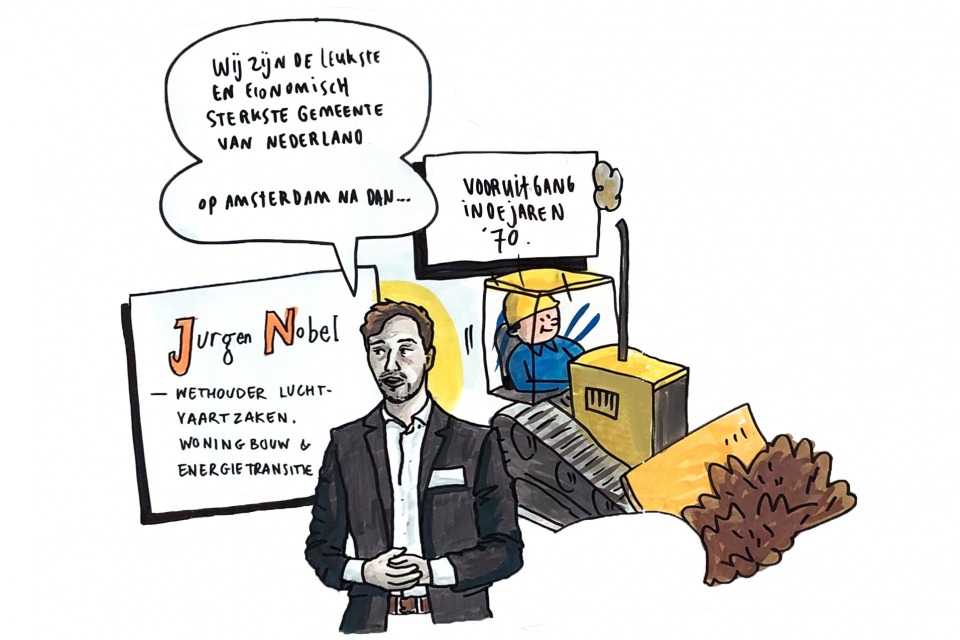 aldus wethouder luchthavenzaken Jurgen Nobel. Voorjaar 2019 zoeken het Amsterdam Institute for Advanced Metropolitan Solutions (AMS), de gemeente Haarlemmermeer en het Podium voor Architectuur Haarlemmermeer en Schiphol samen naar nieuwe manieren van bouwen in gebieden rond luchthavens. Centraal staat de vraag hoe vliegtuiggeluid-adaptief bouwen circulair kan worden gerealiseerd en tegelijkertijd kan bijdragen aan een goede leefomgeving en microklimaat. Het ontwerpatelier Make Some Noise is gericht op ervaringen vanuit bewonersperspectief, reflectie, constructief meedenken en ontwerpvoorstellen.
Inspiratiesprekers
Peter van Assche (Architect) en Martijn Lugten (Promovendus) vanuit wonen, geluidadaptief bouwen en leefomgeving.
3 ontwerptafels
Wat willen we als bewoners van de luchthavenregio?
Tafel Loos van Vliet - typologie, ordening, omgeving.
Tafels Bureau SLA / Studio JvM - typologie, circulair gebouwontwerp, woonwerkvormen.
De logica van wonen De vraag: is iets logisch? Antwoord: binnen welk systeem? (Een zekere) logica is alleen te ontdekken binnen een set onderliggende afspraken. Als de afspraken veranderen, verandert ook de logica. Echter veranderen afspraken voortdurend.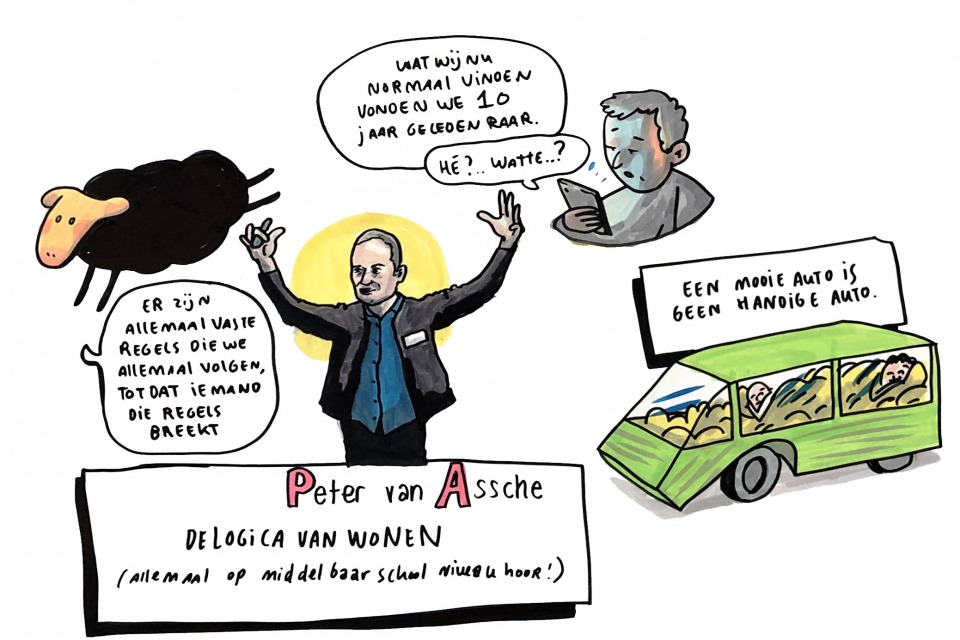 Peter van Assche, architect & informatietheoreticus dwingt de deelnemers aan Make Some Noise tot anders nadenken over logica, regels, wensen, woonvormen, financiering. Hij pleit voor anders bouwen en anders nadenken over bouw. Er zijn vele regels die we allemaal volgen … totdat iemand de regels breekt. Architecten moeten de regels af en toe bevragen en de bakens verzetten, om de maatschappij anders te laten nadenken over woon- en leefwijzen.
Wie heeft ooit bedacht dat je van wonen rijk kunt worden? Dat is een basisrecht! Waarom zou je voor een woning afhankelijk zijn van overheid of markt? Je kunt het heft ook in eigen hand nemen. Zoals bij een wooncoöperatie met bewoners, waar huur terugvloeit en wonen geen winstoogmerk kent. 'De meeste mensen kiezen nog steeds voor het rijtjeshuis, maar naast het huis is vooral ook de buurt belangrijk. We hebben behoefte aan meer geborgenheid.' Iedereen wil in een hofje wonen, al 400 jaar lang; een hedendaags hof waar mensen met gezamenlijke interesses kunnen wonen.
'Als je dingen samendoet, ga je ook samen voor elkaar zorgen.'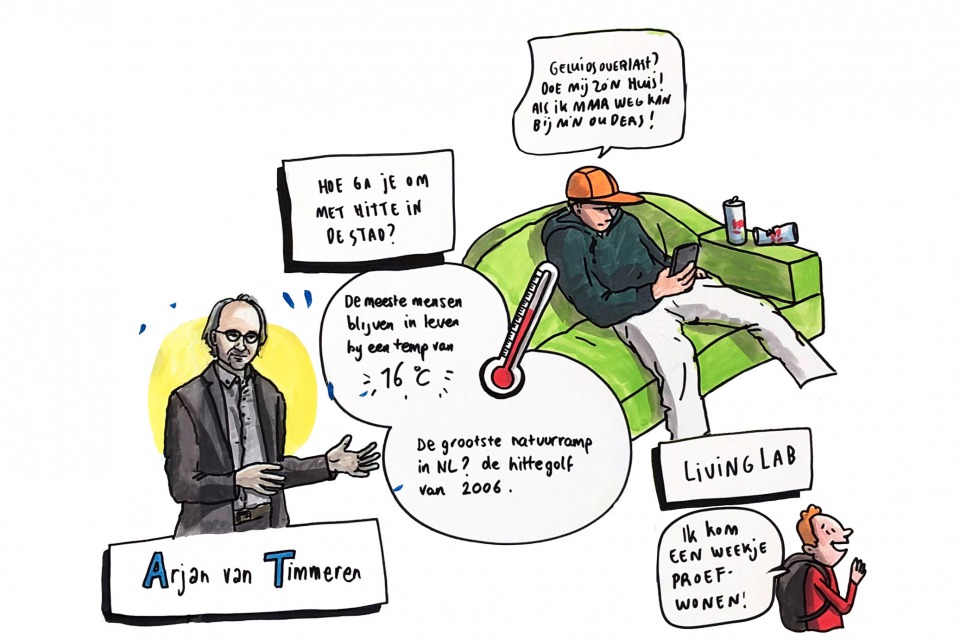 Hittestress
De verbinding van onderzoek en beleid, onderzoek en ontwerp naar projecten is een enorme kans die we moeten inzetten. AMS heeft 160 onderzoeken lopen in de regio vertelt Arjen van Timmeren, wetenschappelijk directeur AMS Institute en hoogleraar Environmental Design aan de TU Delft. Zijn onderzoek richt zich op milieutechnologie (stedelijk metabolisme), industriële ecologie, duurzame gebiedsontwikkeling en zelfvoorziening. Een van de vragen is 'Hoe ga je om met oplopende temperaturen en hitte in de stad?' De meeste mensen blijven gezond in leven bij een temperatuur van 16 graden Celcius. De meest recente natuurramp in NL was de hittegolf in 2006.
Een van de grootste opgaven is de verstedelijking, met name de snelle groei / verandering met grotere dichtheden en complexiteit.
En dat bij een toenemende urgentie op gebied van duurzaamheid en leefbaarheid. Een andere grote uitdaging is 'veerkracht'. Op het gebied van klimaatadaptatie zijn er grote veranderingen nodig. Slimme systemen en gebruik van 'real-time' data spelen daarbij in toenemende mate een rol. Een voorbeeld ter verheldering. Er is één goed voorbeeld te noemen van een groen dak (kantoorlocatie Marineterrein t.o. AMS) dat voorziet in waterberging in combinatie met de juiste beplanting van grassen die voor verkoeling zorgen en daarmee van een hoog rendement van zonnepanelen. Dat systeem functioneert. In tegenstelling tot sedumdaken die, mits ze uitdrogen en niet actief bewaterd worden, voor extra warmte uitstraling en dus indirect uitstoot zorgen.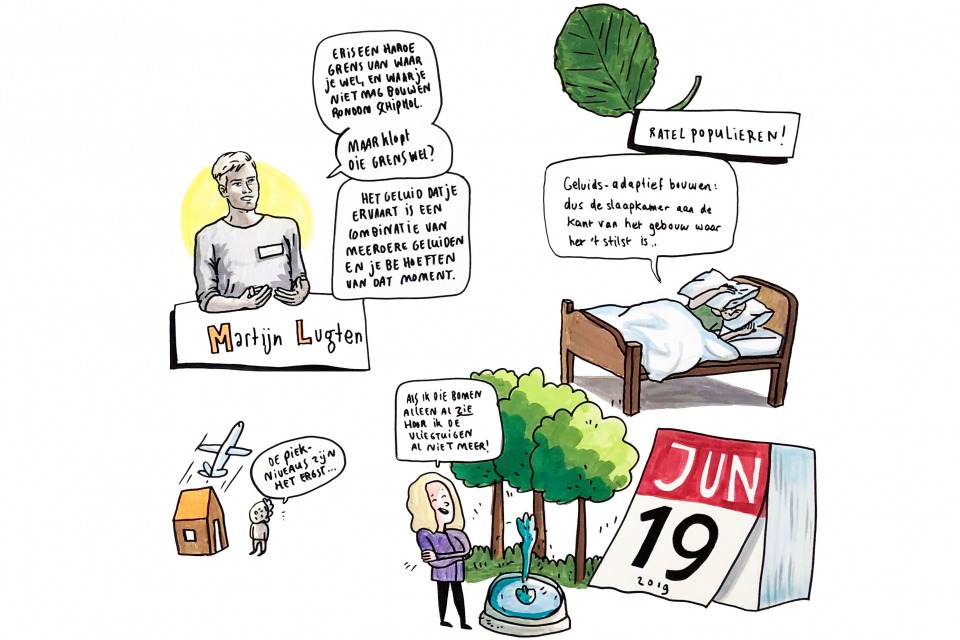 Geluidsomgeving
Het geluid dat je ervaart is een combinatie van meerdere geluiden en je behoeften van dat moment. In het ontwerpen van steden hebben de ontwerpkeuzen invloed op de 'geluidsomgeving'. Dat betekent dat ontwerpers zowel visuele als auditieve omgevingen ontwerpen, en daar nagedacht kan worden aan het beperken van bepaalde 'onprettige' geluidsbronnen, of het accentueren van 'prettige' bronnen. In relatie tot vliegtuiggeluid is er de afgelopen jaren gekeken naar de impact van de gebouwde omgeving op de voortplanting, verstrooiing en afzwakking van vliegtuiggeluid door gebouwen. De resultaten laten, afhankelijk van de locatie, grote verschillen zien. Aanvullende simulatiestudies laten zien dat de geluidniveaus verder kunnen worden beperkt door bijvoorbeeld schuine vlakken, strategisch toepassen van hoogbouw, materiaalgebruik, inkepingen en uitkragingen. De effecten hangen sterk af van de locatie t.o.v. het vliegpad, maar ook van stedelijke dichtheid. Andere maatregelen, zoals water en vegetatie hebben ook een effect op de beleving van vliegtuiggeluid, zonder het geluid als zodanig te verminderen. Water en groen hebben ook weer invloed op het stedelijk microklimaat, luchtkwaliteit en koeling, waarmee een koppeling tussen geluid en duurzaamheid kan worden gemaakt. Hoe en waar moet de komende tijd verder worden onderzocht.
Drie tafels
Wat is logica – kunnen we de vraag toepassen op deelaspecten? Wat zijn de afspraken binnen de huidige tijd? Binnen de huidige omstandigheden? Kan het anders, kunnen we anders nadenken over logica, regels, wensen, ontwerp, techniek, groen, woonvormen, financiering?
De doelstelling opnieuw inhoudelijk maken
Wat is er lokaal écht nodig?;
Hoe waardering te verkrijgen van gebouwde locatie en kwaliteiten? ;
Wonen is iets anders dan bouwen;
Maak een integraal plan voor een goede woonomgeving;
Zelfsturing verminderd stress.
Ruimtelijk en ontwerp
Creëer lokale kwaliteiten;
Beleving van goed ontworpen groen, lucht, ruimte, kan geluid doen reduceren;
Het ontwerpen van een goede groene omgeving heeft een dubbel effect;
Ontwerp een goed openbare ruimte inclusief stilteruimtes;
Ontwerp van gevels in combinatie met innovatieve materialen( bv geprinte buisjes met absorberend vermogen.
Persoonlijke keuzes/leefstijl
Specificeer: deze plek is geschikt voor doven en/of spotters;
Geluidsoverlast? Doe mij zo'n woning; als ik maar weg ben bij mijn ouders;
Introduceer Living Labs –innovatie – toetsen;
Introduceer proefwonen of logeren – Noise B&B – een dynamische omgang met geluid – een belevingslab;
Herdefinieer de uitgangspunten – hoogbouw vs. alternatieve vormen, community woningen voor verschillende woongroepen en leeftijden;
Experimenteer met combinaties van wonen en werken, slapen aan stiltezijde van het huis;
Ontwikkel buitenplaatsen en verleid ontwikkelaars.
Beleving
Als er een vliegtuig overkomt, houden gewoon even meditatief ons mond;
De vliegtuigen zijn vervelend maar de rust ertussen, het ervaren van pauze is weer heel fijn ;
Geluiddichte woningen in een geluidslandschap;
Geluidsschermen van groen rond een complex van woningen;
Verplaatsbare verblijfsplekken afhankelijk van geluid, hitte;
Plant een Schipholbos en wordt Schipholtrots;
Sensible sharing.
Omgang met geluid
Creëer een geluidarme ontmoetingsplek in een geluidszone;
Moeten we gaan Ontklanken?;
Ontwerpen aan een ander type geluid bv ratelpopulieren;
Het geluid dat je ervaart, is een combinatie van meerdere geluiden op dat moment en je behoeften;
Verbouw isolatiemateriaal als hennep en olifantengras.
Het programma van 19 juni was onderdeel van WeMakethe.city 2019.