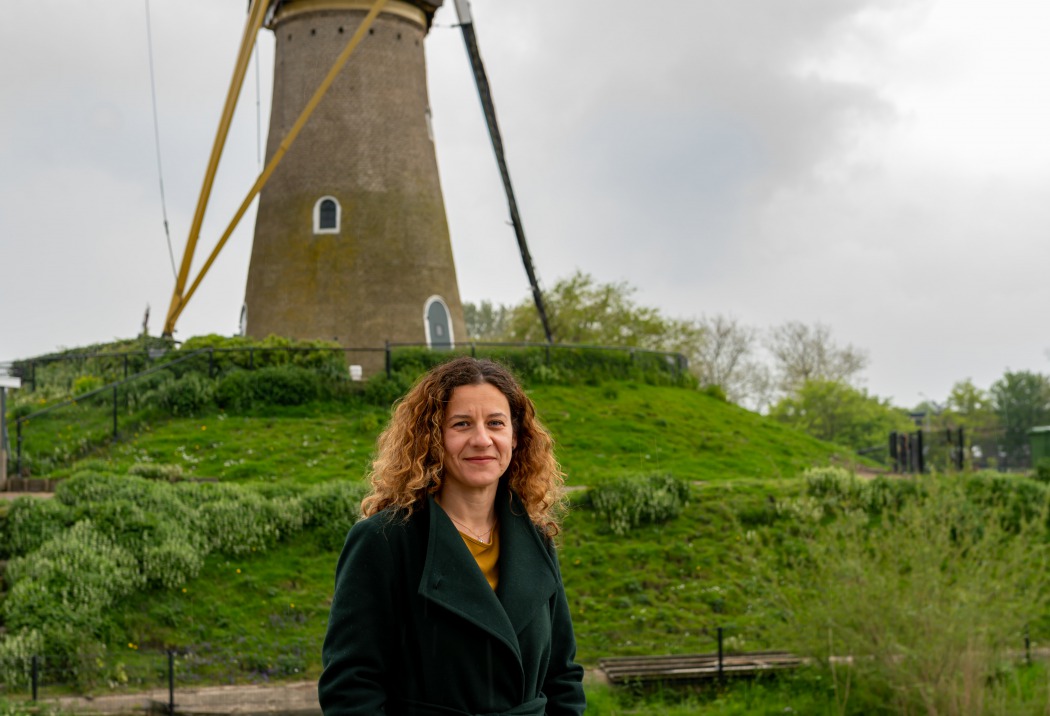 Leila hoopt op landelijke sfeer
Sectie

Gesprekken
Haarlemmermeer Groeit
Groeiportretten
Participatie
Verplicht samenwonen.
Eind 2019 heb ik mijn relatie met, nu mijn ex-man, beëindigt. Daarna hebben we nog meer dan een jaar samen moeten wonen, voordat we ook fysiek gescheiden waren. Dat was nogal een zware periode, want je kan je voorstellen dat je niet graag nog samenwoont als je hebt besloten om te scheiden. We hebben verschillende strategieën ingezet, om ervoor te zorgen dat we allebei een plekje konden krijgen. Het was een belastende situatie. De spanningen tussen ons kon je niet uitschakelen. Wonen is je basis, het is je huis, maar het zou ook je thuis moeten zijn. Dat is je basis, je thuis. Nou het is 13 maanden lastig geweest om mij thuis te voelen. Na de scheiding ben ik gelukkig in het huis kunnen blijven wonen. Ik woon momenteel in Pax, samen met mijn twee kinderen van 12 en 6. Ik ben niet echt gehecht aan het object, maar het is mooi wonen, en de kinderen kunnen in "hun" buurt blijven– met hun vrienden en naar school op loopafstand. Dit was voor ons de beste oplossing. Ik ben blij dat ik het zo heb kunnen oplossen, maar had ik een andere keuze gehad, had ik het misschien niet gedaan. Het is best wel een grote financiële last voor iemand die alleen is. Ik verdien te veel om een sociale huurwoning te krijgen. Ik ben tijdelijk meer gaan werken, om de hypotheek maar rond te krijgen. Dus in principe kan ik het betalen, maar de bank stelt natuurlijk bepaalde eisen. Ze zijn al coulanter voor mensen die uit elkaar gaan. Maar als je ziet hoe die huizenprijzen geëxplodeerd zijn, is het bijna niet meer te doen. Met een middeninkomen kan je alleen echt niet zelf een huis of appartement kopen of in de vrije sector huren. Voor een sociale huurwoning heb je dan al teveel inkomen. Ik vind het schandalig dat je, als eenpersoonshuishouden eigenlijk geen schijn van kans hebt. Je wordt verplicht om samen te wonen.
Betaalbaar wonen is een basisrecht.
Kijk ik betaal nu aan hypotheek voor een huis met 5 kamers, net zoveel als voor een 3 kamer woning in de vrije sector. Het is onzin om überhaupt naar de vrije sector te kijken. Je krijgt er veel minder voor terug. Ik zou mijn kinderen nu eigenlijk al moeten inschrijven bij de woningbouw als dat mogelijk was. Ze zullen denk ik nog heel lang bij mij wonen. Ik weet niet wat er gaat komen. Waarschijnlijk studieschuld. Ik verwacht dat ze pas als ze 30 zijn eindelijk iets kunnen huren hier in deze regio. Daar denk ik wel nu al over na, hoe kan je dat oplossen? Ik denk niet dat alleen de gemeente hieraan moet meewerken. Het is een landelijk politiek vraagstuk Al sinds ik in 2008 naar Nederland ben verhuisd, verbaas ik me al over de woningmarkt situatie.
Ik bedoel…, voor lage inkomen is het echt lastig. Dat is toch bizar? Het zou een basisrecht moeten zijn. Absurd. Het maakt het alleen maar lastiger voor iedereen. Het aantal daklozen is in de laatste 10 jaar verdubbeld. Ik hoor van gezinnen die in de problemen komen. Door scheiding ineens in een lastige woonsituatie terecht gekomen zijn. Die moesten met het gezin naar de daklozenopvang. Gewoon mensen die werken he. Wat denk je wat voor impact dat heeft op deze mensen en ons als samenleving? Het is geen uitzondering, het gebeurt veel vaker.
Maak een woon carrière mogelijk die past bij leeftijd en -stijl.
Je moet het systeem herzien. Er moet gewoon meer bij. Er zijn hier geen vrijesectorwoningen beschikbaar voor een aannemelijke prijs. Persoonlijk leef ik niet graag in een flat. Maar aan de andere kant, als er woningen nodig zijn, zou ik dat wel ter beschikking stellen voor mensen die een woning nodig hebben. Je moet er wel voor waken, dat je een goede mix hebt. En ik denk dat het zinvol zou zijn als er meer doorstroom gerealiseerd wordt. In Duitsland, waar ik lang gewoond heb, is het normaal als je op je 20ste uit huis gaat en een eigen appartementje huurt. En dat je daarna eigenlijk een gewone woon carrière hebt en zo nodig doorstroomd naar iets groters. De vrije sector is qua woningprijzen veel toegankelijker. Maar hier is dat niet. Als je begint in de woningmarkt, is het prima om in een appartementje in een flat te wonen. Maar dat je wel perspectief hebt om door te stromen als je dat wilt.
Leven in een groenrijke omgeving.
Ik heb het idee dat ik over 20 jaar ga downsizen. Mijn wens is een kleiner huis met meer groen eromheen een tiny huis misschien. Het liefst in de omgeving van Hoofddorp. Maar het is afhankelijk hoe het hier verder ontwikkelt. Ik zit hier aan de Geniedijk, ik heb vrij uitzicht.
Maar als het hier drukker wordt, en er veel gebouwd gaat worden, ga ik toch wat landelijker leven. Het liefste wel in de buurt van mijn kinderen.
Stel ik mag een locatie kiezen waar ik mijn tiny house kan neerzetten? Ik heb Bosnisch achtergrond, dus ik heb altijd sterke verbinding met Bosnië. Daar hebben mijn ouders een huis in de bossen. Ik zie mij daar in de zomer wonen. En in de winter in Nederland. En dan heb ik geen voorkeur voor regio of een specifieke provincie. Niet in m'n eentje op een groot veld, maar wel met een groen uitzicht!
Ik heb onlangs wel een project gezien in Eindhoven, dat mij aansprak. Daar hebben ze een stuk land beschikbaar gesteld waar woningen die kleiner dan 50m2 zijn gebouwd mogen worden. De woningen staan in clusters, ook om de gemeenschap te bevorderen. Ik hoef niet per se in een hele kleine community te wonen, maar ik kan me vorstellen later ook met de zorg, dat het handig is als je in een groep woont om bepaalde voorzieningen gezamenlijk te dragen.
Het is voor mij vooral belangrijk om groen om je heen te hebben. Ik kan niet goed bestaan in een grijs gebied. Ik ben in Düsseldorf opgegroeid, en op zich de voorzieningen in zo'n stad zoals het openbaar vervoer zijn super geregeld, maar het is er erg druk. Ik ben wel overgevoelig voor veel prikkels, voor veel geluiden. Dus iets met meer groen, waar ik rust kan vinden is voor mij veel beter. Als dat betekent dat ik iets verder moet reizen voor bijvoorbeeld de supermarkt, dan zou ik daarmee kunnen leven. Dat kan je gewoon plannen. Maar idealiter heb je dat natuurlijk in de buurt. Ook duurzaamheid en vooral duurzaam bouwen is belangrijk.. Kijk naar de mogelijkheden, en neem deze mee voor de toekomst.
Kansen voor het centrum van Hoofddorp.
Toen ik hier kwam wonen, viel het me op dat het centrum en het horeca aanbod niet denderend was. Er was weinig aanbod. Maar het is inmiddels wel veranderd, verbeterd. Om een stadsgevoel te creëren mag er wel meer bij. Er zijn wat pogingen gewaagd op het Burgemeester van Stamplein, maar het blijft een heel saai kil plein. Ik heb niet het gevoel als ik langsloop, oh ik ga daar zitten… Het Raadhuisplein, lijkt ook geen onderdeel van het centrum, dus dat moet er meer bij worden betrokken. Dat is denk ik het belangrijkste vraagstuk voor het centrum;
hoe verbind je de loshangende locaties met elkaar?