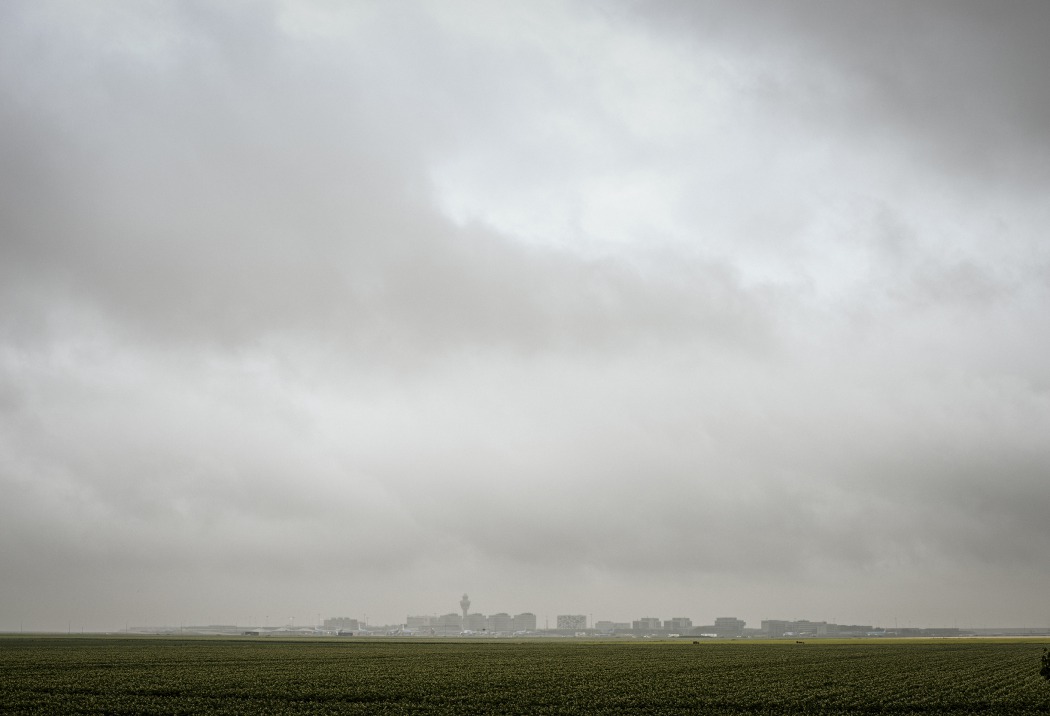 Mees en Judith van Nieuwenhuijzen
Sectie

Polderlintportretten
Gesprekken
Mees en Judith van Nieuwenhuijzen beheren Zorgboerderij Vlinder in Hoofddorp. Wat maakt wonen en werken op deze plek aan het polderlint bijzonder?
30 juni, Zorgboerderij Vlinder, Hoofdweg 474, Hoofddorp.
Historisch gezien was de scheidslijn op de Geniedijk. Wat ik uniek vind aan deze locatie is Schiphol, onze achterbuurman, dat blijft leuk en intrigeert je, daar kijk je altijd naar, de actie. We hebben er niet veel last van. Het is hier een oase van rust. Het beweegt altijd, en het leeft altijd, 's avonds altijd lichtjes, het heeft iets. Dat vind ik het bijzondere van Hoofdweg Oostzijde. Daar komt bij dat het hier nog open is, weinig bebouwing, akkerbouwland, zowel voor als achter. Dat is uniek. Pas geleden kregen we een brief, dat er een aanwijzing ligt voor zonnepanelen, een zoekgebied. Maar dat gaat richting Zwanenburg. Het zou een raar gezicht zijn als die parken hier komen.
Zelf ben ik erg gesteld op het akkerbouwland. Wij zijn altijd boer geweest, op de Adolfshoeve, alle generaties, over- en grootvader, vader en ik als vierde generatie. Die boerderij is tien jaar geleden verkocht aan de provincie. Toen zijn mijn vrouw en ik, 'het vierde gewas' geworden, een zorgboerderij. Een initiatief van de gemeente. Ik ben van het loonwerk en Judith van de zorg. De levensvatbaarheid van de akkerbouwers vergroten was een doelstelling. In 2006 zijn we hiermee begonnen. Het liep toen tijdje gelijk op, akkerbouw en zorg. Vervolgens zijn we met akkerbouw gestopt, en hier verder gegaan, met Zorgboerderij VLINDER. Er resteert een hectare eigen land, ten dienste van de zorgboerderij. Er lopen geiten, er is gras om te maaien, een moestuin. Het meest bijzondere aan deze plek vind ik dat het groene en de industrie in elkaar overlopen. Dat groen het gewoon goed doet en industrie ook. Als je ziet dat Schiphol hier heel dichtbij is, zoveel industrie en dat hier verder allemaal boeren zitten, die lekker kunnen draaien en hun producten kunnen afzetten. Dat is een heel mooie combinatie. Het hoeft niet los van elkaar kan allemaal met elkaar te maken hebben. De ruimtelijke component maakt het interessant. Je ben niet afhankelijk van de industrie of Schiphol. De combinatie is gewoon heel mooi. Het is niet of of. Het is niet tegen groen of tegen industrie. Er is een tussenweg. Je hoeft niet tegenover elkaar te staan. Deze weg is juist een hele mooie verbindingsweg om dit naar elkaar toe te trekken. Het een kan niet zonder het ander. De Hoofdweg is eigenlijk een verbindingslint. Letterlijk en figuurlijk.
De Hoofdweg functioneert als doorgaande weg goed. Er wordt te hard gereden. Het is een schitterende weg. Het is een N weg, een provinciale weg, dus en hogere snelheid is toegestaan. Het mag van mij wat minder hard. Het is een groene weg, wat hem heel mooi maakt, zeker op zomerdagen met de lange schaduw van de bomen. Het is een heel praktische weg, die ook weer alles verbindt. Voordat de Drie Merenweg was aangelegd, was het hier een crime. Die erge drukte is nu over, je bent overal zo. Eigenlijk is het meer een luwe weg geworden.
In het weekend wordt de Hoofdweg veel gebruikt voor recreatie met de fiets. Door de weeks meer schooljeugd en woon werk verkeer. Je kunt leuke cirkels maken vanuit het dorp gezien. Er zijn verschillende snelheden; de banenfiets, speedfiets, brommers, alles over dat ene fietspad. De wielrenners zijn irritant, die moeten allemaal voor 1 juli bij de Tour de France zijn. Dat is een landelijk gehoorde klacht dat ze met z'n drieën naast elkaar fietsen op zo'n snelheid dat ze eigenlijk beter op de weg zouden kunnen fietsen.
De Hoofdvaart functioneert niet als vaart. Wij hebben geen boot, een enkele keer komt er iemand varend langs. Vissen, een bootje. Terugkijkend in de tijd; we hebben geschaatst en Sinterklaas is er een paar keer doorheen gevaren, dat was het wel. Suppen, misschien zou dat wel kunnen en wat meer richting het dorp een terras bij het water. Je zou best wat plekken kunnen maken waar je makkelijk met je kano of je sup board makkelijk het water op kunt. Je kunt er nergens uit, dus pleziervaart zit er niet echt in maar de lengte pakken, dat is best een ervaring.
Agrarisch erfgoed als identiteit
Agrarisch erfgoed betekenis geven in de toekomst en identiteit? Het is jammer dat er steeds meer hoeves verdwijnen. Die aan de overkant staat op instorten. Waar nieuwbouw komt, is het allemaal een beetje van hetzelfde. Een schuur met damwandplaten, dat haalt wel wat karakteristieks weg. Het is functioneel maar het zou wel leuk wezen als er nog van het oude bewaard kan blijven.
Waarom die sloopzone, en wat komt er dan voor terug? Je ziet het allemaal zo verloederen
De Adolfshoeve, hij wordt genoemd in de sloopzone. Waarom die sloopzone, en wat komt er dan voor terug? Je ziet het allemaal zo verloederen. Wat gaat er dan mee gebeuren; het antwoord komt niet boven. De sloopzone baart ons wel zorgen. Wie kan dan nog die overdracht vanuit het verleden doen, educatief gezien? Ik ben hier later komen wonen. Ik weet eigenlijk niet of het me raakt dat het gesloopt wordt. Het is heel oud en er moet heel veel aan gebeuren. Aan de andere kant is het gewoon jammer als het weg is. Ik weet niet of het mij emotioneel raakt.
Kunnen we nog iets leren, wat moeten we bewaren of wat mag weg?
Ik heb er niets mee, ik ben er niet mee opgegroeid maar Mees is hier geboren, de vierde generatie. Ik ben erin komen wonen maar ik heb er niets mee, met dat huis. Wel met de hoge bomen eromheen, de plek, het groen. Dat zou ontzettend jammer zijn als het allemaal weg is.
In die 17 jaar dat ik hier woon, zijn de mooiste hoeves verdwenen. Karakteristieke gebouwen zijn afgebroken, daar had de jeugd van kunnen leren, hoe mooi een boerderij met bomen kan zijn. Een oprijlaan van kastanjebomen. Dat is wel interessant voor de polder, de erfbeplanting, ook al is het oude gebouw verdwenen. Dat past bij de identiteit. Bij nieuwbouw kun je zeggen dat een gazen huis niet past in het lint. Maar je kunt wel aan karakteristieke bouw denken en dan kastanjes of notenbomen, dat hoorde bij het buiten wonen. Dat weet de jeugd niet meer, hooguit van de boerderij van hun oma. En zeker, als je in mijn jeugd dacht over boerderijen of buiten wonen, waren het kastanjebomen en notenbomen dat hoorde bij het buiten wonen. De notenboom, niets lekkerder dan vers.
Open karakter
Wij hebben hoofdzakelijk fruit geplant, en hebben een bestaande singel. In de geitenweide staan vier karakteristieke bomen, die beginnen nu heel mooi uit te lopen. Wij hebben het bij lage bomen vanuit de wens van de overbuurman. Want, bij hoge bomen, is hij zijn uitzicht op Schiphol kwijt. Die wil geen hoge bomen voor de verkeerstoren.
Die contour is belangrijk, het moet open blijven. De mensen die hier wonen, wij hebben geen last van Schiphol. Ze vliegen hier niet. Wij hebben uitzicht, dat dat is reuring, een vliegtuig dat voorbij rijdt, het raden naar een maatschappij. Bezoekers en cliënten vinden het machtig. Eentje zit de hele dag voor het raam, vliegtuigen kijken. Hij gaat niet naar ''buiten kijken maar vliegtuigen kijken''. De boompjes moeten daarom goed gesnoeid.
Je hoort natuurlijk heel vaak de oproer over Schiphol. Wij plukken de vruchten ervan. Je zou bijna een camperplek beginnen, ik denk dat we ieder weekend vol zitten. Niet het lawaai, niet de overlast, hooguit de kerosine. Ik snap de overbuurman ook wel, niet dat we alles voor hem laten maar je bent ook met elkaar in overleg.
Ik denk dat het heel belangrijk is dat je het economisch belang in de benen houdt, dat zie je wel aan de verloedering. Als er geen economische groei is, zie je de panden direct verloederen. Ik was van de week in Rijsenhout en je ziet al die ouwe kassen staan. Hoe houden we het in beweging? Dat is wel spannend. Mag je wel of geen caravans plaatsen, wat mag je als onderneming? Dat is moeilijk.
Stel, dat het zou mogen dat je mag overnachten in de Adolsfhoeve, hoe uniek zou dat zijn. Dat je 's avonds van het weidse uitzicht zou mogen genieten. Dat ie niet wordt gesloopt; er moet veel worden verbouwd naar een luxe spottershotel.
Dit is agrarisch gebied, het heeft nog wel een toekomst maar er wordt steeds meer land ingepikt. Het zonnepanelen park bij Zwanenburg, dat is ook weer een groot stuk dat eraan gaat. Er liggen nog best veel stukken grond, die van de provincie Schiphol, hier zijn nog nooit mensen iets komen vragen. Omwonenden hebben al 1000 keren gebeld? Nou wij niet hoor. Wij kunnen tot diep in de nacht buiten zitten, niemand hoort je niemand ziet je. Wij horen ook niets. Of het zijn gillende kinderen die langsfietsen. Dat is lawaai, dan slaan de honden aan. Mees en Judith van Nieuwenhuijzen bieden op zorgboerderij Vlinder dagbesteding voor mensen met een verstandelijke beperking of dementie zijn. Dit was ooit aangekocht als compensatieboerderij voor het park van de 21e eeuw. Daar is natuurlijk de rem op gezet, de compensatie functie vervalt. Toendertijd was het de Dienst Landelijk Gebied die het aankocht, de Adolfshoeve en meer van die boerderijen.
Beleving & persoonlijke noten De identiteit van deze plek is toch dat dorpse, het klinkt raar. Het gemeenschapsgevoel, ook al is het er niet. Hoofddorp is toch steeds meer een stad. Hier is het een beetje of de tijd heeft stilgestaan. Het centrum gaat zo ontzettend hard, dat vind ik lang niet even prettig om naartoe te gaan. Ik vind ik het altijd prettiger om aan deze kant van het viaduct te fietsen. Daar ligt de grens naar het genoeglijke. Het jachtige leven hoeft van mij niet zo.
Als wij achter bij ons huis buiten zitten en er komt visite, waar gaat dan de aandacht naartoe? Bij een gezin met kinderen lopen mensen naar de box. De eerste aandacht is gericht op het kind en dan begroeten ze de ouders. Bij ons begint het meteen over het uitzicht, en daarna pas over hoe het met ons is. Wij hebben geen last van de drukte, het geluid, maar een paar kilometer verderop wel. De krant schrijft over omwonenden van Schiphol, hier zijn nog nooit mensen iets komen vragen. Omwonenden hebben al 1000 keren gebeld? Nou wij niet hoor. Wij kunnen tot diep in de nacht buiten zitten, niemand hoort je niemand ziet je. Wij horen ook niets. Of het zijn gillende kinderen die langsfietsen. Dat is lawaai, dan slaan de honden aan.
Je zou bijna een camperplek beginnen, ik denk dat we ieder weekend vol zitten
Mees en Judith van Nieuwenhuijzen bieden op zorgboerderij Vlinder dagbesteding voor mensen met een verstandelijke beperking of dementie