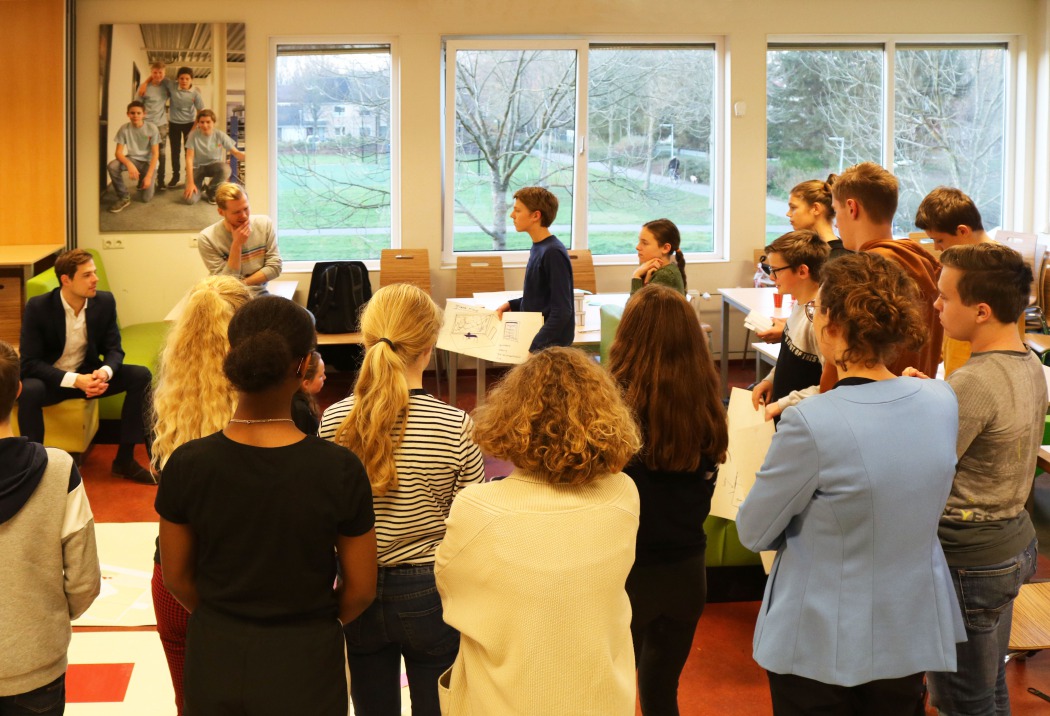 Ontwerpatelier geluidadaptief bouwen met jongeren
Sectie

Wonen
Luchthaven
Ontwerpen
Make Some Noise is een ontwerpatelier met jongeren gericht op geluidadaptief bouwen in een omgeving vol vliegtuiggeluid.
Wat hebben we nodig voor een goede leefomgeving, hoe willen jongeren bouwen en wonen? Vanuit een snelkookpan gingen drie ontwerpers met jongeren ontwerpen vanuit de kansen die jongeren zien.
Martijn Lugten (PhD en post doc TuD) gaf als rolmodel een inleiding op zijn onderzoek aan University of Cambridge: Geluidadaptief bouwen.
Drie jonge ontwerpers architectuur, interieur en landschap begeleidden drie groepen op weg naar concrete uitkomsten.
De drie thema's
Leefomgeving - landschap - openbare ruimte - tuin
Vorm – exterieur – samenstelling functies – gestapeld – hofjes
Functies - interieur van gedeelde ruimte voor games, werkplaats, woonkamer, logeerkamer
De sessie begon met een gesprek over hoe jongeren van het Kaj Munk tussen 12 – 16 jaar geluid ervaren. Het is een diverse groep leerlingen vanuit heel Haarlemmermeer, zelfs Haarlem. Een derde van de familieleden van de jongeren is werkzaam bij de luchthaven. Uit inventarisatie blijkt dat iedereen wel vliegtuigen hoorde, waar ze soms wel eens last van hadden maar
'het geluid is er gewoon, daar zijn we aan gewend'.
De jongeren zien het als een gegeven blijkt uit het gesprek. 'Als je aan het bellen bent is het wel eens vervelend wanneer er ineens een vliegtuig overvliegt'.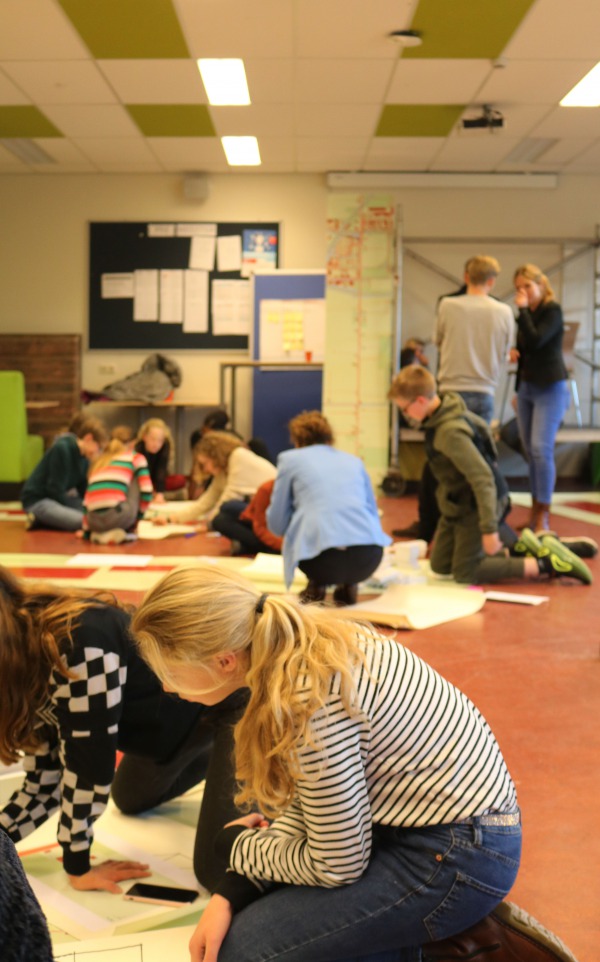 Na de introductie houdt Wethouder Jurgen Nobel een presentatie. De Wethouder heeft vroeger zelf ook op het Kaj Munk gezeten en legt uit wat zijn rol als Wethouder inhoudt 'als hulpje van de Burgemeester'. Hij geeft aan dat de gemeente Haarlemmermeer zelf ook proeven wil doen met geluidadaptief bouwen. Wat werkt wel en wat werkt niet? Welke materialen heb je nodig? Hij haalt aan dat het onderzoek van Martijn daar goed bij kan helpen.
Jurgen is heel benieuwd naar de ideeën van de jongeren voor het geluid van Schiphol. Het blijkt dat hij de dag erna op bezoek gaat bij Dick Benschop (CEO Schiphol Group) en wil hem graag vertellen hoe de leerlingen van het Kaj Munk hierover denken.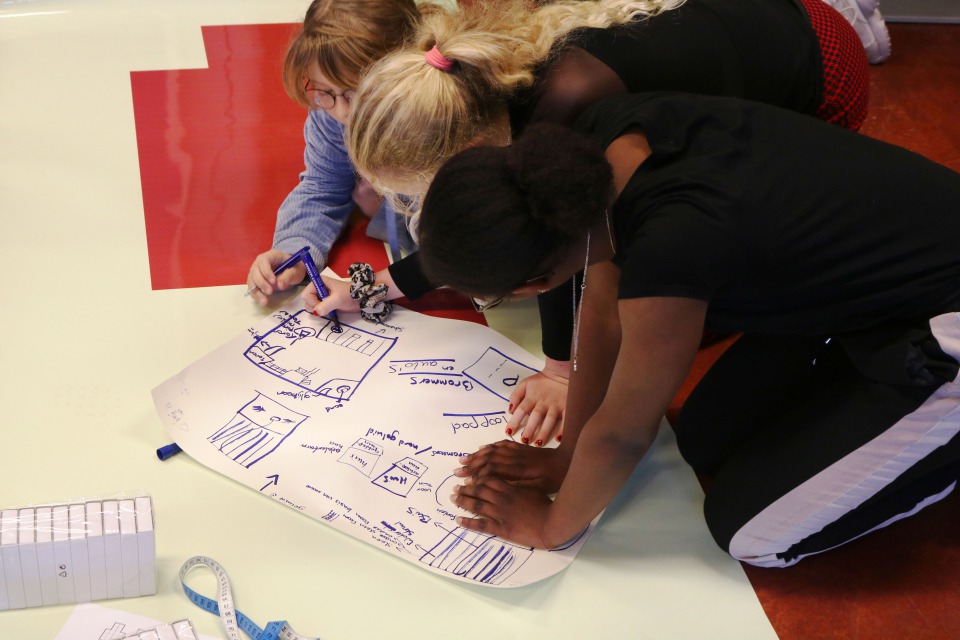 Een greep uit de slimme oplossingen van de leerlingen:
Geluidstrillingen worden door de constructie van de woning omgezet in energie voor de woning.

Stedenbouwkundige situering: plaats de woningen zodanig slim tussen het groen en water, met voldoende hoogte en schuine daken voor zonnepanelen bovenop de appartementencomplexen, die het geluid weerkaatsen.

Een getrapt appartementencomplex waardoor het geluid naar boven wordt begeleid door de vorm. Op deze manier ontstaan er interessante (collectieve) stilteplekken. Bovendien werken de terrassen goed als groen dakpark, wat bijdraagt aan geluidsreductie.

De woningen schuin op de weg zetten, waardoor het geluid gereduceerd wordt. Geluid komt uit het oosten. Doordat de huizen schuin staan, wordt het geluid weerkaatst, waardoor je aan de achterkant van de woningen stilte creëert.

Alle huizen met een plat dak voorzien van vlieringen, zodat je weerkaatsingen kunt genereren. De bewoner krijgt daarnaast meer opslagruimte of een extra woonlaag.