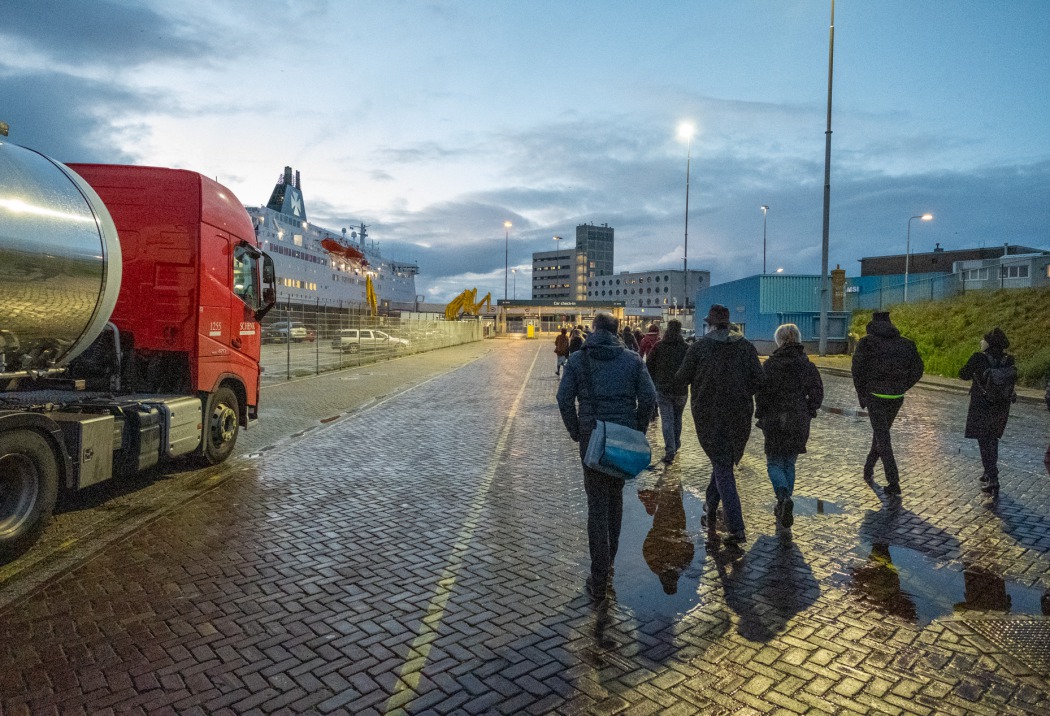 Safari 5: Noordzeekanaalzone
Sectie

Theo Baart
Artikelen
MRA
Ruimtelijke ordening is, bedacht ik toen ik na afloop van deze vijfde MRA-Safari in de bus langs het Noordhollandsch Kanaal naar mijn woonplaats Purmerend reed, schieten op een bewegend doel. Observaties door Pieter Hoexum
Een doel dat bovendien nogal onvoorspelbare bewegingen maakt: tegen de tijd dat je het in het vizier hebt, is het alweer opgeschoven. Ruimtelijke ordening is onbegonnen werk, het is een gebed zonder einde. Ruimtelijke ordenaars lijken daar niet mee te zitten, vol enthousiasme vertellen ze telkens weer hetzelfde verhaal:
er is al heel veel bereikt… en er moet nog meer gebeuren.
Het Noordhollandsch kanaal was nog geen kwart eeuw in gebruik, toen het al te kort schoot. Het was gegraven in opdracht van koning Willem I (de "kanalenkoning"), omdat Amsterdam door de verzandende Zuiderzee onbereikbaar was geworden voor zeeschepen. Toen het kanaal in 1824 na vijf jaar graven gereed was, was het het breedste en diepste kanaal ter wereld. Maar een omweg van 80 kilometer door een kanaal bleek toch teveel voor zeeschepen, die sowieso steeds vaker stoomboten waren en te groot waren voor het kanaal.
De meest logische, want kortste, verbinding van Amsterdam met de Noordzee zou een kanaal zijn dat door de duinen bij Velsen gegraven zou moeten worden, maar dat werd altijd beschouwd als een onmogelijke taak. Halverwege de negentiende eeuw durfde men het toch aan en in 1876 kwam het Noordzeekanaal gereed. Er werd een doorgang naar de Noordzee gegraven precies op de plek waar de duinen het smalst zijn - een stuk dat vanouds de bijnaam "Hollands op zijn smalst" had.
Tegen de tijd dat het Noordzeekanaal af kwam, was de uitdrukking "Holland op zijn smalst" al spreekwoordelijk geworden voor Hollandse benepenheid: Victor de Stuers had het als titel gekozen voor zijn artikel in De Gids in 1873 over het beperkte Nederlandse kustbeleid. Drie keer kregen we tijdens deze MRA-safari, die deze keer door de Noordzeekanaalzone ging, het verhaal over "Holland op zijn smalst" te horen. En drie keer was de suggestie dat dit gebied nádat het kanaal gegraven was, wel een soort Hollands op zijn breedst mag heten, of Hollands op zijn best. Misschien is dat niet eens al te overdreven, het is eigenlijk niet echt mooi, maar het werkt wel en het heeft in al zijn rauwheid – misschien mag je wel zeggen: in al zijn lelijkheid - toch een eigen charme.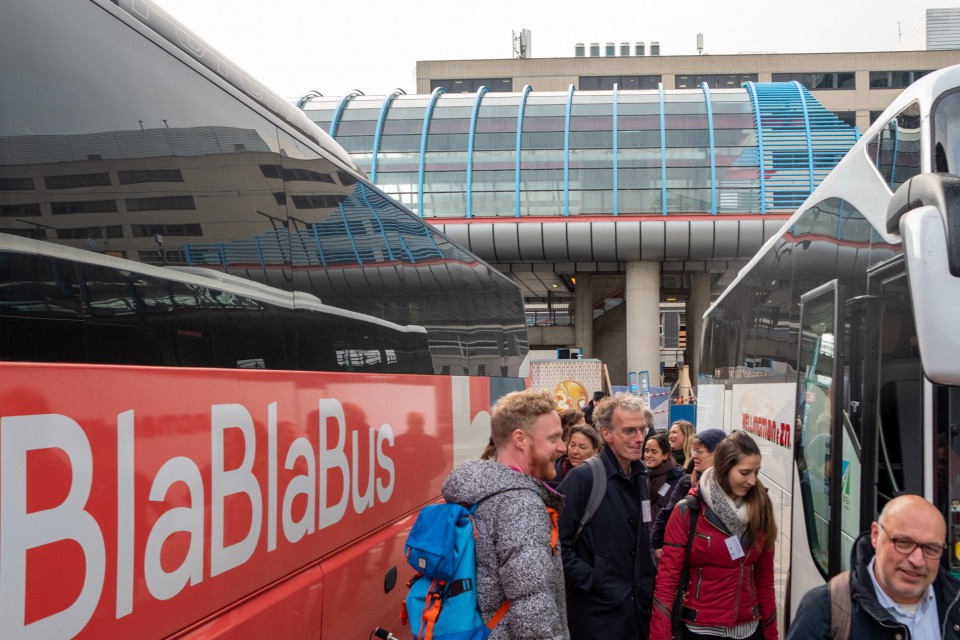 Maar deze Safari begon bij station Sloterdijk waar gespreksleider Ton Bossink in de bus maar meteen met de deur in huis viel: er staat rond dit station veel te gebeuren. De omgeving van Sloterdijk moet veranderen van een monofunctioneel kantorenterrein naar een meer gemengd en levendiger gebied met ook woningen en hotels. En de haven, die eigenlijk vlakbij station Sloterdijk eindigt, zal op de een of andere manier 'circulair' moeten worden: waar het ene bedrijf warmte over heeft, moet een ander die kunnen krijgen, enzovoorts.
Ook Jacques Warmerdam, die vervolgens tijdens de busrit het woord kreeg, viel maar met de deur in huis:
gemeentes als IJmond, die aan de rand van de MRA liggen, hebben eigenlijk het gevoel dat Amsterdam steeds zijn straatje schoonveegt…
in hun richting: de omliggende gemeentes moeten de rotzooi maar opruimen. Met man en macht proberen ze paal en perk te stellen aan de steeds verdere uitbreiding. Met bijvoorbeeld het 'Groene schip', waar we langs reden, als resultaat. Het groene schip is een enorme vuilnisbelt – maar ook een landschapselement en zelfs recreatiegebied waar je kan klimmen, klauteren, wandelen, mountainbiken en zelfs skiën. Bovendien moet het een herkenbare grens markeren tussen de havens en het recreatiegebied Spaarnwoude. De heuvel is als het ware een entree voor bezoekers, en hij zegt tegen Amsterdam: tot hier en niet verder.
De bus reed verder langs het Noordzeekanaal, onder de A9 en A22 door naar Velsen-Zuid. De entree bleek nogal rommeling, met een rioolzuiveringsinstallatie, afvalinzamelingspunt en woonwagenkamp. Even verderop konden we opeens een glimp opvangen van een van de vele 'buitens' die hier sinds de zeventiende eeuw door rijke Amsterdamse kooplui gesticht waren. Velserbeek en Beeckestijn bijvoorbeeld, waarvan vooral de laatste interessant is omdat daar de overgang te zien is van een meer barokke, Frans tuin- en parkontwerp naar de Engelse, meer romantische aanpak. En dat was meteen ook zo'n beetje het laatste stukje landschappelijk schoon (in strikte, lommerrijke zin) wat we die dag te zien zouden krijgen. Hierna kwamen we in het ruige, industriële IJmuiden, met aan de overkant van het Kanaal Tata Steel (voorheen de Hoogovens).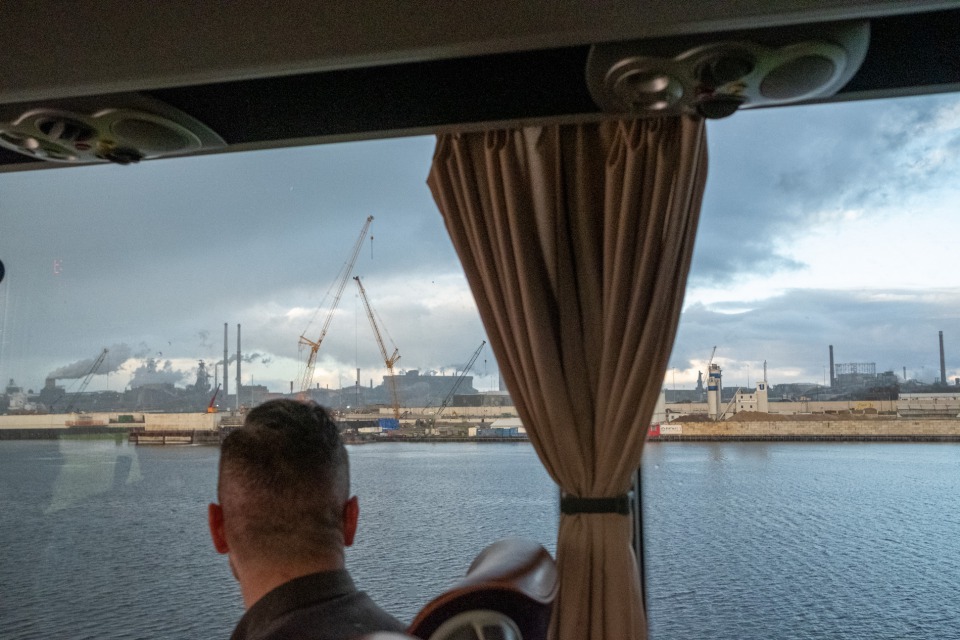 In IJmuiden reed de bus langs het kanaal helemaal door, langs de sluizen, tot de kop van de haven. Daar stapten we uit en haastten ons vanwege een miezerige regen een kantoortje in, een beetje een schamel gebouwtje met systeemplafonds en slijtvast tapijt. Maar vanaf de bovenste verdieping heb je er een geweldig uitzicht over de haven, de Noordzee, het Noordzeekanaal en de terminal van de ferry naar Newcastle.
Op die bovenste verdieping vertelde Martijn Haeser over de geschiedenis en de toekomst van IJmuiden en de Noordzeekanaalzone. Sinds het Noordzeekanaal geopend is, is IJmuiden een belangrijke toegangspoort van Amsterdam, en eigenlijk van Nederland en met Duitsland zelfs als 'achterland'. Tot die tijd was er hier niets. Maar meteen na de opening van het kanaal werden de sluizen ontdekt door de vissers. Een echte haven was er eigenlijk niet tussen Scheveningen en Den Helder, de vissersboten werden het strand opgesleept en gelost. Voor de vissers kwamen de sluizen, met hun kades, als geroepen: ze gingen het als haven gebruiken, maar blokkeerden zodoende de toegang zozeer dat er al snel besloten werd een echte haven aan te leggen – IJmuiden was geboren. Er kwamen niet alleen vissers op af, ook de gravers van het Noordzeekanaal, die van de kop van Noord-Holland en Drentje waren gehaald, gingen niet terug, zoals verwacht was, maar bleven in IJmuiden hangen. Het was hier rond 1900 een soort wilde westen. En in 1918 kwamen de Hoogovens daar nog eens bij.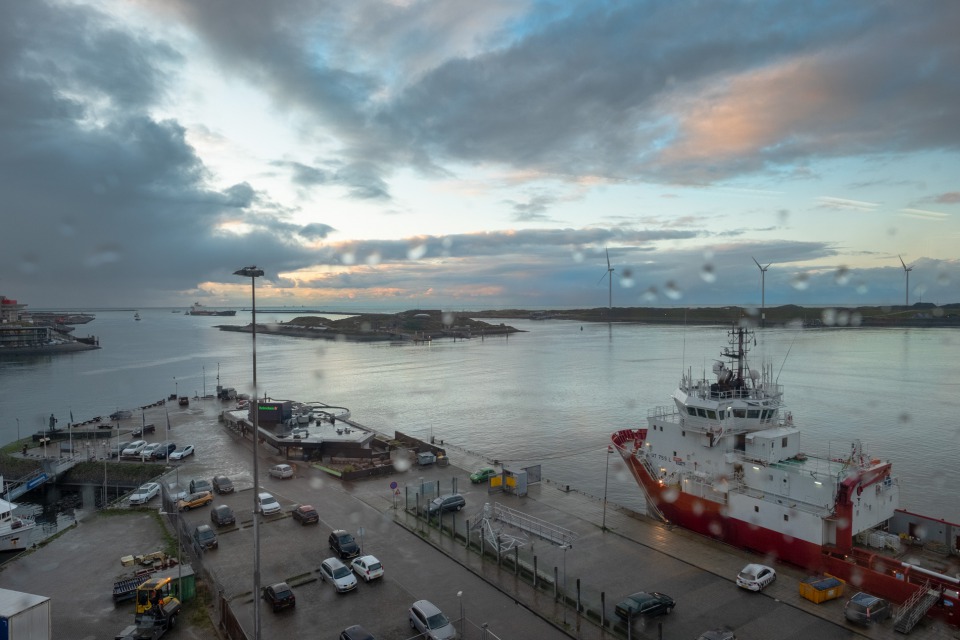 Tegenwoordig probeert het Bestuursplatform Noordzeekanaalgebied een en ander in goede banen te leiden. Zoals uit het verhaal van Warmerdam al bleek, is er sprake van wantrouwen tussen Amsterdam en de randgemeenten – het bestuursplatform is er juist om gemeenschappelijke belangen te zoeken en zo het wantrouwen weg te nemen. En om meer samenhang in het gebied te brengen, met een 'integrale visie' op de ontwikkeling, waarin zoveel mogelijk belangen tegen elkaar kunnen worden afgewogen. Want steeds blijft de vraag wat het zwaarst moet wegen: de economische belangen of de leefbaarheid.
Geert Haenen vertelde vervolgens namens het Platform iets over de energietransitie die in het Noordzeekanaalgebied plaats moet gaan vinden. Amsterdam wil bijvoorbeeld graag windmolens, maar die windmolens moeten dan wel uit hun zicht, in het Noordzeekanaalgebied komen. Dat is niet alleen een beetje simpel, het is ook niet volledig, want het gaat niet alleen om het opwekken van energie, maar juist om het verbinden van vraag en aanbod. Het moet gaan om het ontwikkelen van een heel 'energiesysteem' – de circulariteit waar Ton Bossink het ook al over had.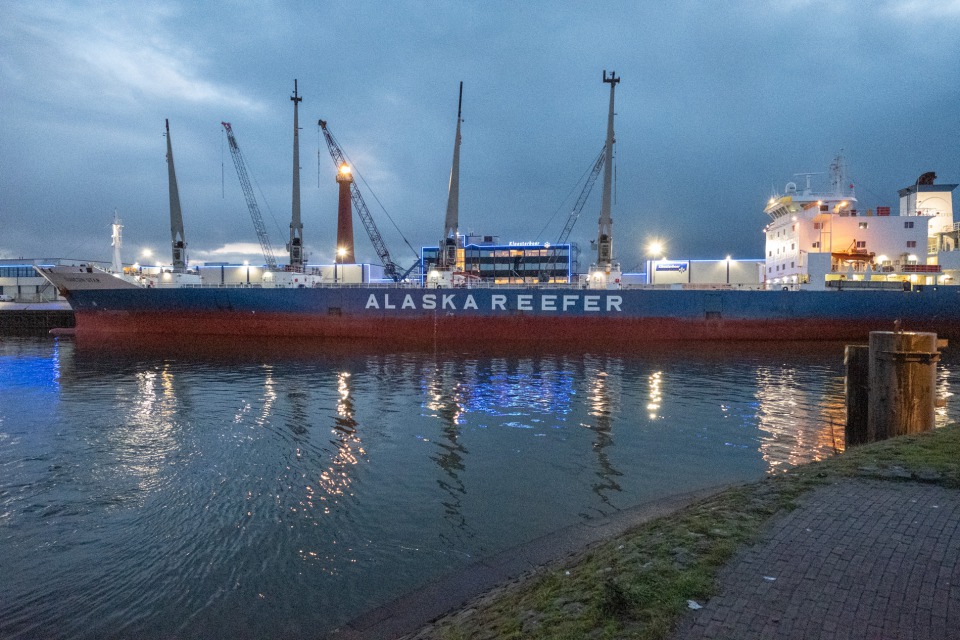 We verlieten het kantoortje en maakten een kleine wandeling langs de terminal van de ferry naar Newcastle, die net geladen werd – we moesten uitkijken voor alle vrachtwagens die aan kwamen rijden. Even later kregen we te horen dat IJmuiden een gewilde filmlocatie was voor min of meer historische oorlogs- en misdaadfilms, en daar konden we ons wel iets bij voorstellen.
In het kantoor van de Zeehaven IJmuiden kregen we meer uitleg over de haven. Peter van de Meerakker vertelde, onder andere, dat Urk (nog) wel de grootste visafslag heeft, maar dat ook IJmuiden als 'draaischijf' van de vishandel in Noordwest Europa gezien moet worden: verse vis van de Noordzee en diepgevroren vis van de Atlantische Oceaan komt hier aan land, wordt verwerkt en verhandeld en verder getransporteerd naar heel Europa. Naast de vis gaat ook de winning van windenergie een enorme rol spelen.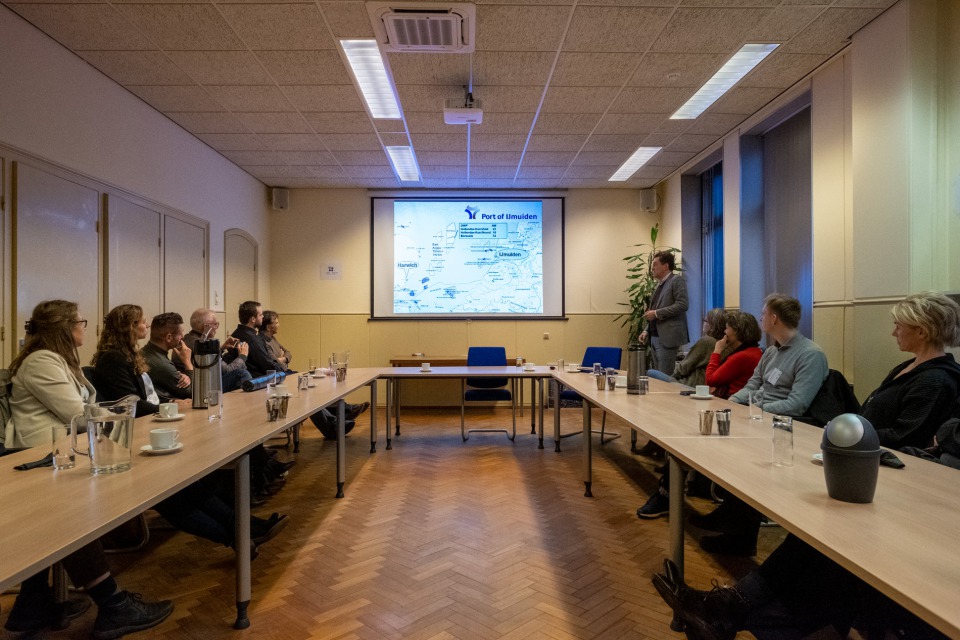 Zozeer zelfs dat het krap op de Noordzee begint te worden en eigenlijk ook daar zoiets als ruimtelijke ordening nodig is.
En dan is er nog de ferry naar Newcastle en de cruiseterminal die vracht en passagiers brengt en haalt.
De regen was overgewaaid, de zon ging schitterend onder. Paarse en oranje wolken dreven voorbij terwijl we ons weer naar de haven spoeden om daar een pontje naar de overkant te nemen. Aan boort vertelde Warmerdam nog iets over de ontwikkelingen in IJmuiden: het begon met een explosieve bevolkingsgroei die IJmuiden tot een wild bruisende plek maakten, tot de Tweede Wereldoorlog. Daarna vond wel wederopbouw plaats, maar desondanks (of juist dankzij?) begon het gebied te verloederen. De aandacht voor het wonen werd steeds minder, tot begin jaren negentig. Vanaf 2000 worden er concretere plannen gemaakt voor het opknappen en herinrichten van IJmuiden, met behoud van het oude. Sinds 2005 werkt men aan de uitvoering van die plannen. Het viel niet mee de aandacht bij het verhaal te houden, hoewel dat door een megafoon tot ons kwam, maar de zonsondergang was werkelijk spectaculair.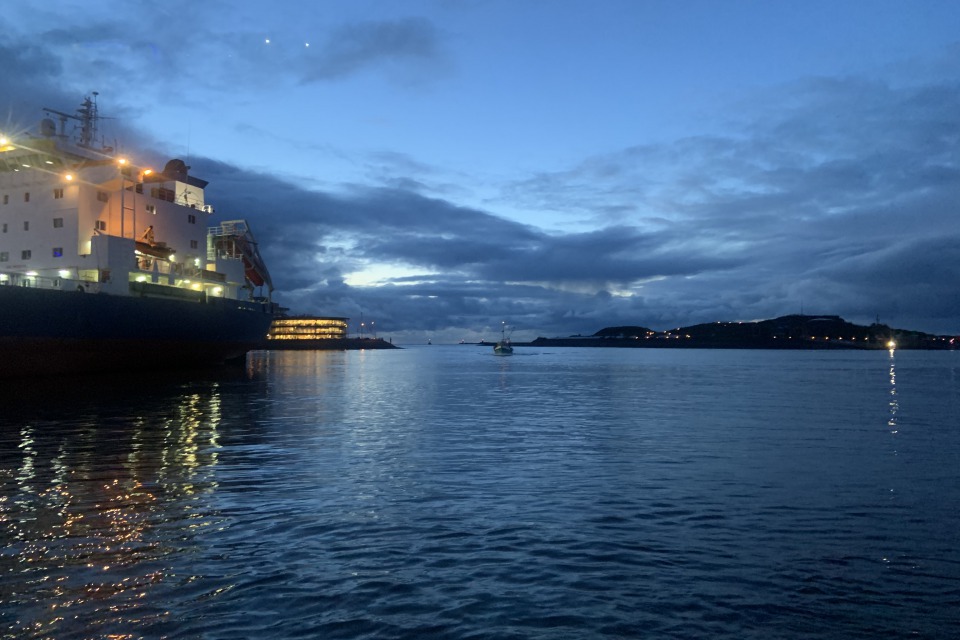 Eenmaal aan de overkant bleek de bus verkeerd te zijn gereden en moesten we even wachten. Dat bood gelegenheid een uitzicht punt te beklimmen. De zon was bijna onder, de lichtjes van de haven aan de overkant en van de verderop gelegen Hoogovens werden steeds meer zichtbaar, en als je je omdraaide de rode lichtjes van de windmolens op de Noordzee… Of het nu mooi was, was moeilijk te zeggen – je zou ook kunnen spreken van horizonvervuiling - maar iedereen was het er wel over eens dat je hier kon spreken van industrieel landschap.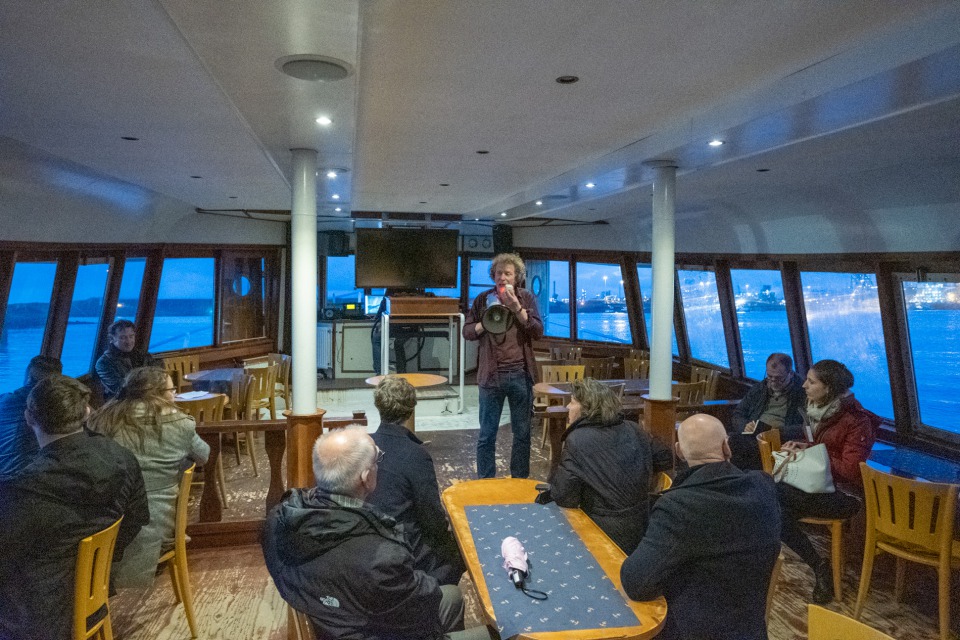 We zagen ook de bus toch nog aankomen, die ons naar Tata Steel zou brengen, waar we een rondrit met uitleg kregen. Donkere wolken pakten boven Tata Steel samen, letterlijk en figuurlijk, want juist die dag was bekend geworden dat er in het bedrijf een enorme ontslagronde zou komen. Daarvan merkten wij in de bus eigenlijk niets, we genoten van het indrukwekkende zicht op de ontelbare lichtjes en een oranje gloed van gloeiend heet staal en kolen die hier en daar zichtbaar was.
Na een eenvoudig maar voedzaam maal in het prachtige Dudokgebouw, bracht de bus ons terug naar het beginpunt, station Sloterdijk. Theo Baart vertelde onderweg nog iets over de "MRA-atlas" waar hij aan werkt en die in mei 2020 zal verschijnen onder de titel Groot Amsterdam. Het boek zal draaien om de vraag hoe groot Amsterdam eigenlijk is: hoe groot is de Metropoolregio Amsterdam. Onlangs had hij nog de Marker Wadden, een nieuw natuurgebied in het de Markerwaard, gefotografeerd – zo ver reikt de invloedssfeer van Amsterdam in noordoostelijke richting.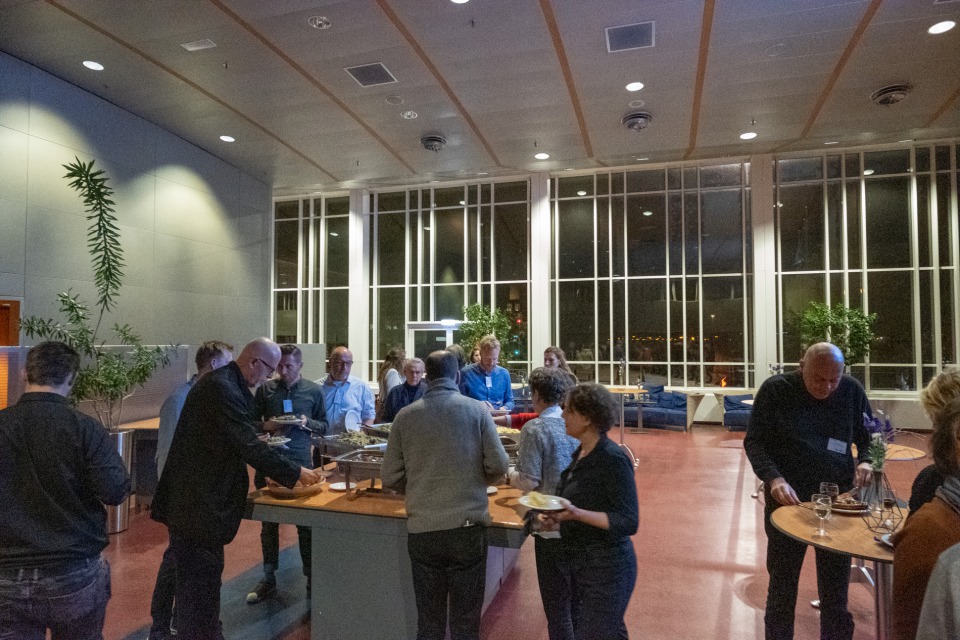 Vandaag hadden we geleerd dat via IJmuiden de invloedssfeer van Amsterdam ver voorbij de negentiende-eeuwse grens van de Stelling van Amsterdam reikt. Vanaf het uitzicht punt bij IJmuiden konden we ver over het meest westelijke oude fort van de Stelling bij IJmuiden heen kijken, naar de Noordzee waar de ferry zagen weg varen en de lichtjes van de windmolenparken zagen oplichten.
Ook werd duidelijk dat het belangrijk is het oog niet steeds zo ver te laten dwalen en ook oog te blijven houden voor de heksenketel die IJmuiden en omgeving toch is. Ook al wordt het je dan als leek toch zwaar te moede: waar te beginnen.
Hoe breng je hier orde in aan, hoe krijg je dit leefbaar, bewoonbaar?
Gelukkig zijn ruimtelijke ordenaars onverbeterlijke optimisten, die blijven vertellen dat er al veel bereikt is én dat er nog veel te doen valt.
Sprekers Safari 5: Theo Baart (Landschapsfotograaf) over zijn verkenning van Groot Amsterdam; Jacques Warmerdam (Senior beleidsadviseur ruimtelijk ontwerp, Gemeente Velsen) over de structuurvisie, de ambitie en ontwikkeling van IJmuiden als kustplaats; Met een prachtig uitzicht over de haven sprak Martijn Haeser (Beleidsmedewerker EZ gemeente Velsen) over functies en opgaves van het Noordzeekanaalgebied; Peter van der Meerakker (Algemeen Directeur Zeehaven IJmuiden) over ruimte, groei en leefbaarheid; Moderator: Ton Bossink (Projectleider Omgevingsvisie NH2050 PNH)