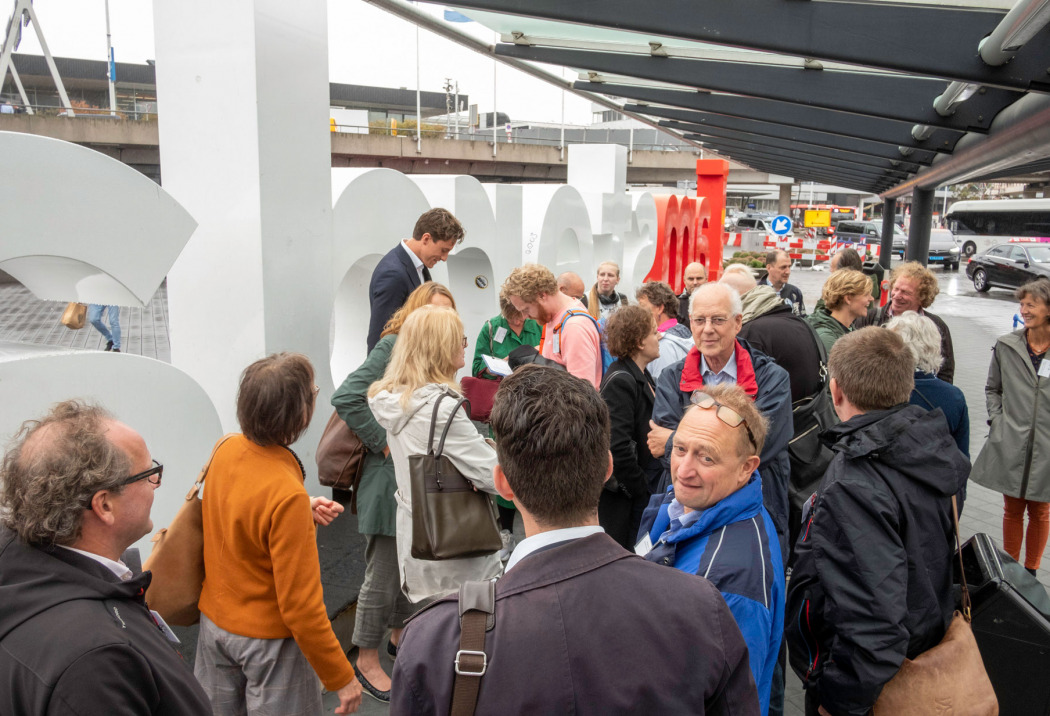 Safari 4: Mobiliteit en Verstedelijking
Sectie

Theo Baart
Artikelen
Observaties door Pieter Hoexum
Per bus reed een groep experts op een regenachtige dag in september door de luchthavenregio. We trapten af op Schiphol Plaza met Frans Hasselaar (Strategisch Adviseur Vervoerregio). Vervolgens stapten we in de bus naar Schiphol Group, reden naar Badhoevedorp met een verrassende stop op de A9 en zetten koers naar eindstation Hoofddorp. We sloten de Safari af in Pharos, een bijzondere locatie in transitie. Een toren die aan de rand van oplevering staat, met een exclusieve rondleiding en uitzicht op de regio vanaf de 18e verdieping met een kleine proeverij.
''Veel spoor en weinig station''
zei Joop Slangen. Theo Baart vulde aan: "Dat is Hoofddorp in een notendop." We stonden op de 19e en hoogste verdieping van de Pharos-toren, vlakbij station Hoofddorp. Vanaf daar hadden we een panoramisch uitzicht over Hoofddorp en weide omgeving. Slangen, de 'polderarchitect' van de gemeente Haarlemmermeer, vertelde over de grootse dingen die hier stonden te gebeuren. Heel bedrijventerrein Beukenhorst zou verder worden ontwikkeld en een deel zal zelfs een gemengde, sterk verdichte woonwijk met onder andere 4000 woningen worden: Hyde Park. Hier werd dus 'verdicht' en 'ingebreid'. Het station kon dan hopelijk een intercitystation worden en wellicht zelfs eindpunt van de eventueel doorgetrokken Noord/Zuidlijn. Bovendien moest het station geïntegreerd worden in de stad die hier zou ontstaan.
Met het bezoek aan de Pharos-toren eindigde deze Safari, die begonnen was op Schiphol. Om precies te zijn bij het busstation Schiphol. Daar hoorden we dat Schiphol weliswaar landelijk bekend staat vanwege de geluidsoverlast, maar dat Schiphol zelf als een soort oog van een storm relatief stil is. Dat bleek echter relatief, want dat werd ons medegedeeld door een megafoon, door Frans Hasselaar, strategisch adviseur Vervoerregio. Hij vertelde ook dat Schiphol een fantastisch concept was en dat we op een prachtige plek stonden, wat toch wel een paar wenkbrauwen deed fronsen. Maar we moesten bedenken dat Schiphol tegenwoordig twee keer zoveel gebruikers heeft als waar het voor bedoeld was en dat om al dat bezoek in goede banen te leiden er zoveel 'banen' en borden nodig zijn, dat het er paradoxaal genoeg nog onoverzichtelijker en chaotischer van wordt.
Oorspronkelijk was er eigenlijk slechts puur functioneel over Schiphol nagedacht en was het door de tijd ruimschoots ingehaald. Zo is Schiphol allang niet meer slechts een vertrek- of aankomstpunt, maar op zichzelf een bestemming geworden: Schiphol is een toplocatie, vergelijkbaar met de Zuidas - ook in grondprijs. Elke dag zijn er grote stromen forensen van en naar Schiphol. Men kan niet meer wedden op één paard: naast de auto moeten ook de trein, de bus en zelfs de fiets en voetganger veel aandacht krijgen. En dat alles moet op elkaar aansluiten: het gaat om 'slimmer reizen'.
We stapten in een bus en reden naar Schiphol Zuid. Onderweg bleken Frans Hasselaar en Maurits Schaafsma over alles wat we tegenkwamen wel iets te kunnen vertellen: overal moest wel iets verplaatst, heringericht en/of verbouwd worden.
In een zaaltje in het gebouw van de Schiphol Group kreeg eerst Theo Baart het woord. Hij vertelde, zoals bij elke Safari, over het waarom van deze ontdekkingstochten. In mei volgend jaar zal zijn boek 'Groot Amsterdam' verschijnen, een fotoboek/atlas van de Metropool Regio Amsterdam (MRA). Hoofdvraag is hoe groot Amsterdam is, tot hoe ver rijkt de invloed? Het moet vooral een culturele vertelling worden: hoe leven we in de MRA, hoe gebruiken en bewonen we die en hoe richten we die daar op in. Het moet een boek worden voor de geïnteresseerde leek, voor inwoners van de MRA, voor 'metropolitanen'. Veel inwoners van de MRA hebben van de MRA geen weet: ze zijn metropolitanen zonder dat te weten of te willen weten. Dit in tegenstelling tot de bestuurders en professionals van de MRA, die er alles van weten – het boek moet een hangbrug over die kloof worden.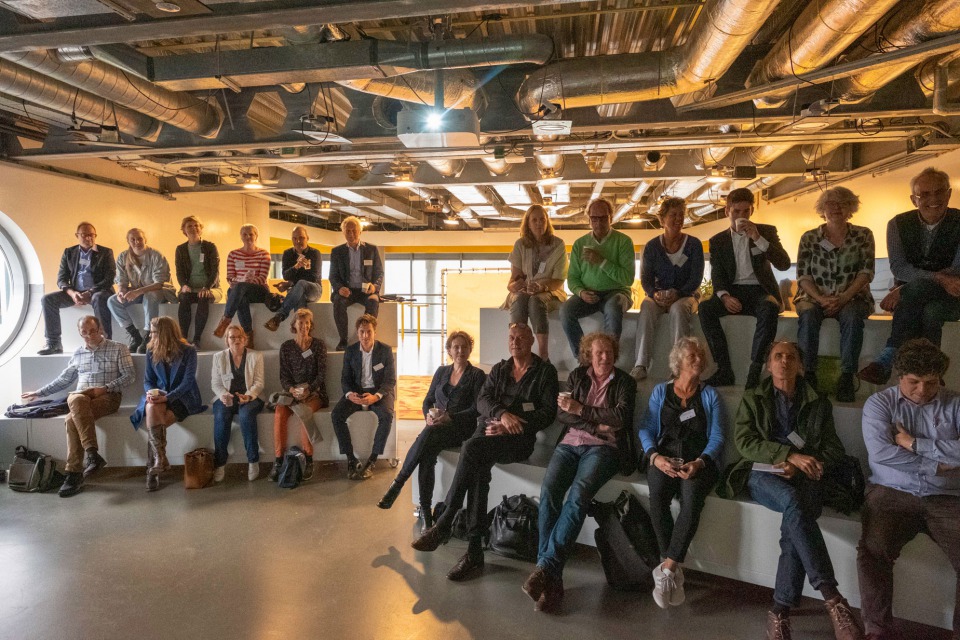 Hoe diep de kloof is, bleek meteen bij de volgende twee, zeer uitgebreide presentaties: om duidelijk te maken wat er allemaal op het spel staat, is zoveel tekst en uitleg nodig, dat het de toehoorder al snel begint te duizelen. Delia Hofman, beleidsadviseur Ruimtelijke Ontwikkeling PNH, vertelde over de reusachtige woningbouwopgave waar de MRA voor staat: vóór 2040 moeten er 230.000 woningen bij gebouwd zijn… Een getal dat elke professional die erbij betrokken is inmiddels in het geheugen gegrift staat en waar ze allemaal 's nachts wel eens van wakker schrikken. Voor de leek: dat betekent dat er drie keer Haarlem (80.000 bewoners) bij zal komen.
Er zijn enkele uitleglocaties voor stadsuitbreiding, maar er zal ook veel binnenstedelijk 'ingebreid' moeten worden. Er zijn binnen de MRA maar liefst 1700 bouwlocaties – nog zo'n getal waar professionals van wakker liggen. En het gaat niet eens om alleen maar woningen, het gaat er juist om dat wonen, mobiliteit en economie (bedrijvigheid) samen komen en werken. Er moet een polycentrische metropool ontstaan, met een hoofdrol voor Amsterdam, waarbij het erom gaat de wisselwerking tussen stad en ommeland, tussen het 'centrale centrum' en de andere centra te optimaliseren.
''Het gaat er kortom om dat de juiste woning op de juiste plek komt'',
aldus Hofman. En dat sloot mooi aan bij een opmerking van Baart, die zich verbaasde over de plannen voor een buurtje met twee-onder-een-kappers in Badhoevedorp, op een locatie die wel eens een toplocatie zou kunnen worden… Maar daar zouden we later polshoogte nemen, eerst was er nog een presentatie van Maurits Schaafsma, senior urban planner bij de Schiphol Group, over Schiphol. Om goed te begrijpen welke rol Schiphol in de MRA speelt, moeten we eerst helemaal uitzoomen en kijken welke rol Schiphol in de wereld speelt. Sinds enkele jaren is het vliegen enorm toegenomen en heeft het zwaartepunt van het vliegen zich van de Atlantische oceaan richting Azië verplaatst. Schiphol is nu allereerst een Europese luchthaven: het staat in de top 6 van Europese luchthavens en het is de ambitie daar te blijven. Samen met Parijs, Frankfurt en Londen vormt Schiphol een soort Randstad van Europa. Dat zou een stedelijk systeem moeten worden, waar trouwens ook de spoorwegen een belangrijke rol in kunnen gaan spelen – het zou mooi zijn als er een speciaal internationaal station komt bij Schiphol.
Bij Schiphol is altijd de vraag of en hoe het verder moet groeien, maar zelfs als het zo groot blijft als nu, is er veel werk aan de winkel en moeten er achterstanden ingelopen worden. Zoals de negentiende-eeuwse treinstations buiten de steden lagen en later moesten worden geïntegreerd in de stad, zo moet ook Schiphol meer onderdeel uit gaan maken van de MRA. Het hele gebied tussen Schiphol en de stad Amsterdam heeft een enorme potentie – je kunt ook zeggen: de druk op dat gebied zal enorm toenemen.
''Dit alles is aanleiding om het gesprek te blijven voeren'', pleitte gespreksleider van deze Safari Maurits de Hoog, prof. ir. DRO Amsterdam. Zeker met het oog op de luchtvaartnota 2020 - 2050. Alle partijen zullen elkaar hard nodig hebben.
We konden in de bus even bijkomen van deze presentaties. Onderweg genietend van de vele duizenden berken die hier op instigatie van landschapsarchitect Adriaan Geuze zijn geplant en die van het gebied inderdaad een soort landschap maken – een stedelijk landschap.
De volgende bestemming was Badhoevedorp, om precies te zijn een gebouwtje (een soort luxe keet) dat midden op het oude tracé van de omgelegde A9 staat. Jan Noorda, ontwikkelingsmanager AM van dit gebied, vertelde dat van hieruit Badhoevedorp opnieuw wordt vormgegeven, waarbij er 1200 woningen bij gebouwd moeten worden. De omlegging van de snelweg kostte namelijk veel geld en dat geld moet wel terugverdiend worden… De oude snelweg was typisch een product van het jaren zestig-denken: de auto kreeg absolute voorrang, de snelweg was gewoon dwars door het dorp aangelegd. Nu is de weg omgelegd en is de relatieve rust in Badhoevedorp weergekeerd.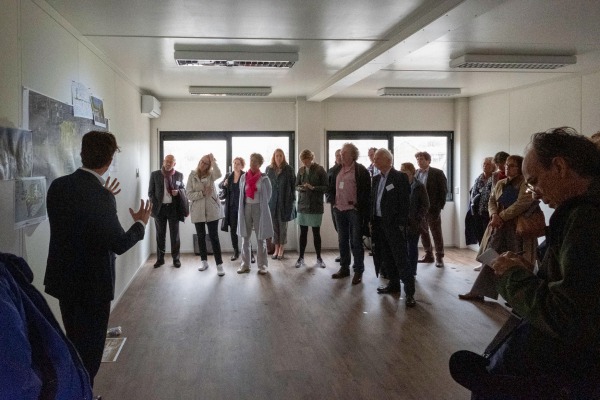 Ze zitten er nu wel met een onoplosbaar dilemma: kiezen ze lokaal of globaal? Probeer je met de her- en nieuwbouw aan te sluiten bij de dorpse sfeer van Badhoevedorp, of sluit je aan bij de internationale sfeer die hier en daar om de hoek komt kijken, met name in het gebied rondom hotel Corendon? Uitgerekend daar zijn de twee-onder-een-kappers gepland waar Baart zich al over verbaasd had. Vanuit Schiphol gezien was dat inderdaad verbazingwekkend, maar hier werd het dilemma pas goed zichtbaar, vanaf hier zagen we ook dat de twee-onder-een-kappers goed aansloten bij het 'wonen in het groen' van Badhoevedorp.
Ondertussen was het gaan schemeren en regenen. Gelukkig was de Pharos-toren, de laatste bestemming, geheel verbouwd van saai kantoor tot hippe ontmoetingsplek. Daar vertelde 'foodvisionair' Jonathan Karpathios over de metamorfose die het gebouw had ondergaan. Daar was natuurlijk ook de in dit soort gevallen onvermijdelijke feng sui-meester aan te pas gekomen. Het was van een saai kantoor omgetoverd in een mensvriendelijke, zintuig stimulerende en groene omgeving. Waar vooral heerlijk gegeten kan worden. Maar voordat we op het buffet konden aanvallen en onderwijl konden netwerken gingen we nog naar de bovenste verdieping, waar het nog net licht genoeg was om van het spectaculaire uitzicht te genieten.
Ik moest daar, vanwege die uitspraak van Slangen over 'veel spoor en weinig station', even denken aan Gerard Reve, die ergens een opmerking noteerde die hij de ene huisvrouw tegen de andere had horen maken: "Veel groenten en weinig vlees, dat eet niet lekker voor een man." Na van het uitzicht te hebben genoten en de laatste bespiegelingen van de deskundigen over de ruimtelijke opgaven van de MRA, gingen we weer helemaal naar beneden, naar het buffet - met veel groenten en heel weinig vlees. En dat iedereen, zowel mannen als vrouwen, overheerlijk smaakte.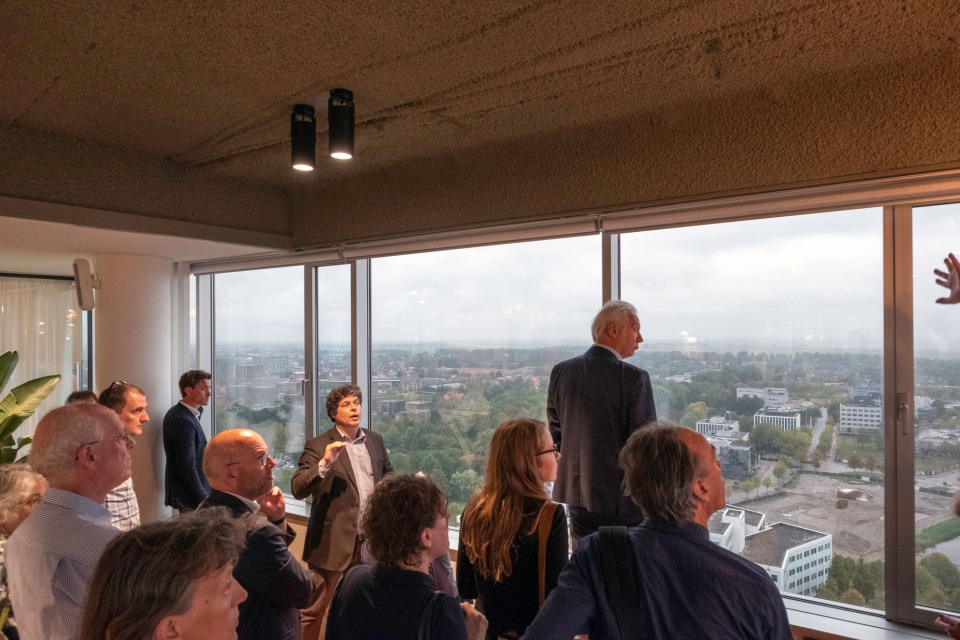 Sprekers Safari 4: Frans Hasselaar (Strategisch Adviseur Vervoerregio) over Schiphol Plaza; Theo Baart (Landschapsfotograaf) Groot Amsterdam; Delia Hofman (Beleidsadviseur Ruimtelijke Ontwikkeling PNH) over verstedelijking en woningbouw MRA; Maurits Schaafsma (Senior Urban Planner Schiphol Group) over de Schiphol corridor en het doortrekken NZ lijn naar Hoofddorp; Jan Noorda (Ontwikkelingsmanager AM) over de opgave Badhoevedorp binnen de MRA; Joop Slangen (Polderarchitect Haarlemmermeer) over de woningbouwopgave en de hoeveelheid woningen die ons landschap kan verdragen; Jonathan Karpathios (Voedsel Visionair) deelt zijn visie op duurzame bedrijfscatering in woord en smaak. Moderatie met interventies en reflectie: Maurits de Hoog (Prof. Ir. DRO Amsterdam).