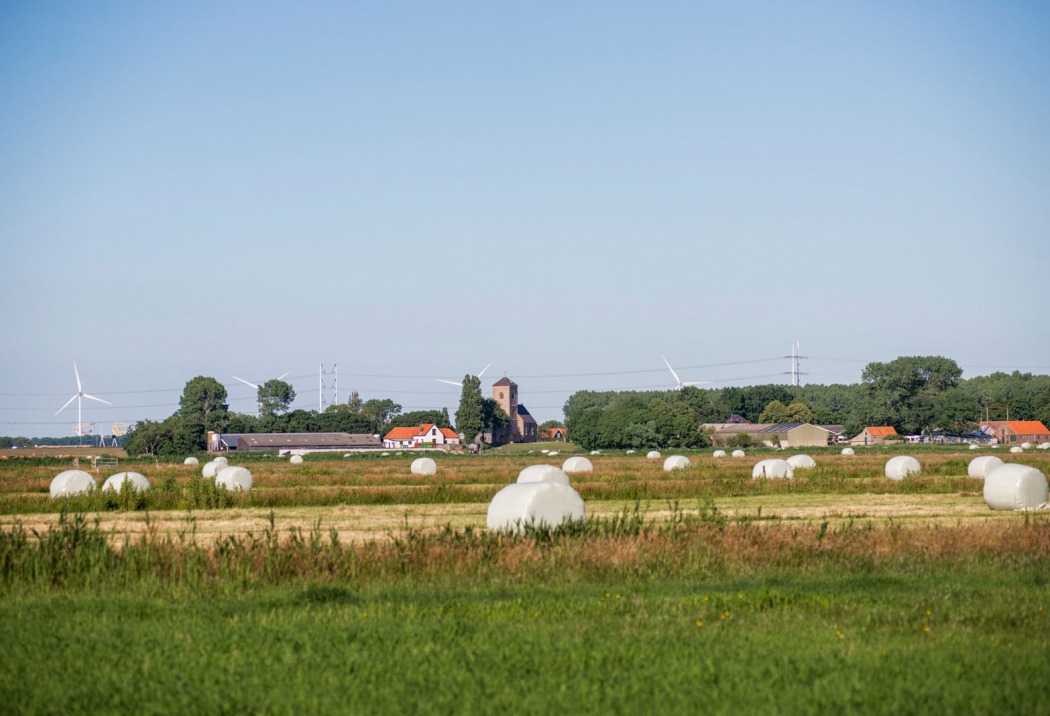 Jos Vis inwoner van Spaarndam
Sectie

Polderlintportretten
Gesprekken
Jos Vis is Directeur van een reclamebureau en voorzitter van de Kunstmarkten Spaarndam, maar bovenal inwoner van Spaarndam. Wat maakt wonen op deze plek aan het polderlint bijzonder?
24 juni, Spaarnekade Spaarndam
Wat benoem je als de linten van dit gebied en wat is de kwaliteit?
Wat voor ons een bijzonder en blijvend ijkpunt is, is het Spaarne. De rivier doorkruist ons dorp en is daarmee bepalend voor al het andere. Daar denk je niet zo over na, maar het is de basis. Als het ware het fundament van het landschap. En kenmerkend zijn dan linten als de Spaarndammerdijk die recht door het landschap. Dat is echt iets wat bij dit landschap hoort. Het verdeelt het landschap. Zo kronkelend als het Spaarne West en Oost verdeelt, zo recht snijdt de dijk de weilanden in twee. En toch is het helemaal een met het landschap, omdat vele paden en wegen volledig parallel lopen met de dijk. Paden midden in de weilanden, waar we fietsen, hardlopen en veel recreëren. Als je daar loopt met je kinderen zie je in no time kikkers, een stier of een lepelaar. Het landschap is vlak en toch boeiend. De verhoging van de dijken geeft het een heel karakteristiek beeld. Het sluit iets af. De dijk beschermt.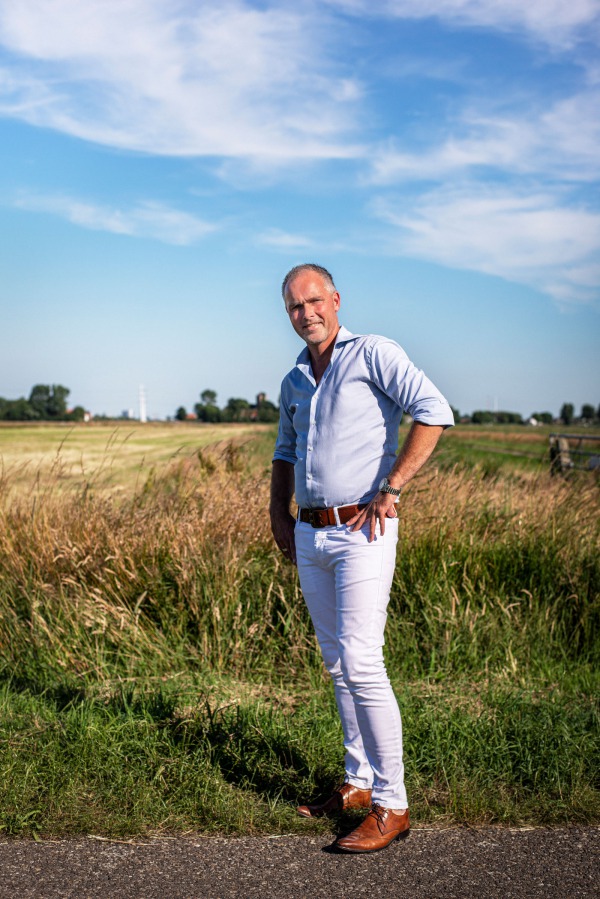 Sta je op de dijk dan overzie je het 'echte' Hollandse landschap; het is heel herkenbaar. De vraag is of we dat allemaal moeten behouden. Koste wat kost. Ik las Grand Hotel Europa van Ilja Pfeijffer en dat heeft eerlijk gezegd mijn zienswijze veranderd. Wij leven in een cultuur waarin we traditie, oude gebouwen en kunstwerken graag behouden. Iedereen vindt het oude Spaarndam prachtig, en ieder huis aan de oude Kolk wordt onder toezicht gerestaureerd. Maar in andere culturen kijkt men daar heel anders naar. En daar gaat het boek over. Over dat Europa, en met name een land als Italië, gezien kan worden als een groot openlucht museum. Een ode aan het verleden. Maar waarom niet kijken naar en werken aan de toekomst? Weg met die oude troep.
Moeten we dit 'oude' landschap dus behouden. De polderlinten? Ik zou zeggen, ga er verstandig mee om. Als ik de ringvaart af fiets richting Badhoevedorp is slechts 4 kilometer van de 12 nog een soort van onbebouwd. Het begint als je onder de A5 door bent, daar heb je nog wat 'oude' natuur al is het geluid van de rijksweg niet te ontkennen. Zorg er dan ook voor dat die beperkte ruimte die er nog is bijzonder blijft. Dat er dan toch niet weer opeens een tankstation kan worden neergezet, of een bedrijfspand. Een echt slecht voorbeeld daarvan vind ik de Hoofdweg die loopt van Lijnden naar Hoofddorp. Met recht een polderlint. Een prachtige vaart met aan beide zijden een weg en bomen. Maar op vele plekken is mooie natuur gemixt met lelijke industrie. Is er aan de Westzijde een prachtige oude kerk, zo fotogeniek als het maar kan. Met daar tegenover aan de oostzijde een garagebedrijf dat sloopauto's opstapelt, dit zou je moeten reguleren. Houd een gedeelte in stand dat het verleden eer aan doet. En laat de toekomst de overige kilometers bepalen.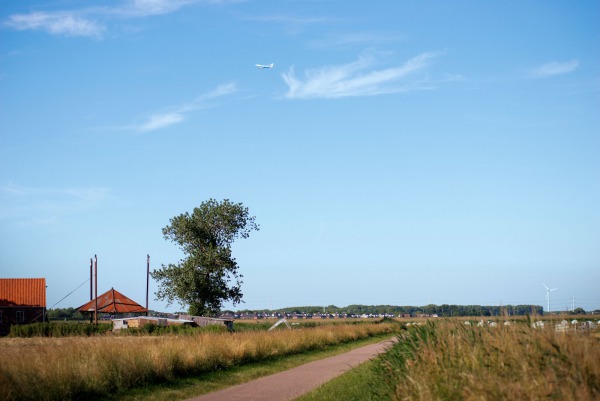 Aan de Westzijde van de Hoofdvaart staat een prachtige oude kerk, zo fotogeniek als het maar kan. Met daar tegenover een garagebedrijf dat sloopauto's opstapelt. Dit zou je moeten reguleren.
Wat is oud? Wat is mooi?
Wat me wel opvalt is dat het ook de perceptie van de mensen is. Kijk nou hier in ons dorp. Vanaf de kade kijk je uit op de Rietpol. Ooit een florerende scheepswerf, nu zijn het vervallen oude loodsen en een oude hoge kraan. Er is nu aangekondigd dat dat allemaal gaat verdwijnen. Alles gaat plat en er komen twaalf woningen. Ik spreek veel mensen die daar tegen zijn. Niet omdat er meer woningen komen, maar omdat ze nostalgisch zijn over de werf. Opeens is die vervallen industrie iets wat bij het dorp hoort en op haar eigen manier mooi is. Of in ieder geval passend. Tijd bepaalt in hoge mate de perceptie.
Wat ik wel besef is hoe kwetsbaar het landschap is. De lijnen, die openheid, die ruimtelijkheid blijken nogal kwetsbaar. Bij het Rotterpolderplein verrijzen een aantal blokkendozen: distributie- en datacentra. Dat is zo'n 3 kilometer hier vandaan. Maar als je over de dijk fietst zie je ze direct. Ze zijn niet te missen. Kijk je in noordelijke richting zie je de olieopslag van het havengebied. De maatvoering in zo'n vlak landschap is enorm belangrijk. Grote gebouwen worden nog groter lijkt het en ze hebben een enorme impact op het landschap. Je ziet ze van alle kanten. Iedere ingreep beïnvloedt de perceptie van het landschap, juist omdat het zo vlak is. En daar moet je dus rekening mee houden.
Zorg er voor dat die beperkte ruimte die er nog is bijzonder blijft. Dat er dan toch niet weer opeens een tankstation of bedrijfspand kan worden neergezet.
Bouw passend in de ruimte! Hier in Spaarnebuiten, de nieuwe wijk van Spaarndam, is dat denk ik goed gelukt. Er werden hier in de vorige eeuw boten gebouwd. Het was een grote industriële werf. Het karakter van die werf is samen met de authentieke bouw uit het oude dorp gebruikt in de architectuur. Daardoor is er een karakteristieke, nieuw wijk verrezen met hogere appartementen als een soort van pakhuizen. Met kadewoningen die passen bij het gevoel van de oude dijkbebouwing van het dorp. Goed gedaan: oud en nieuw gecombineerd. Het is echt heel goed mogelijk. Het past ook bij het omringende landschap. Een soort van nieuw dorp in het groen. Dat groen moet dan wel blijven. Niet bedorven worden door verdere industrie. Zo kan je vernieuwen en het landschap behouden.
Beleving & persoonlijke noot
Contrast is soms ook prachtig. Niet ver hier vandaan ligt Ruigoord. In de jaren '60 ontruimd om plaats te maken voor de havens van Amsterdam, maar sinds de jaren '70 bewoond. Daar zie je kinderen spelen op het grasveld met een grote olietanker op 50 meter achter hun achtertuin. Natuur en cultuur te midden van zware industrie. Dan heeft het ook wel weer iets. Net als Spaarnwoude. Ontworpen natuur! Keurige rijen bomen. Aangelegd om te recreëren, maar niet met veel aandacht voor het oorspronkelijke landschap. Grappig is het om te zien dat ook deze aangelegde natuur inmiddels wordt verstoord. Recreatiewoningen die tot voor kort volledig in het groen lagen, liggen nu in de schaduw van grote loodsen waar Albert Heijn en PostNL hun orders verwerken. Maar ook hier is het contrast boeiend. En misschien wel Hollandser dan we denken. Want in dit kleine kikkerlandje met beperkte ruimte staan de 'wilde' paarden van Spaarnwoude nu eenmaal langs het streng bewaakte hek van de olieopslag.