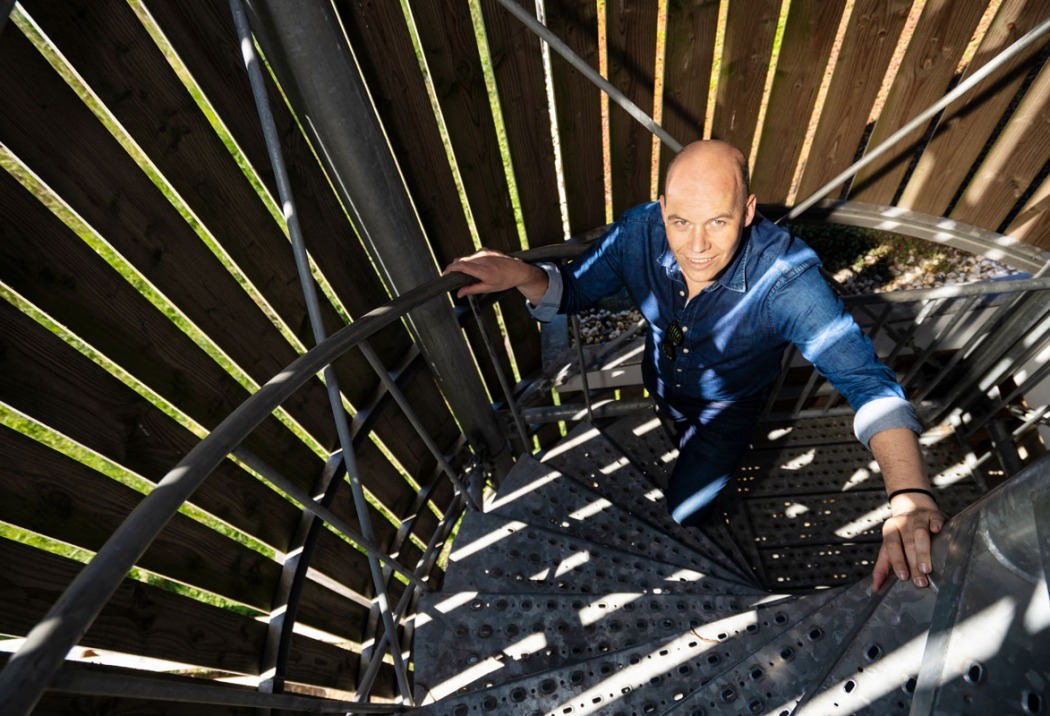 EN NU 8 // Verbindingsofficier Yourick Fokker
Sectie

EN NU // 22 Interviews
Gesprekken
Als ontwikkelaar en verbinder heeft Yourick Fokker goed zicht op de bestaande marktmechanismen, overleg- en besluitstructuren. Hij is een rasechte ondernemer en ziet overal kansen. Ook in deze periode van stilstand maakt hij werkweken van 80 à 90 uur. Yourick is een man die niet kán pauzeren. Hoe gaat hij door en wat zijn zijn ideeën over het ondernemen in deze tijd en de toekomst. We spraken hem in een interessant en lang telefoongesprek, waarin zijn kijk op het ondernemerschap vanuit verschillende hoeken werd bekeken. Yourick als omdenker in de vastgoedwereld.
Yourick, hoe beleef je dit moment?
Het raakt ons allemaal wat er nu gebeurt, maar wij zijn met lange termijn projecten bezig, dus wij merken er nu nog niet zo heel veel van. Bij ons zal het effect misschien later komen. Daarnaast zijn we gewend om te hollen of stilstaan. Ons werk is om mensen aan de juiste locatie te koppelen, dat gaat nu natuurlijk wat lastiger. Je komt momenteel een stuk moeilijker bij elkaar, dus veel gaat via videobellen. Dit lost een deel op, maar lang niet alles.
Hoe pak je het vanuit je ondernemerschap op?
Ik ben nou eenmaal een ondernemer in het vastgoed, dus wij moeten door. Ik probeer er elke dag het beste van te maken. We hebben niet veel personeel en zijn dus flexibel. Het vooruitzicht is een groter beeld dan dat in de achteruitkijkspiegel. Mopperen doen we al genoeg in Nederland, maar we moeten echt heel snel weer gaan ondernemen met z'n allen.
"Het vooruitzicht is een groter beeld dan dat in de achteruitkijkspiegel"
De vliegtuigindustrie, de ondernemers in de recreatie en de bedrijven in de horeca zijn het niet gewend om stil te staan. Ze zijn gewend om aan de slag te gaan en het zelf te doen. Er ontstaan nu dus allerlei alternatieve initiatieven, zoals al die restaurants die nu eten thuisbezorgen of dat hotel die zijn lege kamers nu verhuurt als werkplek aan zzp'ers die gedwongen thuis werken. Veel van die initiatieven zijn bedacht om deze periode van een lockdown te overbruggen, maar zijn natuurlijk niet lang houdbaar. Niks doen is geen optie, maar na het tijdelijke komt het eindelijke.
Je moet op dit moment dus vooral creatief ondernemen en gelukkig gebeurt dat ook. Zo kwam er een ondernemer bij ons die licht en geluid verhuurt en op zoek was naar een groot gebied om een drive-in bioscoop op te zetten. Dan kunnen de mensen samen naar de film kijken vanuit hun eigen auto. Helemaal veilig en op afstand. Fantastisch idee natuurlijk, vooral met al die festivals die wegvallen komende maanden. Ik heb dit bedrijf gekoppeld aan Dirk Molenaar, want dit past helemaal bij zijn gebied (Landgoed Kleine Vennep). Nou, dit soort verbindingen leg ik graag. Hier word ik blij van.
Wat zijn de dilemma's?
Tachtig procent van de mensen heeft het over morgen. Maar nu is morgen. Je maakt nu de beslissing voor morgen. Mensen hebben de sleutel zelf in handen.
Wij hebben de mazzel dat we geen 100 man personeel hebben, wij zitten in lange termijn trajecten (soms 1 of zelfs 3 jaar). Die lopen wel. Dus weinig dilemma's hier. Die 2 maanden vertraging door het coronavirus merken we niet zo snel in dingen als het verkrijgen van de juiste vergunning. Wat ik wel merk is dat iedereen de hand op de knip houdt, dus de pauzestand van nu merken wij pas over een half jaar. Wij hebben zelf nog geen last, maar ik zie bedrijven waarmee we samenwerken wel in de problemen komen. Dit komt doordat ze veel personeel of hoge huren hebben, waardoor ze failliet dreigen te gaan of zelfs al zijn. Wij redden het wel, maar ik help graag andere ondernemers.
"Ik hoop dat de houding bij de overheid verandert in 'ik wil je wel helpen'. Help elkaar. Ook ondernemers onderling. We hebben meer empathie nodig."
Dadelijk hebben we een vaccin en kunnen we weer dicht tegen elkaar aankruipen, wat ook hard nodig is, maar op dit moment kan dat nog niet. In ons land moeten we ons natuurlijk gelukkig prijzen dat het gaat zoals het gaat qua lockdown, maar de ondernemers moeten binnen korte tijd meer ruimte krijgen. Ze kunnen vanuit de overheid geen 'ja maar' meer krijgen. Ik hoop dat de houding bij de overheid verandert in 'ik wil je wel helpen'. Help elkaar. Ook ondernemers onderling. We hebben meer empathie nodig. Nederland zit vol aasgieren. Kijk bijvoorbeeld naar de horeca in Amsterdam met hun enorm hoge huren, die houden dit niet vol, die gaan over de kop zo.
RESET: Ga je straks bij voorkeur terug naar het 'oude' systeem of ga je het anders doen?
Ik zat al in een andere wereld, ik heb het altijd op mijn eigen manier gedaan, maar ik word op dit moment, nog meer dan anders, geïnspireerd door mensen die zeggen dat 'meer, meer, meer' niet goed is. Ik hoop dat we dichter bij elkaar blijven staan. Socialer. Zorgzamer. Met meer medeleven. Ik hoop dat we de buren blijven spreken. Een beetje op elkaar blijven letten. En dat mensen dingen blijven doen als koken voor de hele straat.
"We blijven verbinden, wij brengen het dorp naar de stad."
Hoe zie je de toekomst voor je, welke opgaven wachten ons? Als je alleen maar acteert op de vraag, ga je geen verbinding krijgen tussen rijk en arm of wetend en onwetend. En dat is wel nodig. Dat is zelfs onze plicht. We hebben als mens, als burger, de plicht om onze kennis over te dragen. Ideeën moeten gedeeld worden, die moet je niet voor jezelf houden. Dus ik hoop dat wij ons, en elkaar, blijven ontwikkelen. En dat we blijven verbinden. Wij brengen het dorp naar de stad. Dat gebeurt nu al en zal blijven gebeuren. En hopelijk niet alleen door ons.