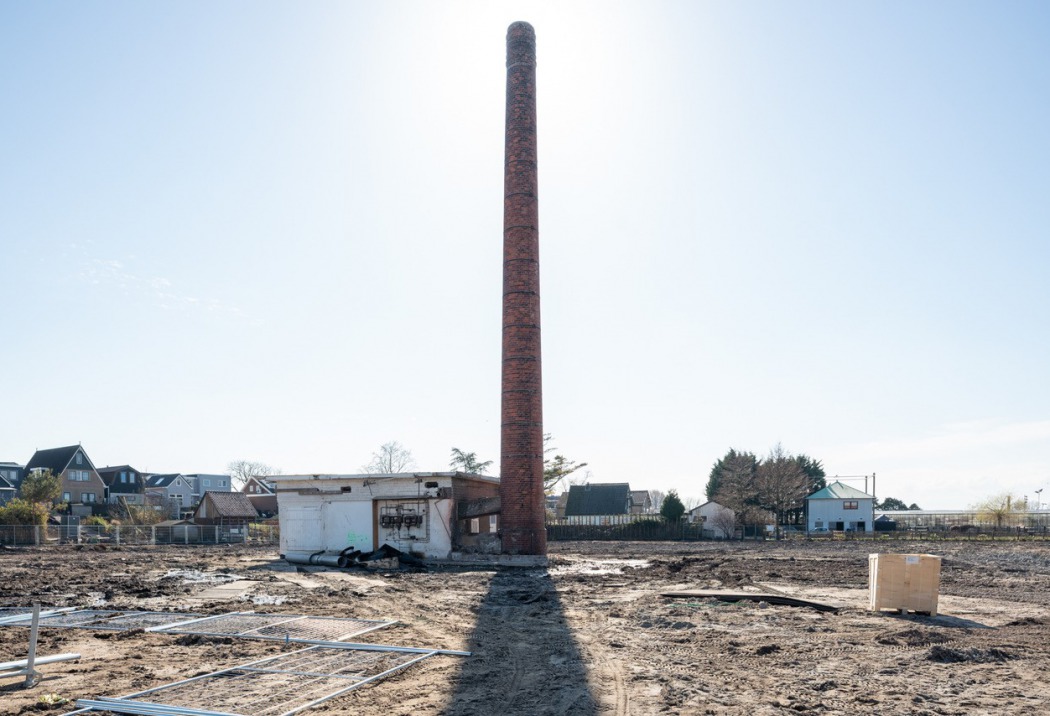 Op de pedalen 1 // Fotograaf Theo Baart
Sectie

Theo Baart
Rijsenhout
Fietsroutes
Tijs van den Boomen
Veiling
Op de pedalen
Onder de banen
Haarlemmermeer is Theo Baarts habitat, hij fotografeert deze droogmakerij al decennialang. Ook Aalsmeer kent hij goed, althans: het oude Aalsmeer. Op het terrein van de nieuwe veiling blijkt hij nog nooit te zijn geweest: 'Best vreemd dat ik met mijn oog voor de moderniteit van het landschap de veiling altijd links heb laten liggen.'
Verslag van een fietstocht van 17,5 kilometer op maandag 11 april 2022, een frisse, zonnige middag met een zwakke noordoostenwind. Tekst & route: Tijs van den Boomen.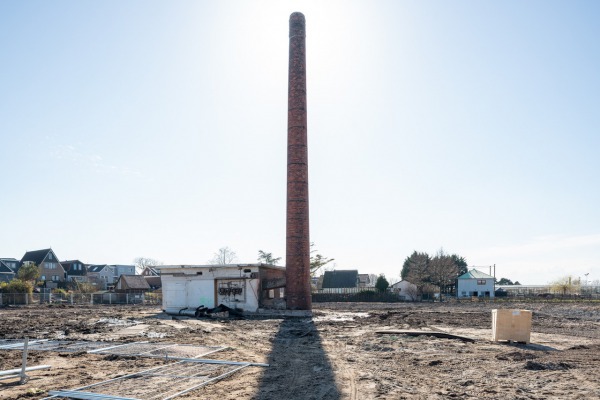 Het is een symbolische plek om af te spreken, het begin van de Bennebroekerweg in Rijsenhout, en niet alleen omdat Theo Baart daar nog net in de Haarlemmermeer staat, de droogmakerij die hij al decennialang vanuit alle hoeken en gaten heeft verkend én gefotografeerd, maar ook vanwege de eenzame schoorsteen die zichtbaar is achter de huizen. De kassen die de schoorsteen ooit verwarmde zijn al gesloopt, binnenkort start hier, na jaren juridisch touwtrekken, de bouw van het Willem Maarsehof, een wijkje met 25 woningen (1).
Dorpsvernieuwing volgens het boekje, zou je zeggen, daar kan toch niemand op tegen zijn? Toch is om dit kleinschalige project tot de Raad van State geprocedeerd. Het ministerie van I&M wilde de bouw van deze woningen namelijk verhinderen met het oog op een eventuele nieuwe baan voor Schiphol, de Parallelle Kaagbaan. Uiteindelijk won Rijsenhout deze slag, bij twee andere bouwplannen zit de gemeente nog op het vinkentouw. De invloed van Schiphol op zijn omgeving is enorm: zowel de huidige als toekomstige geluidscontouren fnuiken een normale ontwikkeling van de zuidwestflank van Amsterdam. Begin 2021 verkende ik samen met Theo Baart de mogelijkheden die ontstaan als de Aalsmeerbaan zou worden gesloten. We bekeken het gebied tussen Aalsmeer, Amstelveen en Uithoorn, en constateerden dat daar 300 hectare 'oud glas' al jaren ligt te wachten op herstructurering. 'Dit verpauperde lege hart tussen de drie gemeentes', schreven we enthousiast in NRC Handelsblad, 'biedt volop ruimte voor een compleet stedelijk centrum.'
We focusten toen op de ruimte tussen de gemeentes, maar nauwelijks op het bebouwde gebied zelf. In Uithoorn en Amstelveen is dat ook niet heel spannend, dat zijn tamelijk klassieke dorpen met uitbreidingswijken, bedrijventerreinen en sportvelden, maar Aalsmeer is anders, al is het maar door het vele water en het uitgestrekte veilingterrein. Daarom nemen we nu in Rijsenhout het fietspontje naar het oude land aan de overkant van de Ringvaart, de enige manier om Aalsmeer vanuit het westen binnen te komen.
Gerard Jolinglandschap
Een doodlopende weg van tweeëneenhalve kilometer, een lang lint van jachthaventjes, kapitale villa's, oude kwekerijen, boerenerven met grint, de kaken van een walvis, meer villa's, een ophaalbrug, eenvoudige arbeidershuisjes en nog meer villa's – kom daar elders in Nederland maar eens om (2). En om het af te maken zien we ook nog eens veel rood-groen-zwarte vlaggen, die verwijzen naar de vrucht die het dorp de eerste welvaart bracht: het rood van de aardbeien, het groen van de bladeren en het zwart van de bodem.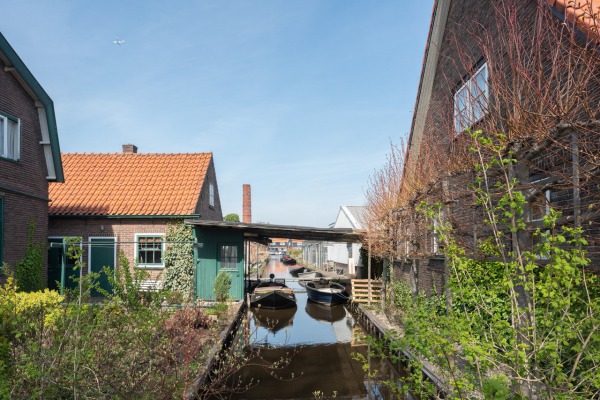 De Uiterweg, die als een soort strekdam in de Westeinderplassen ligt, blijkt zich niet alleen in de lengte uit te strekken, maar ook in de breedte. Haaks op de weg zien we slootjes die het achterland in steken, en ook deels openbaar toegankelijke dwarsweggetjes en voetpaden die naar een verborgen landschap achter de lintbebouwing voeren. Daar opent zich een veel minder aangeharkte wereld, waar het tuindersverleden en het veenlandschap nog goed zichtbaar zijn.
Met de fiets aan de hand lopen we het paadje tussen de huisnummers 118 en 116 in, dat langs een oude kas voert die wordt gebruikt als stalling, vervolgens dood lijkt te lopen op een verwaarloosd veldje, dan langs geknotte bomen voert en na bijna vierhonderd meter eindigt bij de brievenbus van André en Els. Hun huis ligt aan de andere kant van de sloot, de beweegbare brug is ingetrokken (3).
Het zijn kleine kicks, maar deze rommeligheid wordt onmiskenbaar bedreigd door het oprukkende geld. 'Gerard Jolinglandschap', bromt Baart terwijl hij wijst op de laatste mode onder de villabewoners: de antracietgrijze boerderette met rietgedekt dak. 'Ik heb niet zo zeer moeite met de smaak, al word ik daar niet blij van, maar erger is dat het eigene, het lokale in rap tempo wordt uitgewist. De pareltjes in Amsterdamse-Schoolstijl worden wel beschermd door hun monumentenstatus, maar je zou hopen dat er ook cultuurhistorisch respect is voor de ingetogen huisjes van kwekers. Maar goed, voor ik nou de boze, witte man ga uithangen: het is natuurlijk een zegen dat de vooruitgang hier per kavel komt, en niet per strekkende kilometer zoals in Haarlemmermeer.'
Welkom in Florida
Aan het einde van de Uiterweg, bij de Historische Tuin Aalsmeer, duiken we het oude dorpscentrum in (4). Achteloos wijst Baart op pareltjes als het botenhuis van architect Greiner, de voormalige ULO van Wiebenga en het Oude Raadhuis aan de Dorpsstraat waar hij ooit een tentoonstelling had (5).
Stiekem blijkt Baart heel wat meer van Aalsmeer te weten – en gefotografeerd te hebben – dan ik had gedacht, althans: van het oude Aalsmeer, want op het terrein van de nieuwe veiling is hij, geeft hij toe, nog nooit geweest: 'Best vreemd dat ik met mijn oog voor de moderniteit van het landschap de veiling altijd links heb laten liggen. Om de brullende luchthaven kon ik niet heen, dat was helder. Maar nu we het gebied verder verkennen, blijkt dat ik ook met die ogenschijnlijk slapende reus van de veiling aan de gang moet.'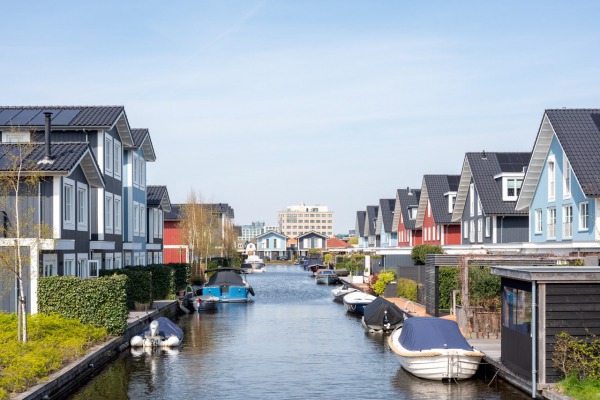 We steken de oude provinciale weg over en stuiten op een splinternieuw woonwijkje dat ligt ingeklemd tussen de weg zelf en de scheepswerf Feadship, waar Russische oligarchen tot voor kort hun jachten lieten bouwen. Dorpshaven is een wijkje met 350 woningen; het noordelijke deel is, heel klassiek, uitgevoerd in baksteen, in het zuidelijk deel zijn de huizen, heel Scandinavisch, bekleed met hout (6). 'Welkom in Florida', pruttelt Baart, die onmiddellijk zijn camera pakt en de huizen vastlegt tegen de achtergrond van de hoge loods van Feadship. Hij kijkt nog eens rond en zegt dan waarderend: 'Die slootjes tussen de huizen maken veel goed, heerlijk, de geparkeerde auto's netjes op de eigen oprit.'
Puzzelen met de LIB
Meteen ten zuidoosten van Dorpshaven ligt een woonwijkje waaraan nog wordt gebouwd: Polderzoom, met straks 250 woningen (7). Dat juist hier twee nieuwe wijkjes liggen is logisch: door de aanleg van de N201, een nieuwe weg die met een grote boog om Aalsmeer heen loopt, is de oude provinciale weg afgewaardeerd tot een soort dorpsstraat en ontstond ruimte voor woningbouw. Maar de geluidsoverlast van Schiphol bleef natuurlijk.
We rijden om de tweede fase van Polderzoom heen en zien van west naar oost eerst keurige rijtjeshuizen in aanbouw en dan een rijtje bedrijfsruimtes in de steigers. Logisch, denken we, we komen nu binnen de geluidscontouren van Schiphol, de 58 decibel om precies te zijn, die tegenwoordig zone 4 van het Luchtvaartindelingsbesluit (LIB 4) heet. En dan zien we dat er in het laatste stukje van de voormalige polder, dus het dichtst bij de herrie, tien kavels zijn uitgezet, waarvan er een al is bebouwd met een groot vrijstaand huis. 'Hier moet de uitzonderingsregel van kracht zijn', vermoedt Baart, 'die maakt ontwikkelingen tot vijfentwintig woningen mogelijk in de LIB-zone 4.' Dat blijkt te kloppen, als ik het later nakijk zal het aantal woningen zelfs nog worden uitgebreid: onder politieke druk zijn op het laatste moment twee kavels ingeruild voor een appartementencomplex met zeventien starterswoningen. Zeventien appartementen plus acht resterende vrijstaande huizen is inderdaad precies vijfentwintig – woningbouw onder de rook van Schiphol is sprokkelen en schrapen.
Sloop?
Baart wil me Stommeer laten zien, de allereerste uitbreidingswijk van Aalsmeer, die nóg wat verder naar het zuidoosten ligt. 'Je zult zien, het is zo'n wijk die je kent, ook als je er nog nooit bent geweest'. En inderdaad ademt alles hier de zorgvuldige volkshuisvesting van de jaren vijftig. Via de centrale winkelstrip (8) van de wijk – aha, híér ligt dus de uitgebrande Poolse supermarkt van de keten Biedronka waarover ik in de krant las - fietsen we naar de Fresialaan, die Baart in 1985 vastlegde voor de jaarlijkse foto-opdracht van het Rijksmuseum (9).
Baart: 'Ongelofelijk, er is niets veranderd, moet je kijken wat een rust en ruimte. En hoeveel openbaar groen. Paradoxaal genoeg moet je, juist als je grootschalig woningen toe wilt voegen aan deze regio, ook hiernaar kijken.' Ongelovig kijk ik hem aan: 'Je wilt deze hele wijk toch niet afbreken?' Hij legt uit: 'Individueel bezit blokkeert elke verdichting. Dit is corporatiebezit, dan kun je een plan maken met veel meer huizen dat minstens zo goed is als wat er nu staat. Want dat is natuurlijk de bottomline: zonder goed plan, dat ook goed is voor de huidige bewoners, moet je er niet aan beginnen.'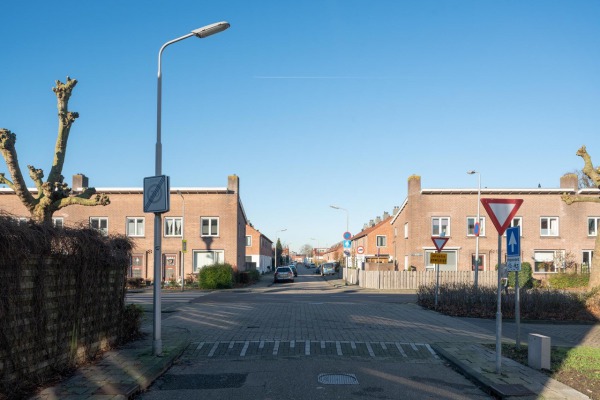 Omcirkeling van de veiling
We zijn nu inmiddels zo ver naar het zuidoosten afgezakt dat we de bewoonde wereld achter ons laten: net voorbij de tuinbouwschool bereiken we de werklandschappen van Aalsmeer.
Als eerste fietsen we over bedrijventerrein Hornmeer, een klassieker uit de jaren zestig, met veel autobedrijven en hier en daar wat bedrijfswoningen boven de panden. Meteen spot Baart een datacenter, dat door zijn massieve anonimiteit opvalt: gesloten gevels, hoge hekken, geen naam of reclame-uiting die iets verraadt (10).
Dan steken we door naar het epicentrum van Aalsmeer, de bloemenveiling die inmiddels voluit FloraHolland Aalsmeer heet, de grootste en belangrijkste van de vier locaties van coöperatie FloraHolland. Het zal een omcirkeling worden van een terrein dat inmiddels bijna twee vierkante kilometer beslaat. Klinkt niet veel? Denk dan aan driehonderd voetbalvelden of vorstendom Monaco, waar 40.000 mensen wonen.
Een aaneengesloten terrein is het niet: het oudste deel, dat inmiddels Centrum heet, dateert van begin jaren zeventig van de vorige eeuw. Eind jaren negentig maakte de veiling de sprong over de grens met Uithoorn en kwam locatie Zuid erbij, in die tijd werd aan de noordkant een enorm terrein toegevoegd voor de opslag van de karretjes waarmee de bloemen worden getransporteerd. Een eind jaren nul begon de inrichting van Oost.
'Op eigen risico'
We beginnen de verkenning van het reusachtig complex door de provinciale weg N231 over te steken, in de verte zien we de overdekte en volledig geautomatiseerde transportband die hoog boven de weg Centrum en Zuid met elkaar verbindt. We fietsen om Zuid heen en aan de achterkant zien we aparte entrees voor fietsers en vrachtauto's. 'Privéterrein' staat op het bord en verder: 'Degene die zich op dit terrein begeeft doet dat op eigen risico en onderwerpt zich aan het veilingreglement.' Dat klinkt weliswaar licht dreigend, maar in essentie staat hier dat het terrein gewoon vrij te betreden is. Wat we dus doen.
Aan één kant van de wegen ligt weliswaar een fietsstrook, maar verder is alles op het veilingterrein ingericht voor de vrachtwagen. Aan weerszijden van de brede wegen staan anonieme panden met docking stations waar de vrachtwagens achteruit tegenaan parkeren om te laden en te lossen: het heeft iets van inktpatronen die je in een printer klikt, of van zakken met plasma die aan een infuus worden gehangen. Zelfs personenauto's tellen niet echt mee op dit terrein, om te parkeren worden ze naar het dak verbannen – wat een aardig klimmetje oplevert voor de sportieve fietser (Theo blijft beneden) (11).
Via een vrachtwagenparkeerterrein met de lieflijke naam Hedera verlaten we het terrein aan de zuidoostkant, fietsen onder een fly-over door die vrachtwagens ongelijkvloers naar Schiphol voert en komen op een bedrijventerrein dat niet bij de veiling hoort, maar wel twee hotels voor arbeidsmigranten huisvest (waarvan één in aanbouw) en rijden via de Hornweg naar de noordkant van de veiling (12 en 13).
We stuiten op een noodweg in de vorm van een U-bocht: een bord laat weten dat hier een tunnel wordt aangelegd die Centrum moet gaan verbinden met het karrenterrein in Noord en vandaaruit met de provinciale weg naar Schiphol (14). Net als de eerdere fly-over is deze tunnel bedoeld om het vrachtverkeer vrij baan te geven, vandaar de afkorting OLV: Ongestoorde Logistieke Verbinding. Kosten 11,3 miljoen euro, waaraan FloraHolland 3 miljoen bijdraagt.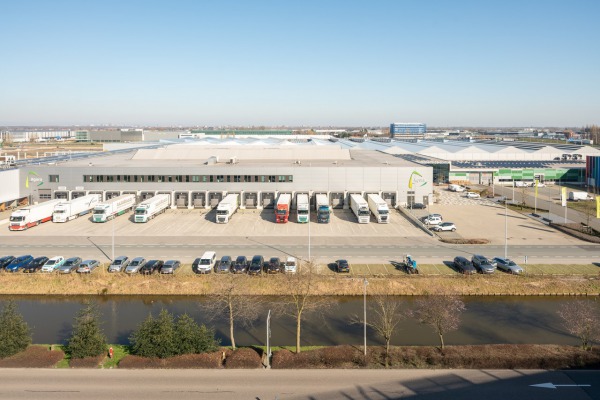 En dan steil omhoog
We fietsen verder met aan onze linkerhand een hoog, grijs geluidsscherm, en plotseling is in dat scherm een toegang uitgespaard. Hier staat eenzelfde bord met 'Privéterrein' en 'eigen risico', maar in dit geval staan er openingstijden bij: je mag erin van 's morgens half vier tot 's avonds elf uur en zo komen we weer midden in de vrachtwagenwerkelijkheid van de veiling. Het terrein is zo groot dat het een eigen rondweg heeft, compleet met bushaltes.
Bij een rotonde nemen we oprit D1, een weg die omhoogloopt naar een lang parkeerdek op eenhoog, geflankeerd door kantoortjes van expeditiebedrijven, dan weer omlaag, nog twee rotondes en dan naderen we de grote finale van deze toer: de hellingbaan naar het parkeerdek boven op het hoofdgebouw van de veiling, een betonnen gigant van 630 meter lang en 180 tot 310 meter breed. Even voor het gevoel: dat zijn meer dan twintig voetbalvelden.
Vergeet het kopje van Bloemendaal, deze beklimming is steiler en lastiger (15). En het uitzicht is niet per se mooier, maar zeer zeker spectaculairder: met dank aan het onbewolkte weer zien we in het noorden Schiphol liggen, in het oosten de Zuidas, in het zuiden Uithoorn en ten westen het dorp Aalsmeer en daarachter de Westeinderplassen.