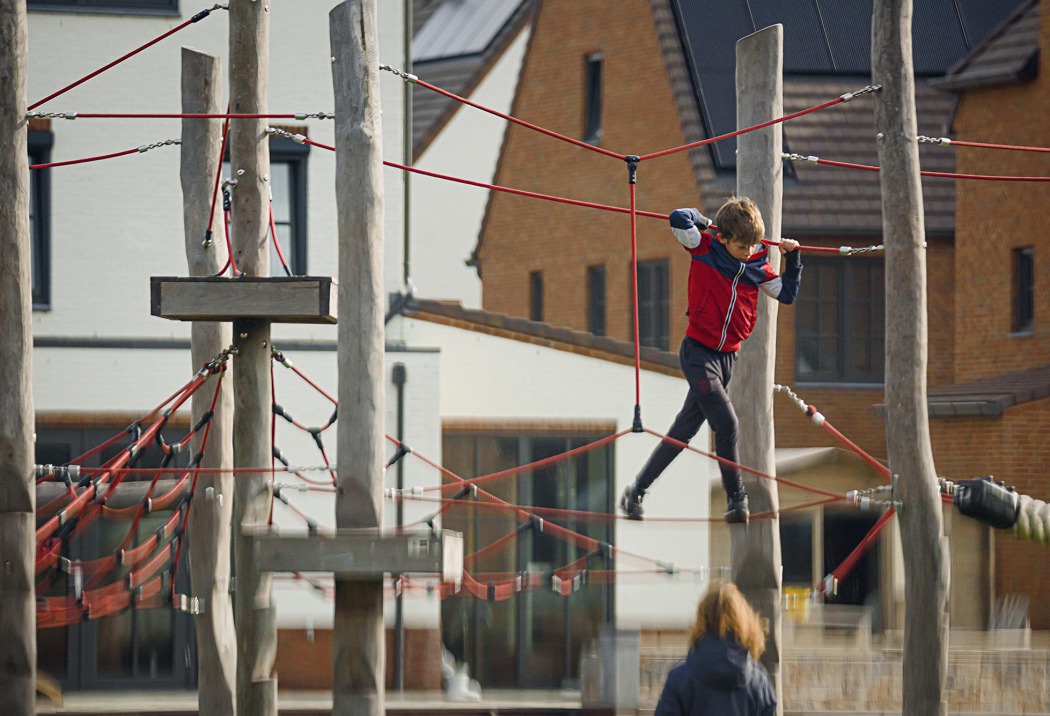 In gesprek met Martine van Vliet
Sectie

Pandemieportretten
Gesprekken
Participatie
Martine van Vliet, stedenbouwkundige en landschapsarchitect over de behoefte aan (extra) groene ruimte voor nu en de toekomst
Hoe functioneert onze openbare ruimte de ruimte in de wijken, parken. Hebben we voldoende ruimte beschikbaar om onszelf gezond en fit te houden?
Ik heb het idee dat het wel goed gaat met de wijze waarop de openbare ruimte functioneert, met een kanttekening naar het verschil in gebruik van ruimte binnen een historische binnenstad met smalle straten en minder ruimte en het over het algemeen bredere profielen en meer ruimte in Haarlemmermeer. Daar kun je niet spreken van gebrek aan ruimte waardoor afstand houden problematisch wordt.
Afgelopen zomer maakten meer mensen dan gewoonlijk gebruik van de buitenruimte, ook omdat de vakanties in het eigen land werden doorgebracht. De openbare ruimte werd heel goed gebruikt, zoals in de parken. Op mooie dagen, ik woon zelf Haarlem, zag je dat in parken alle plekken die normaliter bijna leeg zijn, overvol en bezet waren met ongebruikelijke taferelen van kinderen die zwemmen in het Bolwerk, ze gingen compleet met luchtbedden het water op. De parken fungeerden als stranden. > Het is een ander, beter gebruik van parken dan voorheen. Door het intensieve en veranderende gebruik, zie je ook dat mensen de natuurwaarden verstoren, dat conflicten gaan ontstaan.
Zie je als ontwerper die opgave verschuiven? De totale behoefte aan aantal vierkante meters groen gericht op recreatie en leefruimte.
We moeten echt rekening houden met groen en gebruiksruimte in hoog stedelijke omgevingen. Mensen met een klein achtertuintje hebben behoefte aan extra ruimte. Zeker wanneer thuiswerken de norm wordt. Voor bestaande historische steden zal het heel moeilijk zijn omdat er gewoon niet meer ruimte beschikbaar lijkt. Hoewel er is veel aan het verschuiven: bij minder reisbewegingen met de auto, heb je minder parkeerplaatsen nodig, die zou je dan weer kunnen omvormen naar ander gebruik en groen.
Uitwisseling van functies en normeringen is een optie. In de periode van thuiswerken blijkt het belangrijk dat mensen een ommetje kunnen maken. De verwachting is dat deels thuiswerken, blijvend gaat zijn in de toekomst. Dat is aanleiding om de normering voor groen opnieuw te bekijken. Er zijn normeringen voor groen waar vierkante meters aan verbonden zijn, zoals het percentage buurt groen, wijk groen en bovenwijks groen. Met name bovenwijks groen is belangrijk, ofwel grote parken, op een bepaalde loopafstand van de woning. Daar komt vanuit de beperkte bewegingsvrijheid de component recreëren dichter bij huis bij. Dat biedt kansen voor een soort functiemenging, omdat je dan ook een combinatie kunt maken van water gecombineerd met een strandje etc. De leuke plekken zijn die plekken, waar de grotere speelplekken zijn, een horeca bestemming ligt, een groter wateroppervlak of strandje ligt. Het ommetje kan langs en via die groene locaties lopen. Die behoefte bestaat zeker binnen hoog stedelijke gebieden. De vraag is of dit ook geldt voor Haarlemmermeer.
Gezien de ligging in de MRA, zou de taakstelling van Haarlemmermeer kunnen verschuiven?
Ik denk dat veel mensen door corona worden ontmoedigd om te reizen. Mensen zoeken het toch dichtbij huis wat betreft het dagelijkse ommetje. Vanuit de regio gezien, moet er een reden zijn om 20 km te gaan reizen voor recreatie. De bossen, duinen en het strand zijn behoorlijk vol, er ontstaat behoefte aan andere locaties en buiten de bekende routes om verplaatsen. De fietsroutes worden daarbij belangrijker.
Een gebied, een park, recreatie, vraagt wel een bepaalde aantrekkingskracht, een programma, want waarom zou je naar het Haarlemmermeerse bos gaan, of naar het stadspark in Hoofddorp. Een extra impuls geven aan PARK21 kan ik me wel voorstellen, er met een hernieuwde blik naar kijken.
Het is zaak om goed in te gaan schatten waar op regionaal niveau de behoefte ligt. Aan wat voor type landschap is een extra behoefte en hoe kun je daarin voorzien.
Er zijn wijken in ontwikkeling; vragen die om een andere manier van ontwerpen?
Ik heb de indruk dat er heel goed gekeken wordt naar het aantal vierkante meters groen dat gerealiseerd wordt in de gemeente. Er zijn veel grote plekken aangewezen, zoals Park Quatrebras in de gelijknamige groene wijk in Badhoevedorp. Het centraal gelegen verbindende park krijgt diverse gebruiksmogelijkheden zoals wandelen, spelen, sporten en verblijven. Stadscentrum Hoofddorp werkt aan het Stadspark, met de belevingstuin, kinderboerderij, en speelplekken. Dit Stadspark krijgt straks een veel stedelijkere functie met meer programma naast Hyde Park, met een hoge bebouwingsdichtheid.
Het Wandelbos, De Fruittuinen en het tennispark zijn in het toekomstig stadspark meer met elkaar verbonden. Ook is er straks meer eenheid door dezelfde bruggen, banken en ander meubilair én planten die meer op elkaar zijn afgestemd. De route kun je rollend afleggen over een breder rondgaand pad, van skeelers tot rolstoel.
Dan is er de Toolenburgerplas, die voorziet in een recreatiefunctie, PARK21, de lange structuren van de Geniedijk, het Haarlemmermeerse bos. De hoofdstructuur zit er eigenlijk wel heel goed in. Aan de verbindingen wordt gewerkt. Wat maakt Park 21 anders dan de Toolenburgerplas of het Haarlemmermeerse Bos, waarin onderscheiden ze zich?
Een aanbeveling die ik wil maken is het opnieuw bezien en heroverwegen van de bestaande programmering van de verschillende locaties en daarnaast de ordening van de bestaande fietsverbindingen. Dat zou interessant zijn.
Wat zou je mee willen geven, waar we op moeten letten?
Ik kan me voorstellen dat die vierkante meters groen al bestaan in de huidige structuren maar dat het analyse vraagt op programmering in relatie tot de intensiteit van gebruik en typologie van de verschillende plekken. Mijn indruk is dat het huidige Stadspark redelijk rustig was afgelopen periode, na transformatie van het park met meer programma en de realisatie van Hydepark zal dat natuurlijk transfomeren.
Ik denk zeker dat het heel goed is om goed naar de verbindingen te kijken. Hoe kun je de recreatieve rondjes maken, mensen hebben daar zeker behoefte aan. De verwachting is dat mensen straks weer meer op kantoor willen werken, maar heel veel bedrijven denken ook 'we houden het gewoon zo'. Binnen onze projecten duiden kantoorontwikkelingen daardoor nu op krimp, de nieuwbouw is gericht op vermindering van het aantal vierkante meters, de bouw op een laag minder. Op het thuiswerken zit gewoon een enorme besparing, dat zal zeker voor een deel zo blijven. Daar staat tegenover dat mensen meer behoefte krijgen om ommetjes te maken rond huis, daarom is het betekenis geven, het inrichten van die locaties en de routes heel belangrijk.
Onderzoek of de routing en de netwerken, voldoende verbonden zijn.
Binnen die recreatieve rondjes en netwerken, signaleer je ook problematiek in het verschil van snelheden, zoals het lopen, joggen, wandelen met hond, steppen, fietsen, het gebruik van e bike en mountainbike. Mensen proberen van alles, bewegingen doorsnijden elkaar. Heeft dat te maken met gebrek aan ruimte, met gedrag; dat zijn interessante observaties bij intensief gebruik van de ruimte. Hoeveel ruimte hebben we voor een bepaalde functie en wat is er daadwerkelijk nodig? Bijvoorbeeld, het gebruik van ruimte voor buitensport is toegenomen. Op het moment dat sportscholen dichtgaan, verschuift het sporten naar buitenlocaties. Het kan zijn dat dat zo gaat blijven, ongehinderd door luchtstromen en beperkingen.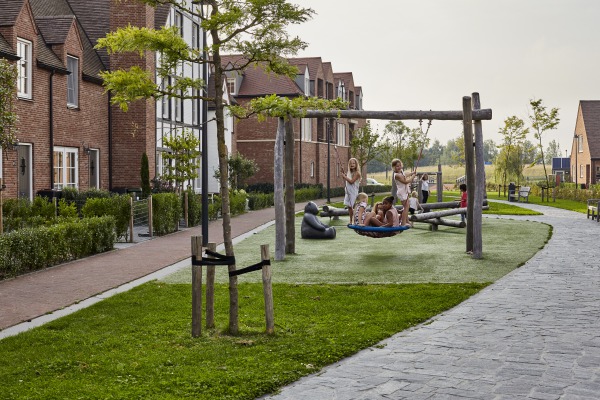 Zo is ook de behoefte aan varen met recreatiebootjes toegenomen. De watersport trekt enorm aan. De vraag is of dat zo blijft, net als de vraag of mensen in Nederland blijven voor vakantie of toch weer massaal vertrekken naar het buitenland. Dat bepaalt mede of die boot, de mountainbike op deze schaal gebruikt blijven worden. Het gebruikt van de e bike neemt gestaag toe. Het vraagt om een analyse naar de huidige stand van recreatie, het gebruik van de buitenruimte en de prognose voor de tijd in de post corona tijd.
Valt er een inschatting te maken voor het gebruik van ruimte rondom bedrijfsruimtes?
Je ziet nu al door die 1,5m afstand, dat liften groter worden, dat de trap centraler gesitueerd wordt en een toename van het aantal liften. Het effect is zichtbaar op de woningbouw en de bedrijven. Bij campussen of bedrijventerreinen speelt de buitenruimte een steeds belangrijker rol, dat was al onderdeel van de duurzaamheidsgedachte. Natuurinclusief, een gezonde werkomgeving, die beweging was ingezet en ik verwacht dat die trend doorzet.
LoosvanVliet werkt aan een CLIC- City Logistics Innovation Campus- in het Lijndenhof. Dat is een bedrijvenpark wat met name gericht is op de stadslogistiek en de last electric mile. De distributie die overgaat op kleinere voertuigen en allemaal elektrisch de stadsregio in gaan. Daar is de buitenruimte bij de kantoren ook heel belangrijk vanuit de behoefte aan fitness, sporten en bewegen. Er wordt gewerkt aan een community. In toenemende mate zullen deze locaties niet alleen gericht zijn op bedrijven zijn maar ook een functie vervullen voor de buurt.
Is er sprake van een kwaliteitsverhoging?
In toenemende mate zie je dat door regelgeving, certificering de kwaliteit verhoogt. Bedrijven bijvoorbeeld willen een Breeam certificaat (certificeringsmethode voor een duurzaam gebouwde omgeving), dat iets zegt o.a. over waterhuishouding, beplanting- bijvoorbeeld vlinder aantrekkend- of duurzaam materiaalgebruik. Daar gaat steeds meer aandacht naar uit. Juist ook door dit soort certificaten speelt de buitenruimte een steeds belangrijkere rol. Ook wat betreft omgevingsaanvragen, is merkbaar dat de buitenruimte steeds belangrijker wordt. Daar waar het landschap eerder een soort behang was, is het nu een volwaardig onderdeel van planontwikkeling. Dit wordt nog eens versterkt door de nieuwe omgevingswet waarbij omwonenden meer inspraak krijgen. Op zich dus is er dus zeker sprake van een kwaliteitsverhoging. We hebben in Nederland een basaal probleem. Dat is de ondergrond. In Spanje of Frankrijk is de ondergrond heel stabiel. Als je daar op bepaald moment een mooie natuurstenen vloer plaatst, blijft die gewoon 100 jaar liggen. In Nederland is dat niet het geval. Voor zo'n buitenruimte staat 20 jaar en dan moet alles weer heringericht worden. Dat is een andere realiteit waar je mee te maken hebt en ook vaak maakt dat de investeringen beperkt blijven.
Signaleer je een urgente opgave voor Haarlemmermeer?
Vanuit dit gesprek adviseer ik om een inventarisatie te maken gericht op de snelheden van het gebruik. En om met de coronabril nog eens goed naar de structuur te kijken en dat in relatie tot de typen parken en de programmering.