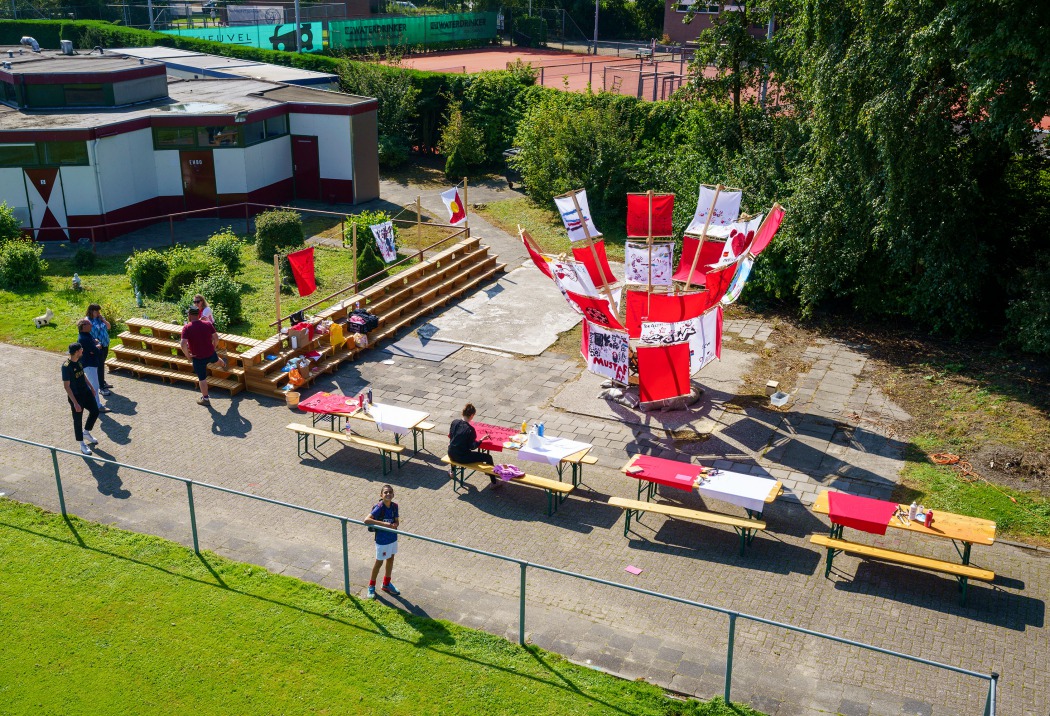 TORNADO
Sectie

Rijsenhout
Doen
De eerste week van september maakte beeldend kunstenaar Oscar Peters een reusachtige, tijdelijke installatie op het terrein van voetbalvereniging SCW. Dit bewegende kunstwerk, Tornado, vormde het uitgangspunt voor een meerdaags participatief project.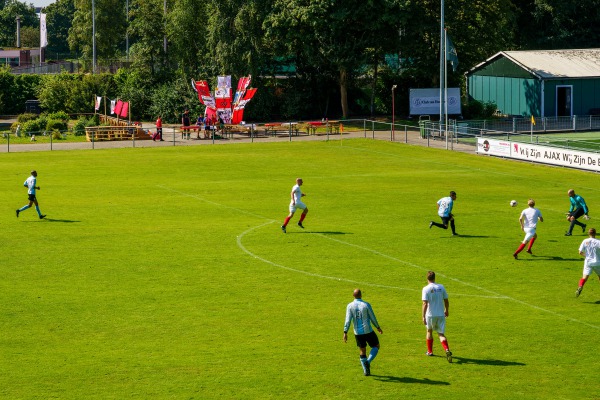 Symboliek van vlaggen
Kunstenaar Oscar Peters heeft zich voor Tornado laten inspireren door Japanse dorpsfeesten waar in rituelen, kleuren en choreografieën, samenkomst en gemeenschapszin centraal staan. Een van de bekendere festivals is Gion Matsuri, wat elke zomer plaatsvindt in Kyoto. Tijdens de bijbehorende parade worden drijvers, versierd met vlaggen en banieren, door de straten gedragen. Elk stadsdistrict of wijk wordt gerepresenteerd in één van de drijvers en de inwoners van de districten dragen de drijvers. De traditionele kleding, de drijvers en de vlaggen vormen een symbool voor de identiteit van de bewoners. Zij identificeren zich aan de hand van kleuren en vormen. Het gezamenlijk lopen of dansen, synchroon of in formatie, vormt éénheid in een groep mensen.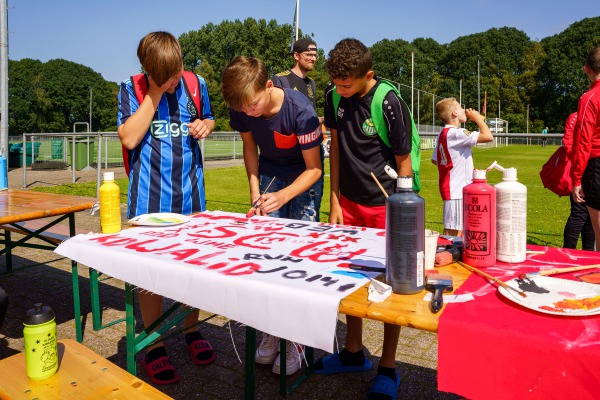 Tornado in Rijsenhout
Tornado, een kleurrijke rups (familie van de 'spin' en 'octopus' op de kermis) die uitbundig draait op het voetbalvereniging SCW. Vanuit een stalen as bewegen diverse armen over het veld waaraan vlaggen en franjes zijn bevestigd. Het sculptuur functioneerde als 'oog van de orkaan'. Rondom het werk werden mobiele werkstations opgebouwd waar bewoners kunnen meewerken aan het beschilderen van kleurrijke vlaggen waarmee Tornado werd volgehangen. In kleine groepen vanwege de voortdurende C-19 maatregelen.
Na het schilderen worden de vlaggen te drogen opgehangen aan waslijnen rondom het voetbalveld. Zo ontstaat er een week lang een feestelijk terrein waar bewoners elkaar ontmoeten en samenwerken aan een tijdelijk kunstwerk.
Tentoonstelling Luchtoorlog- en Verzetsmuseum CRASH en de Fortboerderij
De tijdelijke installatie op SCW verhuisde vervolgens naar de locatie van het Luchtoorlog- en Verzetsmuseum CRASH en de Fortboerderij, waar de geschilderde vlaggen voor een langere periode werden tentoongesteld. Het werk was tot eind september te zien in een buitententoonstelling. Tijdens deze maand vonden er een aantal goed bezochte evenementen plaats, zoals Open Monumentendag, Stellingmaand en de vrijheidsviering bij het CRASH Museum. Op het fort zelf en aan een aantal vlaggenmasten voor het Fort werden de vlaggen tentoongesteld die door bewoners zijn geschilderd. Vrijwilligers van CRASH hebben de vlaggen verplaatst en opgehangen. Daarmee hebben ze een eigen gezicht gegeven aan Tornado, letterlijk een adaptief participatieproject.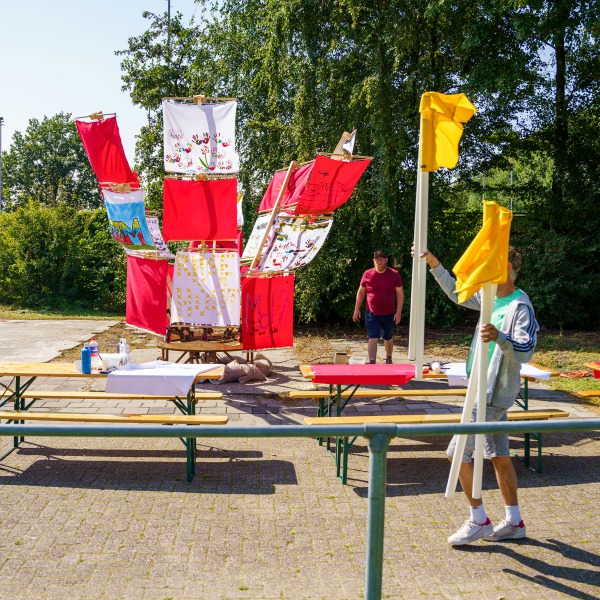 Voetbalvereniging SCW Rijsenhout
Het is helder geworden dat het sociale cement wordt gevormd door de voetbalvereniging SCW. Het voetbalveld, de kantine, een ontmoetingsplaats waar het dorp een café ontbeert. Jongeren (20+) moeten of op straat hangen of naar SCW 'een biertje doen'. De kantine ademt een pure jaren '70 sfeer. Het zijn de laatste maanden. Nieuwbouw en samengaan met de tennisvereniging komen eraan.
Het bleek een neutrale plek waar iedereen samenkomt. In tegenstelling tot de wijken van Rijsenhout, die zich meer gescheiden verhouden van sociale huur binnen de kern en vrije sector naar de uitlopers van het dorp. Het mengt niet zo. Tornado verbond.