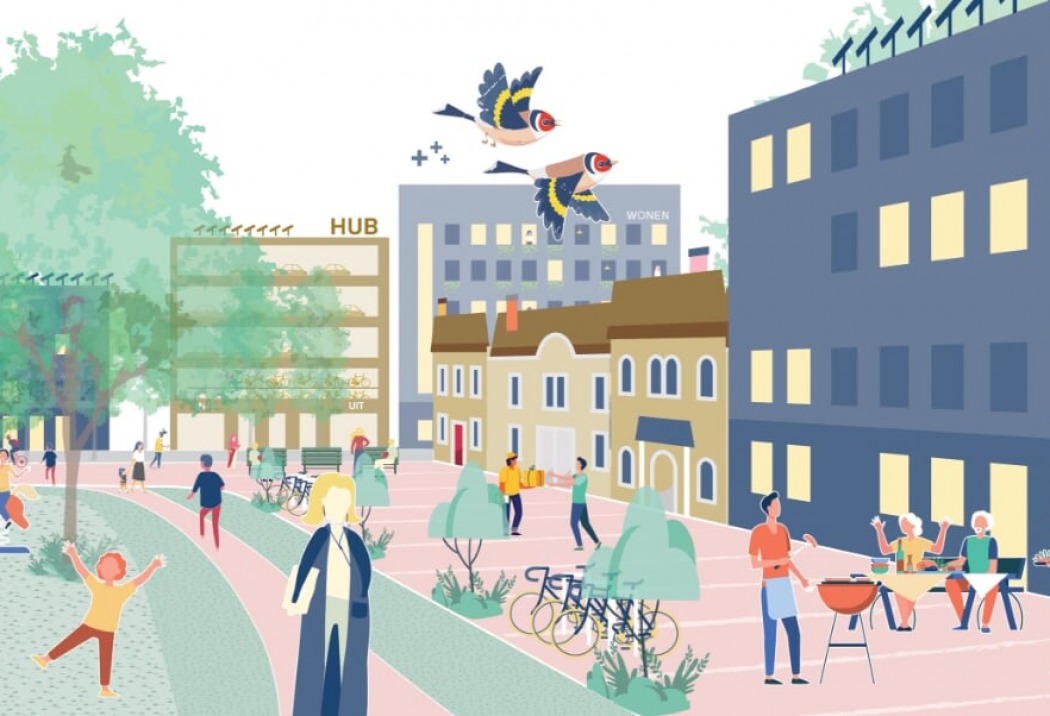 Gabriela droomt van groene ontmoetingsplekken
Sectie

Gesprekken
Haarlemmermeer Groeit
Groeiportretten
Participatie
De keuze voor Hoofddorp was eigenlijk puur zakelijk. Voor ons bedrijf was ik veel onderweg naar Heerenveen, Eindhoven, Apeldoorn, Rotterdam en Amsterdam. Ik was op zoek naar een huis waar ik zonder file naar deze plaatsen kon reizen, en dat werd Hoofddorp. Dus eigenlijk is dat waarom ik hier in 1998 terecht kwam. Ik had een plek gevonden waar ik niet lang in de file hoefde te staan.
Onsamenhangend en monotone stedenbouwkundige structuur.
Toen ik hier kwam dacht ik wel even: 'shit'. Ik was niet echt gecharmeerd van Hoofddorp. Het voelde als een onsamenhangende plaats. Er is sinds 1998 wel een hoop veranderd en ook verbeterd. Ik zie dat de nieuwe projecten meer rekening houden met diverse bouw. De nieuwbouw is speelser en met meer groen. Dat was in de oude opzet minder. Je verdwaalt compleet in de oude nieuwbouwwijken. Het ziet er allemaal hetzelfde uit, daar word ik niet vrolijk van.
Voor mij is het belangrijk dat in de architectuur rekening wordt gehouden met kinderen en senioren.
Verschillende prijsklassen en stijlen door elkaar heen en inzetten op zo duurzaam mogelijk bouwen. Niet dat bewoners later last krijgen dat ze nog van alles moeten doen om het duurzaam te maken, maar dat je het als gemeente en ontwikkelaar oppakt. En wat is duurzaam? Er wordt bijvoorbeeld snel gekozen voor zonnepanelen en niet verder gekeken. Er zijn juist in Nederland ontzettend knappe koppen op dat gebied en die verdienen de aandacht. Ik denk bijvoorbeeld aan de moderne ontwikkelingen rondom de ramen. Het glas is dan het zonnepaneel en het glas helpt met verwarmen en verkoelen van de woning. Daar geloof ik persoonlijk meer in. Zonnepanelen zijn niet altijd storm bestendig en voor aannemers die een dakkapel moeten plaatsen zijn ze een last. En waar komen de zonnepanelen vandaan? Is het dan wel duurzaam als het van zo ver moet komen?
Ik weet niet hoeveel ruimte Haarlemmermeer nog heeft om te bouwen. Het voordeel van hoogbouw is dat je minder ruimte nodig hebt. Ook bij deze vorm van bouw pleit ik voor diversiteit en dat op een speelse, duurzame en groene manier. Ook differentiëren in klasse en stijl en rekening houden met een groene ontmoetingsplek voor de gemeenschap. Heeft de gemeente voldoende ruimte dan liever gewoon laagbouw en divers. Divers in bouwstijlen en divers in wat het gaat kosten. Ik geloof in gemeenschappen waar iedereen woont, van starters tot aan senioren. Alles door elkaar heen.
Streef naar een groene en gezonde omgeving.
Ook ben ik een voorstander van groene daken. Groen is sowieso belangrijk met Schiphol zo dichtbij. Dan denk ik hoe groener hoe beter. Want bomen helpen toch mee de luchtkwaliteit te verbeteren. Naast de luchtkwaliteit is groen ook belangrijk voor de gemeenschap die daar woont.
Ik droom van een groene ontmoetingsplek in de wijk. Een leuk klein park waar voor alle leeftijden wat te doen is.
Denk aan 'Jeu de boules', schaaktafels, spelkaartentafels, bankjes, speelplekken voor kleintjes, trainingstoestellen, een veld voor voetbal, basketbal, een fontein, een beek, schaduw en zon. Ook zou ik het een tof idee vinden dat er standaard vroeg in de ochtend en vroeg in de avond een Tai Chi leraar staat waar je gewoon in je normale kleren kan aanschuiven en meedoen. Ook danslessen kunnen zo aangeboden worden enz. Belangrijk is dat het gratis is. De gemeente zou dit samen met de gezondheidszorg in Hoofddorp kunnen oppakken en promoten. Een ontmoetingsplek voor jong en oud. Het voordeel van dergelijke plekken is dat de gemeenschap vanzelf op gang komt. Geen wachtlijsten, geen lidmaatschapsgelden en dichtbij huis.
Prettig wonen in Hoofddorp?
Ik ben nog steeds niet in katzwijm over het uiterlijk van Hoofddorp. Het Hoofddorp rond 1900 dat spreekt mij veel meer aan. De mensen maken Hoofddorp leuk. Je kan snel connecties leggen, praten met buurtbewoners of iets regelen. Dat maakt het prettig wonen. Hoofddorp heeft een goede ligging. Je bent zo in Amsterdam, zo in Rotterdam en zo op het strand en in het bos. Bus- en treinverbindingen zijn goed. Het cultuuraanbod is geweldig. Alle cursussen, het aanbod van theater, muziek, sport en kunst. Dat is fantastisch. Het zou ook goed zijn dat er in de wijken de mogelijkheid komt dat een kind of een ouder iemand kan aanschuiven zonder dat dit geld kost. Zo een ontmoetingspark kan daar goed in voorzien. Ik hoop dat alle monumenten gekoesterd blijven. Dat soort gebouwen moeten in ieder geval blijven. Het zou een goed idee zijn om nog verder aan de gang te gaan met de leegstaande kantoren. Dus op een gegeven moment gewoon de knoop doorhakken en doe er wat mee. Kantoren kunnen prima omgebouwd worden tot woningen. Woningen voor alle budgetten en leeftijden. Diverse bouw, groene ontmoetingsparken en hopelijk ook de mogelijkheid om op een stukje grond zelf een huis te bouwen. Zelfbouw die wel gebonden is aan een aantal regels, maximaal zo hoog, zo breed en diep, maar voor de rest ga je gang. Ook zou het mooi zijn om in nieuwe wijken ruimte te reserveren voor Tiny Houses. Niet op een aparte plek maar midden in de woonwijk waardoor ze in de gemeenschap geplaatst worden en ook gebruik kunnen maken van water, riolering en elektriciteit. As er dat soort initiatieven komen dan woon ik hier over 20 jaar nog.