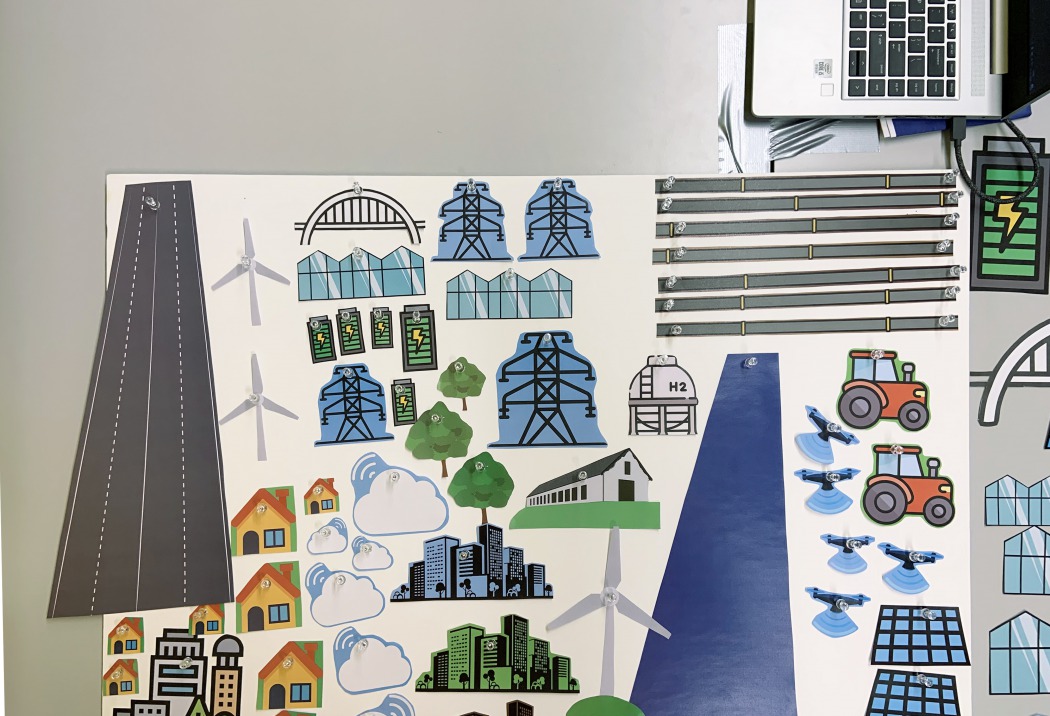 Het energielandschap van de grote technologische opgave
Sectie

Energie & Data
Designer gloeilampen, een jaarlijkse vliegvakantie naar de Canarische Eilanden, het rijden in een diesel auto of 27 jaar oude Mercedes, het hebben van een sauna thuis of het stoken van een houtkachel in een Frans buitenverblijf: een greep uit de 'guilty pleasures' van de deelnemers waar moderator Léon van Geest tijdens de voorstelronde naar vraagt. Dit zorgt voor een luchtige start van de sessie, maar maakt ook meteen duidelijk dat de grote technologische opgave en de daarbij behorende landschapsbewerkingen niet louter een technische, maar ook een culturele opgave is op kleine en persoonlijke schaal, alsook op grote (inter)lokale en nationale schaal.
Dit webinar kwam tot stand door een samenwerking tussen SPIE, Architectuur Instituut Rotterdam en Podium voor Architectuur Haarlemmermeer en Schiphol als onderdeel van het Stadsmakerscongres 2020.
Verslag Justin Agyin, AIR Rotterdam Beeld Podium voor Architectuur
Met zijn introductielezing nam Jacco Saaman ons mee langs ontwikkelingen en trends op het gebied van energie- en datatechnologie, zowel onder- als bovengronds. Hierbij merkt hij meteen op: "Daar waar het bovengronds en op tekening er rechtlijnig en georganiseerd uitziet, is het ondergronds in werkelijkheid vaak een spinnenrag." Zo kan er nu al in veel stedelijke gebieden vaak niet meer gegraven worden, maar moet zand en/of klei afgezogen worden vanwege de grote dichtheid van bestaande infrastructuur en dan te bedenken dat er nog (veel) meer bij moet komen. Maar, wat dan precies? Jacco lichtte een aantal voorspellingen, trends en ontwikkelingen toe.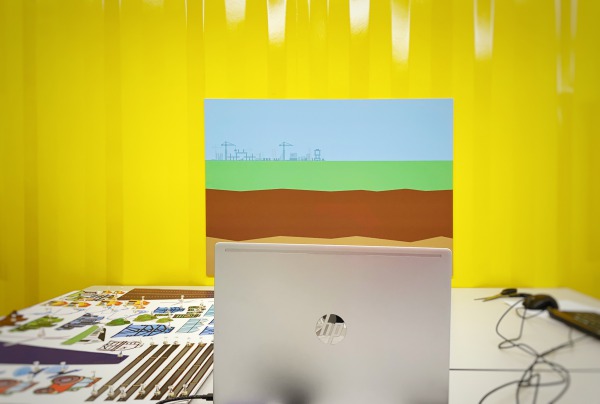 Energie
"We bewegen naar all-electric", licht Saaman toe, "waarbij vrijwel alles, van productie tot functioneren, elektriciteit nodig heeft. De voorspelling is dat het totale elektriciteitsverbruik zich kwadratisch ontwikkelt, waarmee het met de dag ingewikkelder wordt en wat ook een grote impact op de openbare ruimte en het landschap zal hebben." Een voorbeeld hiervan zijn laadpalen: laadpalen voor fietsen, auto's, bussen en ook vrachtwagens, laadpalen aan huis, bij de bushalte en de supermarkt om de hoek.
Nederland is al redelijk dichtbevolkt met laadpalen, zo'n 58.000, maar in 2030 zouden dat er 1,7 miljoen moeten zijn om de trends en groei bij te houden. Dit zal een grote impact op de openbare ruimte hebben, evenals het inductieladen dat in ontwikkeling is. De binnen- en pleziervaartsector loopt nog enigszins achter, maar is ook al bezig met het uitrollen van walstroompunten om boten op te laden, dan wel om de energievoorziening aan boord te hijsen.
Digitalisering
Op het gebied van digitalisering wordt ook voorspeld dat sensoren en use cases kwadratisch zullen toenemen. In het eerste kwartaal van 2020 is er volgens de Autoriteit Consument en Markt al meer dan 200 miljard MB aan mobiele data gebruikt in Nederland. Een record. Daarnaast had in 2016 had 25 op de 100 Nederlanders een digitaal apparaat, als een smartphone, terwijl dit in 2018 al 87 op de 100 was. Veel van deze apparaten maken ook 8 tot 25 keer betere foto's, wat een groter bestand oplevert en dus meer dataverbruik voor opslaan in de cloud of te vesturen.
Met de uitrol van 5G en ontwikkeling van 6G is er bijna geen glasvezel meer nodig, al zullen fiber to the x aansluitingen in combinatie met zendmasten blijven bestaan. Ook zal het aantal zendmasten toenemen, want de krachtigere frequentiebanden van 5G hebben slechts 100 tot 150 meter bereik en meer masten betekent potentieel meer verrommeling van de openbare ruimte en het landschap. In antwoord hierop noemt Saaman als voorbeeld 'slimme masten': lantaarnpalen uitgerust met camera's, lucht-, geluids- en temperatuursensoren en antennes en kunnen mogelijk ook dienstdoen als oplaadpunten. Ze hebben allemaal een voedingspunt en glasvezel vaak redundant (=dubbel) uitgevoerd, wat ook weer tot een dichtere bevolking van kabels ondergronds leidt.
"Hoe krijgen we bovengronds niet zoals ondergronds en hoe organiseren we ondergronds toekomstbestendig voor bovengronds?"
Is de vraag die Saaman ten einde van zijn presentatie stelt aan de deelnemende ontwerpers, beleidsmakers en onderzoekers.
Expertgesprek onder leiding van Moderator Léon van Geest
Jiska Engelbert (Erasmus Universiteit Rotterdam)
Saskia Naafs (Strategisch adviseur, Atelier Rijksbouwmeester)
Maarten Nypels (gemeente Rotterdam)
Thamar Taks (gemeente Rotterdam)
Alexander van Steenderen (gemeente Rotterdam)
David Rademacher (Rademacher de Vries)
AnaLuisa Moura (Vereniging Deltametropool)
Theo Baart (fotograaf,– auteur Groot Amsterdam)
Arie Voorburg (Arcadis)
Ruud Ghering (Studio Bouwhaven)
Bonnie Chopard (stedenbouwkundige/landschapsarchitect)
Geert Haenen (Provincie NH Energie)
Tilly Stroo (Dutch Wavemakers)
Robbert de Vrieze (stadmaker, co curator IABR)
Sjaak Punt (student ABKA/ werkzaam bij Arcadis)
David Dooghe (strategisch adviseur TNO)
Het gaat over keuzes, niet over het onvermijdelijke
Dat stedelijke verdichting ook ondergrondse verdichting betekent is duidelijk geworden uit het verhaal van Saaman en is bekend bij een aantal deelnemers. Zo refereert Bonnie Chopard aan een onderzoek van de gemeente Amsterdam naar het ontwikkelen van methoden om de infrastructuur voor nieuwe technologie in te passen in de bestaande profielen van de bestaande stad en noemt Alexander van Steenderen dat er in Rotterdam kabels al verticaal gestapeld worden en er gekeken wordt naar keldertracés.
In het nagesprek bleek echter al snel dat om deze uitdagingen het hoofd te bieden, de vraag veel breder getrokken dient te worden. Om te beginnen wordt benoemd dat het gaat over keuzes en niet over het onvermijdelijke zoals vaak gepresenteerd wordt, ook in de presentatie van Jacco. Volgens David Dooghe zit de uitdaging namelijk niet in de techniek, maar in keuzes en gedrag. 'We kunnen namelijk niet ongebreideld, ongehinderd doorzetten en trekken van de ontwikkelingen, waarbij externaliteiten afgewend worden op de samenleving en het milieu." Robbert de Vrieze noemt het voorbeeld van het Huis van de Toekomst in de Rotterdamse wijk Bospolder-Tussendijken waarbij alles, van het malen van koffiebonen tot het opladen van je telefoon, op menskracht moet gebeuren en zo de waarde van energie getoond wordt. Sjaak Punt benoemt de daarbij onderliggende vraag:
Moeten we het in plaats van het hebben over het faciliteren van het gebruik ons niet juist afvragen of we dit wel moeten willen?
Welke vragen stellen we niet?
Jiska van Engelbert gaat hierop door en stelt de vraag: Welke vragen stellen we niet? Als voorbeeld noemde ze de slimme palen: Wie betaalt de laadpaal en slimme palen als gepresenteerd door Saaman? De gemeente, want straatverlichting is een publieke voorziening, betaald met publiek geld. De gemeente gaat dus de innovatieslag betalen voor private partijen. De vraag is: Willen we hier als samenleving wel in investeren? Daarnaast wordt dit ook een nieuw datapoint waarmee onze data, het nieuwe goud, wordt gemijnd.
Willen we dat als burgers wel? Burgers worden vaak totaal niet betrokken en wordt een slikken of stikken ontwikkelingslogica gehanteerd in besluitvormingsprocessen. Burgers die de ontwikkelingen bevragen of ertegen protesteren worden niet zo snugger gevonden. Volgens Engelbert gaat het echter juist om keuzes maken in het belang van de burger. Om dit te doen moet het een publiek debat zijn, wat betekent dat het ook een politiek debat moet worden.
Theo Baart merkt op: Het debat moet breder, het gaat ook om communicatie en legitimatie;
Het is ook een cultuurdebat.
Als je het hebt over een inpassingsvraagstuk dan ben je al te laat
Dit gebeurt volgens Maarten Nijpels niet voldoende, omdat we er in Nederland in blijven slagen om alles heel dorps te bekijken. De decentrale sturing van de overheid leidt er toe dat kleine gemeentes beslissingen moeten nemen over vraagstukken waar ze de kennis en mankracht niet voor hebben. Deze beslissingen hebben vervolgens wel een impact op nationaal niveau, zoals bij de datacenterclusters in Middenmeer en Eemshaven. Nijpels stelt echter:
Nederland is een stadsstaat waarbij je niet continue besluitvorming en verantwoordelijkheden kunt blijven decentraliseren, zeker niet in het licht van de verschillende transformaties waar we tegelijkertijd mee bezig moeten zijn en die ook nog eens in elkaar grijpen.
Plannen om deze transformaties aan te pakken worden echter vaak behandelt als inpassingsvraagstuk waarbij behoeftes en trends sectoraal en niet integraal worden doorgetrokken. Windmolens, zonneparken, datacenters, woningbouw en de daarbij behorende infrastructuren worden ingepast terwijl je dan al te veel te laat bent. Het gaat namelijk om systeemproblemen waarbij er gekeken moet worden naar wat voor type probleem het is en welke systemen en stromen erachter zitten.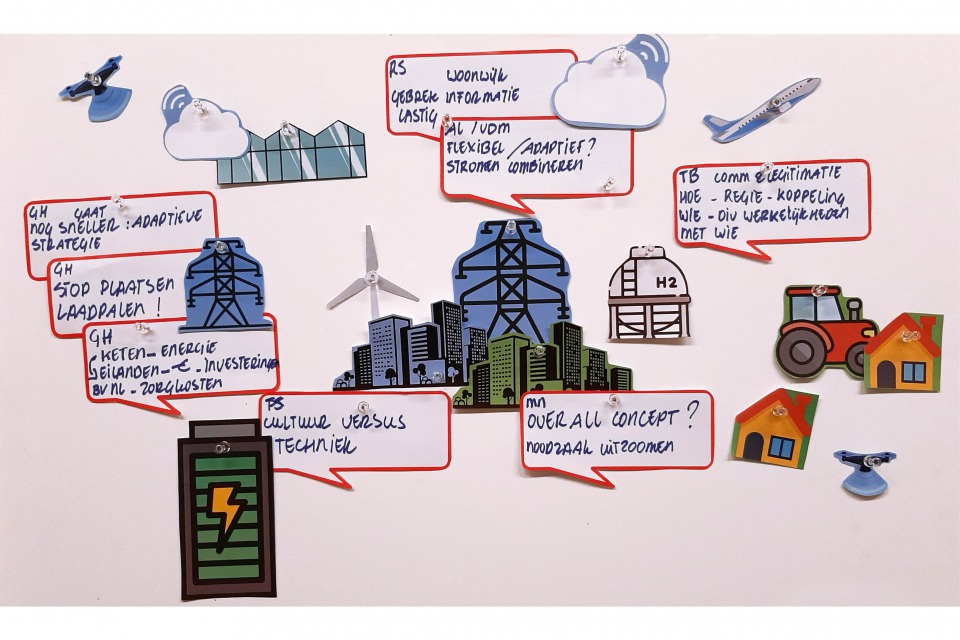 Parallelle werkelijkheden
Ook AnaLuisa Moura zit dat als dé manier om verschillende systemen en stromen integraal te combineren en een lokaal probleem als onderdeel van een breder vraagstuk te zien. Dit in- en uitzoomen vraagt ontwerpkracht om het macro- en microniveau te koppelen en te voorkomen dat er te snel in hele specifieke technische oplossingen als een 'superpaal' gedacht wordt. Zo voorkom je ook dat er in 'separate silo's' gewerkt wordt aan parallelle werkelijkheden, bestaande uit plannen en strategieën die losgezongen zijn van de complexe realiteit. Zo kan er wel bedacht worden dat er fysiek duizenden woningen bij kunnen komen binnen de contouren van bijvoorbeeld Amsterdam, maar als je alleen al kaarten van de bodemdaling en hindercontouren er overheen legt, blijft er nog maar een fractie van de mogelijkheden over. Hieruit komt dan ook misschien wel de meest pregnante vraag van de middag:
Hoe ga je het debat breder maken en werken we van silo naar samen?
Transities niet zien als kostenposten, maar als investeringskansen
In dit licht heeft Arie Voorburg het over mensen in hun rollen en verantwoordelijkheden helpen met beslisondersteuning, omdat je te maken hebt met complexe besluitvormingsvraagstukken. Het Nederlandse landschap is altijd een afdruk geweest van een energiecultuur en om dit in goede banen te leiden moeten de juiste beslissingen genomen worden. Zo dient er niet nagedacht te worden over een punt op de horizon, maar letterlijk over de horizon zelf.
De deelnemers zien ook kansen in technologische oplossingen als de superpaal die, mits kritisch tegen het licht gehouden, ingezet kan worden voor de verdichting van steden, omdat de mogelijkheden voor het mengen van functies beter gemonitord en in kaart gebracht kan worden. Zo kunnen ze bijdragen aan het inbouwen van fatsoenlijke feedbackmechanismen in systemen. Zo kan er gewerkt worden aan overall concepten, vormen van homeostase: balanssituaties waarbij alles en iedereen een rol heeft. Door deze en andere investeringen die in het licht van de transities nodig zijn niet enkel als kostenposten te zien, maar als investeringskansen, als publieke werken beheert door publieke lichamen, lukt het beter om schijnbaar onverenigde zaken bij elkaar te brengen. Zo kunnen burgers beter betrokken worden en de overheid zich een meer sturende, voorwaardenscheppende rol toe eigenen om investeringen en innovatie vanuit marktpartijen mogelijk te maken.
SPIE
SPIE Nederland is onderdeel van de SPIE Groep (Société Parisienne pour l'Industrie Electrique), wat dé onafhankelijke Europese leider in multitechnische dienstverlening op de gebieden van energie en communicatie. SPIE werd opgericht in 1900 in Parijs, maar voorzien tegenwoordig met 47.200 medewerkers door heel Europa in zowel Nederland als daarbuiten klanten in het ontwerp, de uitvoering, de exploitatie en het onderhoud van netwerksystemen en energie-, infrastructurele-, industriële- en gebouwinstallaties. Sinds 2004 is het bedrijf met de dochteronderneming SPIE Nederland actief in Nederland. Met de identifiactie van de vier marktsegmenten Smart city, e-fficient buildings, Energies en Industry services tracht SPIE in te spelen en te anticiperen op technologische en demografische ontwikkelingen als digitale transformatie, globalisering, vergrijzing en duurzaamheid.
Jacco Saaman
Jacco Saaman is Directeur Business Development & Innovations bij SPIE Nederland. Daarvoor was hij verantwoordelijk voor het datanetwerk van internetserviceprovider ZeelandNet en tussen 2006-2009 was hij manager bij SPIE Schiphol. Verder is Saaman bestuurder van de Dutch Windwheel Foundation, bestuurder Stichting Toekomstbeeld der Techniek dat domein overstijgende en interdisciplinaire toekomstverkenningen op het snijvlak van technologie en samenleving doet en lid van de raad van advies van TekDelta een ecosysteem van start-ups en voorbeeldstellende Nederlandse (kennis)instituten.
---
Deze expertmeeting krijgt een vervolg in 2021. Op weg naar keuzes, de vraag of en hoe we dit willen en hoe maken we het debat breder?