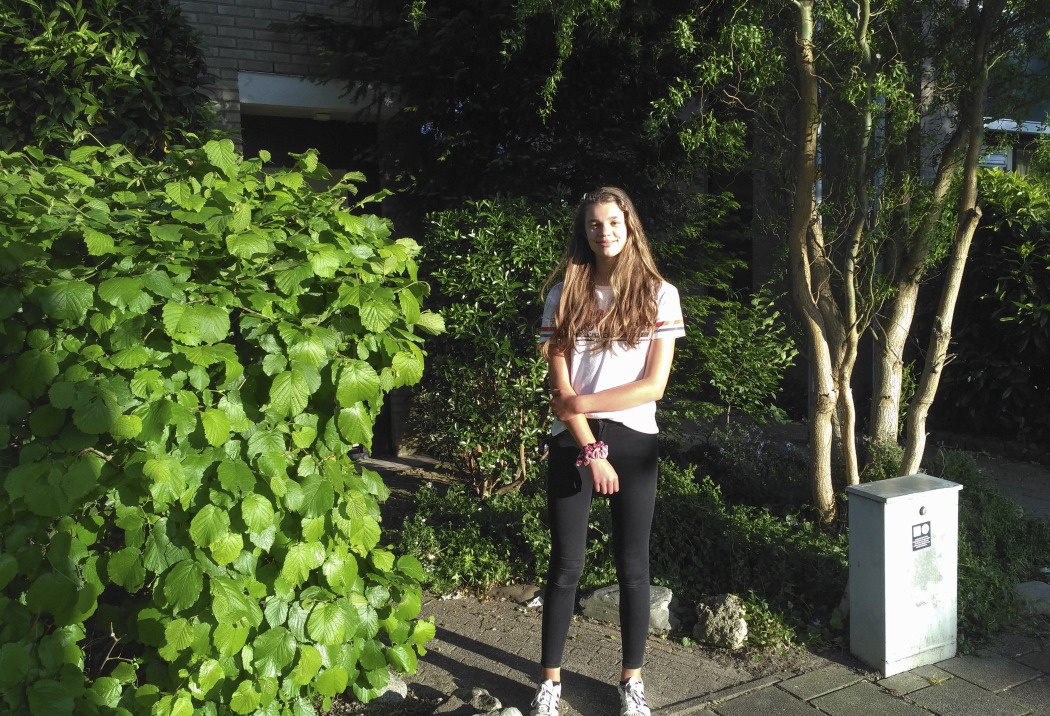 EN NU 20 // leerling Sanja Mišović
Sectie

Gesprekken
Gesprekken
We hebben ons langzaam aangepast aan de nieuwe werkelijkheid. We zijn benieuwd naar de ervaringen van de jongeren uit Haarlemmermeer in deze periode. En we verzamelen ideeën en tips voor de toekomst voor onze leefomgeving na deze coronacrisis. In deze Q&A spreken we met de 14-jarige Sanja Mišović, leerling van het Kaj Munk College.
Hoe beleef je dit moment?
Inmiddels zitten we al een tijdje in quarantaine. Het aantal besmettingen lijkt af te nemen en ik hoop dat dat ook zo blijft. Ik ben wel gewend geraakt aan het thuiswerken en vind het zelfs best fijn. Ik verveel me niet, ik krijg veel opdrachten en huiswerk van school. Ook heb ik veel hobby's, zoals cello spelen, muziek maken, voetballen, hardlopen, tekenen en nog veel meer. Mijn passie is om dingen te maken of te ontwerpen, vandaar dat ik Technasium doe op het Kaj Munk College. Kortom, ik verveel me niet. Ook spreek ik toch nog wel eens af met vrienden. Ik probeer dan natuurlijk zoveel mogelijk afstand te houden en zoveel mogelijk mijn handen te wassen. De reden daarvoor is dat mijn moeder tot de risicogroep behoort, ik wil daarom voorzichtig zijn.
Ik ga veel naar buiten. Ik vind het niet fijn om de hele dag binnen te zitten. Dan ga ik wandelen. Tijdens het wandelen ga ik dromen of nadenken. Of muziek luisteren. Het ligt eraan waar ik zin in heb. Maar meestal denk ik tijdens het wandelen na. Soms denk ik na over het leven, of over wat ik later wil doen. Ik denk ook vaak gewoon aan random dingen.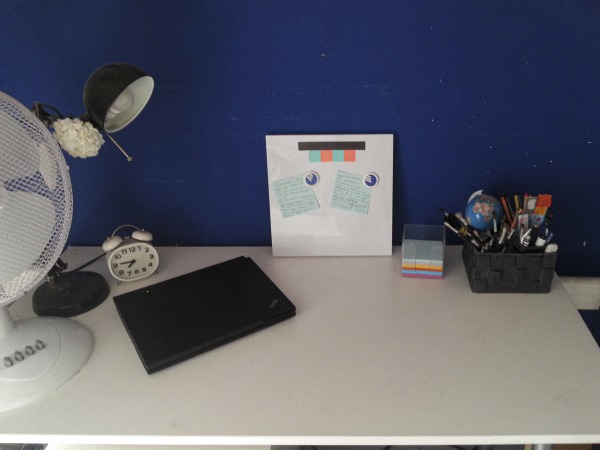 Wandelen is niet het enige wat ik doe; ik loop een paar keer in de week hard. Soms samen met een vriendin, soms alleen. Sinds kort heb ik ook weer voetbaltraining. Daar ben ik erg blij mee, ik vind voetballen namelijk super leuk! Verder help ik mijn ouders soms in de moestuin, of help ik mijn vader met klussen. Ik vind tuinieren leuk en rustgevend om te doen. Klussen met mijn vader vind ik op zich ook leuk, maar het ligt er wel aan waar ik hem mee moet helpen.
Ik ben in ieder geval blij dat ik nu tijd heb voor mijn passie, mijn hobby's en mijn familie!
Ik ben blij dat ik nu tijd heb voor mijn passie, mijn hobby's en mijn familie!
Verder heb ik veel respect voor alle zorgmedewerkers die zich enorm hebben ingezet (en dat nog steeds doen). Vooral de zorgmedewerkers in de landen waar veel mensen zijn die besmet zijn met corona.
Wat zijn de serieuze consequenties op jouw dagelijkse leven?
Een van de serieuze consequenties is dat ik nu online school krijg. Ik vind het op zich wel oké, maar het probleem is dat ik nu heel weinig lessen krijg. Normaal zou ik minimaal zes lesuren hebben per dag, maar nu heb ik er één of twee, soms drie (drie is het maximum). Vandaag had ik zelfs nul lessen, terwijl ik er normaal gesproken zeven zou hebben! Ik vind het echt jammer dat ik zo weinig les en uitleg krijg.
Heeft deze tijd invloed op je studie en voorlopige beroepskeuze?
Nee, het heeft geen invloed op mijn beroepskeuze. Ik wil nog steeds hetzelfde beroep als ik eerst wilde, en dat is dat ik later dingen wil gaan ontwerpen of maken. Dus eigenlijk een soort van Technasium als beroep. Ik weet niet of dat bestaat, en anders heb ik nu een nieuw beroep uitgevonden :).
Ik wil nog steeds hetzelfde beroep als ik eerst wilde, en dat is dat ik later dingen wil gaan ontwerpen of maken
Hoe ziet de toekomst er volgens jou uit op het gebied van:
Milieu Ik denk dat de opwarming van de aarde nog even blijft. En pas als er echt grote gevolgen beginnen te komen gaan we er iets aan doen, maar dat kan nog wel 10 jaar duren. Dus dat zullen we nog wel zien. Ik zie wel steeds vaker mensen of community's voorbij komen die opkomen voor de aarde en daar zullen er wel steeds meer van komen, dus ik geloof dat het allemaal goed komt! Ik zag laatst een filmpje van een vrouw iets gemaakt heeft dat precies op plastic lijkt en dezelfde functie heeft als plastic, maar dat eigenlijk geen plastic is. Ze heeft plastic ontworpen dat niet milieuvervuilend is. Dit soort duurzame uitvindingen gaan er vast nog meer komen in de toekomst.
Onderwijs Ik denk dat we veel meer online lessen gaan krijgen en dat scholieren met een laptop of tablet gaan werken. Docenten zullen vaker filmpjes maken of les geven via microsoft teams of zoom of iets anders. Er zijn nu al genoeg websites en apps die je kunnen helpen met bepaalde vakken op school. Ik geloof trouwens niet alleen dat scholen meer online gaan, maar ook bedrijven. Bedrijven realiseren zich dat ze helemaal geen kantoren meer nodig hebben. Het kan allemaal gewoon online! Het scheelt hen ook nog eens geld als ze alles online doen. Veel banen kunnen vanaf een afstand gedaan worden.
Veel mensen uit New York zijn naar hun tweede huis buiten de drukke stad gegaan. Die realiseren zich ook steeds meer dat het onnodig is om in een klein en duur appartement in de stad te wonen. Ze kunnen hun werk gewoon online doen, op een mooie plek in de natuur, of op een rustigere plek die ook nog eens goedkoper is dan het leven in een stad als New York. Ik denk dus dat veel mensen in de toekomst uit die drukke steden (denk aan New York, New Dehli, etc.) gaan verhuizen naar rustigere plekken; kleine steden of dorpjes, dicht bij de natuur. Met als gevolg dat New York en andere drukke steden straks erg gaan veranderen. Ik zie ook voor me dat je in de toekomst met een collega online werkt die misschien wel aan de andere kant van de wereld woont! Want dat kan nu allemaal.
Ik geloof niet dat Covid-19 nog 100 jaar zal bestaan. Het virus zal veel eerder verdwijnen, maar de effecten en gevolgen van het virus zullen nog een tijdje blijven. Covid-19 zal ons leven veranderen.
Uitgaan Veel mensen zullen de komende jaren sowieso nog steeds willen feesten en naar theaters of musicals willen gaan. Mensen houden van deze dingen, dat gaat niet zomaar weg. Ik bedoel, bijna iedereen vindt het wel leuker om echt bij een voetbalwedstrijd te zijn in plaats van er naar te kijken op tv. Dus bioscopen, theaters en festivals zullen zeker nog wel blijven.
Mensen houden van uitgaan, dat gaat niet zomaar weg
Sport Ik denk dat er wel een paar veranderingen gaan komen in sport. Vooral voor de mensen die sport niet echt voor hun plezier doen, maar puur om af te vallen of om spieren te kweken. Ik zag een tijdje geleden namelijk een advertentie over een ding dat je op welk lichaamsdeel dan ook legt en vastmaakt en dan elektrische schokken geeft door je spieren. Hierdoor krijg je meer spieren. Dus door zoiets op je buik te leggen kan je een sixpack krijgen, terwijl je normaal heel hard moet sporten voor een gespierde buik. Ik denk dat veel mensen dit gaan doen in plaats van gewoon sporten. Mensen zijn namelijk meestal wel lui. De ene is luier dan de andere natuurlijk, maar als je moest kiezen tussen een ding dat je op je buik legt dat schokken geeft terwijl jij op de bank tv zit te kijken, of keihard sporten in de sportschool, wat kies jij dan? Ik denk dat de meesten zullen kiezen voor de bank. Ik heb het even opgezocht, en het heet EMS trainer. Zoiets wordt de toekomst. Het schijnt namelijk heel effectief te zijn: 20 minuten sporten met stroom staat gelijk aan 3 uur zwoegen in de gym. Ik weet niet of dit waar is, maar dat las ik op een site. Ik denk trouwens wel dat sport blijft bestaan. Er zijn namelijk ook veel mensen, zoals ik, die sporten leuk vinden. Ik denk ook dat er nieuwe sporten gaan ontstaan in de komende jaren.
Reizen Ik denk dat reizen de komende jaren gaat veranderen. Ten eerste omdat reizen slecht is voor het milieu. Hierdoor gaan of mogen mensen minder reizen in de toekomst. Ook hoop ik dat we een andere manier van transport vinden. Ik geef even een voorbeeld: vrachtschepen. Die mega grote schepen met mega veel containers. Die zijn dus superslecht voor het milieu. Wist je dat ongeveer 18 van deze schepen evenveel uitstoot geven als alle auto's op de hele wereld? En moet je nagaan hoeveel er per dag varen. En hoeveel per week, en per jaar. Kortom, vrachtschepen zijn slecht voor het milieu. Ik hoop dus dat we een andere manier vinden van transport. Je hebt bijvoorbeeld de hyperloop, waarvan mensen zeggen dat dat de toekomst gaat worden. Ik las dat deze hyperloop milieuvriendelijk is, omdat het nauwelijks CO2 uitstoot is en het gebruik maakt van zonne-energie. Er zullen wel meer milieuvriendelijke voertuigen gemaakt gaan worden in de toekomst. En die hyperloop zal ook zeker iets gaan worden.
Er zal meer hoogbouw komen, omdat we in de toekomst last krijgen van overbevolking
Architectuur De veranderingen in de architectuur zullen wel meevallen. De huizen gaan er waarschijnlijk wat moderner uitzien, maar ik denk dat het daar wel ophoudt. Er zal misschien wel meer hoogbouw gaan komen, omdat we in de toekomst last gaan krijgen van overbevolking.
Openbare ruimte Er zullen wel veranderingen gaan komen op het gebied van de openbare ruimte. Ik zag namelijk laatst namelijk een filmpje van een vrouw die een park had ontworpen voor overstromingen. In de toekomst komen er vast meer van dit soort dingen met een functie.
Heb je tips voor de toekomst?
Als jij een mega-goed idee hebt om bijvoorbeeld klimaatverandering te stoppen of om de wereld beter te maken, ga er dan voor! Durf je ideeën te presenteren en durf groot te dromen. Niemand kan de wereld veranderen zonder groot te dromen en ervoor te gaan! GO FOR IT!!!!
Oh ja, en nog een ding: "Elk probleem is een kans" - Maco Combee (een van beste docenten van het Kaj Munk College).
Elk probleem is een kans!