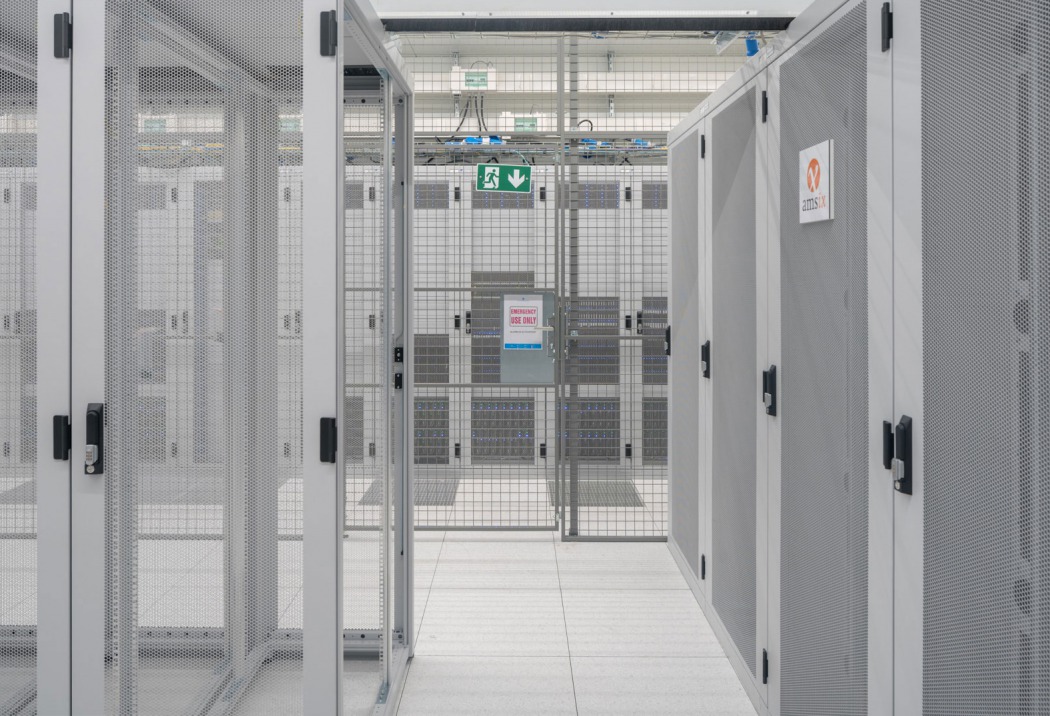 Safari 1: Datacenters
Sectie

Theo Baart
Artikelen
MRA
Als eerste was het datacenter aan de beurt. We zaten nog maar net in de bus, of we kregen meteen een verrassing: in tegenstelling tot eerdere berichten en bij wijze van grote uitzondering mochten we daadwerkelijk een datacenter bezoeken. Observaties door Pieter Hoexum.
Het Podium voor Architectuur Haarlemmermeer en Schiphol en fotograaf - onderzoeker Theo Baart organiseren een vijftal verkenningstochten, 'Safari's', in de Metropool Regio Amsterdam (MRA), om te zien hoe het nogal abstracte bestuursapparaat er op grondniveau, vanaf ooghoogte uitziet. Zoals alle safari's, hebben ook deze expedities een 'big five': datacenters, bodemdaling, de energietransitie, watermanagement en infrastructuur.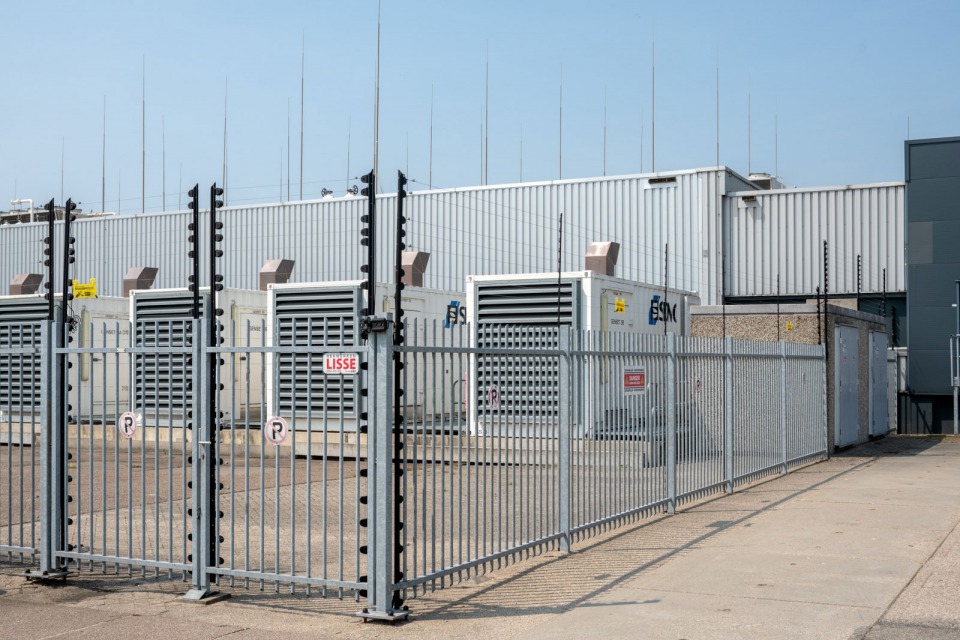 Als eerste was het datacenter aan de beurt. We zaten nog maar net in de bus, of we kregen meteen een verrassing: in tegenstelling tot eerdere berichten en bij wijze van grote uitzondering mochten we daadwerkelijk een datacenter bezoeken.
Wie vandaag de dag een telefoonnummer zoekt, of een adres, of een jaartal of een ander feitje (bijvoorbeeld over de Blauwe Banaan), die pakt er geen telefoonboek, stratenboek, of encyclopedie of een ander naslagwerk bij, maar pakt een laptop, tablet of gewoon de smartphone. Daarmee zijn alle gegevens, data die je maar zoekt, makkelijk te vinden. Het internet is, zeker als je het via de smartphone raadpleegt, eigenlijk altijd bij de hand en nooit 'gesloten'. Je kunt er zelfs je eigen gegevens opslaan, in the cloud, zodat je die ook altijd bij de hand hebt.
Het internet is alomtegenwoordig en alwetend, en is toch ongrijpbaar... Op een of andere manier heeft het iets religieus en verwachtte ik, toen ik te horen kreeg dat we tijdens de eerste Safari een datacenter gingen bezoeken, waar we dus ook die geheimzinnige 'cloud' zouden kunnen zien, een hedendaags equivalent van een middeleeuwse kathedraal.
De 'cloud' bleek echter een reusachtige doos op een desolaat bedrijventerrein.
Misschien is dat iets te zuinig, want de 'doos' was weliswaar niet echt mooi, maar toch zeker niet lelijk. Er was een heuse architect aan te pas gekomen en te zien was dat hij zijn best had gedaan. Evengoed was het een neutrale doos, die van buitenaf niets prijs gaf van wat er binnenin gebeurde. Het was een gebouw dat bijna wanhopig zijn best deed niet op te vallen, maar zo groot was dat je er niet om heen kon.
Het binnen gaan van het datacenter had de nodige voeten in de aarde. Onze identiteit werd gecontroleerd, iedereen kreeg persoonlijk een pasje omgehangen en we kregen strenge instructies: nergens aankomen. In het datacenter was het vooral heel erg wit en hoewel ventilatoren onophoudelijk zoemden, was het er bijna onaangenaam warm. De vormgeving was 'nostalgisch futuristisch', alsof je een decor van een ietwat ouderwetse sciencefictionfilm binnen loopt. Even fantastisch als vertrouwd. Tijdens de rondleiding en uitleg kwamen er meer paradoxen aan het licht.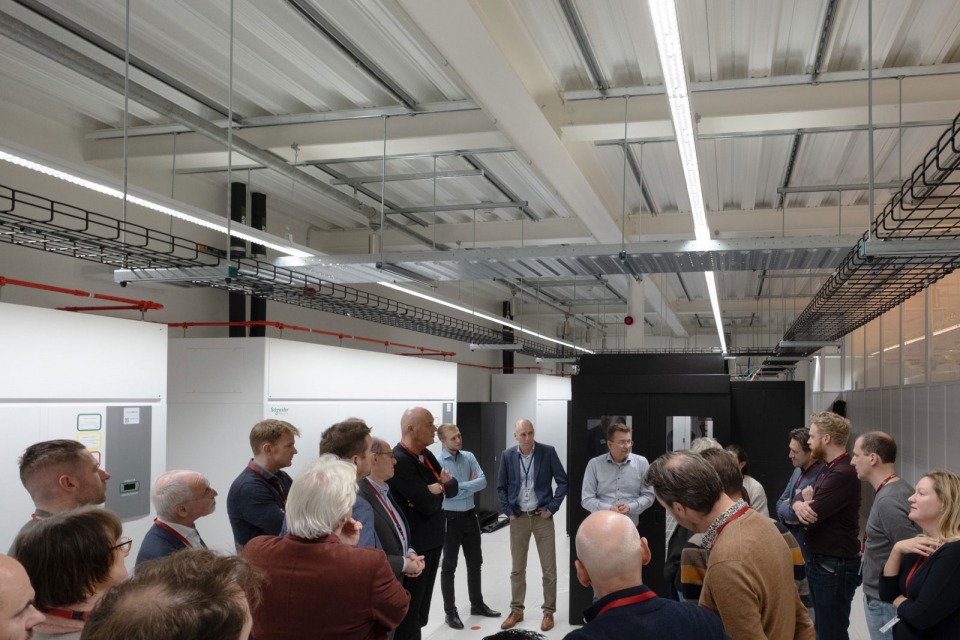 Om te beginnen bleek het hier, ondanks de grote moeite die het ons had gekost binnen te komen, allemaal te draaien om toegankelijkheid: de hier verzamelde servers moeten altijd geraadpleegd kunnen worden. Virtuele bezoekers moeten dag en nacht en onder alle omstandigheden terecht kunnen bij deze servers – maar in levende lijve was eigenlijk niemand welkom.
Het draaide dus allemaal om openheid én tegelijkertijd om discretie en geheimzinnigheid: niemand mocht weten welke internationaal opererende bedrijven hier een grote en belangrijke server hadden staan.
Een andere paradox was afstand. In de begintijd van het internet hoorde je vaak dat afstand er niet meer toe deed. Daar hoor je nu minder over en hier werd duidelijk waarom: afstand en locatie bleken er nog heel veel toe te doen. Grofweg is een datacenter een verzameling servers die contact kunnen maken met andere servers. Dat moet zo snel mogelijk: wie bijvoorbeeld via een boekingssite een hotel wil boeken, wil meteen, binnen paar seconden zien of er plek is, of er een alternatief in de buurt is, enzovoorts. De verschillende servers moeten dus razendsnel even contact maken met elkaar. Bepaalde bedrijven willen daarom dat hun servers pal naast elkaar kunnen staan, want iedere milliseconde telt.
De Safari ging vervolgens, bij wijze van contrast met het moderne datacenter, naar het aandoenlijk oubollige Tuinbouwmuseum Historische Tuin Aalsmeer. Het was met de bus een ritje van nog geen tien minuten, maar zodra we de Ringvaart van de Haarlemmermeerpolder over waren, waren we toch in een andere wereld terecht gekomen. Aalsmeer was bijna pittoresk, met zijn smalle weggetjes, dorpse sfeer en in onbruik geraakte boomkwekerijen. Iemand merkte op dat Gerard Joling hier ergens moest wonen – Aalsmeer is ook het centrum van de Nederlandse showbizz, die precies in deze toch wat kneuterige omgeving past.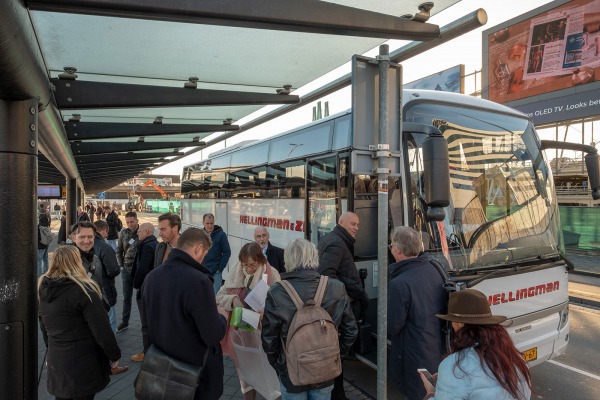 We konden plaatsnemen in de ouderwetse veilingzaal van Historische Tuin Aalsmeer om daar te luisteren naar presentaties van Ton Bossink en Stijn Grove. Maar eerst hield Theo Baart een korte inleiding op zijn Atlas; hij liet een indrukwekkende reeks foto's zien en vertelde dat hij werkte aan een 'visuele nulmeting' van de hele MRA, die over tien of vijftien jaar herhaald kan worden. Gecombineerd met kaarten, datavisualisaties en korte teksten, moet het een visuele vertelling worden over het rijk geschakeerde metropoollandschap waarin bewoners, gebruikers en bestuurders gezamenlijk en met oog voor elkaars belangen, ingrijpende keuzes moeten maken. Ton Bossink vertelde over de "OMGEVINGSVISIE NH2050", de omgevingsvisie van de provincie Noord-Holland. Zoals de ondertitel van die visie aangeeft is het grote probleem het houden en behouden van een "Balans tussen economische groei en leefbaarheid". De inwoners van de MRA zijn niet alleen consumenten en werknemers (of ondernemers), maar ook daadwerkelijk inwoner, voor wie het landschap waarin ze wonen, werken en verblijven een niet-economische waarde en betekenis heeft – het is hun leefgebied.
De visuele nulmeting van Baart komt dan ook van pas: zo kun je in gaten houden of de werkelijkheid zich houdt aan de visie, en vervolgens of de werkelijkheid of die visie moet worden aangepast.
Als directeur van de Dutch Datacenter Association kon Stijn Grove ons alles, of in elk geval veel, vertellen over datacenters. Uit het enthousiaste verhaal bleek dat het met de economische groei wel goed zat.
De verzamelde datacenters in Nederland, en met name in de MRA, vormen een digital gateway to Europe,
nu al is die toegangspoort bijna de grootse en het zou wel eens de grootste van Europa kunnen worden. Het enige probleem dat er nog leek te liggen, en waar ze zich maar te bewust van waren, is de "restwarmte". Het belangrijkste dat een datacenter doet is de binnentemperatuur constant houden, en dat komt meestal neer op koelen, op afvoeren van de warmte; het zou mooi zijn als die warmte "hergebruikt" kan worden.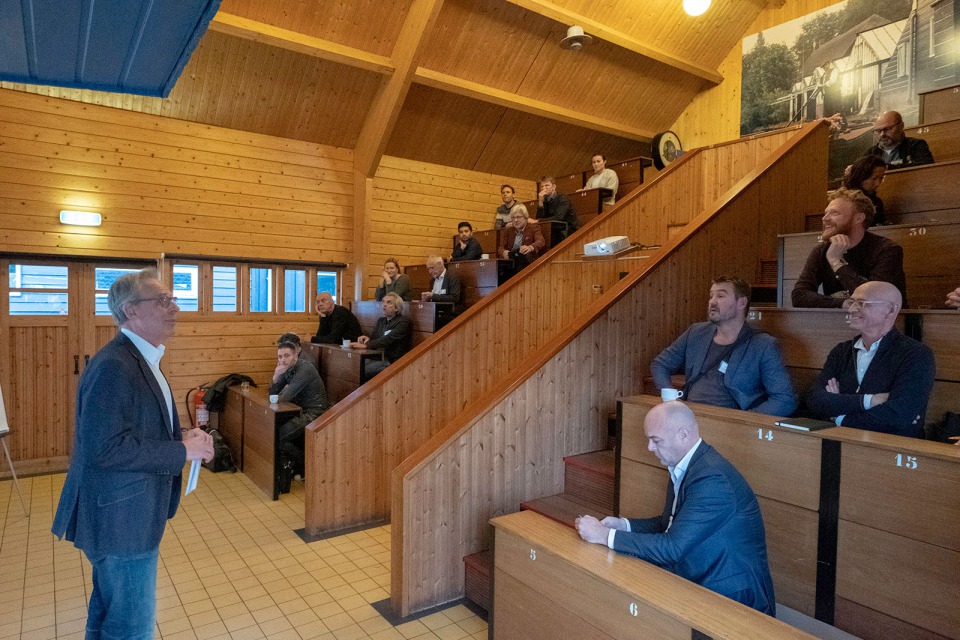 In de discussie achteraf, onder leiding van Arie Voorburg, kwam onder meer de vraag 'Waarom hier?' aan de orde. Het antwoord daarop klonk, na het zeer toekomstgerichte verhaal, maar al te vertrouwd in de oren: de ligging van Nederland (misschien kun je beter zeggen: Holland) aan zee, midden in Europa, heeft ons land altijd al tot een distributieland gemaakt waarin veel draait om logistiek. Bovendien heeft de Nederlandse overheid het internet al vroeg omarmd en heeft Nederland zich ontwikkeld tot een kenniseconomie met over het algemeen hoog en goed opgeleide mensen. Ook is het politiek en sociaal een stabiele omgeving.
Dat klonk al bijna geruststellend. Toch was er twijfel of het probleem van de restwarmte nu het enige probleem was. Geldt dat ook niet voor de verschijningsvorm van de datacenters? Niet dat ze niet mooi zijn, maar ze zijn zo 'in zichzelf gekeerd'... Het levert geen echt landschap op. Het hoeft ook geen idylle te worden, het mag een gebruikslandschap zijn, maar toch wel degelijk een landschap: een gebied waar ook voor mensen die er eigenlijk niets te zoeken hebben, voor 'pottenkijkers', toch nog wat te beleven is.
Op de terugweg van de Historische Tuin naar Schiphol, waar de Safari ook begonnen was, kwamen we nog een keer langs het datacenter. Het was inmiddels schemerdonker en het datacenter bood, achter een metershoog hekwerk met prikkeldraad, een ronduit naargeestige aanblik. Het leek wel een gevangenis.
Sprekers Safari 1: Ton Bossink (Projectleider Omgevingsvisie NH2050, PNH), Stijn Grove (Dutch Data Center Association), Arie Voorburg (visionair Arcadis)