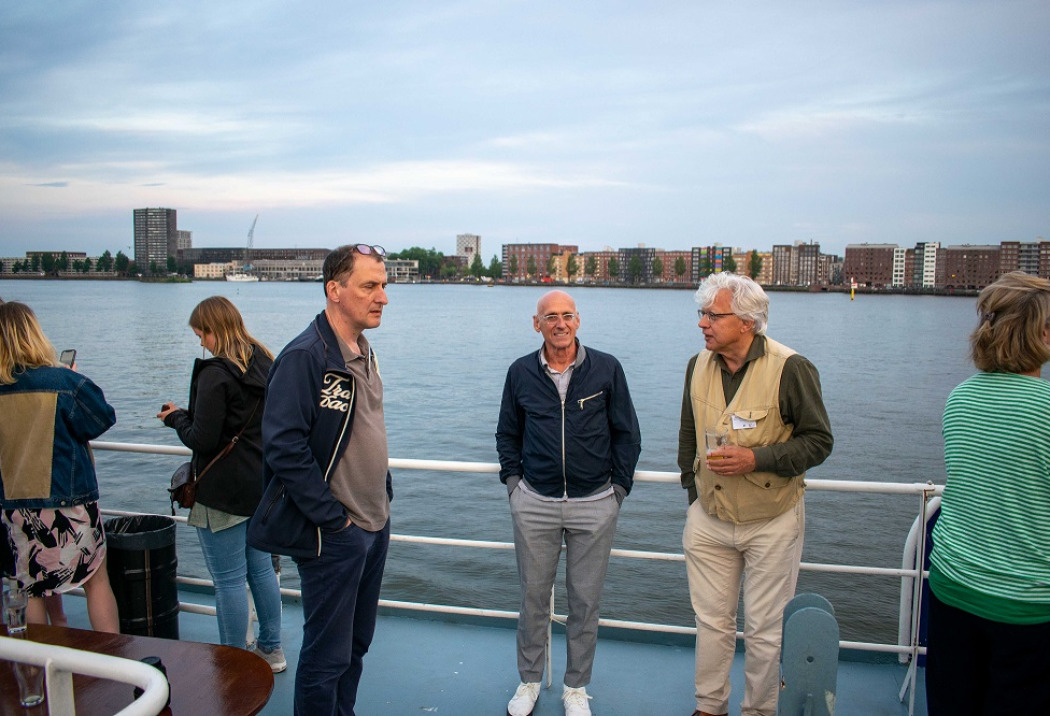 Safari 3: Voor Pampus
Sectie

Theo Baart
Artikelen
MRA
En nu liggen we dus voor Pampus,' zei Ton Bossink, de gespreksleider van deze watersafari. Hij had ons al gewaarschuwd voor zijn voorkeur voor flauwe grappen. Niet ten onrechte. Maar het was wel waar: we lagen inderdaad voor Pampus, het eilandje in het IJmeer.
We waren halverwege deze 'Watersafari', die was begonnen bij de steiger bij Muziekgebouw aan Het IJ. Daar stapten we op een boot, een 'partyboot' die betere dagen had gekend, die het IJmeer op tufte tot bij Pampus, met uitzicht op Almere, dat als een soort beloofd land aan de horizon lag.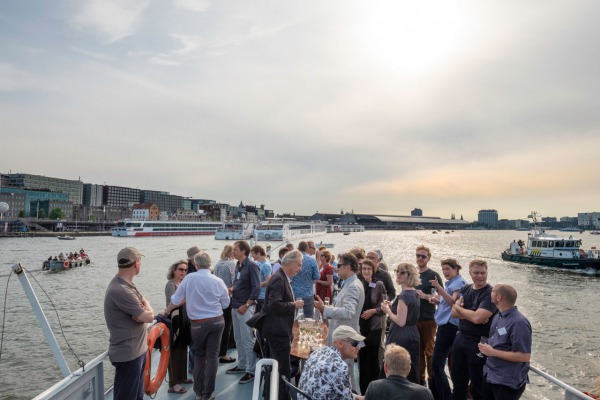 We genoten van het uitzicht: voor ons dus Almere, en links – pardon: aan bakboord – de Uitdammerdijk met daarachter Waterland, achter ons IJburg en daarachter, in de verte Amsterdam zelf. De voordrachten vonden plaats binnen in de boot, versterkt door de karaoke installatie en weliswaar ook met uitzicht, maar niet met de heerlijke buitenlucht en de geluiden en geuren die bij het water horen; de voordrachten waren dan ook heerlijk bondig: iedereen wilde maar al te graag weer naar het dek.
Nadat we welkom waren geheten door Yvonne Lub van Podium voor Architectuur Haarlemmermeer en Schiphol, de organisator van deze Safari's, en waren voorgesteld aan de gespreksleider en de gastsprekers, vertelde Theo Baart eerst nog even kort over zijn project met de werktitel 'Atlas MRA'. Centrale vraag daarbij is de schijnbaar eenvoudige, maar bij nadere beschouwing misschien wel onbeantwoordbare vraag hoe groot Amsterdam inmiddels is.
Hoe ver reikt de invloedssfeer van Amsterdam, wat hoort er nog bij, wie mag nog meepraten…
oftewel: hoe groot is de MRA? En dat wil hij niet vanuit de hoogte, maar juist staand met beide benen op de grond bekijken, en niet vanuit het centrum naar buiten kijkend, maar vanuit de randen naar binnen. In dit geval dus vanaf het water.
Terwijl we richting de Oranjesluizen voeren en uitzicht hadden op de locatie voor de veelbesproken (geplande) Sluisbuurt, bracht Baart de nieuwbouwprojecten bij Lisserbroek ter sprake. Hij sprak er zijn verbazing over uit ("Ik heb hier natuurlijk geen oordeel over, ik verbaas me slechts…") dat er ongelofelijk veel debat is over de Sluisbuurt, maar dat er over een project dat weliswaar half zoveel woningen omvat (ca. 1500 woningen in Lisserbroek en ca. 5500 in de Sluisbuurt) maar toch wel groots genoemd mag worden, bijna niet gepraat wordt - behalve dan in de dorpsraad van Lisserbroek. Over het hoe en waarom van hoogbouw in de Sluisbuurt lopen de nationale debatten hoog op, maar de komst van duizenden twee-onder-een-kappers lijkt wel volkomen vanzelfsprekend en onbetwistbaar.
Daarna droomde Baart even hardop: het water waar we nu over varen en zo'n mooi uitzicht op hebben, dit IJmeer, zou dat niet een geweldige baai van Amsterdam kunnen worden? Daar kon de volgende spreker meteen op inhaken. Frits Palmboom, Stedenbouwkundige en auteur van IJselmeergebied - een ruimtelijk perspectief en bovendien ontwerper van het plan uit 1995 en voorzitter van het Kwaliteitsteam IJburg, waarschuwde ons ervoor het IJmeer niet al te idyllisch te zien.
Het kan hier echt spoken, het kan ook een echt ruig gebied zijn – en dat zou het eigenlijk ook moeten blijven.
Het moet geen 'waterpark' worden. Het heeft de kwaliteiten van open water: het is van een enorme schaal en biedt een machtig uitzicht. De neiging om het gebied helemaal te temmen en 'huiselijk' te maken, moet onderdrukt worden.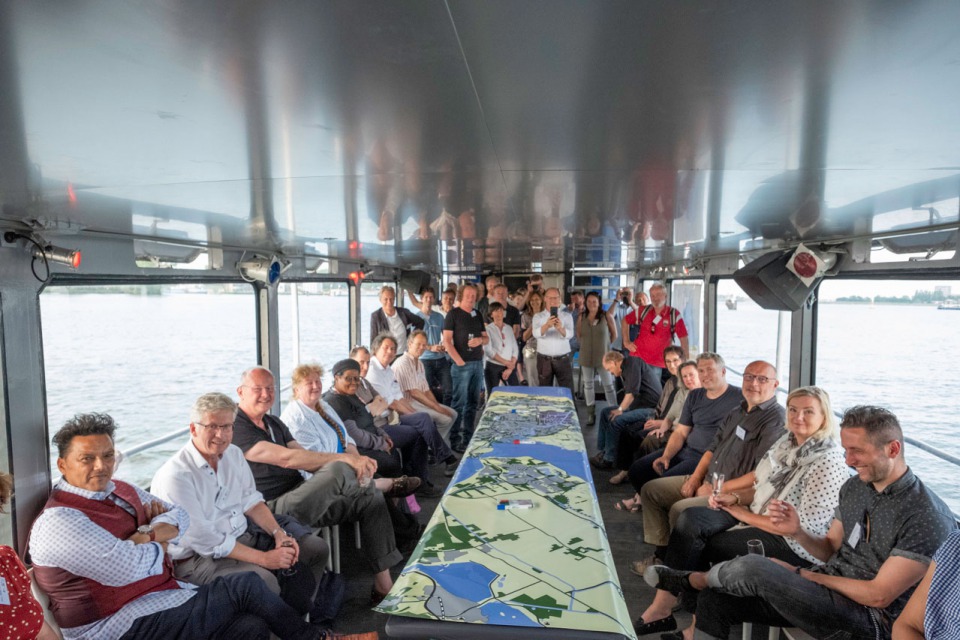 Dat kon de volgende spreker, bioloog en stadsecoloog van Amsterdam Remco Daalder, van harte onderschrijven. Het belangrijkste deel van het landschap, het verbazingwekkend rijke 'onderwaterlandschap', konden we niet eens zien, maar ook het open water zelf is al een enorm waardevol natuurgebied: hier overwinteren talloze vogelsoorten, hier vinden ze rust en voedsel in overvloed. Hij wil hier geen 'gefrummel' zien, hier moet groots en meeslepend gedacht en ontworpen worden.
Vervolgens gaf Herman Zonderland (stedenbouwkundige bij Ruimte en Duurzaamheid van de gemeente Amsterdam) een toelichting op het ontwerp van het centrumeiland van IJburg. Dat eiland heeft bewust een luwe en ruwe kant gekregen en er is veel aandacht besteed aan de kademuur: die markeert de overgang van stad naar open water. Al naar gelang je positie is die muur het begin of het einde van de openheid of van de stad. Dit alles om de eilanden te kunnen laten 'nestelen'.
Joe van der Veen, als architectuurhistoricus in dienst bij de gemeente Almere, kwam de ontwerpers die aan boord waren een hart onder riem steken. Hij zette Almere-Oosterwold af tegen Almere-Duin. In Oosterwold is planning als het ware helemaal los gelaten en laat men de zaken op zijn beloop, hopend op 'organische' ontwikkeling, terwijl bij Duin een kunstmatig duinlandschap is gepland en gecreëerd. In Oosterwold kunnen de bewoners grofweg geheel hun gang gaan, terwijl in Duin de bewoners zich moeten schikken in de plannen… En opvallend genoeg zijn (voorlopig) de bewoners van Duin daar veel meer tevreden mee dan die in Oosterwold. Dat laatste ontwikkelgebied trekt wel veel meer aandacht en kijkers, maar die nieuwsgierigen lijken het toch vooral te zien als een soort attractiepark met gekkigheid. Planning en stedenbouw hoeft zichzelf voorlopig nog bepaald niet weg te cijferen (en, terugkomend op de Sluisbuurt, het lijkt belangrijk te onthouden dat 'spraakmakend' bepaald niet hetzelfde is als 'leefbaar'). Overigens wil dat niet zeggen dat er aan zelfbouw op zich iets mankeert, integendeel. We hadden vanaf de boot mooi zicht op de prachtige, levendige zelfbouw op IJburg.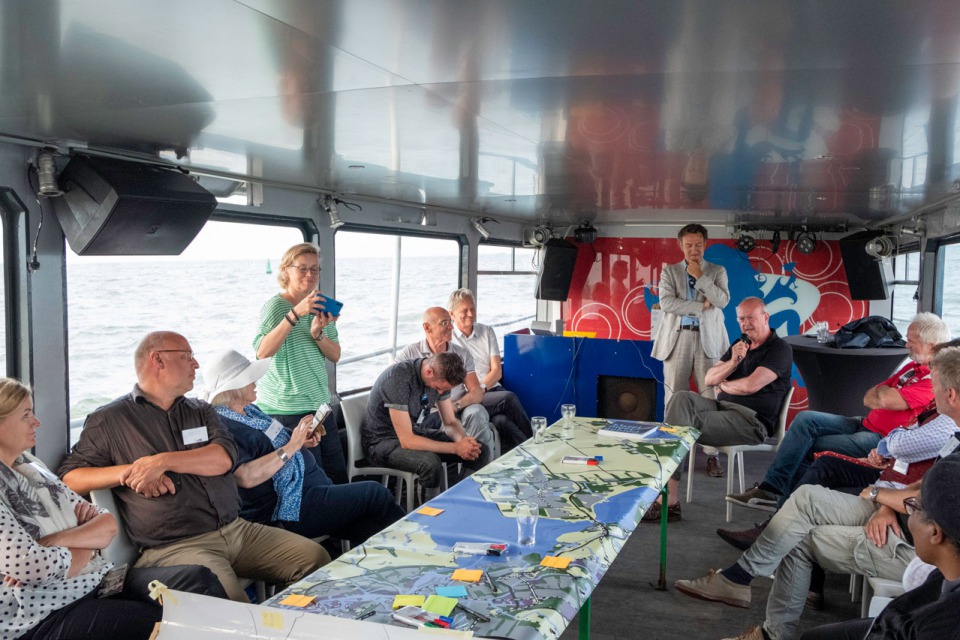 Na deze kleine herwaardering voor stedenbouwers en planners, deed Ton Schaap er nog een schepje bovenop met een waarschuwing voor opportunisme in de politiek.
De politici van de provincie Noord-Holland dromen hardop over het doortrekken van de Noord-Zuidlijn naar Purmerend.
Stedenbouwers en planners zouden ervoor moeten waarschuwen dat dat hoogstwaarschijnlijk fataal zal zijn voor het open landschap van Waterland; rond de haltes van die metrolijn zal onvermijdelijk bebouwing komen… en de openheid verrommelt waar je bij staat.
Palmboom had er al op gewezen hoe wezenlijk water is voor de MRA, die goed beschouwd een 'groene soep' is. Dat water verbindt én verdeelt:
je hebt bruggen nodig om het water als hindernis over te steken en boten om het water als verbindingsweg te kunnen gebruiken.
Over die bruggen en boten vertelde architect Harry Abels. Hij liet zien hoeveel Amsterdam van twee andere 'waterige steden' zou kunnen leren. De Londense Millennium Bridge, een voetgangers en fietsersbrug over de Thames, is een succes geworden. De overspanning van het water is bij dit soort bruggen het probleem niet, het probleem is de 'aanlanding'; door de hoge kades in Londen was dat daar relatief gemakkelijk, terwijl het voor een eventuele brug over Het IJ het grote probleem is.
Van Venetië, de andere waterstad waar Amsterdam van kan leren, kunnen we idee van de vaporetto over nemen.
Varende bussen; alleen al vanwege de naam vaporetto is dat inderdaad een verrukkelijk idee.
Door al dat water – en de lage ligging - heeft de MRA niet alleen grote behoefte aan bruggen en boten, maar ook aan dijken. Mark Eker, Landschapsarchitect bij Provincie Noord-Holland, vertelde over de problemen waar ze als ontwerpers en uitvoerders mee worstelen bij het versterken van de dijk tussen Amsterdam en Hoorn. Eigenlijk gaat het er bij een dijk niet zozeer om water en land te scheiden, als wel om ze aan elkaar te klinken. Bij het ontwerpen spelen vele factoren een rol, maar het komt er in het kort op neer dat je als ontwerper ook steeds techniek en emotie, en veiligheid en beleving aan elkaar moet klinken.
Anita Blom (Rijksdienst voor het Cultureel Erfgoed) kon aansluitend daarop melden dat het omgaan met erfgoed, zoals bijvoorbeeld die dijk, alleen zinnig is als het niet puur behoudend is; zij bepleit juist een vrijzinnige en eigentijdse omgang met cultureel erfgoed. Bovendien nam ze de gelegenheid te baat ontwerpers op te roepen niet alleen hun definitieve plannen te bewaren; de historici van de toekomst willen ook heel graag de eerste schetsen zien en zijn vooral geïnteresseerd in het hele ontwerpproces. Vervolgens kon Yvonne Lub wijzen op de tafel die midden op de boot stond, met daarop een enorme 'tafelloper' waarop een vier meter lange kaart was geprint. Daarop kon iedereen zijn verbeelding de vrije loop laten, en naar hartenlust op schetsen en schrijven. Het resultaat, een soort Tapis de Bayeux van het IJmeer, zou goed bewaard worden.
Een van de sprekers, Joe van der Veen maakte een opmerking die bleef hangen.
We kunnen het IJmeer ook als een grote leegte beschouwen, maar dan niet een negatieve leegte – het gaat er niet om dat er van alles afwezig is, maar dat er een leegte 'aanwezig' is.
Een 'positieve leegte' zou je kunnen zeggen. Je zou dat kunnen bewerkstelligen door aan de randen contrasten aan te brengen: het IJmeer blijft dan als restruimte over, zoals een deuropening of poort. Als het lukt het IJmeer als leegte te behouden, blijft er plaats voor uitzicht en vrijheid.
Dat lijkt een mooie, waardevolle gedachte. Het IJmeer als verademing, als plek van rust en ruimte en de kalme regelmaat van de seizoenen – maar waar het ook kan stormen. Als een plek waar je inderdaad even voor Pampus kan liggen. Niet om zat en uitgeteld te zijn, maar om te herademen.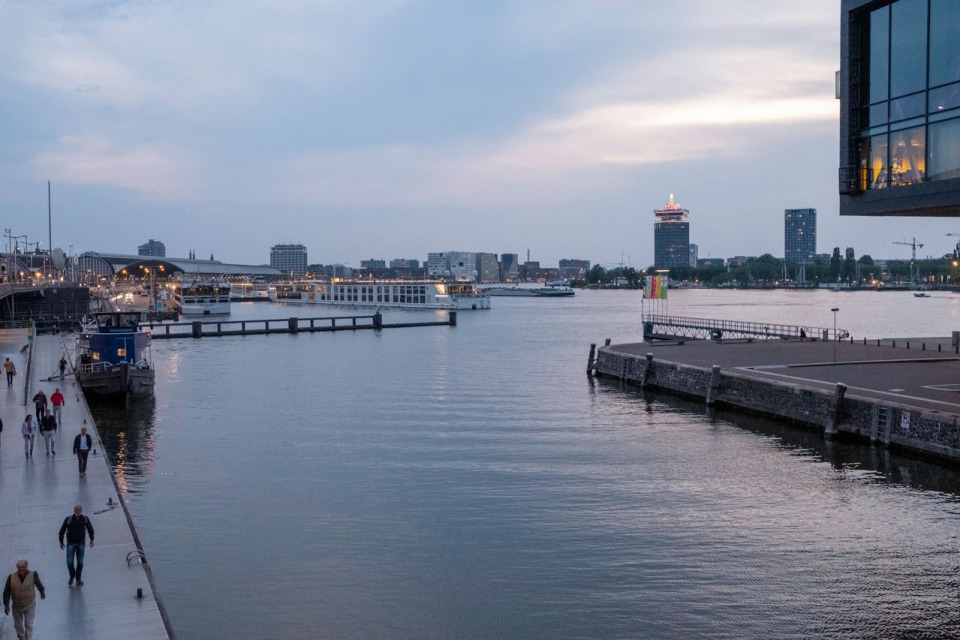 Nadat de boot ons terug had gebracht naar de steiger bij Muziekgebouw aan 't IJ, liep ik in de avondschemering naar het metrostation om me door de metro en bus naar mijn huis in Purmerend te laten brengen. Die bus rijdt door het open landschap van Waterland en langs het Noord-Hollandskanaal, en terwijl ik van het uitzicht genoot en naar het kanaal staarde, mijmerde ik over een vaporetto die daar zou kunnen varen, en hoe heerlijk het zou zijn als ik die had kunnen nemen.
---
Observaties en verslag: Pieter Hoexum Sprekers Safari 3: Frits Palmboom (Stedenbouwkundige, Voorzitter Kwaliteitsteam IJburg) over de IJsselmeerstudie en IJburg; Remco Daalder (Strategisch adviseur Ruimte en Duurzaamheid, gemeente Amsterdam) over de ecologie van het water en de oevers; Anita Blom (Specialist Wederopbouw en Naoorlogse stedenbouw, Rijksdienst voor Cultureel Erfgoed) over de oprukkende stad en historie als ziel van het gebied; Harry Abels (Architect Abels en Partners) over snelle waterverbindingen; Mark Eker (Landschapsarchitect & regionaal ontwerper Ontwerpteam, sector IOT Provincie Noord-Holland) over oeverontwikkeling en waterveiligheid vs cultuurhistorische waarden en mogelijkheden van dijkontwikkeling. Herman Zonderland (Urban Designer Gemeente Amsterdam) over Strandeiland; Joe van der Veen (Stedenbouw en Landschap gemeente Almere) over Almere Duin, de beleving vanaf het water, de entree, opzet en functioneren van de wijk. Ton Schaap (Urbanist & Auteur) voor het plegen van interventies en het stellen van scherpe vragen. Moderator: Ton Bossink