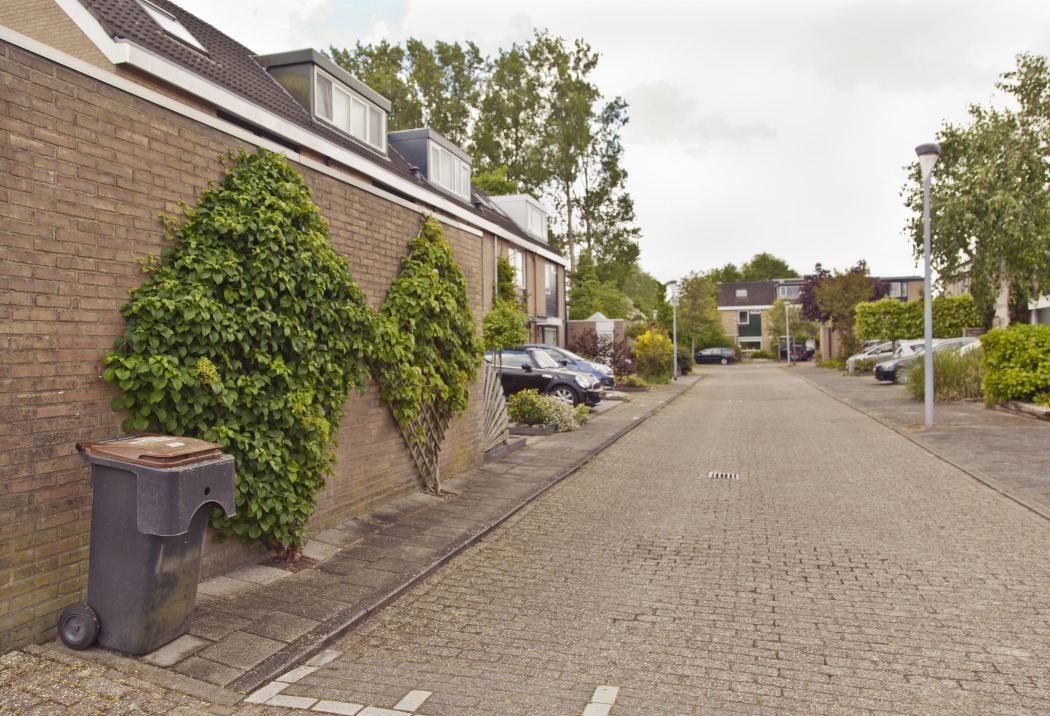 WIJKPORTRET 2 // Pax
Sectie

Wijkportretten
Gesprekken
De Hoofddorpse wijk Pax bestaat 45 jaar. Tijdens een wandeling met Marinus Lineman van het team onderzoek bij de gemeente Haarlemmermeer wordt de balans opgemaakt.
Een reportage op initiatief van het Haarlems Dagblad en Podium voor Architectuur.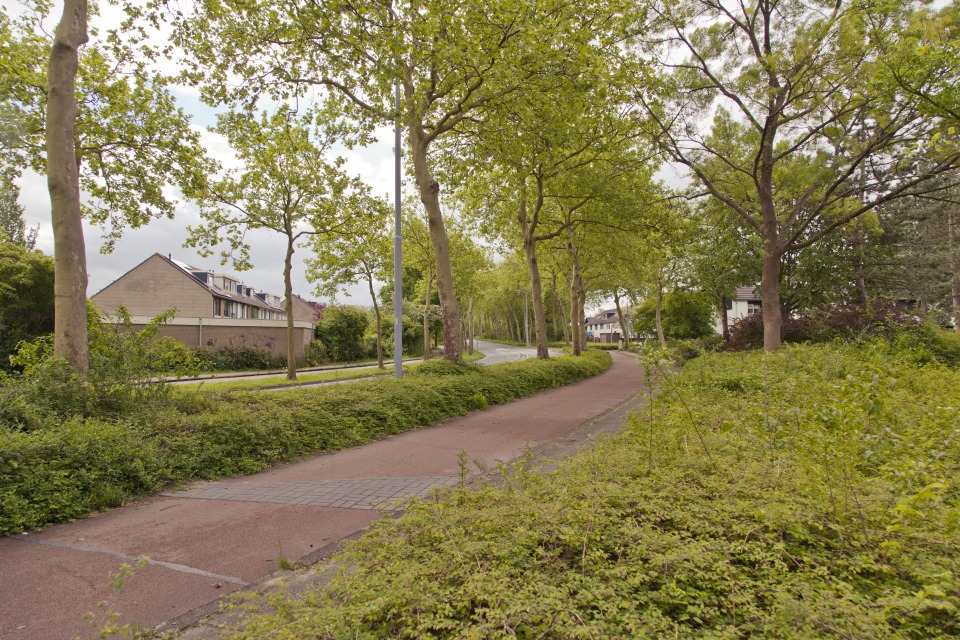 Pax is succesnummer, niemand wil er weg
De woonwijk Pax in Haarlemmermeer is een succesnummer. Mensen wonen er zo graag, dat ze zo lang mogelijk willen blijven.
"Het is genoeglijk, groen en ruim. De doorstroming is beperkt, er wonen veel mensen alleen of met z'n tweeën in een vijfkamerwoning. Ze willen gewoon niet weg", zegt Ton van Bentem uit Cruquius, die zelf al vanaf het begin in Pax woont. Omdat kinderen uitvliegen en de ouders niet vertrekken, is het aantal inwoners van de wijk gedaald van 6500 naar 5000. "Dat is het gevolg van het succes dat Pax is", zegt Marinus Lineman van de dienst onderzoek van de gemeente Haarlemmermeer. "Pax is aantrekkelijk en heel groen, mensen wonen er naar hun zin. Dat groen is in de wijken die later zijn gebouwd alleen maar minder geworden. Daar heb je een wijkpark met huizen er omheen, hier is overal groen. Hier woon je echt suburbaan: groen, rust en vlak bij de stad."
Groen, rust en ruimte, bewoners genieten ervan
Lineman: "Deze wijk is gebouwd voor de eigen bevolkingsgroei van Haarlemmermeer. De latere wijken werden voor de regionale woningbehoefte gebouwd. Pax vertoont de eerste kenmerken van een 'bloemkoolwijk'. Hier werden, na het als kil ervaren Graan voor Visch, woonerven voor dertig tot zestig laagbouwwoningen aangelegd voor de geborgenheid en intimiteit." "De functionalistische rechte lijn à la Graan voor Visch werd in Pax verruild voor een kronkelige structuur. Je ziet in elke nieuwbouwwijk in Hoofddorp nieuwe inzichten. De woonerven in Bornholm en Overbos zijn zo compact dat je je oriëntatie kwijtraakt, in Toolenburg zie je blokken en lijnen terugkeren", duidt Lineman de wijkconcepten.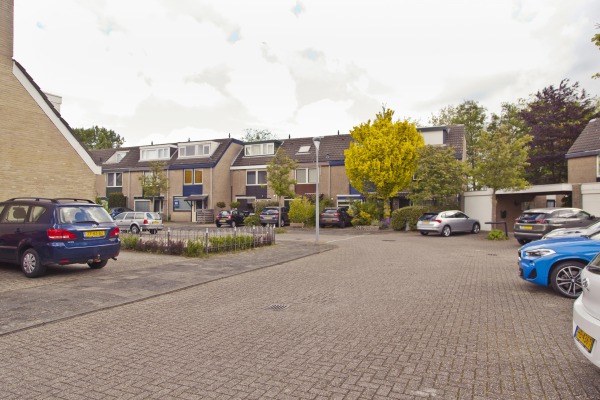 Boerderij
Pax is vernoemd naar een in 1974 afgebroken boerderij aan de Hoofdweg. Alleen een paar oude bomen wijzen nog naar de plek waar de boerderij heeft gestaan. De wijk is vanaf 1975 gebouwd tussen de Hoofdweg en de Nieuwerkerkertocht. Er zijn twee hoofdwegen, de Paxlaan en de Asserweg, waar alle buurten op aansluiten. Eerst werd bij de Paxlaan gebouwd, toen de Van Heuven Goedhartlaan klaar was bij de Asserweg, die doorloopt naar de volgende wijk Bornholm.
Alle straten zijn vernoemd naar winnaars van de Nobelprijs voor de vrede. De eerste huizen van Pax staan overigens langer in de wijk dan korenmolen De Eersteling, het symbool van de wijk. De molen stond sinds 1856 in het centrum van Hoofddorp. Daar werd zoveel gebouwd dat De Eersteling geen windvang meer had. In 1977 werd de molen naar de Geniedijk verplaatst, net binnen de wijk Pax. Hoe fijn het ook wonen is in Pax, zelfs deze wijk heeft zo zijn dingetjes. "Het bouwterrein zou worden opgehoogd met zand uit het Haarlemmermeerse Bos, maar dat ging naar de verbreding van de A4. Hier werd op het maaiveld gebouwd, met naar de straat aflopende tuinen. Dat leverde drainageproblemen op", herinnert Van Bentem zich, "de hele kruipruimte stond vol water, tot aan de vloer. Er is toen een drainagesysteem aangelegd waar bewoners zelf hun kruipruimte op konden aansluiten. Dat hebben de meesten ook gedaan."
Daarmee was nog niet alle leed geleden. Vorig jaar nog werd onder de busbaan langs het winkelcentrum – over de wenselijkheid daarvan zijn nog heel wat discussies gevoerd – nog meer drainage aangelegd in de hoop dat het waterprobleem nu is opgelost.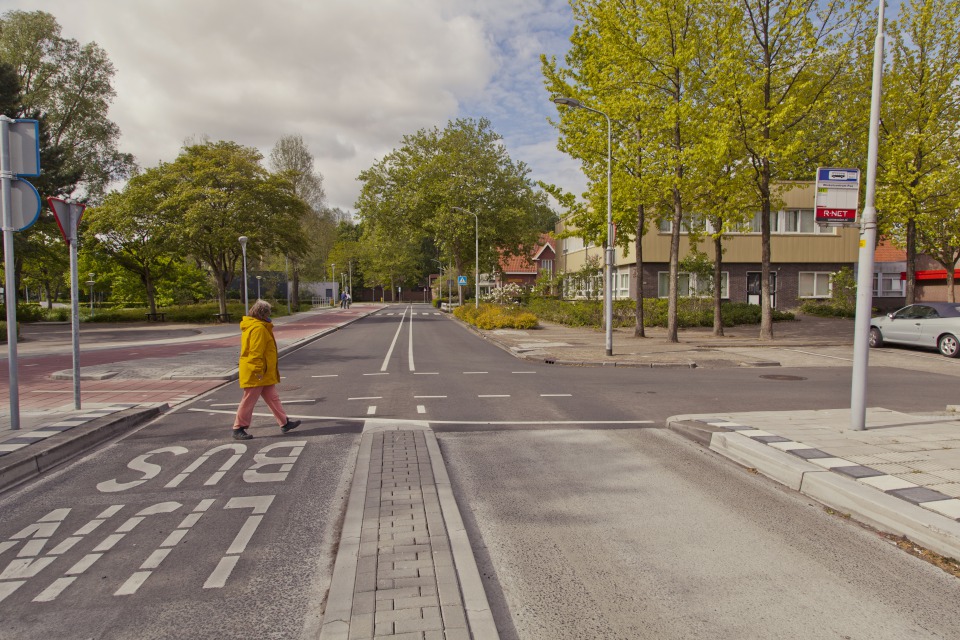 Winkelcentrum
Van Bentem wijst tijdens de wandeling door het centrum van de wijk op het toch wat gedateerde winkelcentrum van Pax. Supermarkt Vomar houdt dat draaiende en het café is vanaf het begin veertig jaar geleden een succes. Maar veel middenstanders redden het er niet. "Er hebben wel tien bloemenzaken in gezeten, maar het lukte steeds niet."
Van Bentem is blij met de uitbreidingsplannen die in de maak zijn. "Je kunt nu door het winkelcentrum lopen, maar veel mensen durven dat 's avonds niet. De plannen zien er goed uit. Het is goed als dingen veranderen en er nieuwe zaken bijkomen." Stedenbouwkundige Frans Sodekamp die de wijk Pax maakte - behalve dan het winkelcentrum - en er jaren zelf woonde, noemde het centrum in 1999 al 'een zorgenkind van zijn eigen tijd'.
Naast het winkelcentrum staat wijkcentrum De Boerderij. "Zeker in de beginjaren een succes", herinnert Van Bentem zich. "Er waren zoveel activiteiten. We organiseerden als bewoners ook heel veel, bijvoorbeeld op Koninginnedag. Maar het spontane is er af gegaan door heel veel regelgeving. Je moet overal een vergunning voor aanvragen die geld kost, dat is een belemmerende factor. De netwerken van bewoners zijn er nu vooral op straatniveau."
Wijkraad
Zelf was Van Bentem als voorzitter jarenlang de motor achter wijkvereniging Pax die van alles regelde. Twaalf jaar geleden werd het bijltje erbij neergegooid. De bewoners voelden zich niet gehoord. "De ene wethouder zei dit toe, de volgende deed iets heel anders", vat Van Bentem samen. "Pax is nu de enige wijk in Hoofddorp zonder wijkraad. Dat is jammer, er zou weer een wijkraad moeten komen. Kun je een oproep in de krant zetten?"
---
Wie in Pax woont vertrekt alleen als het echt niet anders kan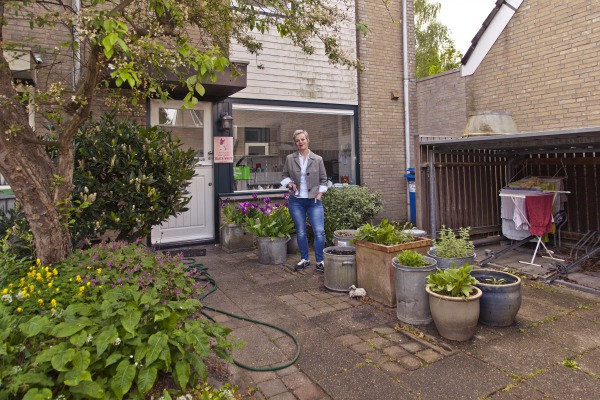 Denise Abbas: 'Ik leerde allemaal lieve buren kennen'
"Wij zijn met drie jonge kinderen vijfentwintig jaar geleden in Pax komen wonen'', vertelt Denise Abbas.
"Daaraan voorafgaand woonden we vier jaar in Overbos, en de elf jaar daarvoor op een woonboot in de Ringvaart bij Badhoevedorp en de volkstuintjes. Met kippen en een geit." "De directe aanleiding naar Hoofddorp te komen was de aanstaande geboorte van ons eerste kind. Als aanstaande moeder kreeg ik het benauwd van al dat water, de bevroren waterleidingen. Onzin uiteraard, ook op woonboten groeien dolgelukkige kinderen op. Maar de sturende hormonen van zwangere vrouwen zijn onstuitbaar", gaat het verhaal verder. "Ik zocht een plek waar 'alles is zoals het hoort', en dat werd Hoofddorp. Een compliment voor Hoofddorp, en dat compliment geef ik Haarlemmermeer nog steeds. Overbos werd na vier jaar Pax. Dichter bij het centrum, met alle voordelen die door de bewoners van Graan voor Visch al zijn benoemd." "In Pax ontmoette ik allemaal lieve buren die er al sinds de oplevering woonden, en die dolblij waren met de komst van een jong gezin: 'eindelijk weer herrie op het pleintje voor de deur'. Het woonplezier is groot. De oorspronkelijke bewoners vertrekken alleen als het lege nest écht te groot wordt of tussen zes planken. Dat is Pax." "Klein verbetervoorstel: Pax was knijtergroen toen we hier kwamen wonen, dat is niet meer zo. Nieuwe mensen jassen alles wat groen is plat. Voortuinen worden parkeerplaatsen, weelderige achtertuinen veranderen in een woestijn van steen. Dat heeft impact. Op de geluiden, op de vogels, op het 'groene gevoel' waar Pax ooit voor stond, stedenbouwkundig. Maar ja, het is niet anders."
Pax kenmerkt zich door nette bewoners en hondeneigenaren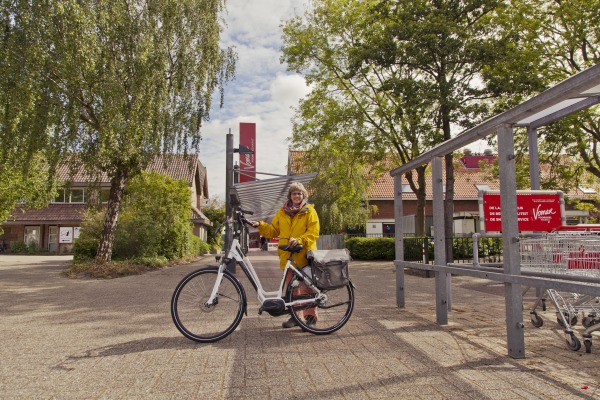 Ida Wassink blijft hier zo lang mogelijk
Ida Wassink kwam in 1977 voor de liefde naar Haarlemmermeer. Als geboren en getogen Amsterdamse trouwde ze 43 jaar geleden met een Badhoevedorper en ze vonden een huis in de Hoofddorpse wijk Pax.
"Ik ben zeer tevreden over het grote aantal groene plekken in de wijk en de wandelstroken. Ziekenhuis en grotere winkelcentra op fietsafstand. Er zijn goede busverbindingen. Helaas is de loopafstand tussen de haltes erg groot, zeker voor de vele ouderen die hier in de wijk wonen." Het winkelcentrum van Pax noemt ze 'wisselend van kwaliteit'. "Er ontbreekt bijvoorbeeld een drogist en een bloemenwinkel. Ook het verdwijnen van geldautomaten uit Pax is soms lastig." Pax zag er in 1977 nog heel anders uit. ,,Het was heel kaal, er werd zoveel gebouwd, dat kun je je nu niet meer voorstellen." Inmiddels is de wijk af, maar ook veranderd. "Er is veel meer verkeer en dat geeft in drukke tijden overlast." "Pax kenmerkt zich door nette bewoners en hondeneigenaren. De gele poepbakken worden intensief gebruikt. De straten blijven schoon. Ook de saamhorigheid is fijn. Klaar staan om elkaar te helpen. Elkaar sociaal steunen. Dat voelt goed. Ik blijf hier zeker nog lang wonen. Ook omdat mijn beide zussen naar Hoofddorp zijn gekomen, ze wonen vlakbij in de wijken om mij heen."
We kunnen lopend naar het centrum van Hoofddorp en we fietsen naar de tennisclub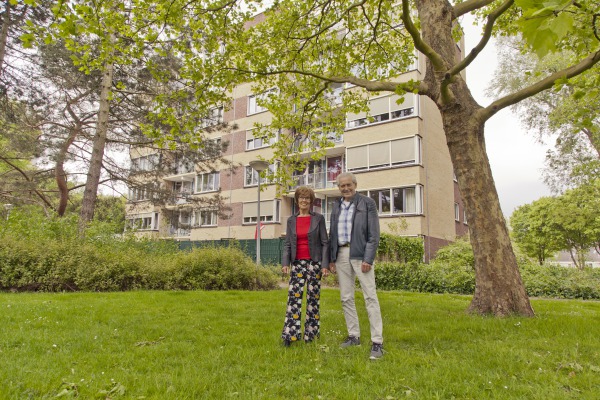 Jan en Toos Pijnaker: 'Veel gezelliger dan Amstelveen'
De tachtigers Jan en Toos Pijnaker wonen zeven jaar in een Ymere-appartement bij het winkelcentrum van Pax.
"We hebben 62 jaar een orchideeënkwekerij gehad in Oud Osdorp. Er was geen opvolging dus we hebben het verkocht en verhuisden naar een koopwoning in Amstelveen", vertellen ze. Omdat ze in hun pensioenvoorziening woonden besloten ze het huis te verkopen en te gaan huren. "We wilden gezien onze leeftijd ergens wonen met voorzieningen in de buurt", zegt Toos. Jan: "Voor dit appartement waren we nummer 2, maar tien dagen later werden we gebeld dat de nummer 1 was afgevallen. Zodoende zijn we hier gekomen." "We zijn dik tevreden hier in Pax", zegt Toos, "het is veel gezelliger dan in Amstelveen. Dat groen hier overal, geweldig. De wijk is speels opgezet, je zit hier overal dichtbij. We kunnen lopend naar het centrum van Hoofddorp en we fietsen naar de tennisclub." Jan: "Drie jaar geleden hebben we op verzoek van Ymere een bewonerscommissie opgezet. Zo leerden we nog meer buren kennen. Het is een rustige buurt in een mooie omgeving."