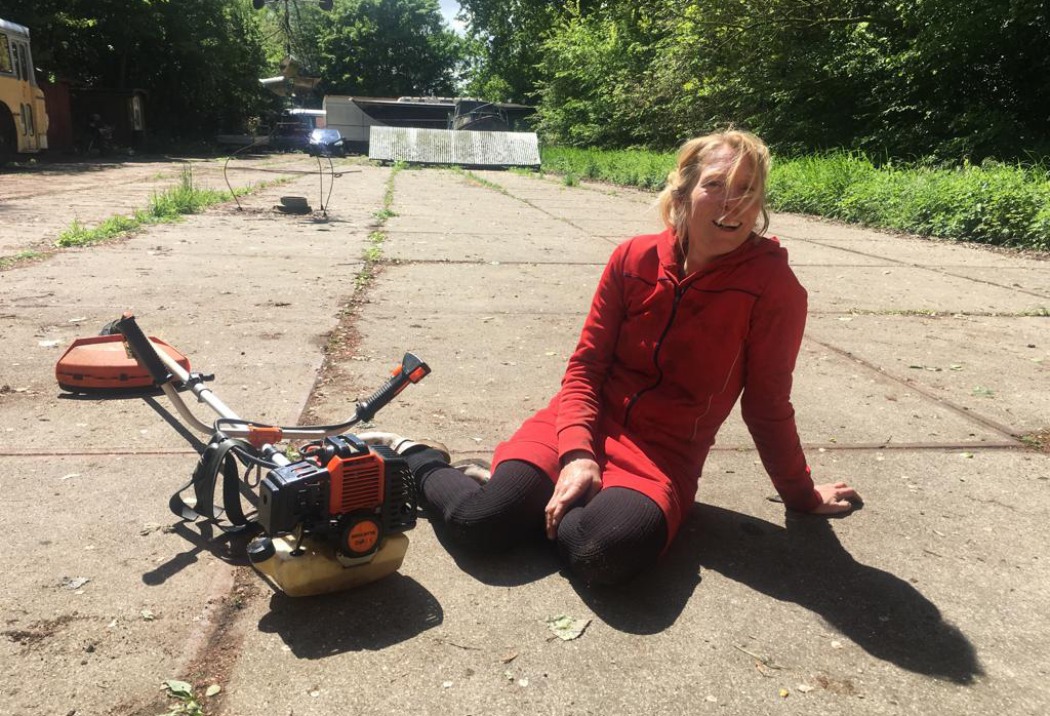 EN NU 17 // Kunstenares Anja M.
Sectie

EN NU // 22 Interviews
Gesprekken
Anja M. is ondernemer en kunstenaar. Haar atelier in Badhoevedorp gaat ze langzaamaan verruilen voor een unieke locatie in Zwanenburg waar ze binnen en buiten samen gaat voegen, waar ze de natuur meer plaats geeft in haar denken en ruimtelijke beelden. "De Omleiding" heet het, waar je wordt omgeleid naar verschillende werelden.
Hoe beleef jij dit moment?
Onwerkelijk, nog steeds, en bezorgd hoe het verder gaat. Blijft het een 1,5 – meter-samenleving? Het is een tijd die ik benut om tot mijzelf te komen, met ogenschijnlijk alle tijd van de wereld en toch merk ik dat dat moeilijk is. In de 'normale tijd' ben ik altijd aan het werk (in het theater of op de vrachtwagen met grote tours), en de tijd die over is wordt gevuld met sociale contacten, uit eten, een feestje, etc... Er is veel afleiding. En nu, zonder afleiding, zoek ik momenten van uitstel, niet aan mijn eigen werk beginnen. Zijn het uitstelsmoezen of functionele uitstelmomenten die nodig zijn in creatieve processen? Er ontstaan nieuwe fotoseries, het proces wordt zichtbaar. Het is confronterend.
Hoe pak je het vanuit je ondernemer/kunstenaar zijn op?
Ik werk nu veel in mijn atelier in Badhoevedorp. Het is belangrijk om je op voorbijgangers te richten. Het werk naar buiten toe te richten; daarom heb ik een tentoonstelling aan de buitenkant van mijn atelier voor de voorbijgangers.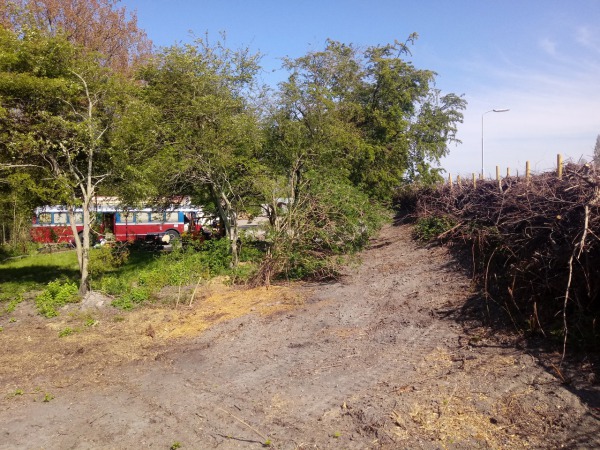 Mijn nieuwe locatie in Zwanenburg ligt aan de Ringdijk. Ik ben bezig dit terrein te ontwikkelen voor de komst van een kiosk die vanaf de dijk makkelijk bereikbaar is. Vanaf het achtergelegen park moet er ook een ingang komen zodat je vanaf het lager gelegen park binnenkomt in een andere wereld. Boven en beneden, binnen en buiten...   Het terrein zelf wordt weer een andere wereld waar je als bezoeker een atelier kan bezoeken of een workshop kan volgen. Hierover ben ik nog in gesprek met de gemeente. Het is zoeken naar een evenwicht tussen bezoek, werken en kunst op een bij het terrein passende manier.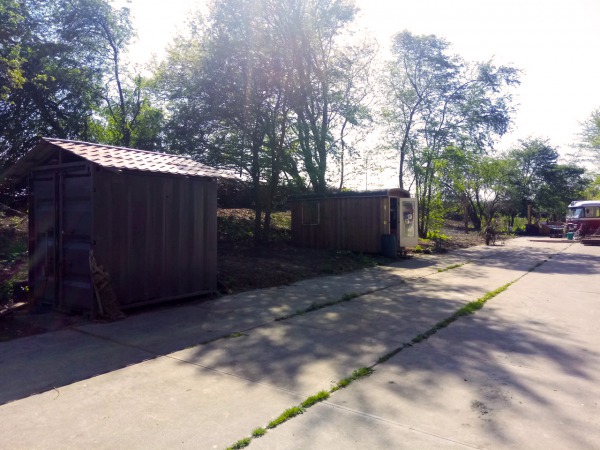 Wat zijn jouw dilemma's?
Dat alles nu denk ik moeilijker is te realiseren, processen gaan langer duren omdat mensen niet meer bij elkaar komen voor overleg...enz. Vanuit het vak, kunst en theater heb ik grote zorg.
Maar er zijn ook mooie ontwikkelingen die hoop ik veel mensen tot nadenken zet. Zo kun je kunst in de samenleving brengen door vitrines op straat te plaatsen als een soort open musea, zonder entree. Er zijn veel kansen in de openbare ruimte. In mijn buurt is bijvoorbeeld een groot grijs gebouw met saaie muren; hang daar vitrines op, ga buiten exposeren. We spreken vaak over dubbel grondgebruik maar een tentoonstelling op een dak? Ik heb het nooit gezien. Geef die gebouwen een nieuwe functie, als sokkel voor een sculptuur.
Ooit schreef ik een brief aan een bekende kunstenaar, met een aanbod: ik heb een atelier met een plat dak. Hij maakt opvallende sculpturen. Mijn atelier kon als sokkel functioneren en de buurt had er een beeld bij. Drie dubbele winst. Maar hij heeft nooit gereageerd.
Het gaat me om het delen van kennis en ervaringen.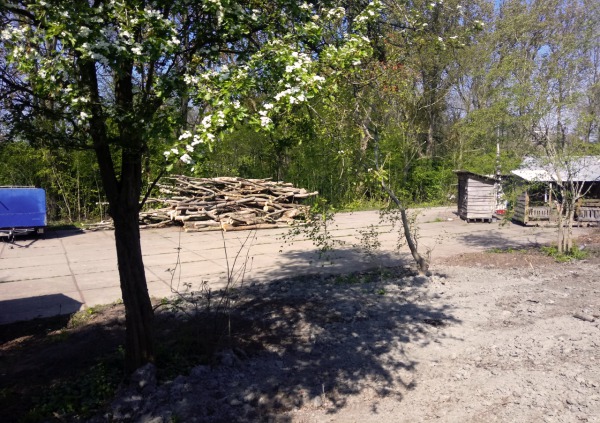 RESET: ga je straks bij voorkeur terug naar het 'oude' systeem of ga je het anders doen?
Ik deed het altijd al anders, hoop dat het voor velen de ogen opent. En dat we meer kwaliteit gaan waarderen in plaats van kwantiteit. De groei stond altijd centraal. Steeds maar grotere festivals, grotere tentoonstellingen... Wat is daar de waarde van? Kun je theater, tentoonstellingen en mooie erfgoed locaties niet beter met minder mensen beleven? Het kan anders en daar kunnen we nu over nadenken. En dan ons verbruik. Wat kun je zelf maken of hergebruiken, repareren? Ik heb nooit nieuwe kleding gekocht en repareer altijd alles eerst voor ik iets weggooi.
Met dit terrein waar voldoende ruimte is, denk ik na of een zelfvoorzienend systeem mogelijk is. Eigen voedsel produceren. Maar ja, ik heb weinig ervaring dus misschien moet ik daar anderen voor vragen om dat vorm te geven. Het gaat me om het delen van kennis en ervaringen.
Want het gaat me niet om een variant op de volkstuin, met een productie van ieder voor zich. Het gaat om samen werken aan een voedseltuin. Hoe zal dat gaan, botst dat? Mensen blijven hun eigenaardigheden vertonen, met de focus op hun eigen manier van werken en hun eigen stukje grond. Het zou tot een groot experiment kunnen leiden.
Steeds maar opschalen, kunnen we nu naar afschalen?
Hoe zie je de toekomst voor je, welke opgaven wachten ons?
Ik moet een andere manier vinden om mijn geld te verdienen. De grote tours waar ik vrachtwagen voor reed zullen er denk ik voorlopig niet meer komen. En dat is misschien ook goed, het werd ook te groot en de ander moest nog weer groter en groter...
Voor de mensen die hun brood verdienen met festivals en evenementen is het natuurlijk niet goed, maar ik denk dat we weer meer naar persoonlijkere sferen moeten gaan, kleiner, eenvoudiger. En dit is wat ik op "de omleiding" wil proberen te realiseren en daar mijn geld mee verdienen. Meer met en voor elkaar. Minder consumeren meer creativiteit.