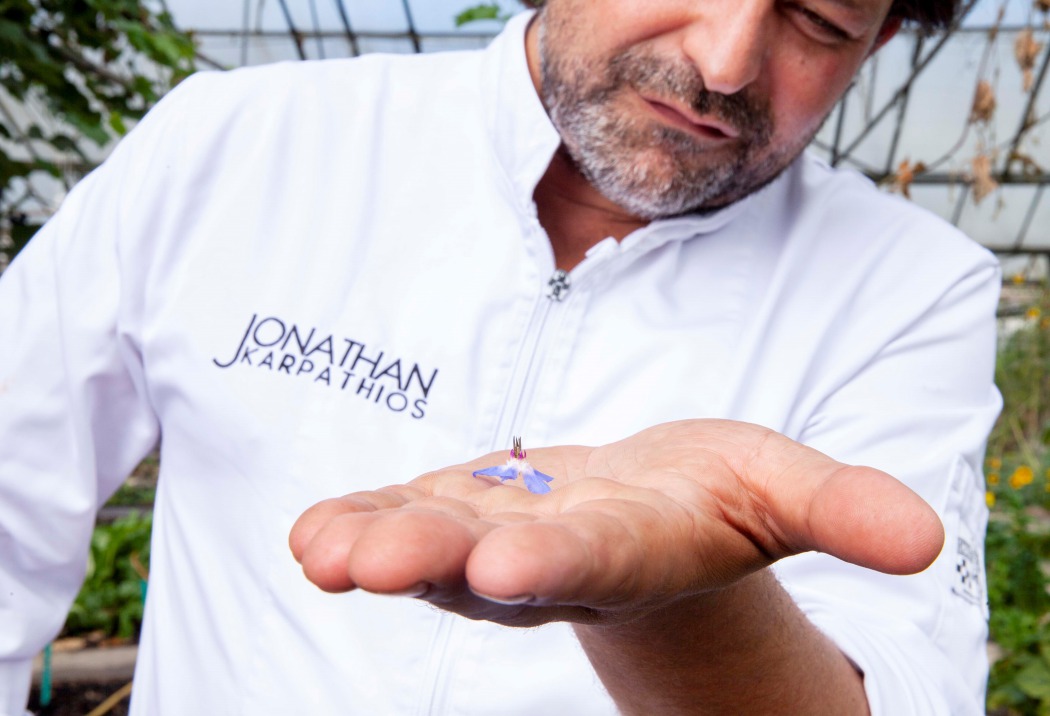 EN NU 16 // Chefkok Jonathan Karpathios
Sectie

EN NU // 22 Interviews
Gesprekken
Chef Jonathan Karpathios werkt met de natuur en is nauw betrokken bij de voedselketen. Voor hem is deze coronacrisis geen verrassing. Het is de natuur en Moeder Natuur laat zich niet sturen. Dit neemt niet weg dat de gevolgen groot zijn. Voor hem en voor zijn branche, de horeca. Maar is het een reden voor Jonathan om het anders aan te pakken? We vroegen het hem.
Hoe beleef je dit moment?
Het is een gekke tijd, onze omzet is binnen een week naar € 0,- gezakt. Dat is schrikken. Maar goed, dat geldt voor veel ondernemers. Ik kijk ook naar die mensen, die het naast financieel ook anders raakt, en wil graag helpen. Daarom hebben we de eerste anderhalve maand iets van duizend maaltijden naar de zorg gebracht. Dan zie je wel hoe ernstig het in de verzorgingshuizen is. Geen mens erin, geen mens eruit. Zo strikt is het. Ga iemand met het downsyndroom maar vertellen dat hij of zij niet naar buiten mag… dat is bijna niet te doen. Deze mensen helpen geeft ons kracht; we doen echt iets goeds. En daarbij hebben we ook het gevoel dat we niet stilstaan, dat we nog steeds aan het ondernemen zijn.   Nu is de tijd om door te pakken. Mijn zakenpartner Xander Meijer en ik zijn allebei creatief en we staan niet graag stil. Ons nieuwste bedrijfsrestaurant van Karpa, gaat in het najaar open en wij zijn dus hard aan het nadenken hoe de toekomst eruit gaat zien.
De horeca in Nederland, in de wereld, gaat echt veranderen en we zullen misschien over 3 jaar pas weer op het niveau zitten waar we nu zijn
Ik voorzie dat hygiëne nog belangrijker gaat worden dan het al was. En afstand is natuurlijk een groot onderwerp. Wij hebben zelf best veel ruimte, maar dan nog is het een puzzel. De horeca in Nederland, in de wereld, gaat echt veranderen en we zullen misschien over 3 jaar pas weer op het niveau zitten waar we nu zijn. Tot dan zullen de mensen ontzettend alert blijven op afstand houden. We hebben een behoorlijke knauw gekregen met z'n allen.
Die 1,5 meter regel is voor de gemiddelde horeca-locatie gewoonweg onmogelijk. Het gebrek aan genoeg ruimte in combinatie met hoge huren en personeel maakt het voor veel horecalocaties onmogelijk om door te gaan. The strongest will survive. De meeste kans hebben familiebedrijven zonder personeel of juist de hele grote bedrijven. Daarnaast denk ik dat de tweedeling tussen gezond en niet-gezond aanbod nog groter wordt.   Als er restaurants verdwijnen, wat denk je dat er dan met de leveranciers gebeurt? Die komen ook in de problemen natuurlijk. Zij verliezen hun afzet. Zo is er een leverancier van me, een bio-slagerij in Purmerend, die normaal aan 300 horecazaken door heel Nederland levert. Hij heeft net een nieuw pand en aardig wat personeel. Dit bedrijf komt niet rond van die 3 keer 150 gram broodbeleg die de buurtbewoners nu bij hem kopen. Als deze pauzestand nog langer duurt, wordt dit hem funest.
Moeder natuur laat zich niet sturen en hoe wij met onze dieren omgaan, dat kan echt niet
Had jij een crisis als deze verwacht?
Ja, dit is geen verrassing voor mij. Ik werk met de natuur en ben nauw betrokken bij de voedselketen, weet de kwetsbaarheden. Moeder natuur laat zich niet sturen. Hoe wij met onze dieren omgaan, dat kan niet. Dat wij deze varkenspest voor mensen krijgen, vind ik niet verwonderlijk. Ik vind het natuurlijk vreselijk wat er nu gebeurt, maar het zat er wel aan te komen. Het is de natuur. Wij zijn plofkippen geworden. En van intensieve veehouderij waar je niet kunt werken zonder antibiotica komt resistentie, daar komen echte problemen van.   Wat we nu zien, deze corona, is gewoon een voedselprobleem. We zorgen slecht voor ons eten en dan krijg je dit. Echt voedsel moet voeden. Eten wat onder een tl-bak in een fabriek gemaakt wordt, is niet echt. We moeten onbespoten voedsel eten, met de juiste bacteriën die je immuunsysteem versterken. Als je gezond eet, gezond bent, dan is er een veel hogere kans dat je dit virus aankan.
Het kwartje valt nu langzaamaan wel. De mensen worden wakker. Goed eten is jezelf verzorgen. Dat realiseren ze zich nu steeds meer. In tijden van crisis zorgt men beter voor zichzelf. We moeten de aarde opnieuw herwaarderen, niet alleen maar nemen, maar hoe voeden we de aarde en daarmee onszelf, hoe komen we beter in balans met onze natuur.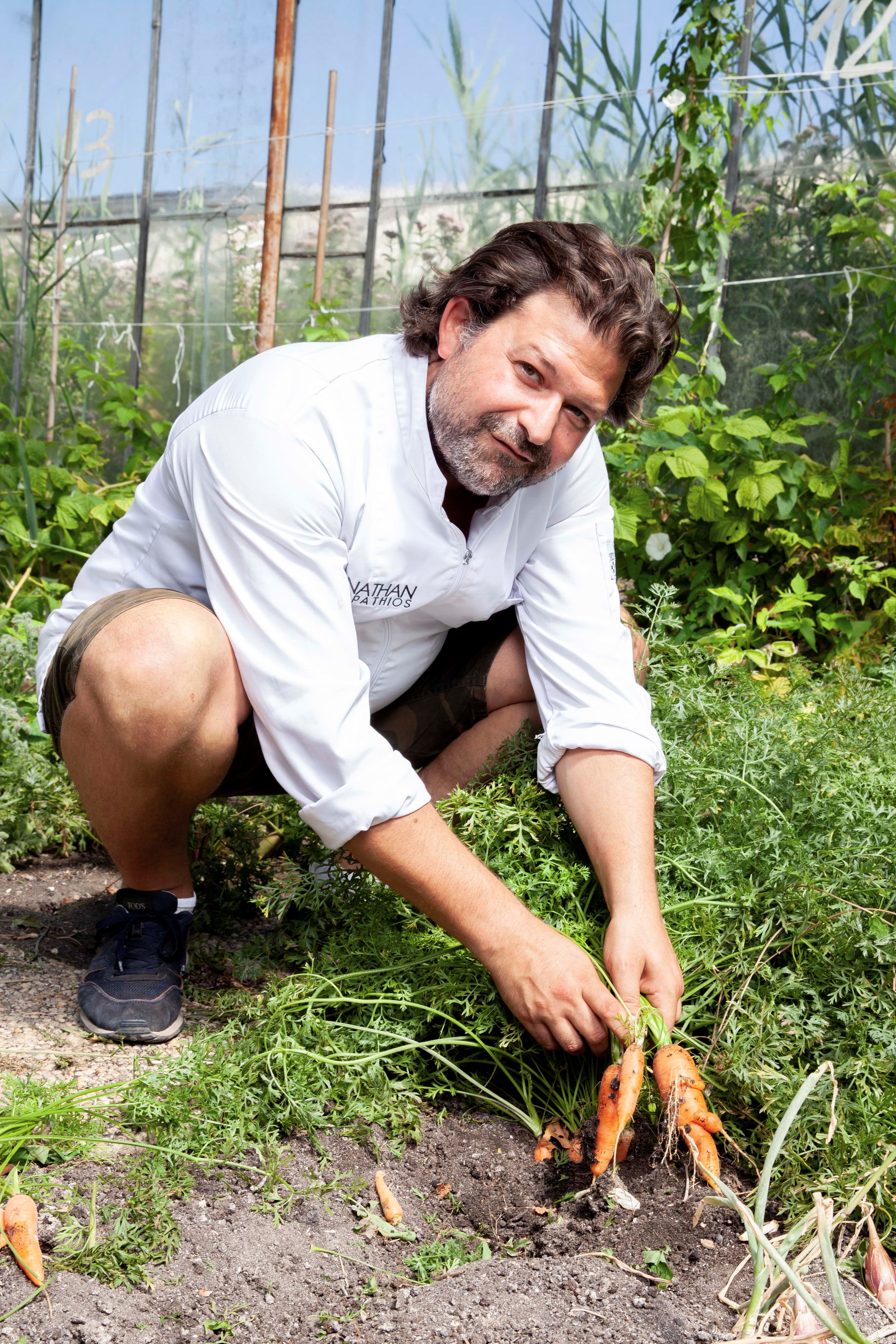 Hoe pak je het vanuit je vakgebied op?
Die behoefte naar meer gezondheid werkt natuurlijk in ons voordeel, want als mensen het zich realiseren, zullen bedrijven dat ook gaan doen. Daarom is het logisch dat de werknemers gezond eten krijgen aangeboden. Dat is net zoiets als dat men kan sporten via het werk. Daarbij wil men steeds vaker werken voor een bedrijf die zijn maatschappelijke verantwoordelijkheid draagt.   Wij zitten in Pharos, dat is een bijzonder gebouw (net naast het station van Hoofddorp). Bij de bouw en inrichting wordt over alles nagedacht; de lucht, de kleur, het eten, alles. Het is sustainable en innovatief. Deze filosofie past erg goed bij ons. Ik ben natuurlijk al járen bezig met eten van het land, een korte keten, lokaal inkopen, et cetera. En we gaan op onze nieuwe locatie nog een stapje verder, onze keuken gaat de ingrediënten nu rechtstreeks van de boer kopen. Een kortere keten dan dit bestaat niet. Alles vers en voedzaam, zoals eten hoort te zijn.   Naast alle drama binnen onze branche ben ik niet bang voor deze tijd. Ik vind het juist spannend en op een bepaalde manier zelfs leuk. We moeten anders gaan ondernemen. De gebaande paden werken niet. Ik verwacht dat er ruimte komt voor nieuwe restaurants en cateraars die gezondheid en vitaliteit hoog in het vaandel dragen.
Vertrouwen is het sleutelwoord, in elkaar, in de situatie, in een nieuw systeem
Wat zijn de dilemma's?
Het hebben van personeel is een uitdaging in deze tijd. Wat kan je van ze verwachten? Zelf gaan wij open met ze in gesprek; "als jij je niet ziek voelt, kom je naar je werk en anders blijf je thuis". We houden contact met elkaar (wij met hen en zij met ons) en blijven in gesprek. Wij kunnen niet garanderen dat ze over drie maanden nog bij ons werken, want er zijn momenteel geen inkomsten en niemand weet hoe lang dit gaat duren. Maar in een transitie is alles in beweging, we doen ons best. Vertrouwen is hierin het sleutelwoord, in elkaar, in de situatie, in een nieuw systeem. 
Alle werkgevers staan op dit moment trouwens hun stinkende best te doen. Ze willen aan de slag en  doen waar ze goed in zijn: ondernemen. De werknemer heeft geen werk zonder de werkgever. Ik hoop dat ze zich dat realiseren, want ik hoor steeds vaker andere verhalen van collega's uit de horeca. Het personeel denkt veelal dat de werkgever goed beschermd is, maar dat is niet zo. Daar moeten die werknemers zich wel even in gaan verdiepen, vind ik. Heb een beetje respect voor de baas en denk mee. Ga de werkgevers niet in de weg zitten, ze hebben het zwaar en proberen met alle macht hun bedrijf recht te houden. Dus werk mee of ga weg. We moeten de lasten van deze tijd met z'n allen dragen.
RESET: ga je straks bij voorkeur terug naar het 'oude' systeem of ga je het 'anders' doen?
Deze vraag is niet relevant voor mij, ik deed het al jaren anders, maar deze periode wordt een grote upgrade van het huidige voedselsysteem.
Deze periode wordt een grote upgrade van het huidige voedselsysteem
Hoe zie je de toekomst voor je, welke nieuwe opgaven wachten ons?
Wij hebben 1.300 m2 aan oppervlakte waar we 600 mensen zouden kunnen plaatsen, maar dat gaan we anders doen. Wij gaan inzetten op een ontmoetingsplek in plaats van een ruimte om alleen maar te eten. Bij ons hoef je even niet te werken. Bij ons voel je je relaxed én veilig.   De bediening zal anders worden, het zal meer 'take-away' zijn, dus minder service aan de tafel. De focus komt te liggen op hygiëne. De kwaliteit van het eten blijft hetzelfde, maar dan in de fast-lane. En alles is vers, vers, vers, niets ligt 3 dagen in de koelkast. Goeie kwaliteit hoeft niet duur te zijn, mede dankzij de korte keten.
Daarbij zijn we een maaltijdbox aan het ontwikkelen met producten van lokale boeren en - producenten. Dit gaan we bij bedrijven leveren buiten Pharos. Onze maaltijdbox heeft uiteraard geen e-stoffen, het is échte voeding, en als bonus steken we de boer een hart onder de riem. Dit past zo goed in deze periode!   Wij serveren voedsel dat voedt, niet voedsel dat vult. Het is een kwestie van tijd voordat mensen dat gaan begrijpen, maar deze coronacrisis werkt daar goed aan mee.
Waar kunnen we je blijven volgen?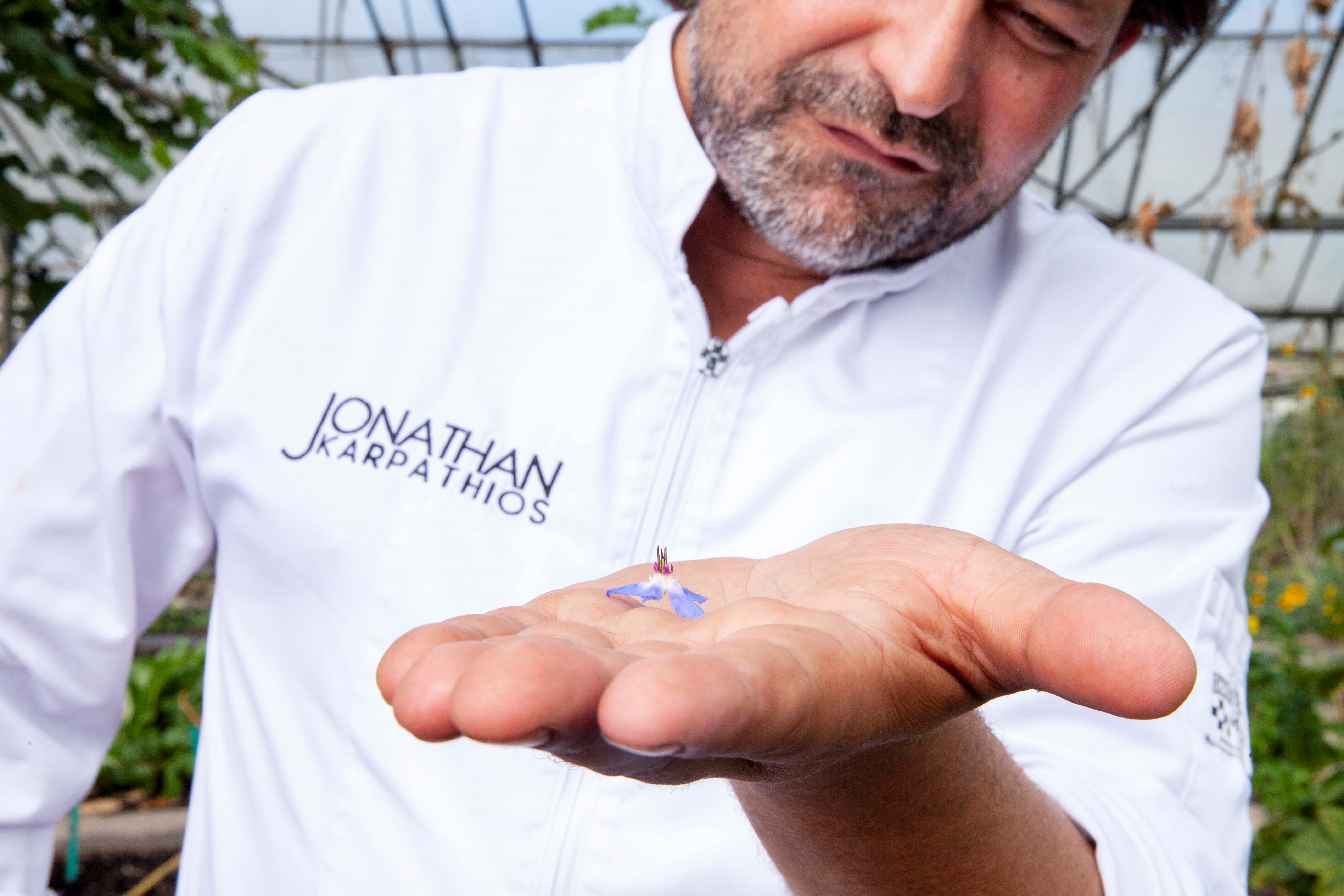 Wij serveren voedsel dat voedt, niet voedsel dat vult