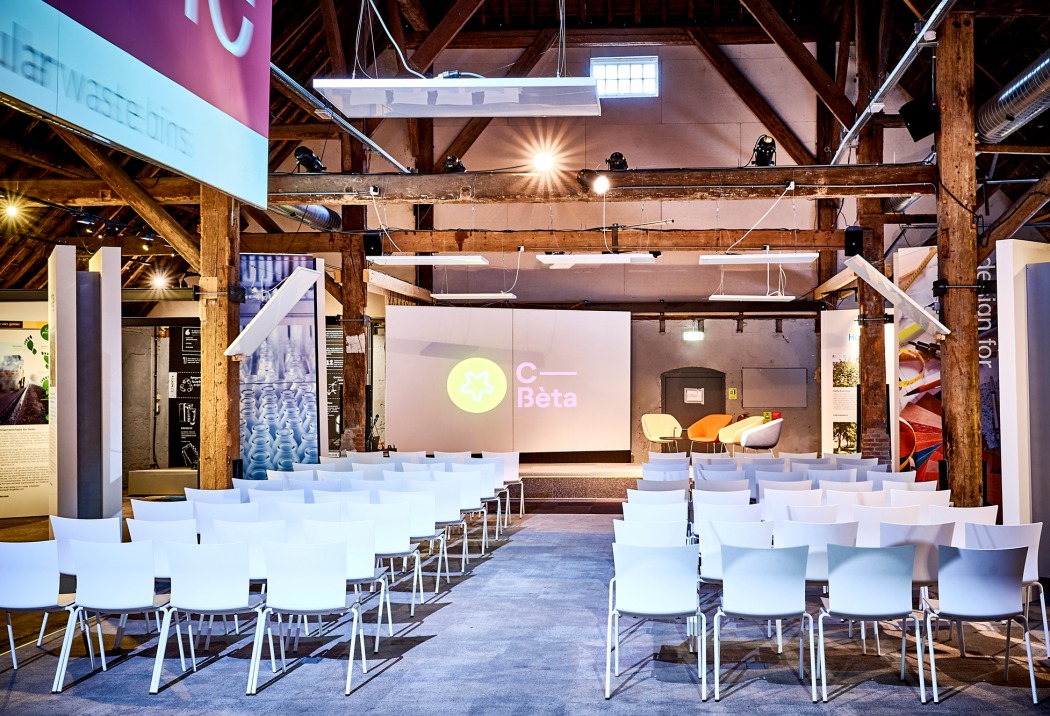 EN NU 12 // Astrid Oversier
Sectie

EN NU // 22 Interviews
Gesprekken
C-Bèta heeft als missie de transitie naar de circulaire economie te versnellen. Ze biedt werkplekken in een inspirerende omgeving en ruimte om nieuwe concepten uit te proberen. Een hele mooie missie natuurlijk, maar in deze tijd van i-lockdown is het onmogelijk om mensen samen te brengen. De locatie is daarom momenteel gesloten, maar dit wil niet zeggen dat ze stilzitten. Sterker nog... Wij spraken Astrid Oversier over het effect van de coronacrisis op haar onderneming en of zij er ook iets positiefs in ziet.
Hoe beleef je dit moment? 
Het ging erg goed met C-Bèta, dus de eerste schok was groot, maar nu zie ik allerlei mooie initiatieven om me heen. Ik zie hoe de mensen in mijn omgeving genieten van de rust en het zorgen voor elkaar. Ook wij hebben nu de rust om een aantal plannen op te pakken die al lang op de plank lagen. Dat voelt goed.
Hoe pak je het vanuit je vakgebied op? 
We gebruiken dit moment om twee initiatieven op te pakken. Bij het eerste willen we mensen online inspireren en samenbrengen op het gebied van circulaire economie. We zijn daarom vorige week een LinkedIn-groep gestart. Het tweede initiatief is het opzetten van een programma rondom ketenverkorting in de voedselindustrie. Hier beginnen we ook eerst online en zullen het in de toekomst offline voortzetten.  
Wat zijn de dilemma's? 
Mijn dilemma is dat ik aan de ene kant heel graag terug wil naar het oude model, omdat dit mijn verdienmodel was. Maar ik wil ook het goede voorbeeld geven door vol te blijven inzetten op het versnellen van de overgang naar circulair.  
RESET: ga je straks bij voorkeur terug naar het 'oude' systeem of ga je het 'anders' doen? 
Van beide een beetje. Mensen fysiek laten samenkomen is onze core business en zal voor mensen altijd belangrijk blijven. Maar door nu online mensen en bedrijven aan elkaar te verbinden, kunnen we hetzelfde bereiken op een voor ons nieuwe manier. Dit laatste willen we in de toekomst zeker blijven doen.
Hoe zie je de toekomst voor je, welke nieuwe opgaven wachten ons?
Dat we nu echt een wake-up call hebben gekregen en zien dat niet alles alleen maar 'meer, meer, meer' hoeft te zijn. Ik heb de hoop dat meer mensen nu niet alleen horen dat niet goed gaat met de aarde, maar het ook daadwerkelijk ervaren. Ik hoop ook dat ze gaan geloven dat het anders kan en dat ze daar naar gaan handelen. Dit betekent kortere ketens, minder reizen en gewoonweg lief zijn voor Moeder Aarde.
Waar kunnen we je blijven volgen? www.c-beta.nl