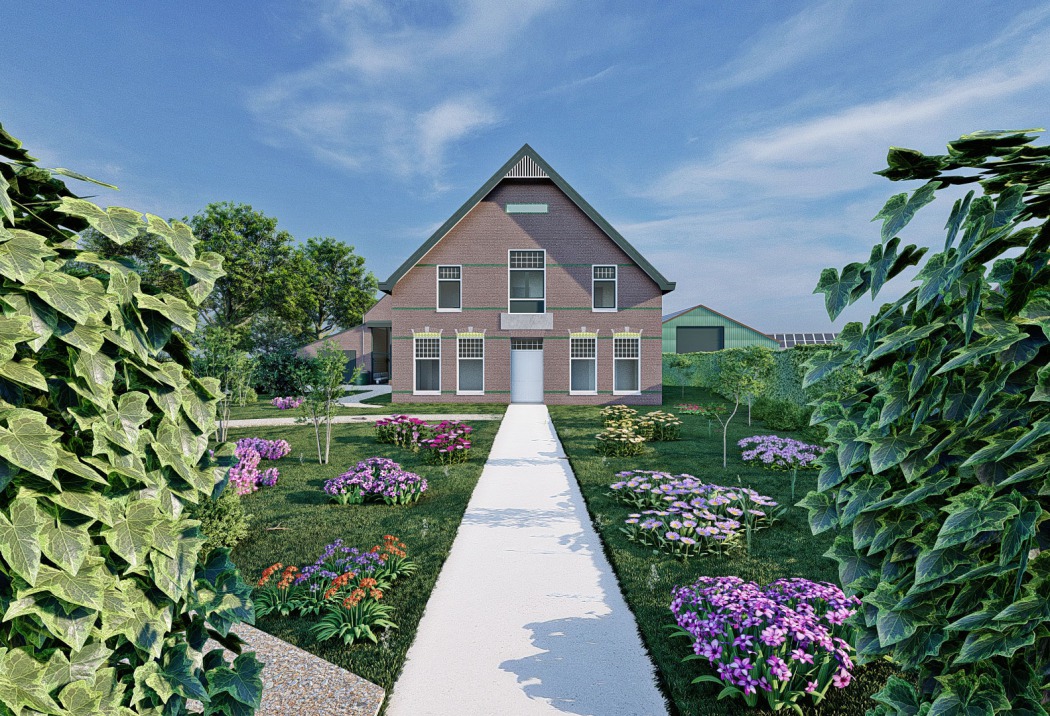 Inspiratieproject // Monumentale kop-hals-romp-boerderij
Sectie

Erfgoed
Inspiratie
In 2021 heeft de gemeente Haarlemmermeer een stageopdracht gegeven aan twee HBO bouwkunde studenten. Voor deze opdracht hebben zij onderzoek gedaan naar geschikte (fictieve) herbestemming voor vijf historische karakteristieke (monumentale) objecten. De ontwerpen die zijn ontstaan dienen ter inspiratie voor bewoners of eigenaren van een bijzonder object in Haarlemmermeer.
Kenmerken
De karakteristieke boerderij betreft één van de weinige Haarlemmermeerse kop-hals-rompboerderijen. Kenmerkend voor de boerderij is de driedeling tussen het woonhuis, het 'koppelstuk' en de schuur. Hierdoor kent het gebouw een langgerekt karakter en is het gemakkelijk om bij een herbestemming verschillende functies te combineren.
Herbestemming
Uit onderzoek blijkt dat de boerderij geschikt is als een verblijfsaccommodatie in combinatie met watersport verhuur. De monumentale schuur van de boerderij wordt getransformeerd tot B&B en verblijfsaccommodatie. In de overige schuren is er ruimte voor de opslag van watervoertuigen. Daarnaast is er een steiger aan de Ringvaart toegevoegd die functioneert als opstapplaats. De eigenaar kan hierbij gebruik blijven maken van de woonfunctie en heeft voldoende ruimte over voor privé gebruik.
Herontwerp
Om de boerderij geschikt te maken voor de nieuwe functie, is er een herontwerp gemaakt. Hierbij is rekening gehouden met het behoud van de cultuurhistorische waarde. Er zijn verschillende technieken gebruikt om het gebouw lichter en aantrekkelijker te maken voor het verblijf van de bezoekers. De kap en de karakteristieke driedeling van het gebouw zijn hierbij bewaard gebleven. Ook het erf is meegenomen in het herontwerp. Er zijn maatregelen genomen om het erf te vergroenen en te verduurzamen, door betonvlakken te vervangen voor beplanting, door regentonnen te plaatsen en door het toepassen van zonnepanelen op de bijgebouwen.
---
De studenten hebben hierbij rekening gehouden met de geldige wet- en regelgeving, de visie van de gemeente en de belangen van de eigenaren en het omliggende gebied. Vervolgens hebben de studenten schetsontwerpen en visualisaties gemaakt om eigenaren en initiatiefnemers te inspireren en inzicht te bieden in de mogelijkheden tot een herbestemming.
De herbestemmingen en ontwerpen in dit boek zijn slechts ter inspiratie, gemeente Haarlemmermeer heeft de ontwerpen officieel niet goedgekeurd om uit te voeren. Er zou een haalbaarheidsonderzoek moeten worden uitgevoerd om vast te stellen of de herbestemmingen daadwerkelijk voldoen aan alle eisen. Er kunnen geen rechten worden ontleend aan dit document.