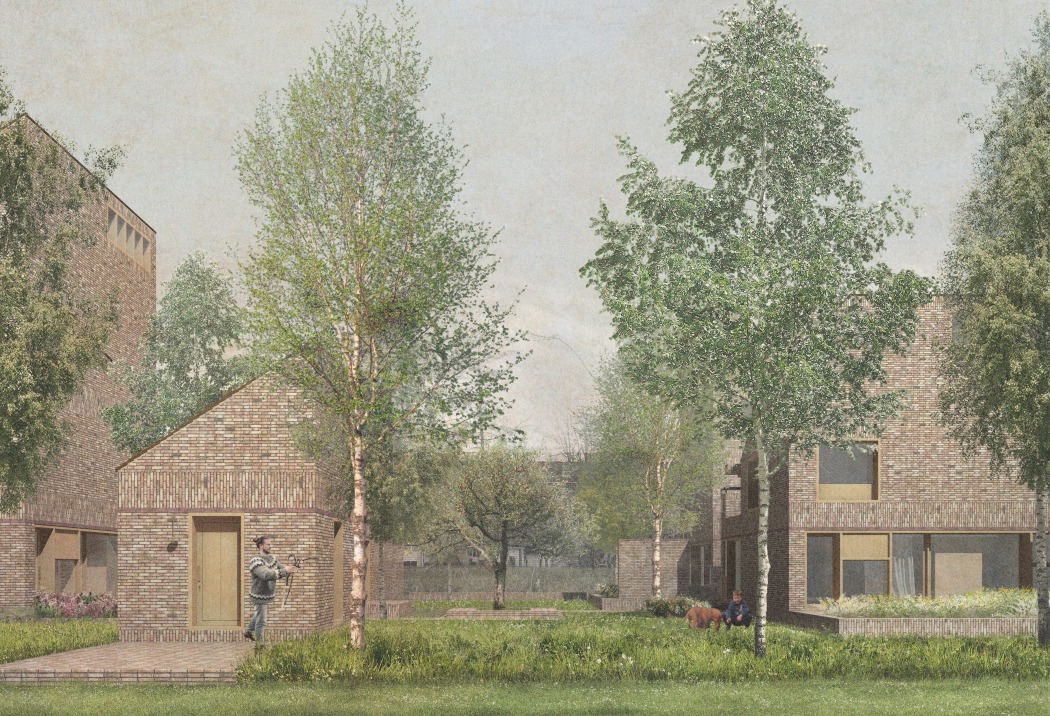 Poëzie in Overbos // An (extra)ordinary row of houses
Richard Proudley studeerde in 2019 af aan de Academie van Bouwkunst Amsterdam met zijn project An (extra)ordinary row of houses. Hij groeide op in Hoofddorp in de wijk Overbos. Kenmerkend aan het werk van Richard is het raakvlak tussen de poëtische en de rationele benadering van architectuur.
Richard is opgegroeid in een doodnormaal rijtje huizen, in een doodgewone straat, in een typische jaren '80 wijk. In zijn dagelijkse herinneringen aan dat huis lijkt een verborgen romance te schuilen. Negen schriftelijke herinneringen vormen de basis van zijn poëtische ontwerp.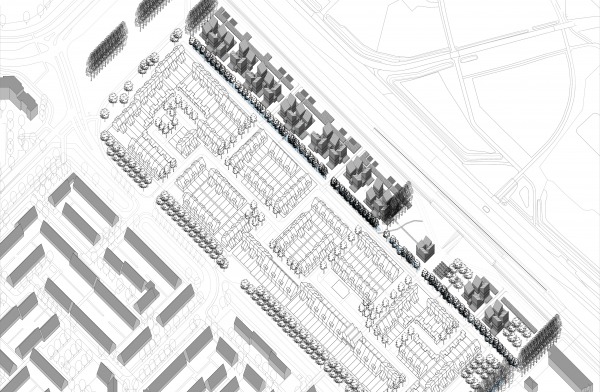 Op de oevers van de straat waar ik opgroeide ligt een stuk niemandsland gevuld met verloren volkstuinen. Ooit stond hier een boomgaard gevuld met populieren, iepen en esdoorns waar ik vroeger boomhutten bouwde. Enkel via de poorten en het achterom van de straat kom je aan in het niemandsland, dat geflankeerd wordt door overgebleven populieren en een onoverbrugbare sloot. Het project bestaat uit negen ensembles verdeeld over het niemandsland. Het plan maakt plek voor de nieuwe rijtjeshuizen. Namelijk de generatie die er is opgegroeid, weg is gegaan en weer terugkomt, net als ik. Op basis van negen verhalen is door middel van een ontwerpende analyse een vertaling gemaakt van herinneringen aan architectuur.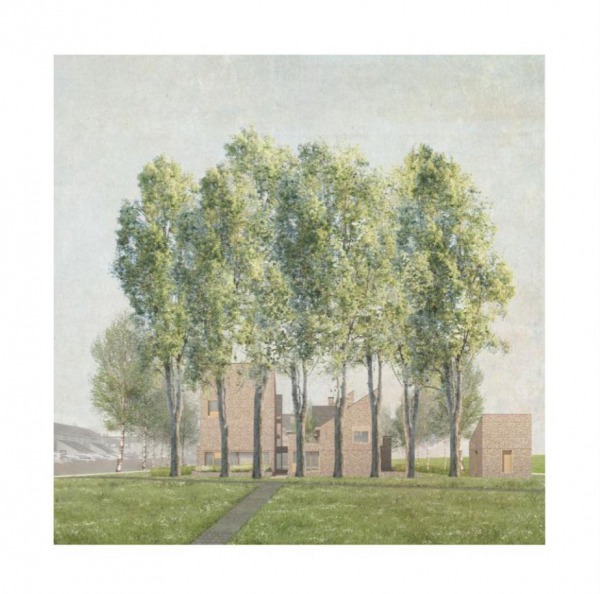 Over de onoverbrugbare sloot zijn stenen bruggen geplaatst die aansluiten op de poorten. Grijs-witte berken maken van het verloren niemandsland weer een boomgaard, waarin een stenen, uniforme massa verspreid ligt. Zodra je het bruggetje aanraakt en door de rij populieren steekt, kom je thuis. In de boomgaard, tussen de ensembles zijn collectieve bloementuinen te vinden, waar moeders met hun zoon kunnen wandelen.
De ensembles zijn allemaal van steen, het materiaal dat het publieke domein definieert. Verschillen in patronen en kleine hoogteverschillen geven subtiel grenzen binnen deze stenen kamers aan. Het berkenbos loopt door in de ensembles waar de wortels uiteindelijk mee zullen werken in de patronen van steen.
Vanuit de stenen kamers betreed je de houten hut. Hout staat voor geborgenheid. De woonkamers zijn de overgang tussen de stenen kamers en de houten hutten. In de houten hut heb je altijd een relatie met een paar grote vriendelijke berken. Op de begane grond kijk je langs de afbladderende stammen terwijl op de verdiepingen de kruinen van de bomen zorgen voor beschutting, uitkijkend over het dakland.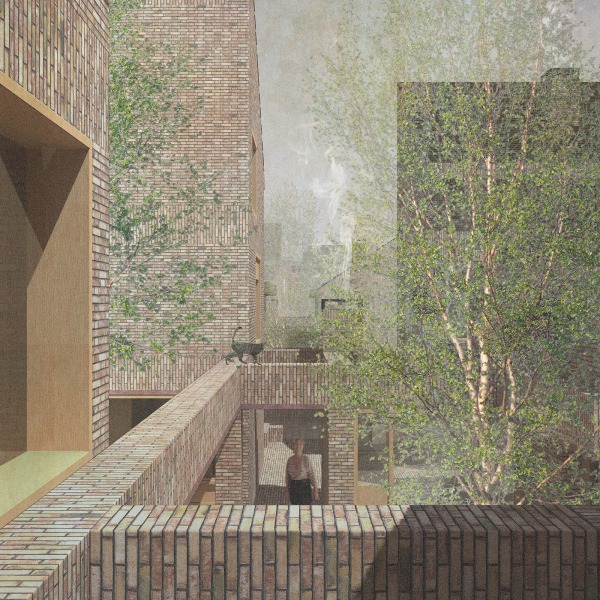 In de houten hut kraakt de vloer en schiet de deur in de winter uit het niets open. Er zal een traptrede geluid gaan maken. De houten hut is een zolderkamer, de meest beschutte plek van het plan waar je in de grote vensters zit en langs de kruinen van de berk de wolken voorbij ziet zoeven.
---
Afgelopen 10 jaar heeft Richard bij diverse gerenommeerde bureaus gewerkt en is momenteel werkzaam als architect bij Geurst & Schulze Architecten in Den Haag. Naast zijn werk is hij nauw betrokken als gastdocent bij o.a. de Academie van Bouwkunst Amsterdam.