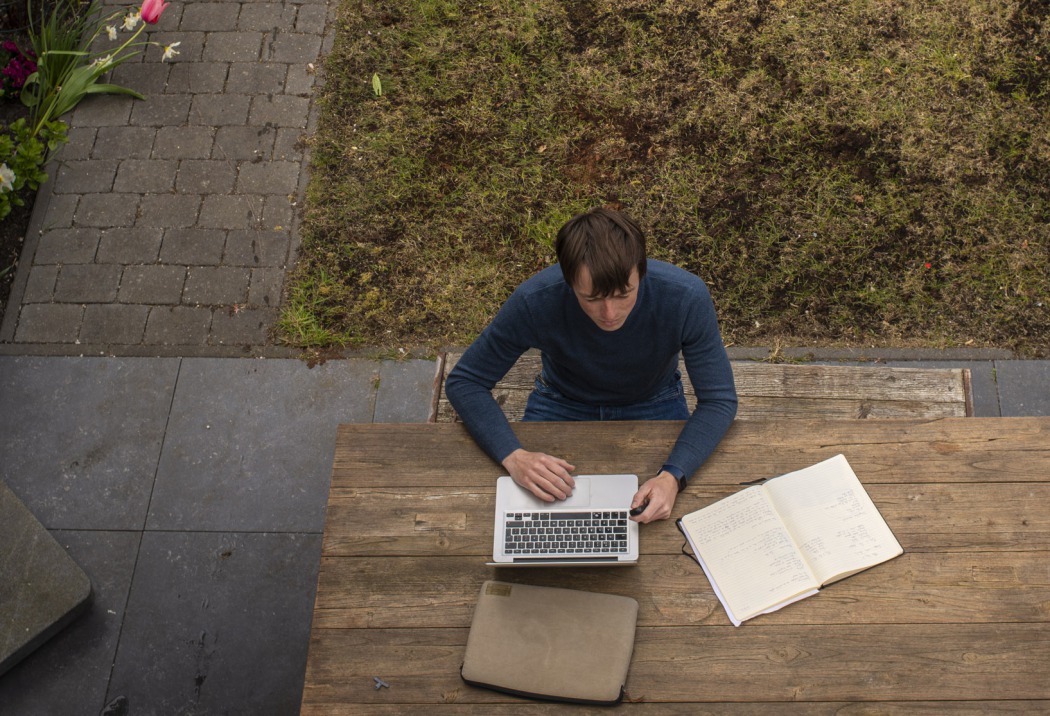 EN NU 5 // Fotograaf Loek van Vliet
Sectie

EN NU // 22 Interviews
Gesprekken
Fotografie
We hebben ons langzaam aangepast aan de nieuwe werkelijkheid in tijden van Corona. Podium voor Architectuur benut deze weken om de kracht van Haarlemmermeer zichtbaar te maken. We laten in de rubriek EN NU de ervaringen van ondernemers, initiatiefnemers, bedrijven en ontwerpers in een stille regio zien.
Als fotograaf en programmaraadslid van Podium voor Architectuur, heeft Loek van Vliet goed zicht op de bestaande ruimtelijke ontwikkelingen. Wat nu gaande is, kan onze houding, ons systeem van werken, besturen, inrichten van de ruimte compleet veranderen. Daarom dit moment van bezinning, want wie weet kan het hierna echt anders. Of willen we dat helemaal niet? Wij zijn benieuwd wat Loek hierover te zeggen heeft.
Hoe beleef je dit moment?
De afgelopen weken heb ik mijn dagelijkse routines nog vaster omarmd en hebben we als gezin een heel goed dagelijks ritme gevonden. Mijn vrouw is Diëtist en op dit moment hoog-zwanger, dus met zwangerschapsverlof. We hebben een dochter van ongeveer twee-en-een-half jaar. 
 Wat betreft mijn werk doe ik drie dingen: ik ontwikkel mijn eigen vrije werk, wat resulteert in boeken en tentoonstellingen, waaronder het net verschenen Aardse Vensters over de Ervaring van het Europese landschap door de eeuwen heen. Ik heb een vaste stroom aan commercieel werk en betaalde opdrachten. En ik geef les aan de Koninklijke Academie van Beeldende Kunsten in Den Haag. 
Het lesgeven gaat nu volledig digitaal. Alle betaalde opdrachten zijn stil gevallen. En tentoonstellingen en andere presentaties zijn de komende tijd uitgesteld.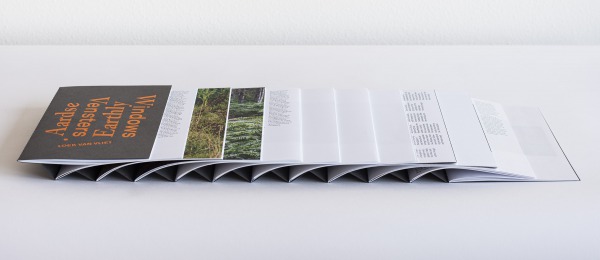 Hoe pak je dit vanuit je vakgebied op?
In de eerste plaats heb ik zelf een goed ritme gevonden: ik werk twee tot drie keer per dag een blok van 1,5 uur zonder enige afleiding. Op een wijze die Cal Newport heeft omschreven in zijn boek Deep Work. Hier kom ik aan het eind nog op terug.
Mijn dag ziet er ongeveer als volgt uit: opstaan, hardlopen, werkblok 1, ontbijt met het gezin, eventueel kleine dingen afwerken qua werk, huishouden en spelen, lunch, werkblok 2, huishouden en spelen, avondeten, lezen, Emma naar bed, werkblok 3, slapen.

Mijn werkzaamheden bestaan vooral uit lessen voorbereiden en geven voor de KABK. Het verder naar buiten brengen van mijn project Aardse Vensters door middel van emails, sociale media, website, insturen voor wedstrijden, etc. En het (verder) ontwikkelen van nieuw werk, waaronder de serie over de Haarlemmermeer.
Het rondrijden en fotograferen doe ik meestal alleen, maar er zijn ook dagen dat ik mijn dochter Emma meeneem. Om zoveel mogelijk thuis te kunnen werken maak ik veel gebruik van Google Earth. Zoals het afstruinen naar dit soort elementen in het landschap:

Ik werk meestal in vrij grote formaten met mijn fotografie. Elk detail is zichtbaar. Toch zijn er best een aantal foto's die prima uit de verf komen op een kleiner formaat. Daarom ben ik nu bezig om een aantal foto's klein af te werken en deze te huur/te koop aan te bieden. In de komende twee weken zullen de eerste exemplaren hiervan afgerond zijn. Updates hierover zal ik zeker op instagram en mijn website delen!
Wat zijn de dillema's?
Het grootste probleem is natuurlijk de inkomensonzekerheid voor de komende maanden. Het werk dat ik jaren heb gedaan is voor een groot deel stil gevallen. Ondanks de geslonken buffer, vanwege de investeringen in Aardse Vensters, is het tekort gelukkig nog wel enige tijd op te vangen. Eigenlijk is er dus nog niet zo'n heel groot dilemma. 
Thuiswerken kan eigenlijk best goed, zeker in combinatie met alle mogelijke digitale communicatiemiddelen, maar het is wel behoorlijk lastig om langere periodes achter elkaar geconcentreerd te werken met kleine kinderen in huis. Het is voor mij nog duidelijker geworden hoe waardevol de tijd is die ik normaal gesproken kan besteden aan mijn werk.
Ga je straks bij voorkeur terug naar het 'oude' systeem of ga je het 'anders' doen?
Een aantal elementen die nu boven zijn komen drijven, zoals het meenemen van Emma met het fotograferen/onderzoeken van het Nederlandse landschap, zal ik in de toekomst zeker vaker doen. Het is een geweldige tijd, zoals bij het lopen door een loopgraaf en aansluitend samen te picknicken. Het werk en gezin zijn niet twee vast omlijste dingen die gescheiden hoeven te worden. Ook zal ik de mogelijkheden zoals printverhuur verder onderzoeken om toch een maandelijks terugkerend inkomen te kunnen genereren.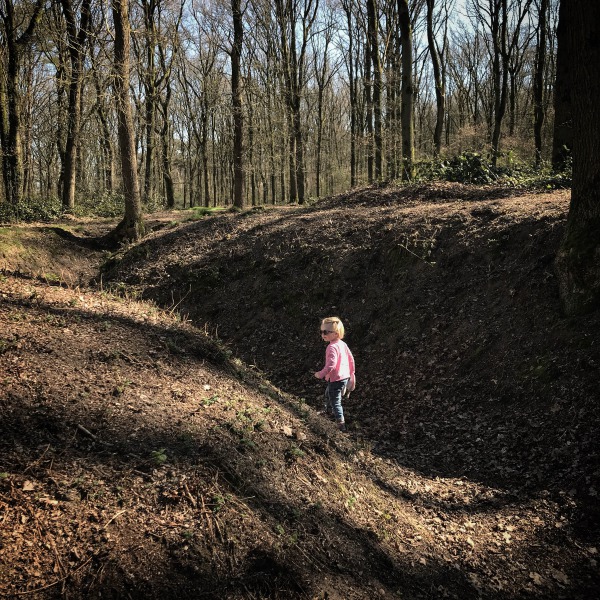 Een aantal zaken zullen echter wel weer (terug)veranderen. Ons dagelijks ritme is nu zeven dagen in de week hetzelfde. Wanneer deze crisis over is, en mijn vrouw weer aan het werk is, zal de gezinstijd automatisch meer in het weekend liggen, waardoor ook de momenten om te werken van het weekend terug in de week zullen schuiven.
Hoe zie je de toekomst voor je, welke nieuwe opgaven wachten ons?
In een groter perspectief blijken dingen te kunnen veranderen. De luchtkwaliteit is bijvoorbeeld nu al verbeterd, daarnaast is er gewoonweg minder CO2-uitstoot. Heel veel werk blijkt ook vanuit huis gedaan te kunnen worden. Daarbij zijn er ook hele mooie lokale initiatieven: bakkers, bloemkwekers, groenteboeren worden ondersteund omdat mensen uit de buurt daar nu de boodschappen doen. We blijken in staat om drastische (economische) maatregelen te nemen ten behoeve van de volksgezondheid. Een economische crisis lijkt elke tien jaar voor te komen, dus het op en neer gaan van die economie kennen we wel en dat komt vast ook wel weer goed. Maar er zijn ook nog "oude" opgaven die minder urgent lijken, maar die wellicht op eenzelfde drastische wijze kunnen worden opgelost. Bijvoorbeeld: volgens de wereldgezondheidsorganisatie (WHO) is 30-50% van alle gevallen van kanker te voorkomen en er zijn nog wel meer doodsoorzaken te voorkomen, denk maar eens aan hart-en-vaatziekten. Men zou alles in het werk kunnen stellen om de negatieve klimaatsverandering tegen te gaan. En de energie-transitie zou veel sneller kunnen plaatsvinden met een sterk ingrijpen van de overheid, zoals nu bij de Covid-19 crisis ook gebeurt.
We weten nu in ieder geval dat dit ingrijpen binnen de mogelijkheden ligt.
Tot slot
Ik zou nog terugkomen op het boek Deep Work. Hierin wordt het ontwerp van een Eudamonia-machine van architect David Dewane aangehaald. Een simpel maar radicaal idee voor de inrichting van de werkplek om tot de best mogelijke manier van werken te komen. De Wallstreet Journal noemde het "One Architect's Radical Vision to Replace the Open Office" en er is in ieder geval één bedrijf die dit heeft gerealiseerd: Story. Maar juist nu is dit concept dus ook relevant, met vragen als: hoe richt je je werkplek in? Hoe kan je vanuit huis werken? En niet onbelangrijk: kan je de concepten van deze architect ook in je eigen werkplek vanuit huis toepassen?