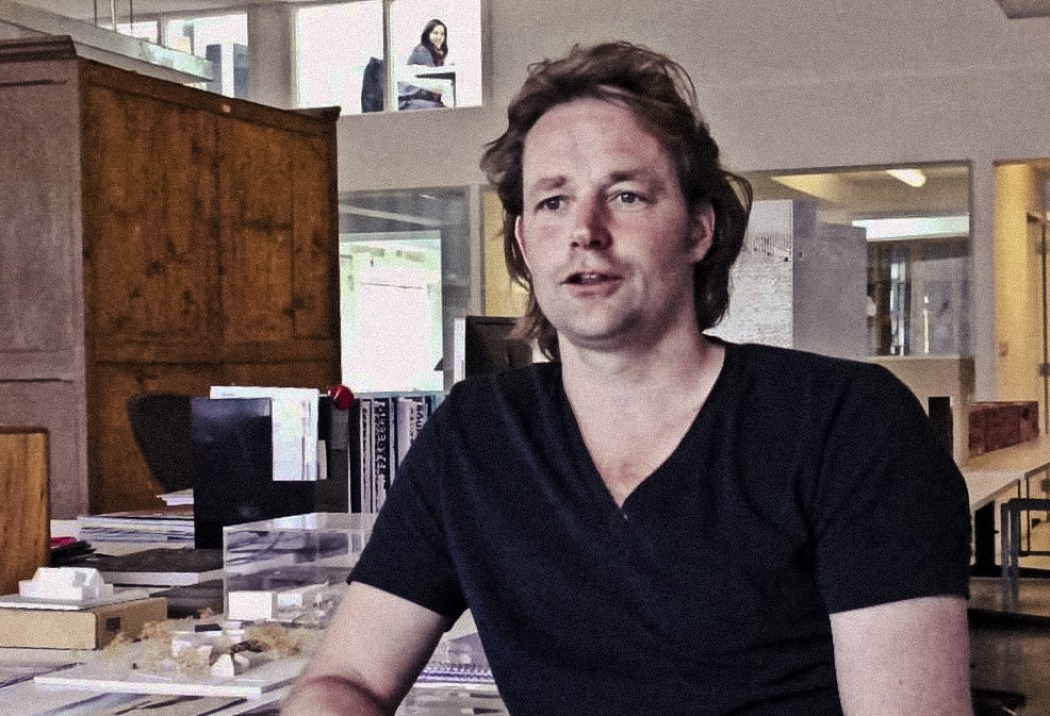 EN NU 3 // Architect Jeroen van Mechelen
Sectie

EN NU // 22 Interviews
Interviews
We hebben ons langzaam aangepast aan de nieuwe werkelijkheid in tijden van Corona. Podium voor Architectuur benut deze weken om de kracht van Haarlemmermeer zichtbaar te maken. We laten in de rubriek EN NU de ervaringen van ondernemers, initiatiefnemers, bedrijven en ontwerpers in een stille regio zien.
Als architect heeft Jeroen van Mechelen goed zicht op de bestaande marktmechanismen, overleg- en besluitstructuren. Een paar jaar geleden schreven we in ons jaarprogramma dat alle oude systemen zijn uitgewerkt. Jeroen heeft diverse malen andere werkwijzen benoemd, nieuwe modellen, zoals een belastingsysteem dat circulair bouwen beloont. Wat er nu gaande is, kan onze houding, ons systeem van werken, besturen, inrichten van de ruimte, geheel op de kop zetten. Daarom dit moment van overdenking. Een moment om te benutten. Wie weet kan het hierna echt anders.
Hoe beleef je dit moment?
Het 'nu' heeft ineens meerdere werkelijkheden. Die ene vervlochten werkelijkheid die (we dachten dat) we hadden, heeft nu meerdere perspectieven gekregen waarvan de gevolgen soms heel dichtbij komen en dan weer ineens weg lijken te zijn. Het opnieuw vervlechten van deze nieuwe werkelijkheden zal het meeste tijd verlangen, maar daarin zit ook de ruimte voor een zinvolle transitie.
Die ene vervlochten werkelijkheid die (we dachten dat) we hadden, heeft nu meerdere perspectieven gekregen waarvan de gevolgen soms heel dichtbij komen en dan weer ineens weg lijken te zijn.
Hoe pak je het vanuit je vakgebied op?
De afgelopen maanden gingen de meeste van mijn lopende projecten in uitvoering. De bouw ervan gaat eigenlijk gewoon door, al is het hier en daar met wat vertraging. Een van de werkelijkheden die ik ervaar is dat er ook een nieuw soort rust is ontstaan die mij eigenlijk wel bevalt. Mensen maken elkaar even wat minder gek en er lijkt voor ieder wat meer ruimte te zijn om zijn of haar rol te pakken. Door online vergaderingen blijft er bijvoorbeeld al meer (bewuste) tijd over. In het lesgeven is dit wel moeilijker omdat je te maken hebt met het fysieke aspect van tekeningen en maquettes, die zich, zoals in een 'live' presentatie, minder makkelijk laten ervaren op een beeldscherm. In een gecombineerde opgave voor architectuur- en scenografie-studenten, hebben we het fysiek experimenteren met licht en ruimte omgezet in een 'live' online onderzoek waarin we het medium 'Zoom' op verschillende manieren proberen om te vormen naar één ruimtelijke groepservaring, in plaats van 'enkel een digitale verbinding tussen afzonderlijke personen'. Heel erg interessant!
Wat zijn de dilemma's?
Zoals de meeste ondernemers kijk ik ook met enige spanning uit naar over een maand of 3. Komt er dan weer voldoende op gang voor nieuwe uitdagingen? En, heel belangrijk, kan dat op een manier die beter is voor onze planeet? Dat is een collectief dilemma. Ik hoop vurig dat de westerse wereld daar oog voor heeft als de Corona-draak is verslagen!
Ga je straks bij voorkeur terug naar het 'oude' systeem of ga je het 'anders' doen?
De afgelopen 5 jaar heb ik mij vooral verdiept in hoe we als mensheid op deze aarde een eerlijke ecologische plek kunnen innemen. Door mijn eigen bedrijf te 'downsizen' kon ik op zoek gaan naar eenvoudiger oplossingen binnen mijn vak als architect. Een concrete uitkomst daarvan is het houten en herbruikbare zelfbouwsysteem 'JUST in CASE'. Dit is nu op de markt en dat werkt heel goed! Verder werk ik als creatief denker en docent vaker aan andersoortige ruimtelijke vraagstukken. Met het verkennen, formuleren en visualiseren ervan, probeer ik het besef van een noodzakelijk nieuw systeem breder uit te dragen door de positieve kansen en mogelijkheden te laten zien.
Hoe zie je de toekomst voor je, welke nieuwe opgaven wachten ons?
Na de globalisering is het mijns inziens tijd voor het 'nieuwe nabij'. Niet als noodzaak maar vanuit verlangen. Lokaal, samen, kleine diverse gemeenschappen, vanuit aandacht en liefde i.p.v. vanuit macht. Genieten van minder en toch meer ervaren.
Waar kunnen we je blijven volgen?