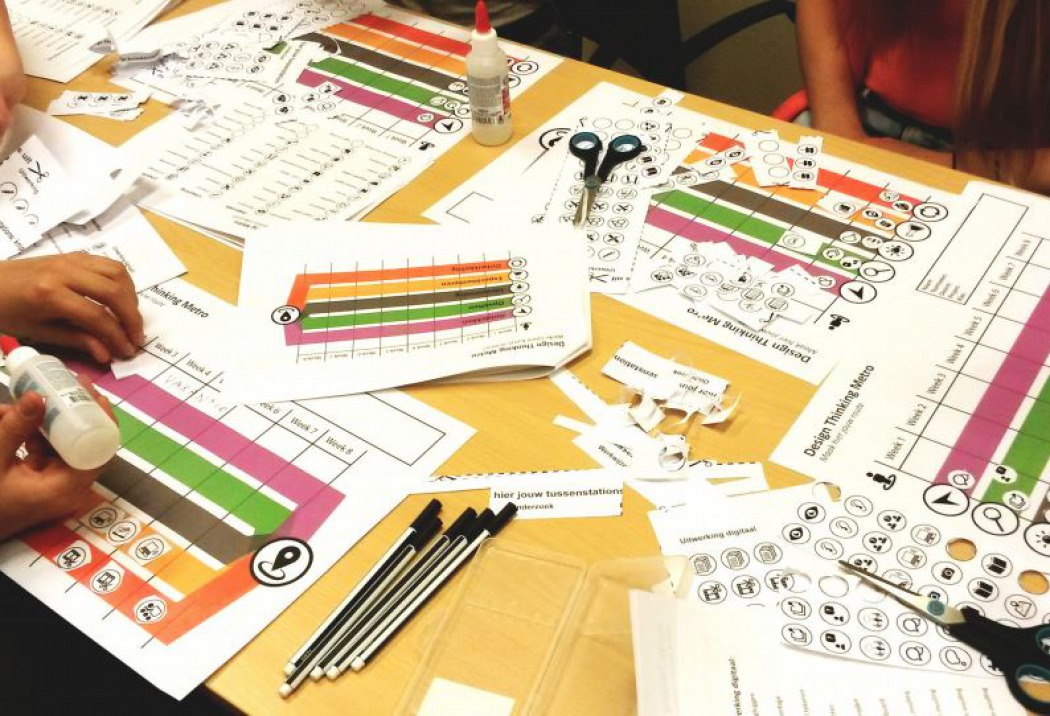 Design Thinking
Sectie

Ontwerpen
Design Thinking is een 'mindset'. Een vorm van aanpak bij het oplossen van vraagstukken in je persoonlijk leven, in bedrijfsleven, in de wereld, en op school. Design Thinking, letterlijk 'ontwerpdenken' is gebaseerd op het creatieve proces dat een ontwerper doorloopt bij het zoeken naar het antwoord op een gestelde vraag. Het is de vorm van aanpak bij projecten die het Podium voor Architectuur ontwikkelt in samenwerking met het vakgebied en jongeren coaches.
In werkelijkheid geeft iedere persoon vorm aan zijn/haar eigen leven door te onderzoeken, te ondervinden, keuzes te maken en die vervolgens weer aan te passen of aan te scherpen. Een doorlopend (ontwerp) proces.
Design Thinking is een parallel voor persoonlijke ontwikkeling.
Ontwerpdenken gaat uit van een doorlopend cyclisch proces, waarin input even belangrijk is als output; de balans wordt gezocht uitgaande van opbrengst voor de leerling. Wat betreft de inhoud van projecten zijn nieuwe vaardigheden (21th century skills) verweven in de vormgeving van de opgaven: aandacht voor samenwerking, communicatie, probleemoplossend vermogen, ict-geletterd­heid, creatief denken, sociale en culturele vaardigheden, kritisch denken etc.
Persoonlijke talentontwikkeling
We zetten in op persoonlijke talentontwikkeling als onderdeel van een betere samenleving. In­terdisciplinair denken, studie- en beroepsoriëntatie, flexibiliteit in de omgang met tegenslag en het meebewegen met de toekomst zijn dynamieken op een individueel niveau. In leerprojecten plaatsen we ze in perspectief van de arbeids­markt, de directe leefomgeving, de maatschappij en uiteindelijk het wereldburgerschap.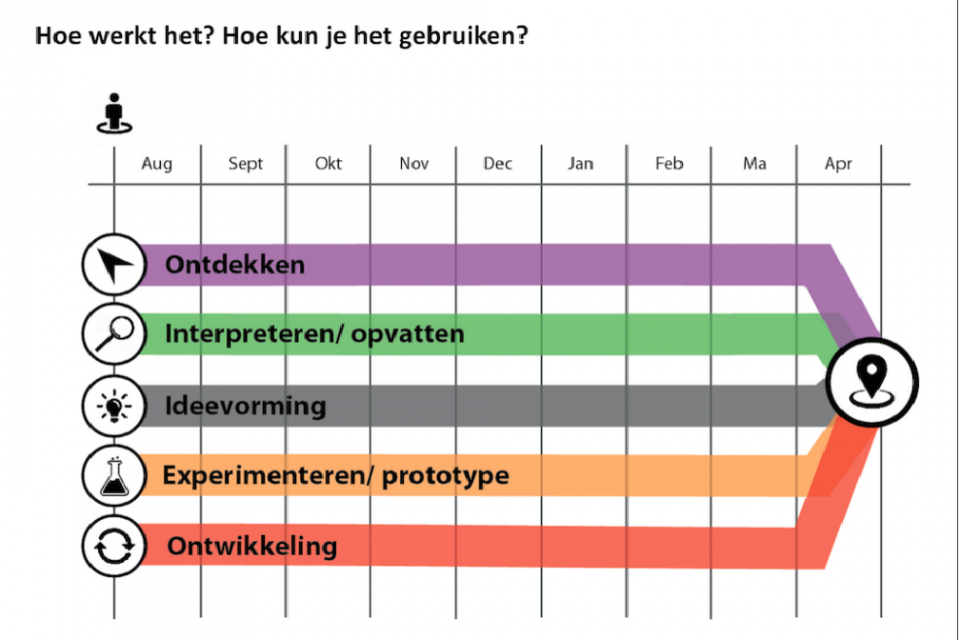 Visuele tool
In 2015 heeft Podium een visueel proefmodel ontwikkeld dat kan worden ingezet voor procesbege­leiding en -analyse van jongeren. Het model verschaft inzicht bij het doorlopen van een dynamisch ontwerpproces. In dit proces zijn verschillende fases te herkennen. Elk proces is echter uniek en kent zijn eigen 'verloop'; de volgorde en inhoud van stappen zijn verschillend. Doel van het ontwikkelde model is om tijdens en na afloop van een project de aanpak te kunnen organiseren, analyseren en aanscherpen: is er aandacht geweest voor elke fase in het proces, welke onderdelen kosten veel tijd, wat zijn knelpunten, verbeterpunten, waar kunnen jongeren, coaches of externen een rol spelen?
We hebben de ambitie dit model door te ontwikkelen en in de toekomst op te nemen als vaste 'tool' in procesvormgeving en -begeleiding. De toolkit voor ontwerpdenken is hier te downloaden.
Wil je het 'design thinking' model gebruiken?
Neem dan contact met ons op via bdekker@podiumarchitectuur.nl om de mogelijkheden te bespreken.