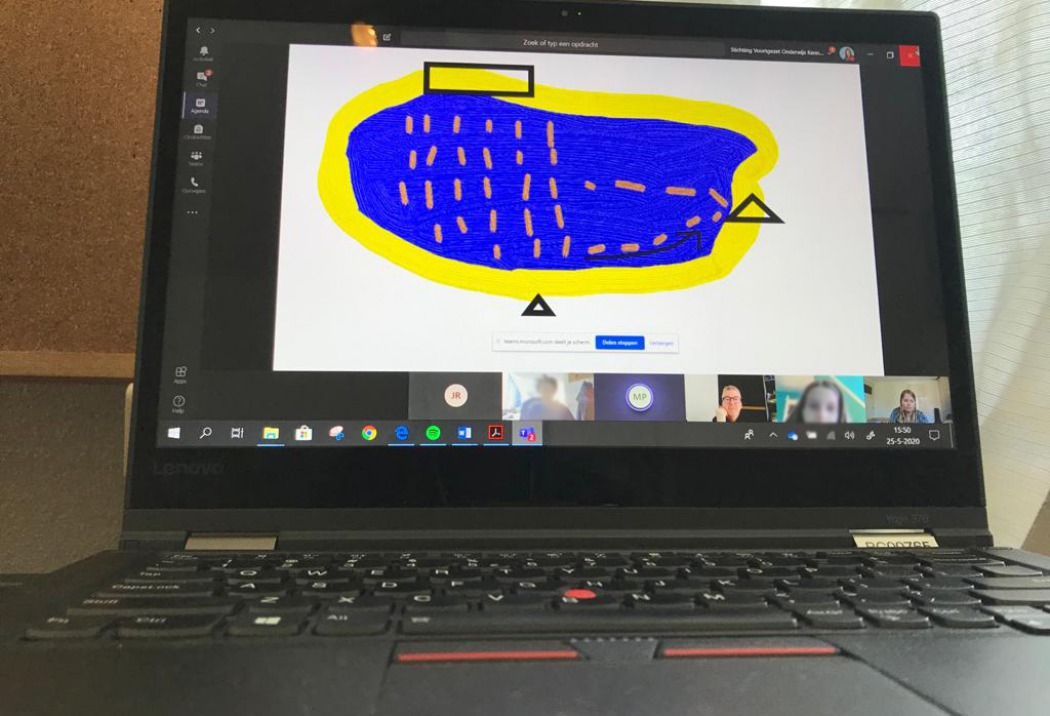 Innovatieve oplossingen in coronatijd
Nog niet eerder was een O&O-opdracht zo betekenisvol als deze en was de hulp van jongeren zo welkom als nu! Mark Rutte deed tijdens de persconferentie van dinsdag 19 mei een speciale oproep aan jongeren en kinderen om met suggesties te komen om de coronasamenleving nog beter in te richten. De 2e klas Technasium van het Kaj Munk College werkt echter al weken eerder aan verschillende ontwerpvoorstellen om problemen die zijn ontstaan tijdens de Corona-crisis op te lossen.
Maco Combee, de docent van deze jongeren, nam het initiatief om direct in te spelen op de nieuwe situatie en paste de opdracht van de leerlingen daarop aan.
Voorstellen van de leerlingen
Maandag 25 mei presenteerden de jongeren hun tussentijdse ontwerpvoorstellen online via Teams aan hun docent en het Podium voor Architectuur. De ideeën zijn al veel belovend! Van ontmoetingscabine bij verzorgingstehuizen, nieuwe horeca concepten, apps, websites en Hulp Boxen. Tot een heus foodfestival op het water! De komende weken verwerken de teams de feedback in een definitief ontwerpvoorstel. De ontwerpvoorstellen zullen op deze website geëxposeerd worden en natuurlijk gaan we proberen om Mark Rutte ook op de hoogte te brengen van de ideeën! Hieronder staat de opdracht zoals de leerlingen deze kregen.
Context:
"Het zal niemand zijn ontgaan Nederland en de rest van de wereld bevindt zich door het coronavirus, ook wel COVID-19 genaamd, momenteel in een crisis. Niet voor iedereen zijn de consequenties hiervan gelijk, maar vrijwel iedereen heeft er nu mee te maken, op wat voor manier dan ook. Verdere achtergrondinformatie, zoals gebruikelijk bij een O&O-opdracht, hoeft nu niet te worden verstrekt. Die bereikt jullie nu dagelijks. Wil je toch wat meer weten over het virus (i.v.m. deze opdracht) , raadpleeg dan eerst de site van het RIVM: www.rivm.nl/coronavirus-covid-19
Andere bronnen zijn natuurlijk ook te gebruiken, maar houd er wel rekening mee dat er ook nepnieuws wordt verspreid over corona en niet alle informatie juist en bruikbaar is.
Wist je dat het Chinese woord voor crisis bestaat uit twee tekens? 危機
Het eerste teken betekent "Wei" en de vertaling daarvan is gevaar. Het tweede teken betekent "Ji" en de vertaling daar van is kans!
Elke crisis kent zijn slachtoffers, maar brengt ook altijd nieuwe mogelijkheden met zich mee en jullie worden met deze opdracht uitgedaagd die te vinden. Innovatieve oplossingen die ons gaan helpen bij de coronacrisis. Ideeën door jullie zelf bedacht en niet al door anderen. De door jullie aangedragen oplossing mag dus niet googlebaar zijn, want die bestaan immers al en helpen we verder niemand mee. Dit alles, natuurlijk wel binnen de mogelijkheden die jullie nu hebben en uiteraard zonder daarbij jezelf en anderen in gevaar te brengen."
Work in progress: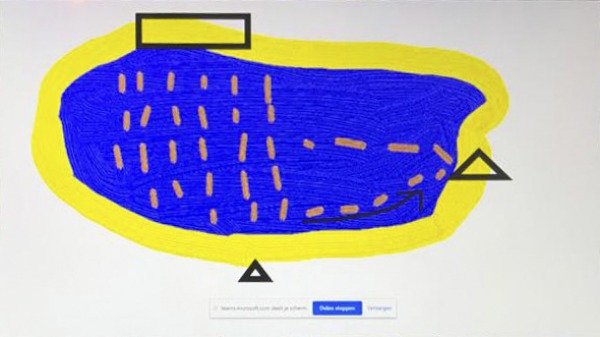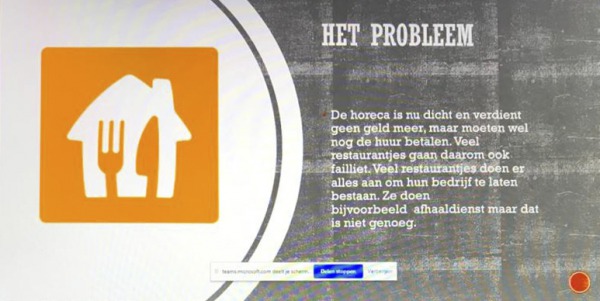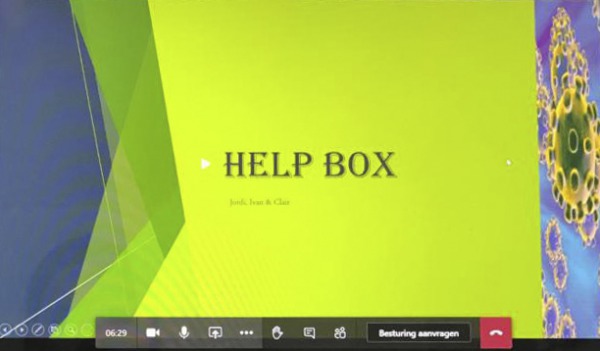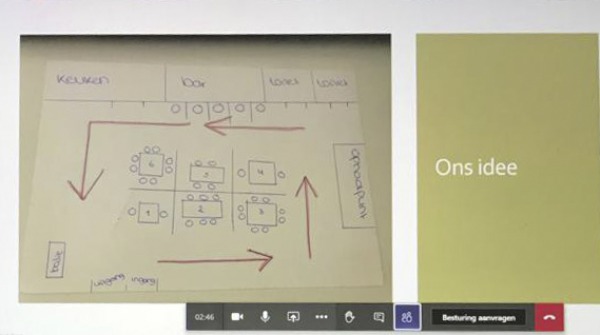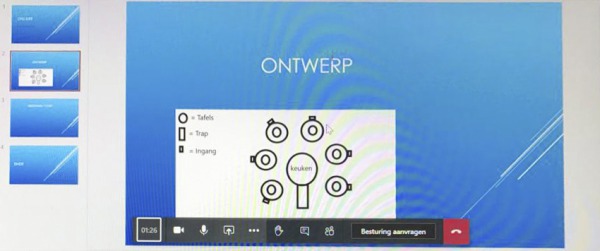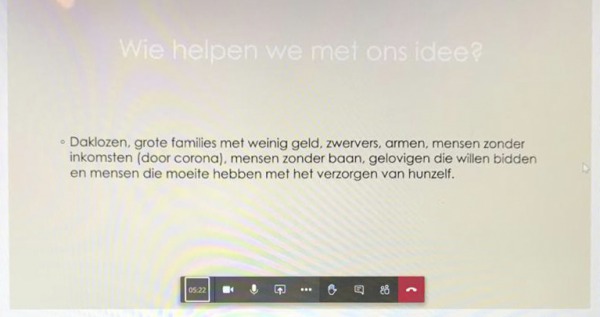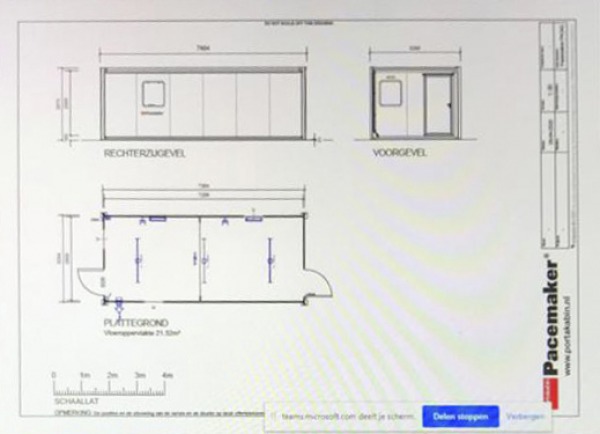 ---
HET RESULTAAT
---
THE HELPBOXES
De help boxes zijn voor de echte liefhebbers van de kroeg, maar ook bedrijven kunnen een samenwerking met ons aangaan! De bedoeling is dat wij voor een klein budget een box samenstellen met de benodigdheden voor een ultieme kroegavond! Elke maand is het weer een surprise wat voor een avond jou te wachten staat!
Je kunt kiezen tussen meerdere categorieën zoals vegetarisch, wel alcohol of natuurlijk geen alcohol! Zo kun jij je box helemaal personaliseren. Voor meer info, ga naar de site die boven aangegeven staat!
VOOR DE ECHTE KROEG LIEFHEBBERS: THE HELPBOXES Voor 19,99 je eigen ultieme kroegavond voor jou hele gezin!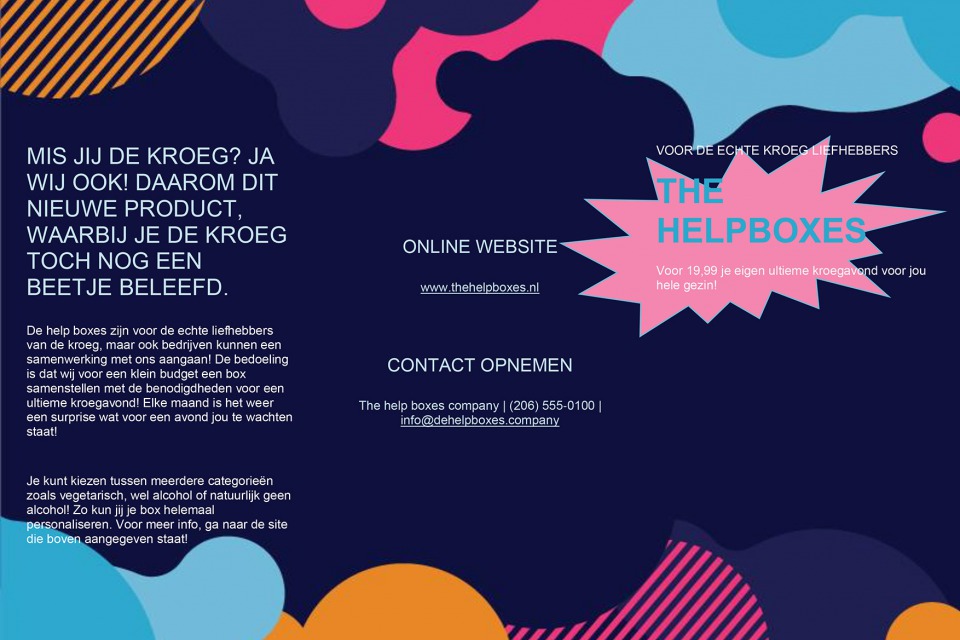 ---
MAATREGELEN UITETEN
Wij hebben de opdracht gekregen om maatregelen te bedenken voor de dingen die nu niet mogelijk zijn door Corona. Wij hebben ons gefocust op het uiteten gaan.
Ons plan bestaat uit een paar simpele dingen. Om uiteten te kunnen gaan, moet er van te voren gereserveerd worden. U meld bij de balie in het restaurant dat u aanwezig bent. Het personeel geeft uw tafelnummer aan u door en u wordt op 1,,5 meter naar uw tafel begeleid. Er is dan ook een looproute en de tafels staan 2 meter van elkaar af. U bestelt op uw telefoon via een app. In deze app staan de gerechten wat het restaurant u te bieden heeft. Het werkt als een soort thuisbezorgt app, maar dan natuurlijk in het restaurant. Zodra het gerecht klaar is, krijgt u een melding. Uw eten staat dan op een lange tafel met uw naam op een naam bordje er bij. Deze tafel wordt zo vaak mogelijk schoon gemaakt. Er wordt betaalt via uw telefoon.
Wij hebben dit bedacht voor de mensen in de horeca. Zo kunnen zij veilig hun werk doen en hun restaurant gewoon open laten. Ook is dit voor de mensen die de gezelligheid in bijvoorbeeld een restaurant hebben gemist.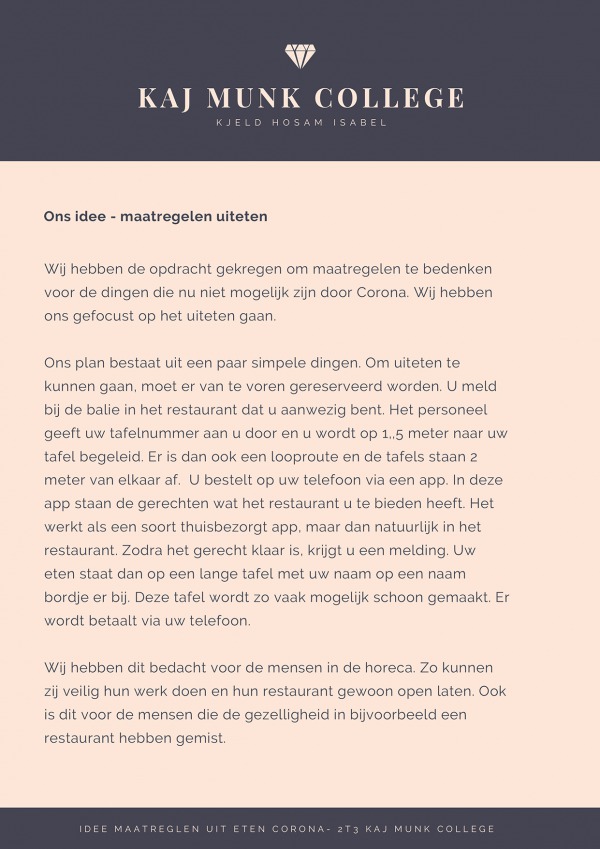 ---
KERK EN VOEDSELBANK DE RANK
Kerk en voedselbank in 1!
 Kerk de Rank, Eugenie Previnaireweg, Nieuw-Vennep
Hoe zijn we op dit idee gekomen? We zijn op het idee gekomen doordat we een O&O opdracht moesten helpen die door het Corona virus in de problemen zaten. Zo zijn wij gekomen op ons idee met de voedselbank en kerk. Wie helpen we met ons idee...
De daklozen, grote families met weinig geld, zwervers, armen, mensen zonder inkomsten (bv. door corona), mensen zonder baan, mensen die geloven en mensen die moeite hebben met het verzorgen van hunzelf.

Kerk en voedselbank De Rank:
Dit is de plattegrond van de kerk De Rank. 
De eerste tekening is de voorkant en zijkant van de kerk 
En de tweede tekening is de bovenkant van de kerk en voedselbank De Rank.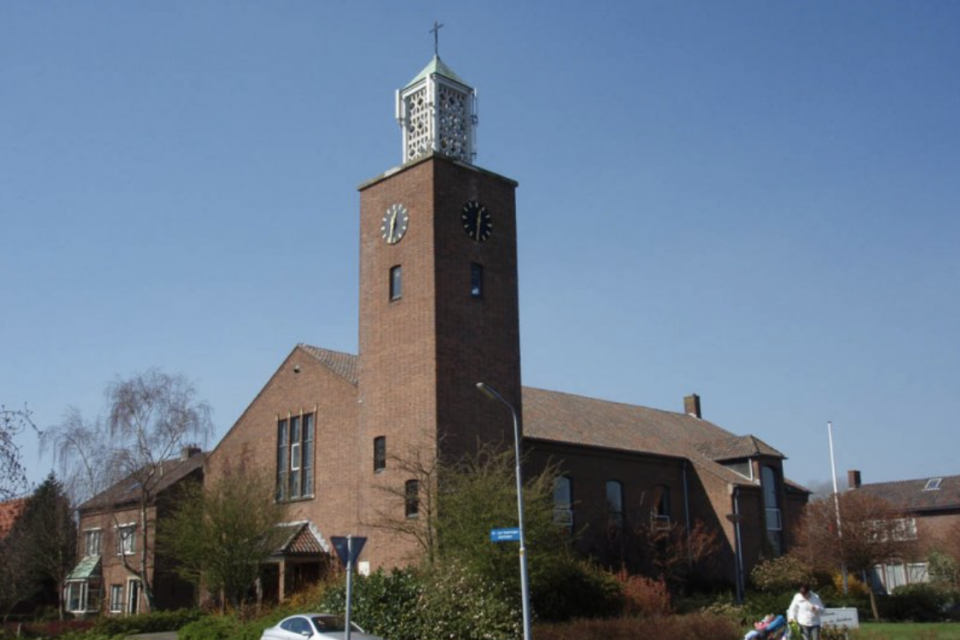 ---
AQUA FOODFESTIVAL
Wat is het probleem, dat jullie willen oplossen en wat is het idee? Het probleem dat wij met dit idee willen oplossen is de horeca. Door corona is de horeca nu dicht en komt er geen geld meer binnen, maar ze moeten wel nog steeds de huur betalen. Daarom hebben wij bedacht om een foodfestival te organiseren op het water met bootjes. Dan kan je in je bootje je eten opeten en kan je heel makkelijk anderhalve meter aftand houden. (Het is dan wel de bedoeling dat je alleen met je gezin in het bootje zit) langs de kant van het meer staan dan allemaal tentjes waar restaurantjes eten kunnen verkopen. Je kan met een speciale app eten bestellen en dan krijg je een berichtje als het eten klaar is en je het kan komen ophalen langs de kant van het water. We lossen met dit idee niet alleen het probleem van de horeca op maar ook:  • Artiesten - die dan op het podium kunnen optreden.  • Bootverhuurbedrijven - om de bootjes te regelen.  • Festivalopbouwers - om het podium op te bouwen. • Tentverhuurbedrijven - waar je onder eten kan verkopen. • Postermakers - voor posters om het festival te promoten. • Reddingsbrigade. • Zwemvesten verkoop – kinderen onder de 12 jaar moeten nog een zwemvest aan voor de veiligheid. • Schoonmakers - nadat de boten zijn gebruikt moeten ze natuurlijk wel weer goed schoon gemaakt worden.
Wie willen jullie hiermee helpen (wie is de doelgroep)?  Dit foodfestival is vooral bedoeld voor je gezin want je moet wel op anderhalve meter afstand blijven en dat is lastig in een bootje. We willen zoveel mogelijk sectoren helpen, maar de horeca en de artiesten helpen we het meest. 

Waarom is dit volgens jullie de juiste oplossing (onderbouwing? Dit idee is de juiste oplossing omdat je op deze manier kan je heel makkelijk anderhalve meter afstand houden en je helpt super veel bedrijven in een. 

Hoe is dit idee ontstaan? Dit idee is ontstaan omdat we ons afvroegen hoe mensen makkelijk anderhalve meter afstand kunnen houden. We dachten eerst aan een auto met een drive-in, maar dat bestaat al. En uiteindelijk kwamen we uit bij boten. En veel artiesten verdienen nu geen geld dus kwamen wij op een concert. Dat bij elkaar kwam op dit idee uit. 
Wat vindt de doelgroep hiervan (hebben jullie dat aan hen gevraagd)? 
Veel mensen vinden het een goed idee en willen er graag heen. We hebben het aan verschillende doelgroepen gevraagd van jong tot oud. En jongeren en volwassenen vinden het een goed idee, maar ouderen vinden het nog een beetje riskant. 

Hoe is het proces verlopen, van idee naar eindproduct? Het was geen makkelijk proces omdat er best veel bij komt kijken. We begonnen bij een klein simpel idee. We hebben alle problemen bekeken die kwamen kijken en daar een oplossing voor bedacht, zo hebben we het idee uitgewerkt.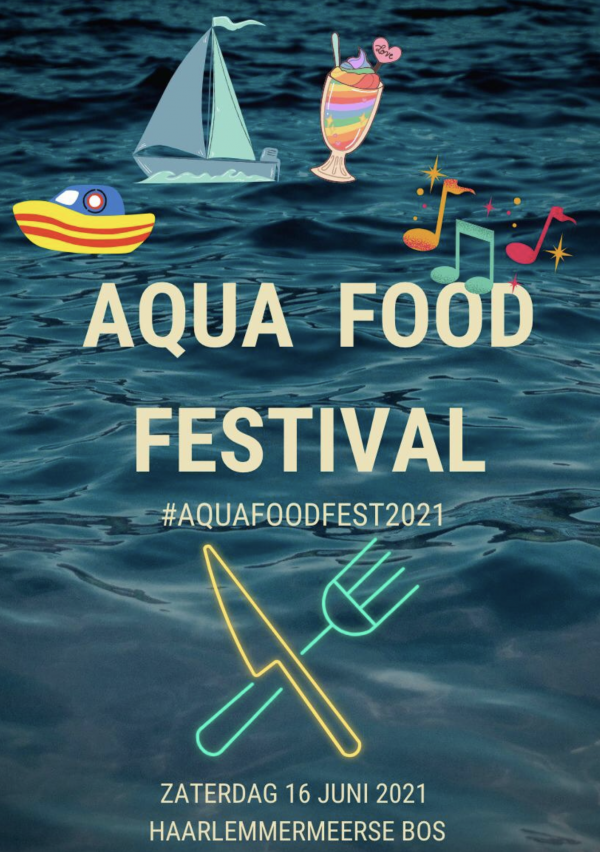 ---
CARROUSELRESTAURANT
Een corona-proof restaurant. Dit restaurant draait langzaam rond, net als een carrousel. Het is een prachtige en wonderbaarlijke beleving. Dit bijzondere restaurant bevindt zich in het Haarlemmermeerse bos.
Wij hopen dat u een onvergetelijke ervaring krijgt!