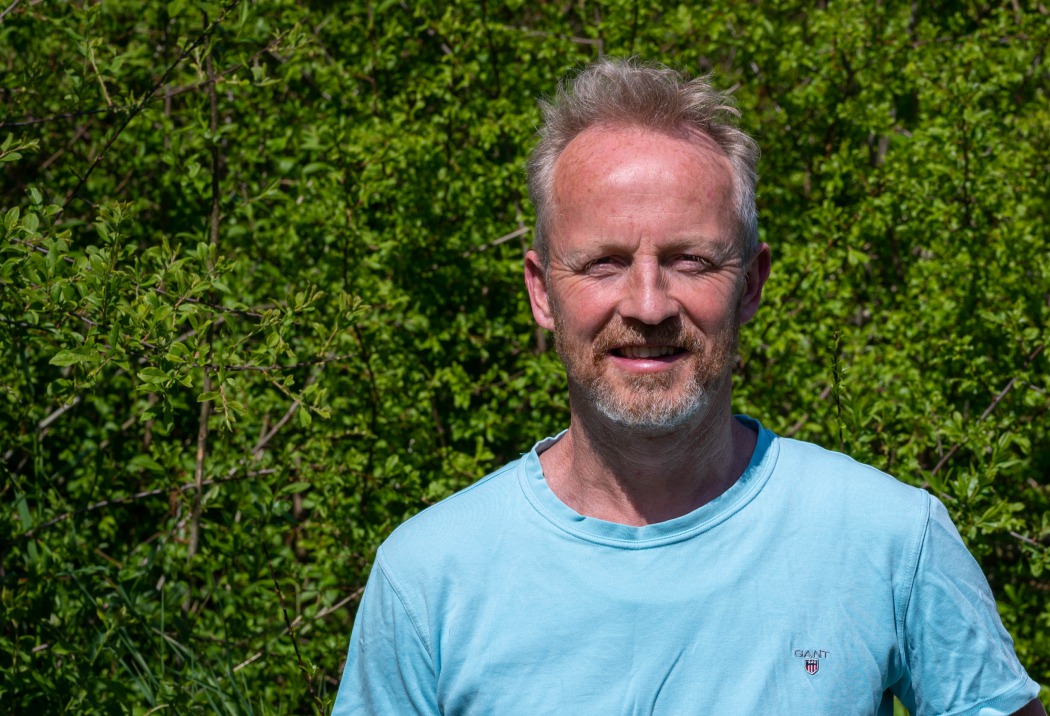 Veiligheidsportret 10 // Martijn
Sectie

Gesprekken
Veiligheidsportretten
Participatie
Martijn is een ondernemer uit Burgerveen. Hij heeft de rozenkwekerij van zijn opa overgenomen. Inmiddels is de kwekerij uitgebreid met een horecazaak. Martijn heeft een eigen filosofie op de tuinbouw ontwikkeld en
inspireert mensen met zijn inzichten. "We zijn steeds verder van de natuur af gaan staan, terwijl iedereen zo dicht mogelijk op de natuur wil zitten. In biologisch telen is de balans het allerbelangrijkste. In het menselijk leven ook."
"Als je vrij bent, dan ben je verlost van regels."
Vrijheid en veiligheid
"Veiligheid is een belangrijk onderwerp voor mij. Belangrijk omdat veiligheid tegenover vrijheid staat. Als je veel veiligheid wilt creëren, dan ontneem je anderen de vrijheid. Dat zie je eigenlijk in alles terug. Neem nou de speeltuintjes waar mijn kinderen spelen. Dat is een gecontroleerde en veilige omgeving, waar niet veel kan gebeuren. Dus daarvan kan je zeggen; dat is veilig. Maar alle spanning voor spelende kinderen is eruit gehaald. In mijn tijd kon je vrij spelen in stukjes onbeheerd land, maar de mogelijkheid om zelf te ontdekken in de natuur is er niet meer. Kinderen worden geciviliseerd om te leven met regels. En die effecten zullen we later terugzien."
"Kinderen worden ook op school steeds meer gecontroleerd en constant getoetst. Het zorgt ervoor dat een leraar geen leraar kan zijn en een kind geen kind meer kan zijn. Wat je ook ziet is dat er vervolgens een focus komt te liggen op de onderdelen waar een kind slecht op scoort, in plaats van op de vakken waar een kind juist goed in is. Dus het niveau van een kind wordt aangepast naar daar waar hij het slechtste in is. Vervolgens wordt geprobeerd om van die 5 een 6 te maken, in plaats van te stimuleren om van een 8 een 10 te maken."
"Als je kan doen waar je goed in bent, dan ga je doen waar je zin in hebt. Dan pas krijg je vrijheid. Je bent zelf verantwoordelijk, maar je moet wel een kans krijgen. Sommige werkgevers willen niet dat werknemers fouten maken, maar ik hoef niet te weten of ze een fout maken. Ik vertrouw erop dat ze handelen op de manier waarop ze kunnen handelen. En dat kan, omdat ik iedereen in zijn kwaliteit inzet. Als ik iedereen vrijlaat, hoef ik ook niet veel te regelen. Terwijl onze maatschappij is doorgeslagen om uit voorzorg van alles te regelen."
"Zowel op school als in zijn vrije tijd wordt de vrijheid van een kind om zichzelf te ontplooien steeds meer beperkt. En wat staat daar tegenover? Meer 'veiligheid'? Maken regels daadwerkelijk veilig?"
Verstoorde energiebanen
"Je ziet het willen controleren ook terug in het telen, plagen willen onderdrukken, je productiedoeleinden halen. Het telen is bijna een proces dat uit de computer komt, er is eigenlijk geen ruimte meer voor de natuur, want die is niet controleerbaar. Door deze gemaaktheid is er steeds meer spanning op de plant ontstaan, wat weer ziektes brengt waarvan we vroeger geen last hadden. Wij hadden bijvoorbeeld last van wolluis, iets waar mijn vader en opa vroeger nooit last van hadden. Wolluis is een beestje dat lastig te bestrijden is en waar je eigenlijk niet vanaf komt. Toen heb ik besloten de rozen weer te gaan telen zoals we ze vroeger teelden.
Het nieuwe telen is telen in een substraat(kunstbodem); dit heb ik weggehaald en ben de rozen weer ouderwets in de grond gaan telen. Vanaf de dag dat de rozen in de grond staan heb ik nooit meer wolluizen gehad. De natuur willen controleren zorgt voor spanning. Je ziet in de tuinbouw steeds meer nieuwe ziektes en infecties ontstaan en hoe reageren wij? We gaan nog sterieler en nog meer gecontroleerd te werk. Ziekte is nooit toeval. Het zijn exacte wetmatigheden en als je je er niet aan houdt, dan tikt de natuur je op de vingers. De natuur, of God als je gelovig bent, is niet maakbaar."
Martijn beschrijft een balans tussen veiligheid en controleren enerzijds en vrijheid en het leven anderzijds. Met meer vrijheid is er minder veiligheid, maar met te veel veiligheid is er geen vrijheid. Alleen, in plaats van op zoek te gaan naar de juiste balans, is er een trend ingezet waarin vrijheid steeds meer wordt ingeruild voor veiligheid. "Je ziet het ook bij een stukje land hiertegenover waar ik graag iets wilde ontwikkelen voor en door de gemeenschap. Dan kan je daar bijvoorbeeld een oud vliegtuig neerzetten, verwijzend naar de geschiedenis. En dieren laten rondlopen, zodat kinderen daar niet bang voor worden. Een groentetuin met barbecueplek, zodat mensen samen groenten konden verbouwen en konden samenkomen om te eten. Maar dan doe je een voorstel aan de gemeente, en dan krijg je gelijk een hele lijst met eisen terug. Ik mocht geen groente verbouwen, want dan zou het een moestuin worden. Als ik iets wilde ontwikkelen, waren er allerlei veiligheidseisen."
Doorslaan in controle
"Je hebt wel van die mensen die zeggen dat als het een zooitje wordt als iedereen gaat doen waar ie zin in heeft. Maar waar het om gaat is dat een politieagent een politieagent moet kunnen zijn, en niet het merendeel van zijn of haar tijd bezig moet zijn met het invullen van formulieren en rapporten. Een leraar moet een leraar kunnen zijn en niet voortdurend werken aan maandelijkse (Cito)toetsen en andere afvinklijsten. Dat is zo gedreven door veiligheid dat alle ziel en vreugde uit het vak wordt gehaald. Controle willen hebben is tegenwoordig de invulling van veiligheid."
"Al die controles, die een bepaalde veiligheid zouden moeten garanderen, werken contraproductief. Die controles maken het niet velliger én je laat mensen niet doen waar ze goed in zijn. Het maakt mensen ongelukkig."
"Eigenlijk voel ik mij nooit onveilig. Misschien zit dat ook niet in mijn aard. Ik ben een ondernemer, ik zie kansen en mogelijkheden en denk niet in gevaren. Natuurlijk stoot je je dan weleens, ik ben ook weleens in de maling genomen. Maar daar leer ik dan weer van. Angst is een slechte raadgever."
"Natuurlijk, als je kijkt naar vroeger was het schoner en veiliger dan nu. Maar nu is alles te gecontroleerd, te gemaakt, is geprobeerd om het te veilig te maken. Corona is daar een goed voorbeeld van. We leggen een heel land plat, van ouderen tot jongeren en kleine kinderen, alleen maar om niet ziek te worden. We leverden vrijheid in om veiligheid te krijgen. Ik denk dat de wal het schip binnenkort een keer keert. Mensen willen dat controleren niet meer. De leraar wil jonge mensen opleiden, geen checklists invullen. De horecaondernemer wil gasten vermaken, geen QRcodes controleren, een huisarts wil gewoon zorg kunnen verlenen en niet allerlei bureaucratische rompslomp doorwerken, en zo kan ik nog wel een tijdje doorgaan."
"We worden niet meer uitgedaagd om te leren, te leven en lief te hebben. We worden niet meer uitgedaagd om te praten, zachtere kwaliteiten te ontplooien en tijd te hebben voor filosofische ontwikkeling. We worden verantwoordelijk gemaakt voor veiligheid door controles uit te voeren." "Je ziet het willen controleren ook terug in het telen, plagen willen onderdrukken, je productiedoeleinden halen. Het telen is bijna een proces dat uit de computer komt, er is eigenlijk geen ruimte meer voor de natuur, want die is niet controleerbaar."