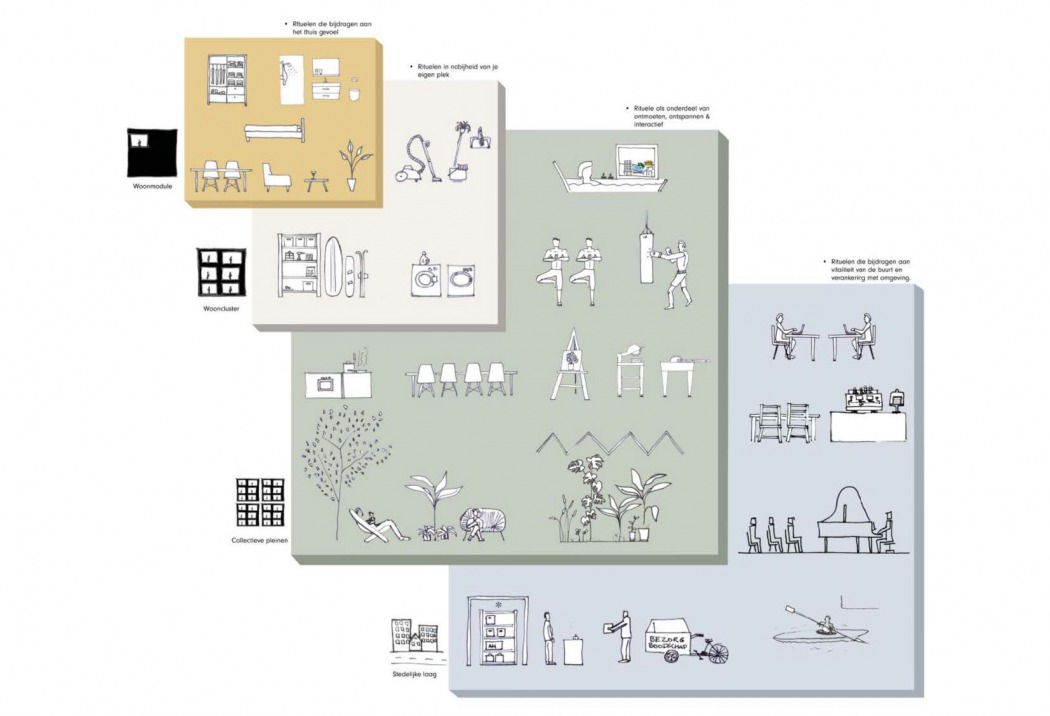 Thuiswonen tot je 35ste | Dialoog 2
Sectie

Participatie
In Haarlemmermeer blijven jongeren lang thuiswonen. De centrale ligging tussen Haarlem en Amsterdam en bijbehorende OV-verbindingen is gunstig. Tegelijkertijd: ze kunnen ook niet weg, want er is geen woning te vinden. Wat is er aan de hand? Op donderdag 17 maart vond de tweede dialoog met jongeren plaats op het kantoor van Timpaan in Hoofddorp.
Thuiswonen tot je 35ste. Een titel waar zorg uit spreekt, vraagt om een goed gesprek, met professionals die weten hoe de woonmarkt in elkaar zit en met de vragen en problemen van jongeren. Richard Dijksma, vastgoed- en gebiedsontwikkelaar bij Timpaan, Remco Pols regiomanager van Ymere en architect Richard Proudley gingen in gesprek met jongeren. Wat is de vraag, de verwachting en wat kan een ontwikkelaar, woningcorporatie of ontwerper doen?
Hoe willen jongeren wonen, wat zijn hun wensen, hoe ziet het eruit en zien zij kansen op onverwachte plekken? Wat kan wel? Is flexibel wonen een optie? Of wonen in de jaren '70-'80-'90-wijken? Jongeren in de leeftijd 25 tot 35, wethouder Jurgen Nobel, afdeling wonen gemeente was vertegenwoordigd door Victor van der Hidde.
"Als ontwikkelaar: niet alles is haalbaar."
Richard Dijksma:
Woningen bouwen is duur en wordt door de wereldwijde crisis heel snel duurder. Oftewel: goedkope starterswoningen bouwen gaat niet makkelijk worden de komende tijd.
Al na een paar weken oorlog zijn de bouwkosten met 15% gestegen.
Het bouwen van een woning van 35m2 kost op dit moment zonder btw en winst al 235.000 euro
In Haarlemmermeer kan maar beperkt gebouwd worden door de geluidscontouren van Schiphol. Er is na vele jaren een kleine escape in de vliegtuignota gekomen. Er zijn mogelijkheden voor initiatieven. Een van de redenen waarom er aan de rand van Hoofddorp nu een groot containerpark als testlocatie is gebouwd, is om aan te tonen dat er binnen de geluidscontour een fijn woonklimaat gerealiseerd kan worden.
Remco Pols:
Wie een woning zoekt, doet er goed aan actief te zoeken. De wachttijd wordt meer dan de helft korter als je actief zoekt.
Weinig 18-jarigen staan op Woningnet ingeschreven voor een starterswoning.
De regels van toewijzing via Woningnet worden anders: actief zoeken en reageren wordt beloond met 'punten' waarmee je je kansen op een woning vergroot. Door de complexiteit van het systeem en de vele samenwerkingspartners is de lanceringsdatum vooruitgeschoven.
Er wordt geëxperimenteerd met smartwoningen en flexwoningen, maar dit stuit nog wel op bureaucratische beperkingen. Terwijl de gemeente hier wel kansen ziet.
"Dat grote appartement hoeft van mij niet want ik ben er het grootste deel van de dag niet. Het gaat om de functies waar ik gebruik van kan maken. Als je ruimtes deelt, betekent het dat je woonruimte kleiner kan en efficiënter."
Richard Proudley:
"Wat zijn de woonrituelen? Er is woningnood. We moeten veel en snel gaan bouwen. Laten we ervoor waken dat we alleen maar eenheidsworst bouwen. Je moet nadenken; hoe wil je wonen, wil je iets delen, wat wil je delen?"
De groep aanwezigen beseft wel dat je niet naar een te grote mooie woning moet zoeken.
Voor een substantieel deel van de jongeren is parkeerplek voor een auto wel belangrijk. Dit maakt een huis ook aanzienlijk duurder.
Tegen gedeelde faciliteiten is weinig bezwaar, maar wélke precies is punt van discussie. Een gedeelde wasmachine is een stuk acceptabeler dan een gedeelde badkamer.
Woningdelen met ouderen is in principe niet bezwaarlijk, maar kent natuurlijk wel bezwaren door de totaal verschillende levensstijlen van de leeftijdsgroepen.
Wonen in Haarlemmermeer is erg aantrekkelijk vanwege de nabijheid van goede faciliteiten, maar velen willen ook wel wonen in bijvoorbeeld Haarlem of Hillegom.
Wonen in jaren tachtig-wijken is een optie. Maar ook dat vraagt nog om speciale aandacht voor leefstijl en type woning.
Jongeren zien wonen dichter bij Schiphol wel zitten. Waarom wordt Beukenhorst-Oost niet omgebouwd? Maar voor bouwen bij Schiphol moet nog heel veel regelgeving veranderd worden. Er zijn wel enkele openingen.
"Ik ben de ontwerper, in mijn hoofd kan alles"
Algemene conclusies:
Een mooie avond met veel onderling begrip tussen de partijen. Veel voorstellen – die wederzijds op begrip konden rekenen zoals gedeelde faciliteiten, woningen dichter bij Schiphol en (flex)woningen in bijvoorbeeld jaren '80-wijken.
Sterker nog: op veel voorstellen van de jongeren werd geantwoord dat ook de aanbieders daar al aan denken. Zoals het bouwen binnen de geluidscontour (LIB). En met flexwonen heeft Ymere inmiddels een proefproject opgezet.
Er zit ontwikkeling in het proces om meer woonruimte voor jongeren te creëren, maar de aantallen woningen voor jongeren zijn heel beperkt. Er is vrij weinig doorstroming. De Haarlemmermeer wordt ervaren als een prima woongebied, waar ook veel ouderen ('empty nesters') niet graag hun huis verlaten.
Hoe verder?
Architect Proudley, zelf opgegroeid in Overbos, wilde met de deelnemers schetsen - wat zijn de wensen - om hoeveel vierkante meters gaat het – is er bereidheid om keukens en wasruimtes te delen? Er was veel te bespreken. Ontwerpen komt een volgende keer.
Er is alle reden voor een vervolg, met: meer mensen, specifiek contact met de politiek, concrete casussen (workshops).
Er lijkt animo voor een nieuwe community van jongeren op het gebied van wonen. Actiegericht met eigen positionering en passende branding.
"Is het tijd voor een jongerenadviesraad? Of een combinatieraad van jongeren en adviserende bouwers en architecten? Het vraagstuk is groot, er is actie nodig."