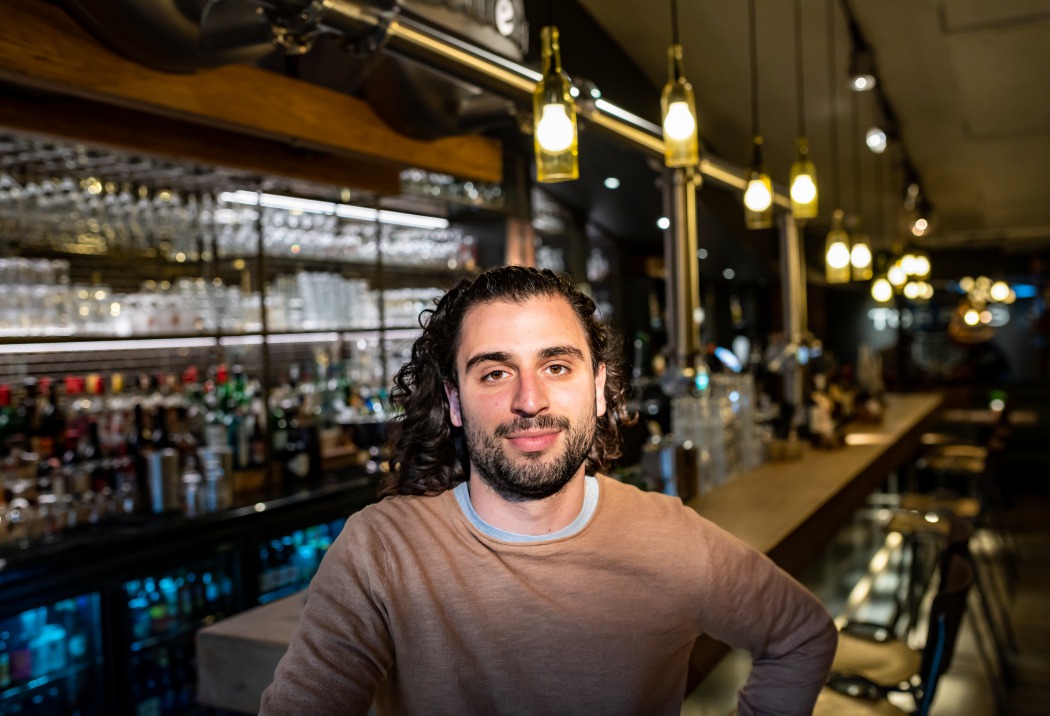 Itamar wil long stay en broedplaatsen
Sectie

Gesprekken
Haarlemmermeer Groeit
Groeiportretten
Participatie
Geboren in Haarlem, maar ik woon eigenlijk mijn hele leven al in Hoofddorp. Ik ben nu opzoek naar een woning in Haarlem. Ik zou gewoon heel graag dat stadse willen meemaken. Over 10-20 jaar bijvoorbeeld zou ik wel weer in Hoofddorp willen wonen. Dat lijkt me heerlijk met mijn gezin. Hoofddorp voelt toch wel echt als mijn stad. Ik zou dan bijvoorbeeld willen wonen in Hoofddorp maar willen werken in Haarlem. Mijn droom is namelijk ook om mijn eigen onderneming te beginnen in Haarlem.
Nu werk ik bij PLEIN14 naast de bioscoop in Hoofddorp centrum. Daarnaast ben ik internationaal biersommelier, dat wil eigenlijk zeggen dat ik heel veel weet over bier. Daarnaast heb ik een eigen bedrijf genaamd The Beertenders. Wij zijn een bier adviesbureau dat bierproeverijen en consultancy geeft. En ohja, daarnaast heb ik ook een Beerbox opgezet, nu door Covid. Mensen kopen deze box en kunnen eigenlijk wanneer ze willen een vooraf opgenomen bierproeverij doen. Als soort van on demand netflix achtig idee. Online genieten en bierkennis opdoen. Ik doe eigenlijk best wel veel.
Verbonden aan Hoofddorp.
Maar goed, waarom Hoofddorp mijn stad is? Tjsa, ik ben hier opgegroeid in Graan Voor Visch, toen de Toolenburgse plas nog zandvlaktes waren. Ik heb alles meegemaakt, de hele Viermeren ontwikkeld zien worden. Intussen heb ik een enorm breed netwerk en ik zie de potentie van Hoofddorp, de ligging, Schiphol, het doortrekken van de Nood-Zuidlijn.
Wat ik wel mis is de historie en cultuur. Ik ben een fanatiek kunst- en cultuurliefhebber.
Vroeger was hoofddorp een forensenstad. En ik zie mijn generatie als een soort tussengeneratie. Wij hebben alles wel voorbij zien komen. Alle grote ontwikkelingen in Hoofddorp. En het was ook wel een beetje een barbaarse generatie. Hoofddopers stonden wel bekend als ze uitgingen in Haarlem. Ook is het rebelse gedrag, wel iets wat ons typeert. Je zag gewoon echt de verschillen tussen Haarlem en Hoofddorp, waar iedereen vandaan kwam, dat is iets moois. Er is ook wel echt een gemeenschapszin, een ons kent ons.
Als ik later in Hoofddorp woon.
Als ik in Haarlem kan wonen en ik kom daarna terug naar Hoofddorp, dan hoef ik niet per se op Eiland 5 te wonen met een dikke villa. Ik woon graag waar de vibe goed is. Ik hou zeker van reuring en drukte in de buurt van mijn huis. Ik zie mezelf daarom ook wel wonen boven een horeca tent. Als Hoofddorp zoiets zou gaan ontwikkelen, helemaal goed! Graan voor Visch, in een rijtjeshuis met tuin ook geen probleem. De woning maakt niet uit.
Ik denk wel dat andere dingen belangrijker zijn. Zoals gezegd de reuring op straat. Maar ik ben ook voorstander van goede ov-verbindingen. Zorgt dat mensen vaker fiets en het ov gebruiken dan auto in Hoofddorp.
(groene) kansen voor Hoofddorp.
Ik ben ook best wel groen ingesteld. Meer mensen zouden dat moeten zijn. Ik vind dat hier best wel wat meer geld in gepompt mag worden. Geef groen aandacht, plant meer luchtzuiverende bomen. Ook vind ik dat het stadpark, voor zover we die hebben, uitgebreid moet worden. De kinderboerderij, prachtig! Maak het nog groter. De straatkunst vind ik belangrijk. Kunst draagt bij aan ambiance. Dit zou wat mij betreft op elke hoek van de straat mogen komen. Of bijvoorbeeld langs de dijk. Ik zou bijvoorbeeld een paar zuilen neerzetten waar mensen op mogen schilderen en graffiti'en. Maar we moeten de schoonheid van de dijk dan wel intact laten. Maar laat buitenstanders zien wat Hoofddorp te bieden heeft. Welke talenten er rondlopen. Er is veel ruimte op straat die niet benut wordt. Pff, ik voel het echt. Ik voel mij wel geroepen om hierover mee te denken. Zoals wat Pier K bijvoorbeeld doet, ontwikkelen, talenten laten ontplooien etc. Ja, ik voel dat wel.
Mijn droom is om bij Vork en Mes (Haarlemmermeerse bos) een broedplaats te beginnen. Maak er een klein amfitheater in samenwerking met Duycker van. Ik zou hier ook geweldige voorstellingen voor mij zien. Beetje zoals Caprera in Bloemendaal, maar dan intiemer. Ook een mooi restaurant erbij, heerlijk Fine dining, een café, een bed en breakfast. Och, dat zou een geweldig aanwinst zijn voor de Haarlemmermeer.
Of in PARK21, daar heb ik ook wel enorm vertrouwen in. Ik zou dan wel beetje commerciëler maken. Nu staan er een paar boompjes en kan je je hond uitlaten, maar het is niet een plek om te verblijven. Ook omdat de reuring en de voorzieningen missen. Maak mooie broedplaatsen, maak een pannenkoekenhuis, maak gewoon gebruik van alle ondernemers die er al zijn. Er zijn enorm veel ondernemers in Hoofddorp. In elke mogelijke sector. Hoewel de agrarische sector aan het verdwijnen is, alles wordt opgekocht door Schiphol en ontwikkelaars. Kijk ook bij een Vriend van mij bijvoorbeeld. Hij heeft een boerderij met buffels. Hij wordt elke week wel gebeld door oude boeren of hij hun boerderij en bedrijf wilt overnemen. Dus als je die boeren nou eens geld zou geven voor hun grond en je bouwt daar woningen, dan los je ook weer een stuk woningcrisis op.
Op zich is dat ook wel een goede plek om hoofddorp verder te ontwikkelen. Ik denk dat een brug slaan tussen Hoofddorp en Nieuw-Vennep een hele mooie zou kunnen zijn. Er is ook veel leegstand vastgoed in het centrum. Daar zou ik wel echt de hoogte in gaan. De ruimte hebben we niet om voor iedereen een rijtjeshuis te bouwen. Woonlagen bouwen op bedrijven, dat gebeurt. Dat is iets waar ik heel blij mee ben.
Wooncrisis niet alleen in Haarlemmermeer.
Wat wonen betreft denk ik echt dat iedereen in Nederland hier last van heeft. Wij zijn niet alleen in Hoofddorp hier 'de lul', maar de randstad in het bijzonder heeft daar wel last van. Het is een uitdagende klus. Ik vind dat wel jammer dat er niks worden gedaan met kantoorgebouwen hier in Hoofddorp. Je zou er long stay appartementen van kunnen maken voor bijvoorbeeld expats of studenten. Verschuif het probleem. Wees creatief. Ik ben beetje boos dat er veel kantoren gebouwd worden terwijl er al genoeg leeg staan. Ik vind echt dat het inzetten van vastgoed anders benut kan worden.
Onze generatie is de klos. Ik heb echt wel grote zorgen daarover. Vind het echt triest voor deze generatie. Ik hoor het vaak, dat mensen niks kunnen vinden. En dan vind ik het echt een gemiste kans en vervelend om te zien dat de nieuwe ontwikkelingen… dat Hyde Park zo duur is en Tudor Park. En dat hebben alle starters. Niemand kan daar wonen! Ik vind wel dat meer mensen zich daar meer zorgen over moeten maken en meer initiatie moeten opnemen om dat op te lossen. Kunnen we niet met ze alle iets doen?