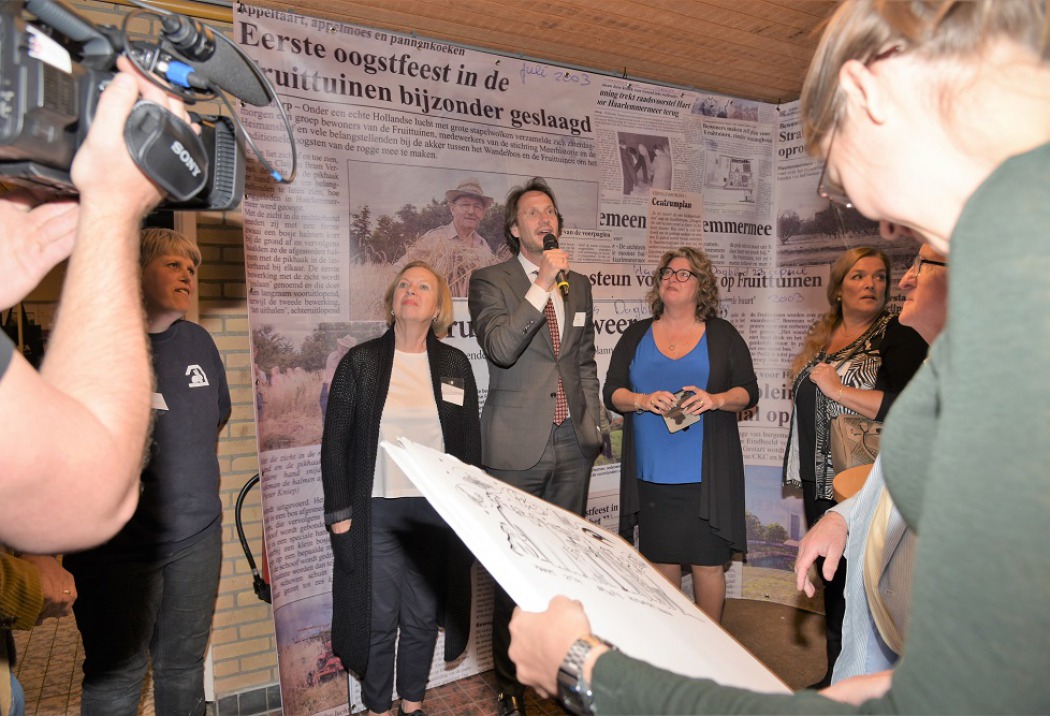 Feestelijke evaluatie open proces Hoofddorp centraal
Het open proces Hoofddorp-Centraal stopte najaar 2018 en ging vanaf daar verder in verschillende projecten. Op woensdag 3 oktober organiseerden we een feestelijke slotbijeenkomst.
In de gymzaal aan de Prins Hendriklaan in Hoofddorp mochten omwonenden, ondernemers en andere initiatiefnemers jarenlang meedenken, meepraten en meebeslissen over de plannen voor het gebied tussen het station en het centrum van Hoofddorp. Het open participatieproces Hoofddorp Centraal werd woensdag 3 oktober op een bijzondere manier afgesloten.
In 2014 begon dit open proces. De gemeente Haarlemmermeer kon niet alleen bouwen aan de toekomst van Hoofddorp. Een samenwerking van inwoners, ondernemers, ontwikkelaars en andere belanghebbenden was daarbij hard nodig.
Afsluiting open proces
De ongeveer zeventig bezoekers maakten tijdens de bijeenkomst van 3 oktober een reis door het verleden via het heden naar de toekomst van het gebied van Hoofddorp-Centraal. Alle belangrijke lessen van dit open proces kwamen voorbij.
Tijdlijn
In een tentoonstelling wandelden de bezoekers door de tijd waarin het open proces plaatsvond. Van krantenknipsels met schreeuwerige koppen van voor de tijd dat het open proces begon tot foto's, tekeningen en verslagen van belangrijke momenten in het proces – zoals de nieuwe route van het station naar het centrum. De tijdlijn loopt van 31 maart 2014 tot 3 oktober 2018. Het eindigde met een weergave van de aanstaande woonplannen van Hyde Park.
Meedenken, meepraten en meebeslissen
Om meer samenhang en levendigheid te krijgen in het gebied tussen het centrum en het station van Hoofddorp, koos de gemeente voor een rigoureuze 'anders-dan-anders-aanpak'. Geen plan, geen businesscase en geen afgebakend projectgebied zoals in de klassieke plannenmakerij. In plaats daarvan faciliteerde de gemeente een open proces waarop iedereen die dat wilde invloed had. Het uitgangspunt was een aantrekkelijk gebied voor partijen om hierin te investeren.
Al die jaren gingen groepen mensen met elkaar in gesprek. Samen ontdekten ze wat er nodig was om het gebied in beweging te krijgen.
Projecten
Het open proces gaat, nu het officieel gestopt is, door als verschillende projecten: het tenniscomplex, het Wandelbos, de Fruittuinen en de waterhuishouding. Daarnaast zijn er ontwikkelingen in Beukenhorst-West, zoals de woonplannen van Hyde Park, het KomEtenPlein en een nieuwe horecagelegenheid in een Haarlemmermeerse boerderijschuur: de Gerritshoeve. Daarover kwam woensdagavond nog een nieuwtje naar buiten: de vergunning voor dit initiatief ligt ter inzage. Alle belanghebbenden kunnen zes weken lang hun zienswijze geven, of ze nou bezwaren hebben tegen het plan of juist een groot voorstander zijn.
Bijvangst Herman Vuijsje, die werkt aan een boek over Hoofddorp-Centraal, gaf een lezing over het democratisch proces: 'Meepraten en meebeslissen kost veel tijd en energie, maar er is een interessante bijvangst van betrokken bewoners, die bereid zijn hun handen uit de mouwen te steken. Wat wil je nog meer in Haarlemmermeer?'
Bijzondere momenten
Wethouder Marjolein Steffens-van de Water, wethouder Adam Elzakalai, de procesregisseur en de mensen die meegedacht en meebeslist hebben, liepen mee langs de overzichtstentoonstelling. Zij benoemden allen bijzondere momenten en aandachtspunten. Tekenaar Ymke Wieringa beeldde dit ter plekke uit en zo kregen deze geluiden alsnog een plek in de tentoonstelling. Niet iedereen hoefde mee te lopen, de bezoekers konden meekijken op een scherm met een live video-uitzending van het groepje dat meeliep.
Noten gekraakt
Er werd tijdens de start van de tentoonstelling door een deelnemer benoemd dat het proces begon met scepsis. 'We dachten: als het niet anders gaat dan voorheen, heeft dit geen zin.' 'En we hopen dat de gemeente in staat is om een open en eerlijk proces te maken', vertelde een andere deelnemer. Iemand anders: 'Er zijn hier heel wat harde noten gekraakt.' Marjolein Steffens - van de Water: 'We gooiden de bestaande plannen, waar bewoners tegen waren, de papiervernietiger in. En we bekeken in de gymzaal hoe we dat proces verder vorm konden geven.' Verderop in de rondleiding zei een participant: 'We hebben ons er met zijn allen hard voor gemaakt dat het park mooi groen zou blijven. En met succes.' Wethouder Adam Elzakalai vulde aan:
'We hebben dit met zijn allen gedaan. We hebben elkaar nodig.'
Tekenaar Ymke Wieringa beeldde ter plekke uit wat de deelnemers vertelden. De tekeningen kregen een plek in de tentoonstelling.
Gemeenschappelijk doel
Er waren ook kritische geluiden, vooral over de hoogtes van de nieuwe woonplannen rondom Hyde Park. Iemand zei: 'Natuurlijk, er moet wat gebeuren. Maar ik snap niet waarom het zo hoog gemaakt moet worden. Waar moeten al die fietsers straks naar toe? We zijn niet tegen bouwen, alleen tegen de hoogtes en massaliteit van de woonplannen.' Wethouder Adam Elzakalai: 'Ons gemeenschappelijke doel is een veilige, levendige wijk maken in het centrum van Hoofddorp. Ook al konden we van tevoren niet verwachten dat dit de uitkomst zou zijn. We begonnen in de crisis en zitten nu in heel andere economische tijden.'
Advies van buiten
Het afsluitende woord, vlak voor de allerlaatste borrel, was van wethouder Marjolein Steffens-van de Water. 'Dit traject was écht een open proces en dat maakt het bijzonder. Werkelijk alles lag aan het begin nog open. Er lag geen enkel plan op tafel en alles kon in samenspraak met belanghebbenden worden ingevuld. Het zijn uiteindelijk de deelnemers met hun 'advies van buiten' geweest die het gemeentebestuur adviseerden.' Participatie kwam voor sommigen in het verleden misschien over als een verplicht nummer.
'Met dit open proces hebben we samen met alle deelnemers iets in gang gezet in Haarlemmermeer. De geest is uit de fles en die krijgen we er niet zomaar weer in terug. En dat willen we ook niet!'