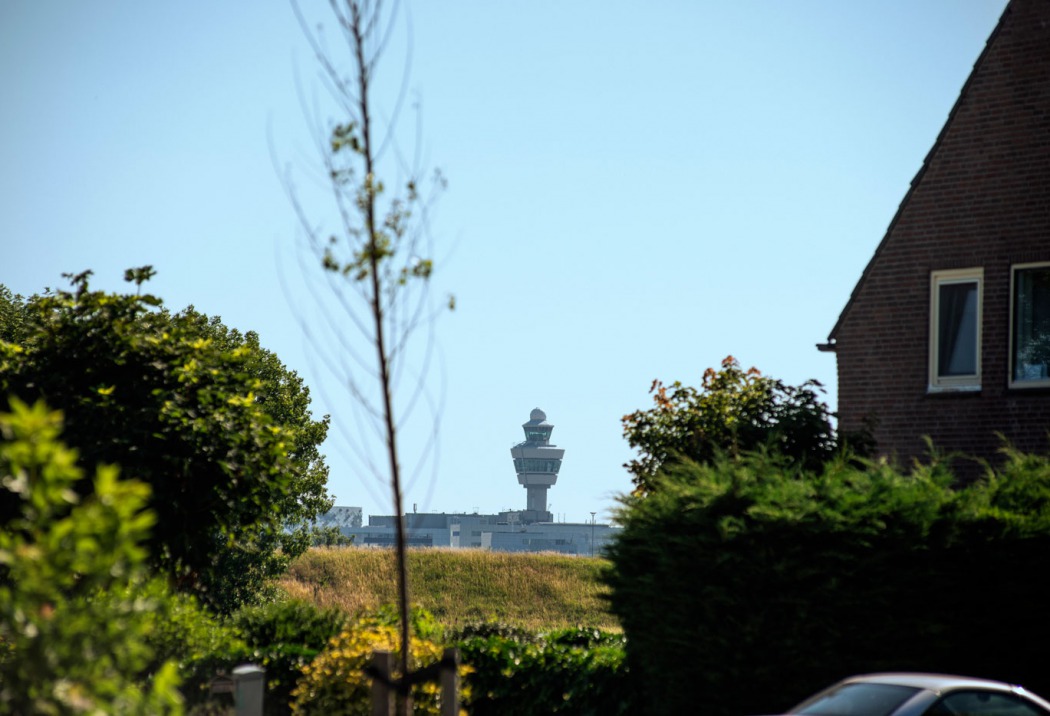 Sjors van der Vlugt
Sectie

Polderlintportretten
Gesprekken
Participatie
Sjors van der Vlugt is vijfde generatie bewoner van Haarlemmermeer en zoon van Evert van der Vlugt. Wat maakt wonen op deze plek aan het polderlint bijzonder?
Ik ben de generatie die het bedrijf niet in gaat; als klein kind werd ik al gestimuleerd eigen keuzes te maken en vooral niet zomaar het bedrijf in te gaan. Die stimulans was er óók niet omdat mijn vader van de generatie is die veel van het bedrijf heeft moeten afstoten voor de ontwikkelingen in de buurt. Het is een familiebedrijf, mijn opa met vier broers, mijn vader met drie neven.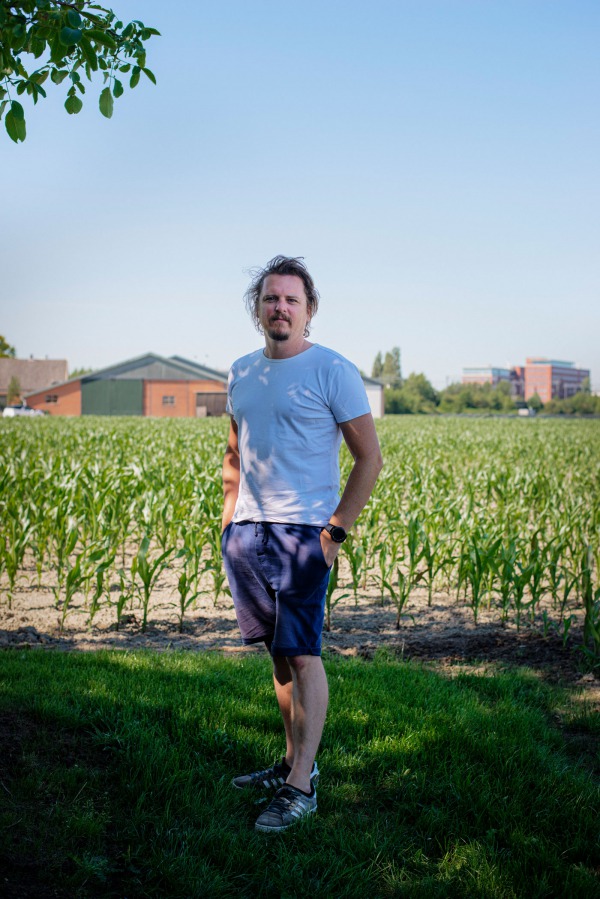 Het buurtschap, de verbinding met de omgeving hier op deze plek dat maakt het bijzonder. Het wonen in zo'n buurtschap is eigenlijk een van de kwaliteitsfactoren. Hoe gaat dat in de toekomst? Laatst was ik bij Paul Bos voor een training en daar kwamen vragen over het idee van je 'roots' naar voren. Conclusie: niet terug naar het verleden, maar 'vooruit naar de oorsprong' en door naar de toekomst.
Het zou voor mij en mijn gezin leuk zijn om ooit weer eens hier ergens op dit stukje te gaan wonen. Mijn broertje is me al voor gegaan, die woont sinds kort twee huizen verderop en is daarmee vooruit naar de oorsprong gegaan. Eigenlijk zou dat kunnen gelden voor heel Haarlemmermeer, vooruit naar de oorsprong. Vergeet die oorsprong nou niet. Zoals in PARK21, die gelaagdheid erin, met in die lagen ruimte voor de oorspronkelijke bewoners, dat zij functies vanuit een eigen keus kunnen invullen. Dat is wel waar toekomst ligt. Een vorm van participatie, zoals dit proces op zich is heel goed, dan haal je de oorsprong op en kunnen we daarmee vooruit naar wat de toekomst vereist en vraagt. Maar vooral een stukje common sense of gezond (boeren) verstand lijkt me ook belangrijk. Daar is best wel gebrek aan geweest, dat kan je hier en daar best wel zien. Bijvoorbeeld verkeerssituaties waar meerdere malen een andere 'oplossing' op losgelaten is, terwijl géén maatregelen toepassen misschien wel het beste werkt.
De oorsprong blijven waarderen en wel vooruit blijven denken. Een van de grootste luchthavens van Europa kun je hier gewoon zien, direct naast een stukje polder met oorspronkelijke functie. Ik ben nog wel wat nostalgisch, maar ben niet meer persé economisch gebonden. Wel werk ik heel bewust in de lokale cultuursector. Ik ben dus de generatie die niet het bedrijf in gaat, maar ik wil wel graag die waarden houden. De internationale luchthaven is enerzijds belangrijk, maar dit mooie gebied anderzijds.
Welke ruimtelijke componenten, zijn dan heel belangrijk, welke waarden?
Die linten, voor mij is dat ruimte, het doorkijken. Vanaf hier kon ik de Geniedijk zien, dat gaat nu lastiger. De doorkijken en de bereikbaarheid is heel belangrijk, voor bewoners en de boeren, voor de wielrenners, recreatieve fietsers etc. De fiets heeft de toekomst voor wonen en werken. Een goede infrastructuur voor het nieuwe fietsen, dat is echt heel belangrijk. Vroeger gebeurde ook alles met de fiets, toen met de auto en straks weer meer met de fiets.
Mini polderlinten langs de polderlinten met goede fietspaden,mmet mooie vergroening en pauzeplekken. Zoals op dat hoekje van de Bennebroekerweg en de Rijnlanderweg, op de zuid westhoek is een huis gesloopt en daar staat nu een sculptuur. Ik snap niet dat er een huis gesloopt moest worden voor een parkje met een beeld, maar waarschijnlijk moet er ooit een rotonde komen. Het is overigens wel een plekje geworden waar je even die kruispunten van die oude polderlinten kunt beleven. Het is nu een rustpunt geworden voor de fietsers. Zo kan ik me wel voorstellen dat dit op meer lekken zou kunnen. Die palen van het Haarlemmermeermuseum triggeren mij wel. De combinatie van recreatie en historie. Het groene carré hier verderop is zo'n soort nieuw polderlint, een dwarslint, daar wordt heel veel gebruik van gemaakt.
Uitkijkend over het meer van zonnepanelen, zonder enig geluid van Schiphol of verkeer merkt Sjors op: 'toch denk ik, die enorme parkeerplaatsen bij Schiphol, waarom krijgen die geen dak van zonnepanelen in plaats van de weilanden er voor op te offeren?'
Beleving & persoonlijke wens
In Hoofddorp Centrum gaan we weinig polder meer terug herkennen. Het zou wel aantrekkelijker of interessanter kunnen. De molen en het fort zijn heel goede voorbeelden, een goede bestemming met veel groen om heen. Die polderlinten zouden eigenlijk net zo'n soort functie moeten krijgen als de Geniedijk. Een groen lint met bezinningsplekken, vooruit naar de oorsprong, met behoud van de herkenbaarheid. Ruimtelijkheid, doorkijkjes en bereikbaarheid, dat is belangrijk voor de toekomst.
Sjors van der Vlugt is hoofd afdeling sociaal domein bij Cultuurgebouw
'Die polderlinten zouden eigenlijk net zo'n soort functie moeten krijgen als de Geniedijk. Een groen lint met bezinningsplekken, vooruit naar de oorsprong, met behoud van de herkenbaarheid'