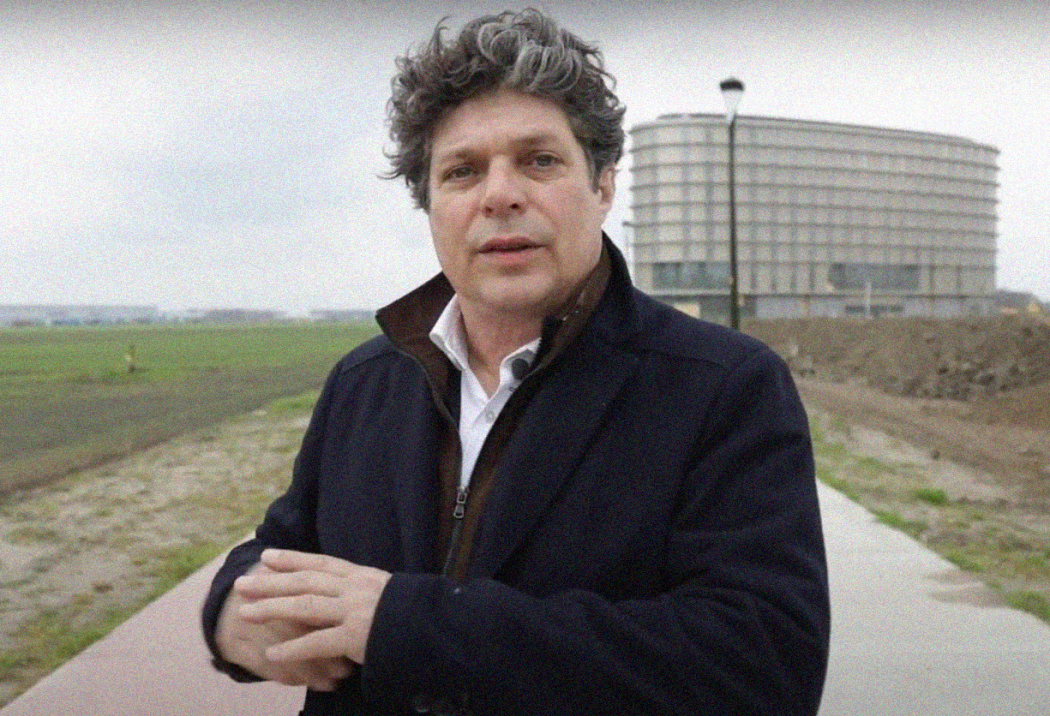 Polderarchitect vindt zijn draai
Sectie

Wijkportretten
Haarlemmermeer Groeit
Haarlems Dagblad heeft de afgelopen maanden portretten gemaakt van alle wijken in Hoofddorp. Nu kijkt Joop Slangen, sinds vier jaar polderarchitect van Haarlemmermeer, vooruit naar een wijk die er nog niet is: de toekomstige afronding van de stad aan de zuidoostkant, langs de Hoofdweg en de Bennebroekerweg.
Lincolnpark is een uitdaging voor Joop Slangen
"Hier gaan bedrijven en woningen elkaar ontmoeten. Dat is bijzonder in Haarlemmermeer, want ze zijn meestal van elkaar gescheiden." Polderarchitect Joop Slangen (60) zegt het terwijl hij uitkijkt over de nog lege akkers tussen bedrijventerrein Graan voor Visch Zuid en de Bennebroekerweg.
Hier wordt de komende jaren de nieuwe woonwijk Lincolnpark gebouwd, waarbij duurzaamheid een belangrijk uitgangspunt vormt. Met enkele kleinere bouwplannen tussen de Bennebroekerwegen vormt deze wijk de voorlopige afronding van Hoofddorp. "Het wordt de gezichtsbepalende zuidoosthoek van de stad, dat is bijzonder. Het is fijn als die veel kwaliteit kan krijgen", zegt Slangen.
Het eerste stukje Lincolnpark staat er al: een woonwijkje aan de Johan Enschedéweg. "Het was een politiek besluit om hier tijdelijke woningen te bouwen, maar bij het rekenen en tekenen bleek dat niet economisch haalbaar binnen een periode van vijftien jaar. Nu staan er permanente woningen."
Calatravabrug
Het idee was deze woningen vlak voor de Calatravabrug Luit te bouwen, maar ze werden mede door inspraak van omwonenden een stukje 'opgeschoven'. Slangen is daar blij mee: "Aan weerszijden van de Enschedélaan, tegen de Hoofdweg aan, zijn plannen voor nieuwbouw van tussen de vier en acht etages hoog met een gemeenschappelijke daktuin en een eigen woonmilieu. Je hebt daarvoor niet alleen een kritische massa nodig, we willen er de Calatravabrug in samenhang met de woongebouwen aan de Hoofdvaart mee markeren. De brug moet zo 'een moment in de stad' worden."
Anders dan de titel doet vermoeden is polderarchitect Slangen niet degene die bepaalt hoe alles er in Lincolnpark of een andere wijk uit komt te zien. "Een gemeente heeft veel mogelijkheden om te sturen. Dat begint met een structuurplan waar in grote lijnen in staat wat waar gaat gebeuren. Nog een sturingsmiddel is een bestemmingsplan met een beeldkwaliteitsplan. Dat levert discussie op over de dichtheid en de hoogte van de bebouwing. En waar je wel en niet bouwt. Mensen wonen voor hun gevoel in Hoofddorp of Nieuw-Vennep, niet in Haarlemmermeer. Het is belangrijk om de verschillen tussen de verschillende kernen te koesteren."
"Aan concrete plannen voor een nieuwe wijk wordt met een heel team van onder andere stedenbouwkundigen gewerkt. Het staat van tevoren niet vast hoe het gaat worden, dat idee ontstaat gaandeweg aan de hand van studies naar de mogelijkheden", schetst Slangen het proces waarbij hij als polderarchitect zijn bijdrage levert.
Stuurbaar
Lincolnpark is een relatief goed stuurbaar project, omdat de grond in handen van de gemeente Haarlemmermeer is. Er hoeft niet te worden onderhandeld met een ontwikkelaar die de grond in eigendom heeft, waarbij een dialoog of een confrontatie moet worden aangegaan. Maar daarom is het nog geen makkelijke opgave. Er komen in deze wijk behalve woningen ook scholen, een sporthal, winkels en voorzieningen die een functie voor de omliggende wijken zullen hebben. Daar ligt de uitdaging voor de polderarchitect.
Slangen was eerder elf jaar stadsarchitect van een heel andere stad: Haarlem. "In zo'n historische stad zonder uitbreidingsmogelijkheden is het als het ware werken op de vierkante millimeter. Hier in Haarlemmermeer moet je er juist voor zorgen dat je geen landschappelijke ruimte verspilt. Met dit werk leer ik elke dag wel iets van landschapsarchitecten, stedenbouwkundigen en anderen. Het bevalt me hier steeds beter. Er moet wel meer variatie komen. Er zijn veel eengezinswoningen, maar er zijn ook andere woningtypen nodig. Die zie je in Hyde Park in een extreme concentratie komen, maar ook in Hoofddorp-Noord en op andere plekken komen die andere woningen bijvoorbeeld in de vorm van appartementen."
Het is in Haarlemmermeer heel anders werken dan in Haarlem. Het bevalt me steeds beter
Tweede ronde
Haarlemmermeer staat aan de vooravond van de tweede ronde, zoals Slangen het noemt. "Er zijn in Haarlemmermeer de afgelopen vijftig jaar nieuwbouwwijken gebouwd. Die wijken zijn er niet per ongeluk gekomen, die waren nodig. Nu zijn de eerste wijken aan onderhoud, nieuwe voorzieningen en een nieuwe openbare ruimte toe. Ga je woningen renoveren of vervangen voor een ander type? Hoe ga je om met woningen die in bezit zijn van particulieren? De gemeente is er voor het publieke belang. Je moet een balans zien te vinden en dat op een transparante manier. Dat is de uitdaging van de toekomst. Er komt een heel nieuwe fase van de stadsontwikkeling aan."
Door: Bart Boele Voor: Haarlems Dagblad