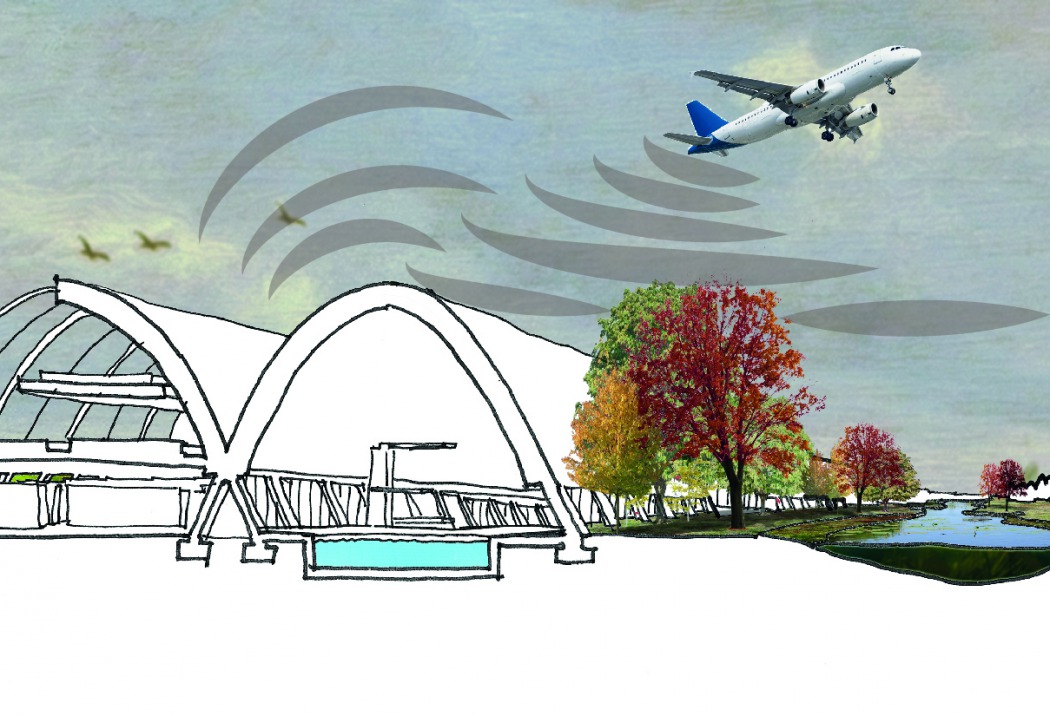 MAKATHON GELUIDADAPTIEF EN CIRCULAIR BOUWEN
Sectie

Luchthaven
Ontwerpen
Van woensdag 29 september t/m vrijdag 1 oktober organiseren Smart Makers Education, Nova College, Gemeente Haarlemmermeer, Podium voor Architectuur, TU-Delft, Hogeschool Inholland met Ymere een 'Makathon' op de circulaire locatie C-Beta in Hoofddorp. Studenten van 14 tot 22 jaar van verschillende onderwijsinstellingen gaan onderzoekend ontwerpen aan geluidadaptief en circulair bouwen. Ontwerpers en bedrijven leveren hun kennis. Het event is online te volgen.
Ymere heeft geluidgevoelige locaties uitgezocht voor de Makathon. Ze zijn typerend voor de regio en bieden zowel problemen als kansen. Die kansen kun je ook 'vertalen' naar een andere vergelijkbare plek. Ymere wil graag met jongeren verkennen hoe zij omgaan met geluid en op wat voor soort plaats ze willen wonen: dicht bij een station, een wat 'opener' gebied, inpassing in een bestaande wijk? Hoe kan een geluidadaptieve leefomgeving eruitzien?
De drie locaties zijn:
Nieuwbouw in een weiland, zonder bebouwing of bewoners maar met geluid van spoor, snelweg en/of vliegtuigen. Hoe zou je deze omgeving inrichten en vormgeven?
Nieuwbouw in een bestaande kern. Hoe voeg je woningen toe en laat je de omgeving meeprofiteren van die nieuwe impuls?
Kantoorgebied naast het spoor. Liggen hier kansen in transformatie? Hoe maak je zo'n gebied gemengder? Hoe ga de gebouwen 'stil' maken, of ga je (deels) slopen en opnieuw bouwen?
Wat is een Makathon?
In een Makathon werken verschillende partijen intensief samen aan de oplossing van een actueel probleem. Studenten, experts en bedrijven verkennen de opgave vanuit ontwerp en technologische mogelijkheden. Getrainde coaches werken met groepen aan de opgave vanuit verschillende werkvormen: Design Thinking, Scrum, VR, Blockchain, 3D printing, Internet of Things. Leerlingen en studenten van vo, mbo en hbo werken samen in multidisciplinaire teams met experts en bedrijven.
Waarom geluidadaptief bouwen?
Er is een enorme vraag naar woningen. Maar waar bouw je die in een regio met zoveel geluid van de luchthaven, het verkeer en het spoor? Bij 'Geluid-adaptief bouwen' worden woningen en hun omgeving op zo'n manier ontworpen en geplaatst dat zij zelf afscherming tegen lawaai bieden. Een grote uitdaging voor een gemeente als Haarlemmermeer, met alle strenge bouwregels vanwege de vliegtuigen. Het vraagt om slim ontwerpen en materiaalgebruik. En lukt dat voor Haarlemmermeer, dan kan het daarna ook op andere locaties.
Ontwerp van de omgeving
Hoe kun je bebouwing zó neerzetten dat er stille plekken omheen ontstaan? Welke rol speelt groen om geluid minder te ervaren? Hoe krijgen 'stillere' plekken een goede verblijfsfunctie? Kan technologie helpen om de omgeving 'slimmer' te maken en automatisch aan te passen aan het omgevingsgeluid?
Ontwerp van gebouwen
Hoe kunnen we de woon-, werk- en slaapfuncties afstemmen op geluidsbeleving? Hoe kunnen gevels, ramen en de constructie geluid tegenhouden? Kan het gebouw zo goed aanvoelen dat je geluid minder sterk hoort?
Bruikbare uitkomst
In drie dagen naar een bruikbare uitkomst toewerken is een grote opgave. Te groot? We zullen in elk geval wel een volgende stap zetten in anders denken over wonen en werken in geluidsgevoelige gebieden. De uitkomsten worden handzaam gebundeld, zodat Ymere ermee aan het werk kan.
---
---
De Makathon via de livestream
Speciaal voor iedereen met interesse in het onderwerp en/of de voortgang van de deelnemers hebben we op gezette tijden een livestream vanaf de Makathon. U kunt vanaf woensdag 29 september 09:00 uur heel eenvoudig meekijken. Op vrijdagmiddag 1 oktober 15.00-17.00 is de presentatie aan de jury.
---
Jury
Gemeente Haarlemmermeer
Jurgen Nobel | Wethouder Financiën, Grondzaken, Energietransitie en Haven- en luchthavenzaken
Ymere
Casuseigenaren | Denise Koeleveld, Jean Paul Hitipeuw Regiomanager | Remco Pols
C-Creators / C-Beta
Wouter van Twillert
TU Delft
Martijn Lugten
Chrith Architecten
Christina Eickmeier
3D Makers Zone & Bouwlab R&DO
Herman van Bolhuis
Hogeschool Inholland
Robert Chamski
Provincie noord- Holland
Olga Prins
Schiphol Group