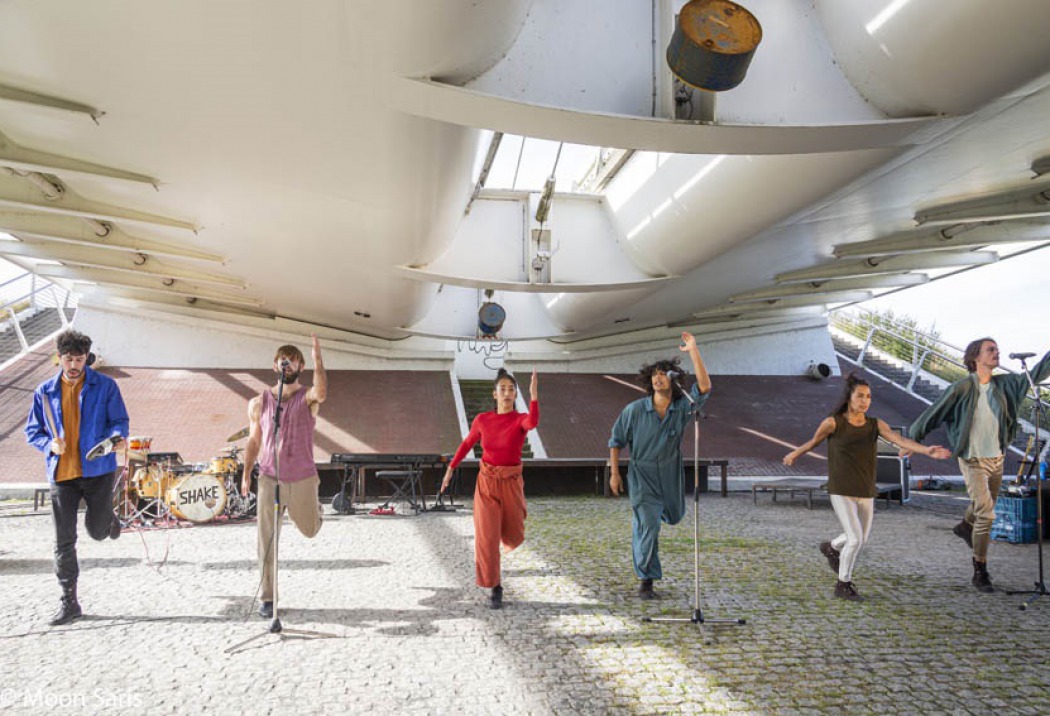 EN NU 6 // Directeur van de Grazende Zwaan Ilse van Dijk
Sectie

EN NU // 22 Interviews
Gesprekken
We hebben ons langzaam aangepast aan de nieuwe werkelijkheid in tijden van Corona. Podium voor Architectuur benut deze weken om de kracht van Haarlemmermeer zichtbaar te maken. We laten in de rubriek EN NU de ervaringen van ondernemers, initiatiefnemers, bedrijven en ontwerpers in een stille regio zien. Hieronder een gesprek met Ilse van Dijk, onder andere directeur-artistiek leider van Festival Grazende Zwaan.
Ilse van Dijk is programmamaker en directeur van Karavaan, locatietheater. Ze is een professional in de cultuursector en opereert door de hele provincie Noord Holland. Ze speelt slim in op de identiteit van locaties met performances, installaties, theater. In september maakt Karavaan voor het derde achtereenvolgende jaar een festival op Landgoed Kleine Vennep, bij Dirk Molenaar. Karavaan werkt nauw samen met culturele partners in de Haarlemmermeer, zoals Kunstfort bij Vijfhuizen, het Haarlemmermeermuseum de Cruquius en met ons, Podium voor Architectuur. Maar nu staat alles stil. Hoe nu verder? Moeten we het anders doen? Willen we dat? En kan dat überhaupt wel na de jarenlange bezuinigingen in de cultuursector? Wij spraken Ilse hierover.
Hoe beleef je dit moment?
Als surreëel. Omdat de wereld doorgaat en wij mensen stil moeten staan. Dat maakt het ook een interessante tijd en wekt verwondering. Het geeft enorm veel food for thought, juist voor theatermakers. Maar stel je voor dat je dat nooit meer zo met je publiek kan delen, brrrr! Voor de podiumkunsten is het wel echt zwaar op dit moment. Het gaat bij ons toch vooral over ontmoeting en samen een uniek moment beleven. Herinneringen maken. Belevingen creëren. En dat kan nu niet. Alle online goede bedoelingen ten spijt; dat komt toch zelfs niet in de buurt van een live ervaring op een bijzondere locatie. Ook de impact en de ontroering die je vaak kunt veroorzaken door dichtbij je publiek te zijn, en de gezamenlijke emoties te voelen…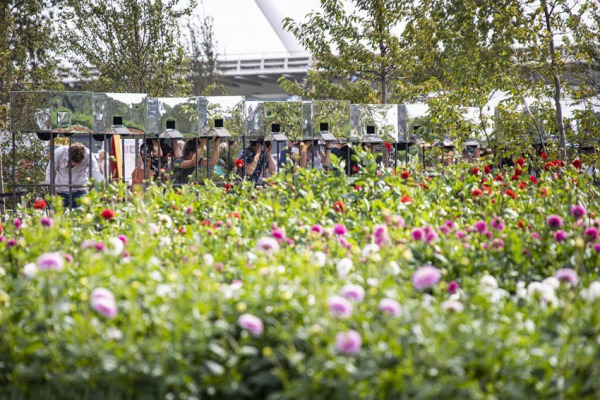 Hoe pak je het vanuit je vakgebied op?
Locatietheater maken en daarmee het landschap laten beleven biedt ook in deze tijd genoeg inspiratie. Sterker nog: zijn we ons niet veel meer bewust van de waarde van dat landschap, kijken we niet met enige verwondering naar het rennen en plannen dat we deden (zowel als maatschappij als naar onszelf) en zullen we ons mens-zijn niet in een andere context gaan plaatsen? Ik denk van wel. En daarbij kunnen verwondering, verbeelding en het laten beleven van het landschap straks helpen. Dat kan op vele manieren, maar ik zie wel voor me dat we dat ín het landschap doen.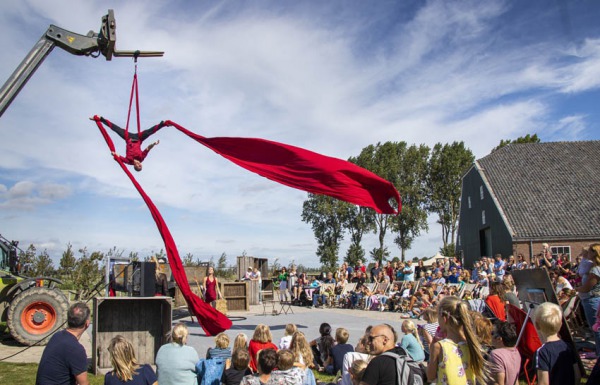 Wat zijn de dilemma's?
Oe, best wel veel. Alleen al dat je een gezamenlijke beleving wilt creëren. Hoe doe je dat als je zoveel afstand moet houden. Naar de supermarkt ga je omdat het moet en dan conformeer je je aan de voorwaarden. Maar naar een festival ga je voor je plezier, voor je ontspanning, voor de broodnodige inspiratie in het leven. Wil je je dan ook aan allerlei maatregelen houden, of denk je dan: als het zo moet dan sla ik even over? Dat is een groot dilemma.
En natuurlijk is er de financiële kant; meer ruimte houden betekent minder mensen, is minder bereik, is minder inkomsten. Sowieso is het al zo dat subsidie het betaalbaar houdt voor publiek (anders zouden tickets onbetaalbaar zijn), maar de balans wordt dan wel erg lastig te vinden.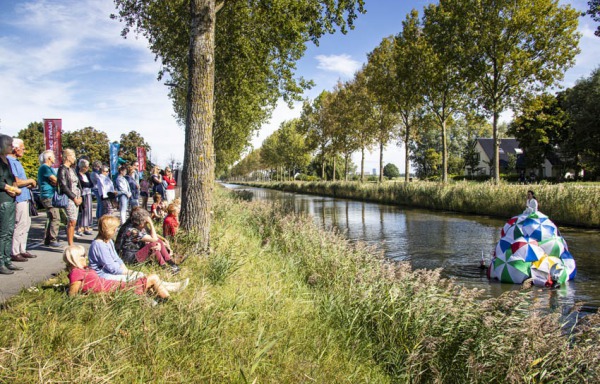 En iedereen kent inmiddels het ZZP-verhaal. Onze sector hangt aan elkaar van individuen die vervolgens samen iets realiseren. Door de jarenlange bezuinigingen op cultuur is er een overlevingsstrategie ontstaan, die nu extra zichtbaar wordt en die dus ook nergens tegen bestand is. Wat dat betekent voor ons vakgebied is natuurlijk afhankelijk van hoe lang deze situatie duurt en of de overheid de culturele infrastructuur in stand houdt. Het is belangrijk dat de politiek zich realiseert dat het gemakkelijk is om iets af te breken, maar heel veel kost om iets op te bouwen. Er komt ook weer een tijdperk na Corona. En juist dan zal (podium)kunst de rol hebben om onze gevoelswereld te verbeelden.
RESET: ga je straks bij voorkeur terug naar het 'oude' systeem of ga je het 'anders' doen?
Er bestaat geen oud systeem voor ons; we staan eigenlijk altijd in een vernieuwingsmodus.
We doen nooit hetzelfde, lopen voor de troepen uit. We doen het dus altijd al anders, telkens weer. En ik zie dat ook als onze rol. Juist daardoor kun je publiek anders laten kijken naar wat je dacht dat gewoon was.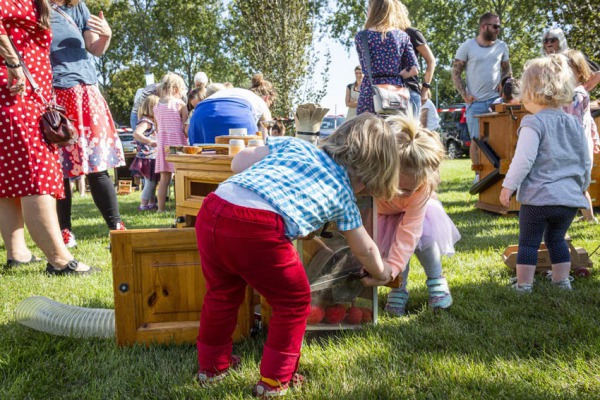 Hoe zie je de toekomst voor je, welke nieuwe opgaven wachten ons?
De grootste opgave is die van het kapitalisme. Voortdurende groei en daarmee keuzes waarbij geld voorop staat is, is hopelijk niet meer vanzelfsprekend. Een politieke opgave is dat, waar wij als burgers in een post-growth tijdperk wel een rol in kunnen spelen. Het betekent dat we nieuwe waarden moeten creëren. Nu staat welvaart voor geluk, maar misschien is het tijd om dat te herzien.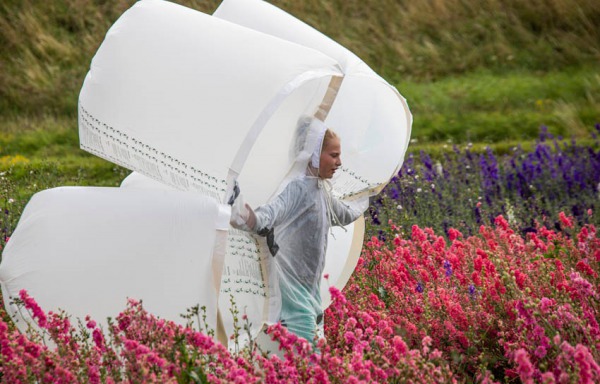 Op zowel korte als lange termijn zie ik ook opgaven die te maken hebben met democratie: ik versus samen, of het individualisme versus altruïsme (op zowel wereldlijke als lokale schaal). Nu zijn we aardig voor elkaar, maar blijft dat zo wanneer het lang duurt of wanneer de offers groter worden? Best wel spannend. Zeker ook met onvoorspelbare leiders aan het roer.
Een leuke opgave is dat we nu de kans hebben om anders naar de wereld te kijken én naar elkaar. We staan immers stil.
En stilstaan heeft één voordeel: je kunt goed om je heen kijken, en alle energie verzamelen om in beweging te komen.