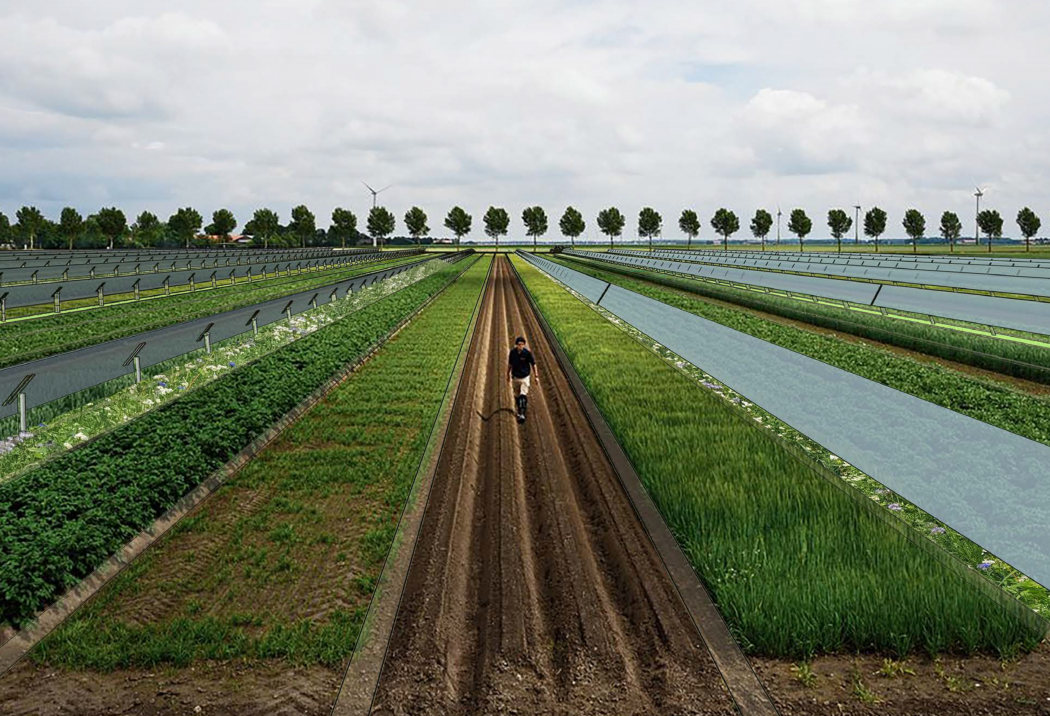 Thuis in het Energielandschap
Met nieuwe duurzame vormen van energie gaat onze leefomgeving er anders uitzien of anders functioneren. Maar hoe precies? Het is een ontwerpopgave van nationaal belang. Het Stimuleringsfonds voor Creatieve Industrie deed een oproep aan ontwerpers.
Komt Nederland vol zonnepanelen te staan en wat betekent dit voor de landbouw? Staan de wijken straks vol met transformatorhuisjes of kan het anders? Welke bekabeling ligt er onder ons huis en krijgt iedereen een eigen datacentrum in de meterkast?
De expositie Thuis in het Energielandschap toont ontwerpen van 11 ontwerpbureaus & samenwerkingspartners. Kansen en inspiratie om aan de slag te gaan met de energietransitie.
Nieuwe Horizons op de begane grond
VPxDG en ROM3D tonen op de begane grond van Galerie De Meerse de lokale casus 'Nieuwe Horizon', studies voor vormen van zonopwek in combinatie met het verrijken van het landschap – van vergezicht tot biodiversiteit.
Geselecteerde ontwerpende onderzoeken:
Landschappen van verlangen
4 projecten van Architectuurcentrum Aorta, Provincie Utrecht, Mooisticht in samenwerking met:
DS Landschapsarchitecten en Studio Solarix
Karres en Brands landschapsarchitectuur en stedenbouw
Vista en Circular Landscapes
Urban Synergy en Bright
Duurzaam distributielandschap
Defacto Urbanism in samenwerking met Vereniging Deltametropool en Logistics Valley Gelderland
Energieknooppunt Notter-Zuna
H+N+S Landschapsarchitecten in samenwerking met Coöperatie Notter-Zuna
Anderzijds A67
Paul de Kort in samenwerking met Feddes/Olthof landschapsarchitecten en Staatsbosbeheer
OHM
Bright in samenwerking met Urban Synergy en Provincie Noord-Holland
Ontwerpen met bewonersgerichte energiestrategie
Living Lab 040 in samenwerking met gemeente Eindhoven KAW en Teun Verberne Consultancy
Resilient Leiden Noord
Generation.Energy in samenwerking met gemeente Leiden Distributed Internet of energy Bright in samenwerking met Amsterdam Economic Board
Nieuwe Horizon
VPxDG en ROM3D in samenwerking met gemeente Haarlemmermeer, LTO Noord en Podium voor Architectuur
---
Het Stimuleringsfonds stelde in samenwerking met Podium voor Architectuur de expositie samen in de passage van Het Cultuurgebouw en Galerie De Meerse.
---
De expositie is mede mogelijk gemaakt door