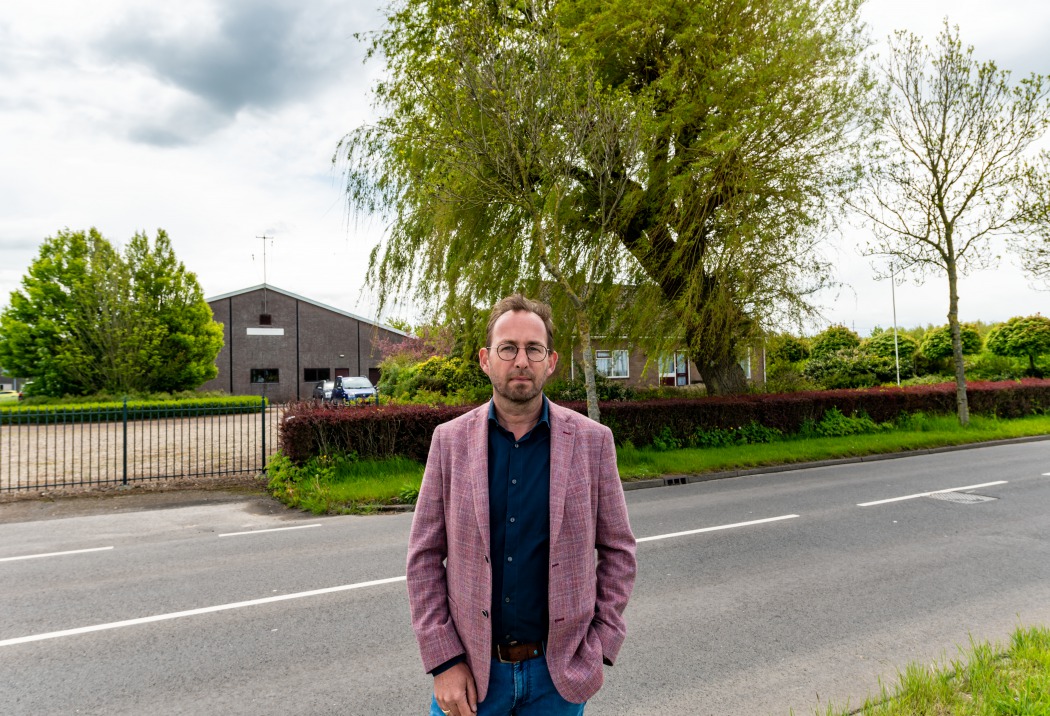 Bart zoekt aansluiting
Sectie

Gesprekken
Haarlemmermeer Groeit
Groeiportretten
Participatie
Ik woon al meer dan 40 jaar in Nieuw-Vennep. Nee, ik heb geen behoefte om uit Nieuw-Vennep te gaan. Ooit wel gekeken, maar toen we zes jaar geleden een woning op onze eigen kavel konden bouwen, hebben we dat gedaan. Ik woon al vanaf mijn 3e in Nieuw-Vennep. Het sociale en werkende leven is hier opgebouwd en om nu verder weg te verhuizen past ons niet. Ik denk dat je nooit in je ideale huis woont, maar bijna wel. Je komt altijd wel iets tegen wat anders kan, maar voor mijn gevoel zitten we nu in het ideale huis.
Maar ik heb de Swipocratie ook vanuit een ander perspectief ingevuld, niet op basis van mijn woonsituatie. Vanuit onze BV verhuren wij vastgoed aan een brede doelgroep in de huurcategorie tussen de sociale huur en het wat duurdere segment. Vanuit dat oogpunt heb ik wel ideeën over bepaalde dingen.
Nieuwe woonconcepten beter laten aansluiten op het landschap.
Wij hebben recent een ontwikkelingsplan ingediend voor een locatie aan de IJweg, een van de belangrijke polderlinten in de Haarlemmermeer. In dit plan hebben we de wensen van de gemeente Haarlemmermeer meegenomen. Het is een combinatie van wonen, werken en ontspanning. Aan de IJweg zien wij voor ons dat je de historische boerderijen laat terugkomen in de ontwikkeling, om zo beter aan te sluiten op de Vinex wijken en het landschap. Het plan is in de vorm van historische boerderij, met diverse hoogtens en ruimtes. Daarin zien we ook mogelijkheden voor werkplekken waar mensen, die thuis de ruimte niet hebben zouden kunnen werken. Daarbij bieden we voorzieningen aan, in de vorm van lichte horecavoorzieningen, vergaderruimte, een plek om broodjes te kopen, een koffieplek. Daarnaast ook een aantal seniorenappartementen. En denk hierbij aan de service, bijvoorbeeld tafeltje dekje. Er is ruimte voor een gezamenlijke moestuin, een fijne binnenplaats met bijvoorbeeld een jeu de boules. Ieder zijn eigen zitje, zijn eigen plekje, maar tegelijk ook alles gezamenlijk.
Het is voor ons een droomproject, ik denk dat er echt wel interesse voor is.
Dit soort woonvormen ontwerpen we ook vanuit het idee om de historie te behouden. Een hele andere stap zou zijn om allemaal appartementen te ontwikkelen van vijfhoog, maar dat zie ik hier niet zitten. De historie is niet echt per se noodzakelijk, maar in elk geval willen we het wel het landelijke karakter van Haarlemmermeer behouden. Met dit initiatief probeer ik de aansluiting tussen woonwijken te verbeteren, langs de linten van de polder. Als er een woonwijk wordt gebouwd, moet er een mooie overgang zijn met het landschap, zodat je het landelijke karakter van Haarlemmermeer behoudt. Het is een drooglegging die volledig bestond uit akkers. En als je dat nu gaat volbouwen, dan wordt het geen prettige leefomgeving. Je kan er wel op korte termijn veel mensen laten wonen, maar erna krijg je een leegloop.
Wonen op een eiland.
Ik denk dat er in de gemeente wel plannen zijn om in grote aantallen woningen te ontwikkeling, kijk bijvoorbeeld naar Nieuw-Vennep west. Maar met dit initiatief probeer ik juist de aansluiting tussen deze woonwijken te verbeteren, langs de polderlinten, de structuur van de polder behouden. Als er een woonwijk wordt gebouwd, moet er een mooie overgang zijn, geen eilandjes zonder overgang. Wat in mijn ogen niet goed gelukt is, zijn de eilanden in Hoofddorp. Dat zijn echt eilanden, met daarlangs een grote weg, en fietspad er langs, voor mij is dit sfeerloos. En is hier er een noodzakelijk kwaad om je te vervoeren, je zit op je eiland om te wonen, maar je moet er af als je iets wil.
Je kan bijvoorbeeld niet makkelijk op vrijdagmiddag een borrel drinken in de omgeving Je creëert dat mensen weggaan bij hun eigen prettige leefomgeving. Sportvoorzieningen zijn er in omgeving wel voldoende, scholen zijn er ook, dus maatschappelijk klopt het wel aardig, maar een terrasje pakken, broodje halen enzovoort?
Ik denk zelf dat er 1 of 2 horeca gelegenheden in de omgeving op zo'n grote ruimte gepast is. Natuurlijk is het nu lastiger te doorzien, door de situatie met Corona maar als je leuk wil eten ga je al snel buiten de Haarlemmermeer. In Nieuw Vennep ligt Lisse om de hoek en daar heb je een leuk pleintje met zeker een aantal tentjes waar je uit kan kiezen. Dat is wel te doen qua afstand, maar de bewoners gaan toch de Haarlemmermeer uit.
Tekort aan kwalitatief goede leefomgeving(en).
Drie jaar geleden ben ik voor mijn ouders heel lang op zoek geweest naar een geschikte, gelijkvloerse, woning in Nieuw-Vennep. Maar die woningen zijn niet te vinden. Na 3 jaar hebben we met geluk een gepast appartement kunnen vinden, wat redelijk voldoet aan de eisen. Als ik zie hoe blij ze zijn met woongenot, dan denk ik dat moet toch veel toegankelijker zijn. En ik zie de problemen het ook terug bij starters en voor kleine zelfstandigen.
Ik denk dat je ook in aantallen woningen, dat er moet gekeken worden naar appartement achtige woonvormen. Het moet wel financieel bereikbaar zijn voor alle doelgroepen. Hyde park is mooi, maar de prijs komt niet uit. Het is niet bereikbaar voor een groot deel van de mensen. Ik denk ook dat je niet hoger moet bouwen dat 3 of 4 lagen hoog. Anders worden het massale gebouwen, dat willen de mensen in de omgeving natuurlijk niet.
Er zijn starters en mensen die uiteindelijk tot hun 70ste in koopwoning hebben gezeten. Voor deze groep is ook fijn om in een appartement te wonen als ze hun huis verkopen. Hoe mooi is het als er een appartement voor iedereen is met wat voorzieningen. Niet te ver van centrum af, met deelauto's en andere gezamenlijke zaken. Kijk bijvoorbeeld naar de twee "nieuwe" complexen in Hoofddorp bij het SKWA, mensen nemen hun eigen initiatief. Ze gaan opzoek naar dat soort complexen. Je hebt er alle voorzieningen. Alleen het enige minpunt is dat het afgelegen ligt het is overal ver vandaan. Je zou wel lopend naar de supermarkt willen natuurlijk.
En kijk eens naar de kernen, kijk hoe je hier dingen kunt organiseren.
Ik denk dat iedereen graag in kleine kern wil wonen, zolang er maar voldoende voorzieningen zijn. Als je nu kijkt naar Zwaanshoek, kleine kern, maar je kan daar geen boodschappen doen. Dus ontwikkel dan aan de randen van de kernen, sluit aan bij wat er al bestaat en zorg dat er niet alleen woningen bij komen, maar ook de bijbehorende voorzieningen in de directe omgeving.
De stedelijke omgeving over twintig jaar.
Over twintig jaar denk ik dat je voor een stad meer in een parkomgeving moet ontwikkelen. De kantoorgebieden, zoals we die nu veel aan de buitenranden zien, gaan weg. Kantoren zullen afnemen en komen veel meer flexplekken bij die je kan aansluiten op de woonomgeving. Je ziet het nu ook bij zzp'ers met het thuiswerken, kan ik ergens dichtbij terecht waar ik paar uur per week of paar uur per dag kan werken? De kosten die je hebt om een paar uur een werkplek te huren kunnen ze doorberekenen in het uurloon. En als je dan naar buiten loopt, omdat je lopend naar je huis kan, dan is het fijn als er voldoende sociale en maatschappelijke voorzieningen om je heen zijn.
De combinatie wonen werken en ontspannen gaat veel meer terugkomen in de maatschappij van de toekomst.