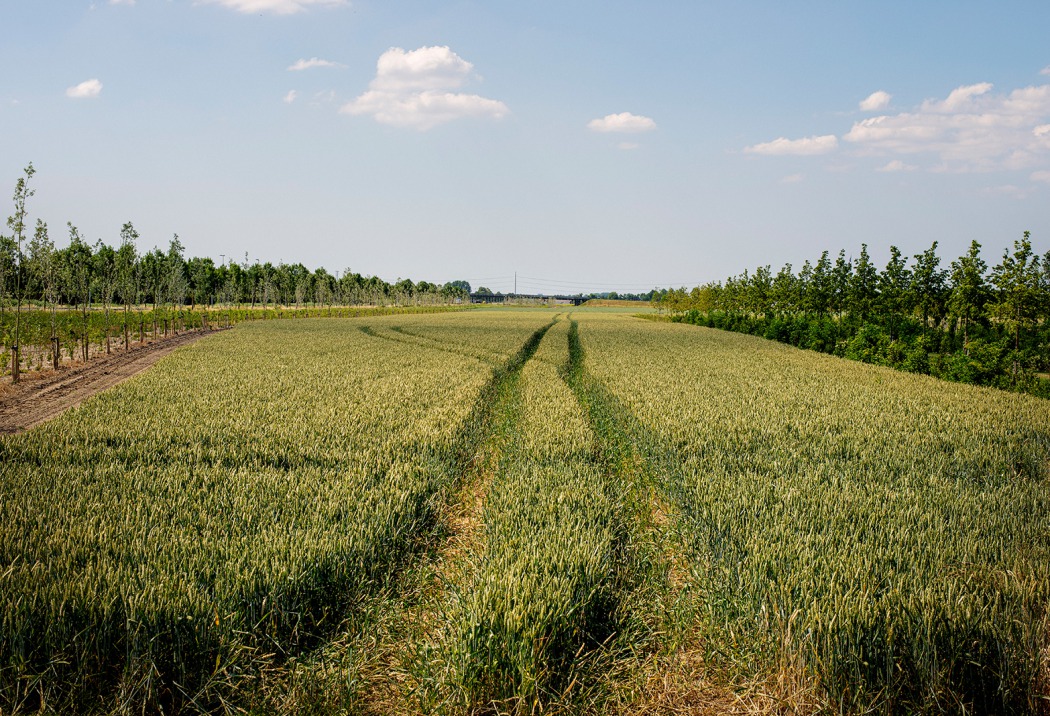 Dirk Molenaar van Landgoed Kleine Vennep
Sectie

Polderlintportretten
Gesprekken
Dirk Molenaar is ondernemer, initiatiefnemer en landgoedeigenaar van Landgoed Kleine Vennep. Wat maakt wonen en werken op deze plek aan het polderlint bijzonder?
We staan hier bij een groot historisch gebouw, het wordt bewoond van generatie op generatie. De boerderij is samengevoegd door mijn grootvader en -moeder. De hoeve heeft de naam gekregen van burgemeester van Amersfoordt. De droogmakerij Haarlemmermeer trok mensen uit alle windstreken die allemaal hun eigen bouwtype meebrachten. Dit is de kop romp boerderij, afgeleid van de Friese kop hals romp.
25 juni, Landgoed Kleine Vennep, Hoofdweg 1041 Nieuw-Vennep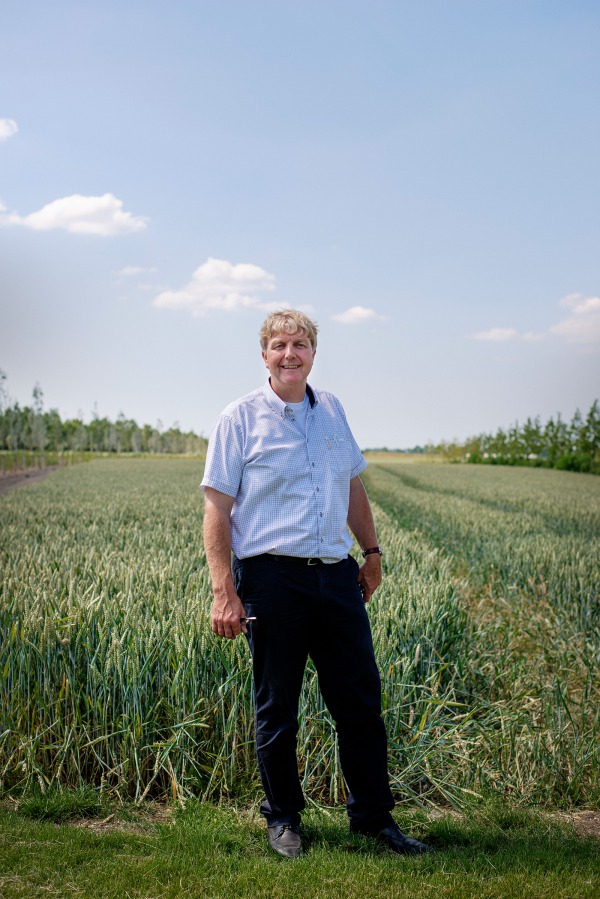 Helaas zijn er veel van de oorspronkelijk boerderijen gesneuveld. Dit is een Rijksmonument. We proberen het te herstellen en de oude allure terug te brengen. Het landbouwbedrijf gaat langzaam maar zeker stoppen. We zitten in een transformatieproces. Daar nemen wij 10 tot 15 jaar voor. We bewegen van landbouw in afbouw naar landgoed en evenementenlocatie in opbouw.
Het is zoeken naar het evenwicht. Platanen horen van origine niet bij boerderijen. We hebben er een mix van gemaakt. Ik hou me wel aan de lanenstructuur in het plan. Maar niet specifiek aan de polderlinten. Ik neem het wel mee in de ontwikkeling van het landgoed en passend bij PARK21. Daardoor krijg je een prettige woonomgeving
Beplanting
De beplanting vormt een belangrijk onderdeel van de plannen. Vorig jaar hebben we een heel grote slag geslagen door het organiseren van de nationale boomfeestdag op initiatief van de Gemeente Haarlemmermeer. Daar is onvoorstelbaar veel aandacht aan besteed. Het is groot en zwaar uitgepakt, ver boven verwachting. We hebben veel bomen geplant en ze doen het allemaal.
Vorig jaar stond er alleen een klein berkenbos en een bomenlaan. Vanuit het idee polderlinten hebben we er allemaal lanen en linten omheen gerealiseerd, zowel aan deze kant van het landgoed als aan de dorpszijde van het landgoed. Alles is rechtlijnig. Dat komt voort uit het plan van Leeghwater getekend in de 18e eeuw. Naar zijn oorspronkelijke plan van verkaveling, wat revolutionair was in de wereld, is de Haarlemmermeer ingedeeld. In samenwerking met de landschapsarchitect van de gemeente die ook aan PARK21 heeft meegewerkt wil ik dit behouden met het accent op de zichtlijnen. Alles staat haaks op de Hoofdvaart. Die is pal gegraven zuid west - noord oost. Alles is daar haaks op gesitueerd. We hebben kavels die zijn 1 kilometer lang en 200 meter breed. Vroeger bestonden we uit 4 kavels, dus 80 hectare. In de belijning en zichtlijnen is de sterke wens dat de beplantingsplannen daarmee in stand worden gehouden en worden aangevuld. Er zit in ons gedeelte van PARK21 slechts één bocht, op de hoek van de dijk die het dorp met ons landgoed verbindt. Bewust een bocht om te kunnen zeggen, we zijn wel erg rechtlijnig maar een speelse gedachtegang nemen we mee als meandering.
De keuze van de bomen is een lastige, hoe ga je om met de beplanting? Het heeft er vroeger dus niet allemaal gestaan
Een landgoed moet ten minste voor 30 procent bebost zijn; dat vinden we zelf het minimale, het wordt iets meer. De keuze van de bomen is een lastige, hoe ga je om met de beplanting? Het heeft er vroeger dus niet allemaal gestaan.
Het meest aansprekende voorbeeld zijn de iepenbomen. Langs de windsingels stonden iepen omdat van de stammen gereedschap gemaakt kan worden. Elke boom had een bepaalde functie, geschikt om te gebruiken voor gereedschap, de bouw of als vruchtdrager: elzenhout, eikenhout, appels en perenhout.
Op basis op een verordening uit 1972, zijn alle iepen rond onze boerderij gekapt, dit vanwege de iepkever die een ziekte overbracht. In het kader van de boomfeestdag 2019 hebben we iepensoorten die resistent zijn terug geplant.
De iep moet iets symboliseren, die elementen hebben we in het park ingetekend, een cirkel gemaakt van iepen. Een rond lint, de bomen symboliseren de provincies. Het past goed bij elkaar, het doet het goed zo. Iepen hoorden bij boerderijen. Tijdens tweede wereldoorlog zijn alle andere bomen de kachel in gegaan. Alle bomen in de polder zijn in de laatste twee winters van de oorlog gekapt. Ook voor de boerderij stonden bomen. In de jaren 50 zijn ze vervangen door Canadese populieren. Ze groeien lekker snel maar zijn na 40 jaar kapot. Alle bomen langs de Hoofdweg zijn gekapt, daarom hebben wij als familie besloten dat het leeuwendeel van de bomen die we thans planten op en rond de boerderij binnen PARK21 makkelijk 100 jaar oud moeten kunnen worden. Grote eikenbomen, lindebomen, 33 Lindeboom soorten hebben we op het landgoed neergezet. Grote oude perenbomen en de zomereik hebben we teruggehaald.
De berkenlaan vormt een lint maar berken zijn wel een vreemde eend in de bijt. Een pioniersboom, ze worden ook niet ouder dan 40 jaar.
We kiezen met het landgoed voor de openbaarheid. Tachtig procent van de landgoederen is gesloten en privédomein maar dat vinden we lariekoek. Als je een samenwerkingsverband aangaat, dan faciliteer je elkaar en dan moet je wel de moed hebben dat het leeuwendeel openbaar is.
We gaan wandelpaden aanleggen en grote grasstroken, zodat mensen rond kunnen lopen. Mensen kunnen komen meegenieten van de schoonheid van het landschap, van de boerderijen en de traditionele gewassen. Iedereen ziet dat het netjes is, voor een boerenerf. Iedereen mag komen, je mag evenementen doen, voor kinderen, voor mindervaliden enz. Er is een voorwaarde: iedereen moet z'n eigen rotzooi meenemen. En plastic proberen we helemaal uit te bannen. Plastic in gras, dat kun je niet aan de dieren voeren.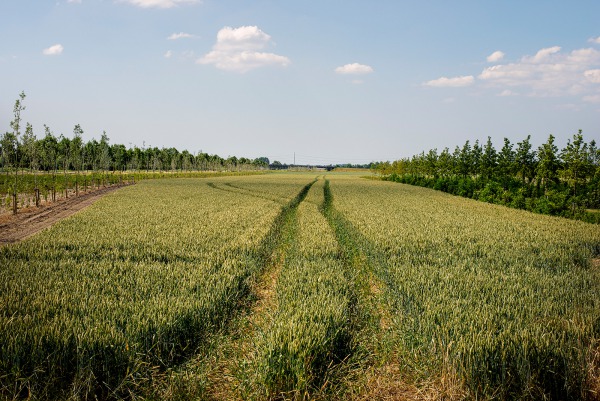 Hoofdweg
Als we dan naar de Hoofdweg kijken: de bomen van het lint gewoon weer neerzetten is het advies. Die lanen herstellen. Populieren horen bij de polder. Als ze hun levenseinde naderen, gewoon weer vervangen. Er kan bij ons veel. Kampvuurtje stoken, foodtruck festivalletje houden, kinderen laten spelen, buiten spelen, weg van de computer, bewegen, hollen, rennen. Maar de moeilijkheid met de gemeente is de samenwerking met vergunning en handhaving. Het gaat waanzinnig goed hier maar dat blijft een struikelblok.
Een vergunning is nodig voor ieder evenement van klein (meer dan 100 personen) tot groot. Dat varieert van een viering Pink Ribbon met de personeelsvereniging voor vijf euro per persoon, tot de jongens van het Oorlog- en Transportmuseum, die D-Day naspelen. De hele schuur staat ter beschikking, alle gronden, alles. We leven inmiddels in een samenleving waarbij het gaat om afschuiven van verantwoording, niemand wil ergens verantwoording meer voor nemen. Protocollen en voorwaarden zijn eindeloos en vaak onzinnig. Ik ben er van overtuigd dat binnen het bestuurlijk apparaat iedereen zijn best doet en het goede wil binnen zijn of haar verantwoording, niets is echter meer eenvoudig. Het gevolg is dat we compleet vast zitten en er niets meer georganiseerd kan worden, omdat het een ondoenlijke zaak is geworden om door de regelgeving heen te komen.
Houden wat je hebt en doorzetten naar een volgende generatie en anderen meenemen in het proces
Beleving en persoonlijke noot
Wij zetten in op het groen en de festiviteiten die daaraan zijn gerelateerd. Het beplantingsplan vinden we prima; het gaat erom dat we wel iets maken waar andere mensen iets fijns mee beleven, en waar wij dan ook nog een snee brood uit kunnen halen. Ik heb tractoren en brandstof etc. De familie is niet uit op een waanzinnig verdienmodel, maar voor de bestendigheid. Houden wat je hebt en doorzetten naar een volgende generatie en anderen meenemen in het proces.
Dat doet Rob aan de overkant ook, met zijn paarden en Pieter Bijlsma, zij brouwen jenever van graan etc. Onderling hebben we het heel goed met elkaar. Iedereen heeft z'n eigen ding. We willen alles aan elkaar knopen, ons doel verbinden. Hier worden geen huizen gebouwd, dus we houden de boerderijen in combinatie met nieuwe initiatieven zoals het nieuwe klimpark. We koppelen alles zoveel mogelijk aan elkaar maar we moeten er wel geld aan verdienen.
Economisch belang
We zien dat het economisch belang van de agrarische gemeenschap binnen de Gemeente Haarlemmermeer en zeker binnen PARK21 verschuift. In mijn optiek zal het accent moeten komen te liggen op de combinatie van gezond lokaal voedsel verbouwen en gebruik van het landschap. De grond is van de boeren en de burgers mogen hier te gast zijn, maar dan wel met het besef dat het voedselpakket nergens in de wereld zo goedkoop is ten opzichte van het besteedbaar inkomen, nergens zo veilig en nog bijzonderder; altijd aanwezig. Het is echt een wonder. Je kan op zaterdagavond om 20.00 uur de supermarkt in hollen en alles is er nog. Wachten hoef je alleen voor de kassa en nooit voor het schap. Dit is het resultaat van een hoog ontwikkelde agrarische sector met boeren en kwekers die vaak als familiebedrijf met lef en inzet telkenmale weer dat voedsel verbouwen. Het doet mij als voedselproducent verdriet te zien en te horen dat er vaak geen enkel besef en begrip is voor de basisbehoefte van onze samenleving: voedsel. Hierbij wordt de agrarische sector vaak weggezet als veroorzakers van diverse problemen in de samenleving. Dit laatste geheel ten onrechte. Maar zoals mijn grootmoeder al zei, 'en wat ga jij daar dan aan doen?'. Welnu ik ga die verbinding maken tussen de burger, het landschap, de boer, voedsel en recreatie in de ruimste zin van het woord.
De familie zet het landgoed en de boerderij binnen PARK21 voort en staan open voor samenwerking met iedereen die positief is ingesteld. Iedereen is welkom, we gaan de verbinding aan sociaal, cultureel, lokaal voor de komende 100 jaar.
Ik zie u allen graag komen.