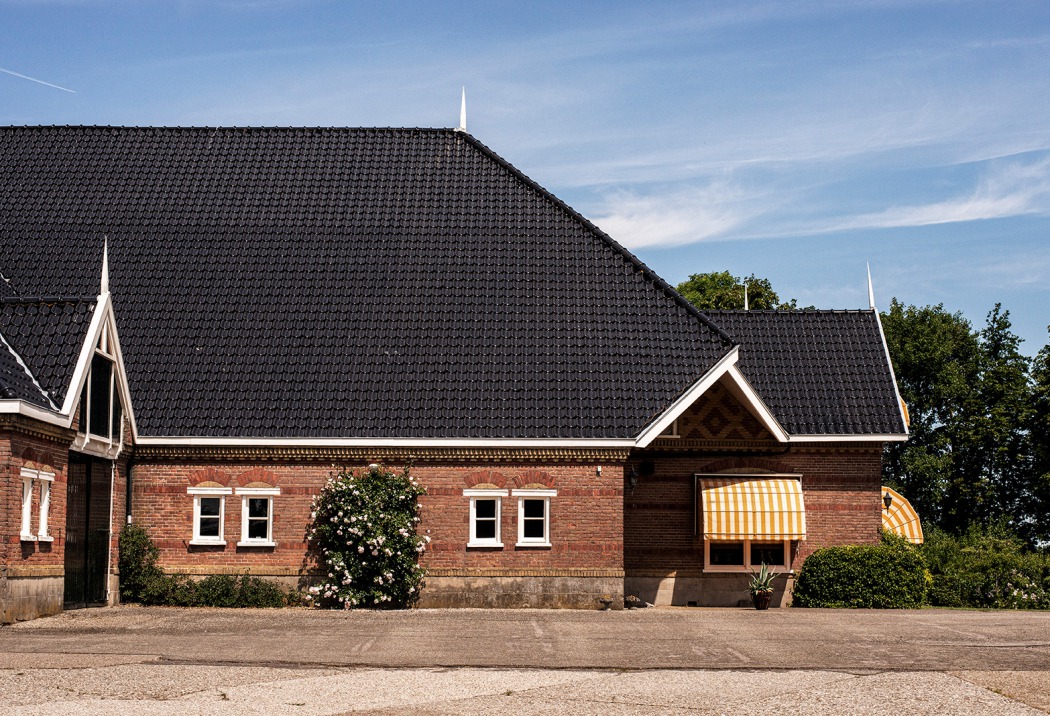 Hein & Reinier van Elderen
Sectie

Polderlintportretten
Interviews
Een dubbelgesprek met zoon Hein van Elderen & vader Reinier van Elderen. Hein is bekend van de Miscanthusgroep en het uitdragen van innovatieve producten. Reinier geeft als deskundige veel adviezen en lezingen over de toekomstkansen en beheer van agrarische bedrijven. Wat maakt wonen / werken op deze plek aan het polderlint bijzonder?
Wat is nou een polderlint ? Ik heb er nog nooit van gehoord, wat valt daaronder? De polderlinten zijn natuurlijk ontzettend veranderd. Alle bebouwing hoorde vroeger bij een boerderij. Door de schaalvergroting zijn vrijkomende boerderijen vrijgekomen. Daarmee is veel verrommeling ontstaan. Dat is eigenlijk de verandering, dat kun je ook niet tegenhouden.
24 juni, IJweg Zwanenburg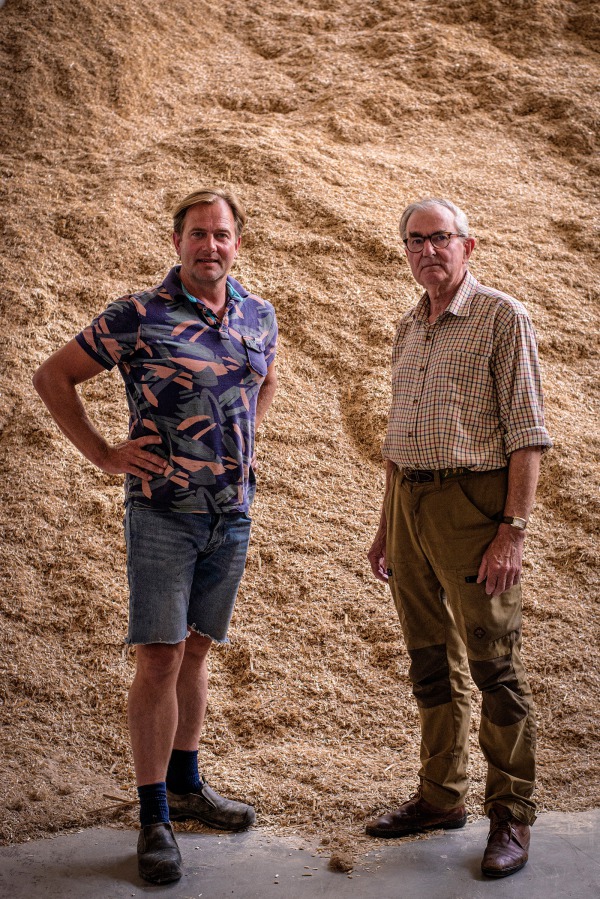 Wat doe je met de vrijkomende boerderijen?
Dat is een lastige vraag. Boeren verdwijnen nu eenmaal. Als een boer zijn land moet inleveren dan blijft hij zitten op de boerderij, totdat de boer dood gaat, dan komt de boerderij te koop. De buitenruimte wordt gebruikt. Er komen bijvoorbeeld stadsmensen, die niet gewend zijn om te gaan met het landelijk gebied. Grondbeheer is een vak. Dat vereist kennis. Rommeligheid ontstaat door de gehele polder. Het begint al met verschillende bouwstijlen en materialen van bijvoorbeeld bedrijven en bezinepompen.
Wat hebben we nodig om kwaliteit te behouden?
Er zijn veel vrijkomende monumentale boerderijen. Als je die in stand wil houden moet je een goede bestemming geven, maak er seniorenwoningen van. Wie onderhoudt het, wie betaalt het, het land brengt het niet meer op om de boerderij te onderhouden. Maak er een restaurant van, notaris, advocaat, etc. dan gaat het platteland ook weer leven. Vroeger werkten hier 10 / 15 mensen op de boerderij, het was een dorp op zich, met 40 hectare land. Al die arbeiders, dat is verleden tijd. De huisjes zijn weg, er is weinig meer. Het is vereenzaamd. Wat is nog heel waardevol, dat is de boerderij, die is 30 jaar geleden helemaal opgeknapt. Die was helemaal in slechte staat. Bij het opknappen kregen we advies van Meerhistorie. Je ziet ook veel boerderijen die worden opgekocht door de overheid en dan gebeurt er niets meer. Een goed voorbeeld is boerderij Den Burg, daar is het gelukt.
Her en der zie je de polder verloederen door hobbyisten die een rommelige dierhouderij opzetten met oude zeecontainers of schuilhutten. Moet je op die manier die lintbebouwing in stand houden? Dat denk ik niet. Geef er een goede bestemming aan. De bestemming wijzigen want als de boer eraf gaat en er mag niets omdat het een agrarische bestemming is, dat heeft geen enkele zin. Mijn advies is 'Geef een goede leidraad, tot zover mag je gaan. En verleen hulp bij het maken van een verdienmodel op het pand.' Een mooi huis is een ding maar het onderhoud is enorm. Het perceel moet het kunnen opbrengen en anders verpaupert het. Het gaat om het verdienmodel en deskundig beheer; hoe is het op te brengen, hoe en waar plant je bomen aan, hoe onderhoud je het netjes rond de boerderij.
Dat vraagt om beleid en samenwerking met gemeente. Er is een mooi oud pand aan de Hoofdvaart, maar door het uitblijven van vergunningen op ander gebruik of andere inrichting, gaat zo'n locatie verpauperen. De gemeente exploiteert bedrijventerreinen en verkoopt liever zijn grond, dan dat er ruimte is om bestaande boerderijen op een nieuwe wijze te behouden voor de toekomst. Ik heb me veel bezig gehouden met nieuwe landgoederen. Er is behoefte aan landgoederen. Waarom laat je particulieren in Haarlemmermeer geen nieuwe landgoederen maken? Er zijn mensen met visie en daadkracht. Dat promoten we. Er is landbouwgrond zat in Nederland. Er is voedsel in overvloed op de wereld, want er verdwijnt 30% in de afvalbak. Waarom dan de keuze om landbouwgrond te behouden en laat je niet een nieuw landgoed neerzetten? Adviseren op een verdienmodel en het behouden van de kwaliteit: kan een kwaliteitsgids helpen? De provincie Zuid Holland heeft heel goed beleid. Noord Holland wil geen nieuw beleid maken voor het ontwikkelen van landgoederen.
Door de crisis is het slecht gegaan, en er komt weer interesse om naar buiten te gaan. Buiten beleven. Als je naar buiten wilt, naar een landgoed, moet je naar Frankrijk. Waarom hou je het kapitaal niet hier, je kunt hier zo aan de slag, locaties genoeg en een goede oplossing voor de vrijgekomen boerderijen. Recreatie is nodig, buiten trekt mensen aan. Kijk eens naar de Olmenhorst, ooit de grootste boerderij van Haarlemmermeer. Het is een prima verdienmodel, goede organisatie, op die manier kan Florian het oude familiebedrijf in stand houden.
Geef een goede leidraad, tot zover mag je gaan, en verleen hulp bij het maken van een verdienmodel op het pand
Dit is een enorme boerderij, er is minder maar nog veel land. Wat brengt de toekomst? Worden het uien, miscanthusgras, zonnepanelen? De visie van Hein is 'veel minder eten verbouwen want er is teveel voedsel in de wereld, tegen bodemprijzen. Als ik 10 jaar geleden al niet omgeschakeld was, zou ik het niet volhouden.' Kleinschalige voedselverbouw is niet rendabel. Sowieso, voedsel telen onder die twee landingsbanen is dat nou wel zo verstandig, is dat wel zo lekker? Het is niet zo gezond denk ik, Hak neemt echt geen biologische producten van me af. Het gewas dat hier goed past is olifantsgras voor gebruik in beton en bioplastics. Als ondernemer moet je niet op 1 paard wedden. Zonnepanelen in het land plaatsen, dat is fantastisch, ook in verhouding tot de polderlinten. Het is mooi in te passen met groenranden erlangs. Olifantsgras groeit tot 3 /4,5 meter hoog, dus je kunt het hele zonnepanelenpark laten verdwijnen. Langs de weg, groeit eerst een mooie bloemenrand van een meter of 5. De omgeving verbetert, de bezoeker kan ervan genieten. Vervolgens een mooie rand olifantsgras van meter of 3 erlangs en dan de zonnepanelen. Ik heb een dikke 30 bijenkasten in het land staan en heb er een hoge honingproductie van. Marianne van Arkel verkoopt het als streekproduct en mijn olie. Ik zie de polderlinten als grote bedreiging. Heb je er straks geen vat meer op? Het ligt eraan wat je mag en niet mag.
Als mensen (gemeente) gaan bepalen wat je op je eigen grond mag doen, dan bevelen wij dit aan: dat de linten herkenbaar blijven en functioneren. Het ligt er wel aan wat het rendement wordt. Als we als grondeigenaren eraan verdienen'. Als er alleen maar teruggegaan wordt in hun vermogen, dan zijn ze niet meer 100 procent eigenaar over het eigen terrein. Dat is het grote probleem. Daar moet je heel voorzichtig mee zijn. Bijvoorbeeld; er liggen een stuk of 12 leidingen in onze grond, waterleidingen van 1,5 meter dik. Die moeten altijd toegankelijk zijn voor derden, met het recht om op het land te komen. En eigenlijk hebben die mensen net zoveel recht op dat terrein als de eigenaren. Een ander kan daarmee de baas zijn over jouw terrein.
Wat willen we? Ga je allerlei beperkingen invoeren, of ga je boeren en bewoners stimuleren om de polderlinten mooier te maken? Zoals we nu hebben, zijn ze goed, bloemrijke akkerranden een met een gewas erlangs. Sinds de droogmaking zijn die wegen aangelegd maar 4000 jaar geleden waren hier ook al mensen, was het ook geen meer. Waarom gaat het je specifiek om die datum. Het is het prikken van een datum in de geschiedenis. Welk moment in de tijd pak je, hoe betrekkelijk is het? Als je ergens woont heb je een bepaalde vorm van herkenning, ik kom weer thuis. Als kind fietste ik tussen de iepen, langs de polderwegen. Ze zijn allemaal omgezaagd, vanwege de iepziekte. Vroeger had je trekpaden, dan had je geen last van de boomwortels, nu met asfalt is dat anders. Bomen moeten eigenlijk verder van de wegen afstaan, en dan kom je als gemeente weer bij de particulieren uit: ' wij planten ze voor je, wil je dat dan?''Bomenrijen, het kan het is kaal hier. Maar dan krijg je veel boeren die met schaduwwerking te maken krijgen, dat is weer slecht voor de gewassen.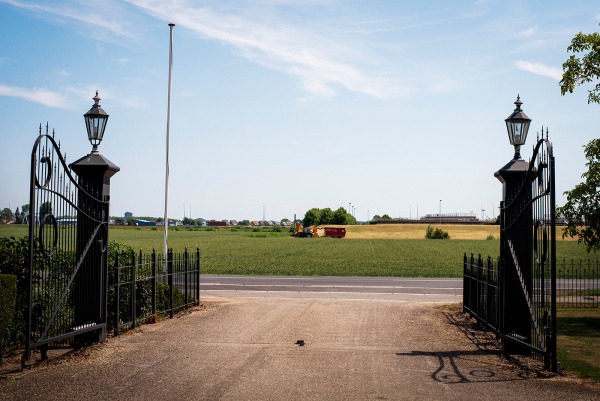 Wat is van deze plek de grote kwaliteit?
Wij zitten met een mooie boerderij beeldbepalend voor dit gebied, maar wel tegenover een hightech rioolwaterzuivering. De grond is destijds onteigend, voor de waterzuivering. Op ons verzoek is er wel een dijk voor gemaakt, anders zit je tegen de betonbakken aan te kijken. Wat is hier nog het mooie? Het is gewoon industrie. Aan deze weg zitten een autohandelaar, een hoveniersbedrijf, een aannemer. Is hier nog sprake van enige kwaliteit? Ja voor mensen die hier langs fietsen, 'wat een mooie boerderij'. Dat is dan alles. En het bos wat erachter ligt. En de randen van de akkers waar geplukt kan worden. Ze zeggen nooit, 'we vinden het monotone landschap met de suikerbieten en het gras zo mooi'. Maar over een veld met zonnepanelen gaan mensen altijd meteen zeuren. We moeten ons bedrijf verbreden en met nieuwe ontwikkelingen aan de slag, dat dient de gemeente mee te nemen in haar beleid..
Je mag hier geen windmolens zetten. Landbouw is over een paar jaar over. Op deze locatie kan je geen biologische boer zijn. Drie en een half procent van de landbouwgrond is maar biologisch in Nederland. Alleen eieren verkopen goed. Biologisch telen is moeilijk om iets mee te verdienen. Een mens neemt wel medicijnen, maar om het gewas gezond te houden zou het niet mogen? In de Flevopolder zijn er een aantal biologische boeren, veel groente, per kilo brengt dat veel meer op. De oogst gaat meteen naar Duitsland toe. In NL is het niet zo gewild. In de gangbare landbouw is de hoeveelheid gewasbeschermingsmiddel in 30 jaar met 90% gedaald. Biologische en gangbare landbouw komt steeds dichter bij elkaar.
Van alle negen boeren, zijn er maar drie met een opvolger. Hoe ziet dat er over 25 jaar uit? Het eigen bedrijf en die van je collega's, wat gaat er gebeuren? Je ziet het gewoon gebeuren. Daar moet je als gemeente ook aan denken, kijk vooruit, denk na over het buitengebied. Hou niet halsstarrig vast aan hoe het was. Er moet bedacht worden hoe het in de toekomst betekenis heeft. Durf een visie neer te leggen.
Een aantal voorbeelden
Er zijn nog wat boerderijen met 1 hectare land erachter. Weilandje gemaakt, als je niet stuurt, krijg je allemaal versnipperde hoekjes. Voor een boer is het te klein. Als je met een polderlint 100 meter bedoelt: agrarisch is het niet te bewerken. Rommelaars komen in het gebied te zitten. Is dit dan de kwaliteit die we met elkaar willen? Haarlemmermeer heeft te maken met stadsrand verschijnselen: de stadsrand moet je niet naar de polder verplaatsen, in recreatiegebied Spaarnwoude gebeurt ook van alles. Handhaven is nodig, wetten en regels zonder handhaven heeft geen zin.
Dit is agrarisch gebied, maar er is niets agrarisch meer aan. Er zijn geen mechanisatiebedrijven meer, geen graanhandelaren meer. Uien gaan naar Yrseke, dat zou juist lokaal moeten kunnen. Het ligt er maar net aan hoe je een polderlint definieert, 5 meter prima, 50 meter wordt alweer eng wat versta je eronder?
Beleving & persoonlijke wens
Wij willen graag een zonnepark creëren op onze landbouwgrond, het olifantsgras rondom het park zorgt er voor dat het zonnepark aan het gezicht wordt onttrokken. Bedenk goed in de plannen of het haalbaar is en of je er samen uit kunt komen. Vanuit het ministerie I&W gezien, is deze locatie de allerbeste plek om ganzen te weren met zonnepanelen. Met dat zonnepark creëren we een muur want op een diervriendelijke manier gaan we ganzen weghouden bij Schiphol. Als we dan polderlinten erin gaan maken, maken we eigenlijk een fuik voor die ganzen. dan gaan alle ganzen er precies tussendoor, dan wordt het een fuik van 200 meter. Dit is ook internationaal gezien een goed product, een goed voorbeeld van een verdienmodel, vogels weren en energie opwekken.