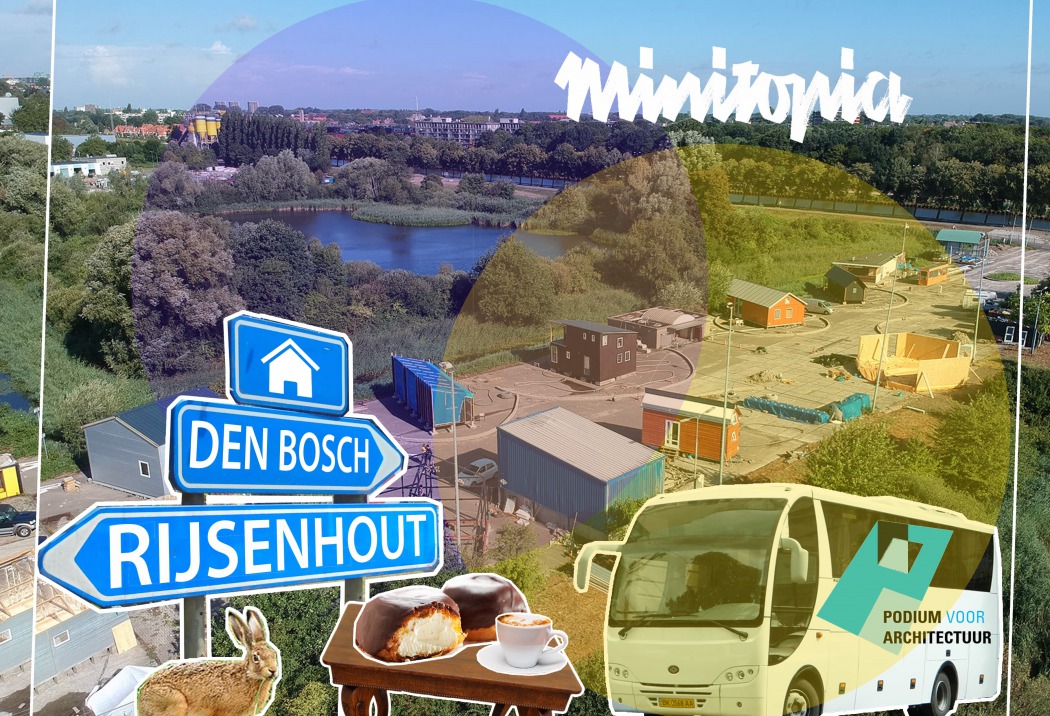 Tiny Homes en Bossche bollen: uitwisseling kennis en ervaring
Kan Haarlemmermeer leren van Minitopia Poeldonk in Den Bosch? Binnen een half jaar hebben de gemeente Den Bosch en Woningcorporatie Zayaz het voor elkaar gekregen om tijdelijke woningen te realiseren. Een reisje naar het experiment Minitopia Poeldonk zet aan tot nadenken, ervaren, en leren.
Haarlemmermeer heeft de kansen om hét experimenteergebied van Nederland te worden. Er is ondernemerschap, er zijn jonge makers, er is ruimte voor experiment, er is behoefte aan innovatie en er is behoefte aan experiment met woonvormen. Daarbij kunnen we denken aan tijdelijke flexibele woonvormen, geluidadaptief, plug and play, energiegrids en ontschotting van beleid.
Op woensdag 21 november organiseerden we een inspirerende excursie naar 'Minitopia Poeldonk' in Den Bosch. De voormalige milieustraat is voor de komende vijf jaar getransformeerd tot een tijdelijke circulaire woonwijk.
De Minitopia doelstellingen zijn duidelijk. Wat kunnen we daarvan leren voor Haarlemmermeer?
Het denken over tijdelijke woonvormen aanjagen;
Creatief omgaan met wet- en regelgeving;
Denken in kansen;
Nadenken over de rekbaarheid tiny homes;
Experimenteren met andere financieringsmodellen;
Experiment aanjagen voor ontwerpers en bewoners die zelf op circulaire wijze willen bouwen vanuit tijdelijkheid en verplaatsbaarheid;
Locaties in de gemeente zonder bestemming gebruiken;
Het denken over het wonen in baksteen oprekken;
Trajecten met omwonenden praktiseren;
Vanuit experiment met financiering, zelfrealisatie en opschaling naar een nieuw type modelwoning, uitgevoerd door woningbouwcorporaties.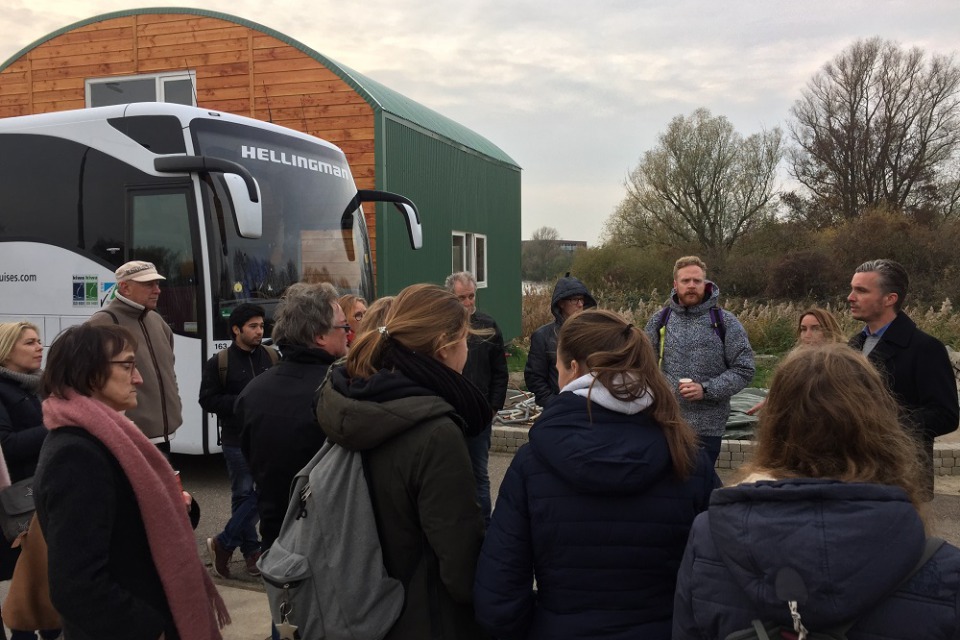 Minitopia Poeldonk
Minitopia is een tijdelijke circulaire woonwijk die op een voormalige milieustraat is ontwikkeld op initiatief van Rolf van Boxmeer (architect) en Tessa Peters (kunstenaar). Het is de gemeente Den Bosch, woningcorporatie Zayaz en de initiatiefnemers gelukt om binnen een half jaar deze bijzondere en op het eerste gezicht ongeschikte locatie te transformeren naar een locatie waar tijdelijk wordt gewoond.
Momenteel worden vijftien huisjes naar volle tevredenheid bewoond, maar er is ruimte voor 25 tijdelijke woningen die bewoners voor een deel of helemaal en met of zonder (financiële) ondersteuning van Zayaz bouwen. In Minitopia experimenteren de betrokken partijen met nieuwe woonvormen. Dit betekent anders dan normaal, namelijk: demontabel, flexibel, innovatief, duurzaam, klein en tijdelijk.
Naast nieuwe woonvormen experimenteert Minitopia ook met financieringsmodellen en regelgeving. Zo zijn de huizenprijzen in Minitopia gemiddeld 25.000,- euro voor 35 m2, terwijl appartementen in de stad gemiddeld 160.000,- euro zijn voor 60 m2.
Het doel van Minitopia is om nieuwe wooninitiatieven te ontwikkelen die inspelen op een nieuwe woonvraag, waar de huidige woningmarkt niet aan kan voldoen.
Opschalen en standaardiseren
De tweede fase van het project bestaat uit een opschaling vanuit het huidige experiment naar een meer gestandaardiseerde vorm waar bewoners direct op maat kunnen gaan wonen. Daarnaast wil Minitopia andere braakliggende gronden aanwijzen, waar in hoge mate van vrijheid en door middel van co-creatie gewoond wordt. Hiermee worden braakliggende gronden dus omgezet in positief gebruikte gronden.
De gemeente is eigenaar van de grond waar Minitopia op is ontwikkeld. Op de voormalige milieustraat bezet Minitopia een klein gebied met een verharde ondergrond in een redelijk groene omgeving. Het project mag deze locatie tijdelijk benutten omdat de grond te vervuild is om vaste woningen te realiseren. In Minitopia staan alle woningen op palen op een eigen terp boven op de stelconplaten en asfalt. Daarnaast liggen ook de nieuw aangelegde waterleidingen hier bovenop. De terpen zorgen voor groen om de woningen, maken de leidingen onzichtbaar en beschermen de buizen tegen vorst. Over het algemeen hebben de woningen een eigen warmtesysteem en zijn ze allemaal goed geïsoleerd. Dit zorgt ervoor dat er weinig energie nodig is om bijvoorbeeld het huis warm te houden. Wanneer het echt nodig is gebruiken de bewoners een palletkachel.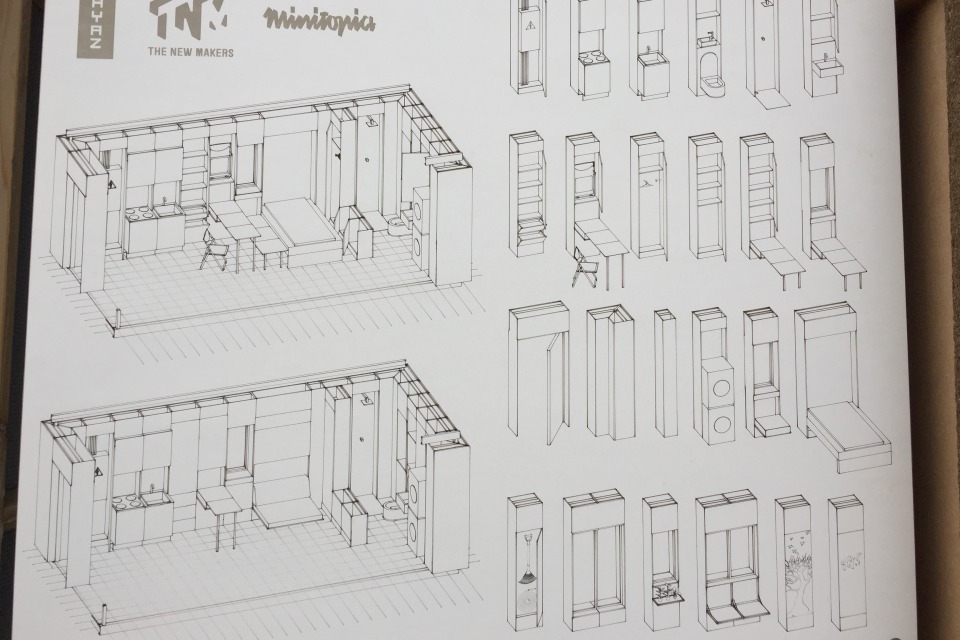 Tijdelijk en milieubewust
In Minitopia staan verschillende soorten woningen, maar ze zijn allemaal tijdelijk en milieubewust gebouwd. Zo ook de woning van Stijn. Samen met The New Makers ontwikkelt hij 'Stinyhouse', een woning gebaseerd op een kliksysteem opeen frame, waaraan hij muurdelen bevestigt en makkelijk kan verplaatsen of vervangen. Aan de binnenkant van de muren worden meubels vastgeklikt en aan de buitenkant van de muren is ruimte voor de natuur.
Andere woningen zijn grotendeels gemaakt door het hergebruik van materialen die afkomstig zijn van zowel fabrieken als oude woningen. Zo is er een woning in Minitopia die is gebouwd met oude stellingen uit magazijnen.
Omdat de woningen tijdelijk moeten zijn, zijn de woningen in zijn geheel of in delen verplaatsbaar.
Om dit voor elkaar te krijgen moet het ontwerp van de woning erg flexibel zijn, zo is het 'Tinyhouse On Wheels' (TOW) inklapbaar. Andere woningen zijn weer meer gericht op de recyclebaarheid. Bijvoorbeeld de 'Unihex' die na gebruik bijna volledig wordt gecomposteerd. Minitopia is een zoektocht naar nieuwe modellen voor het wonen, een echte proeftuin.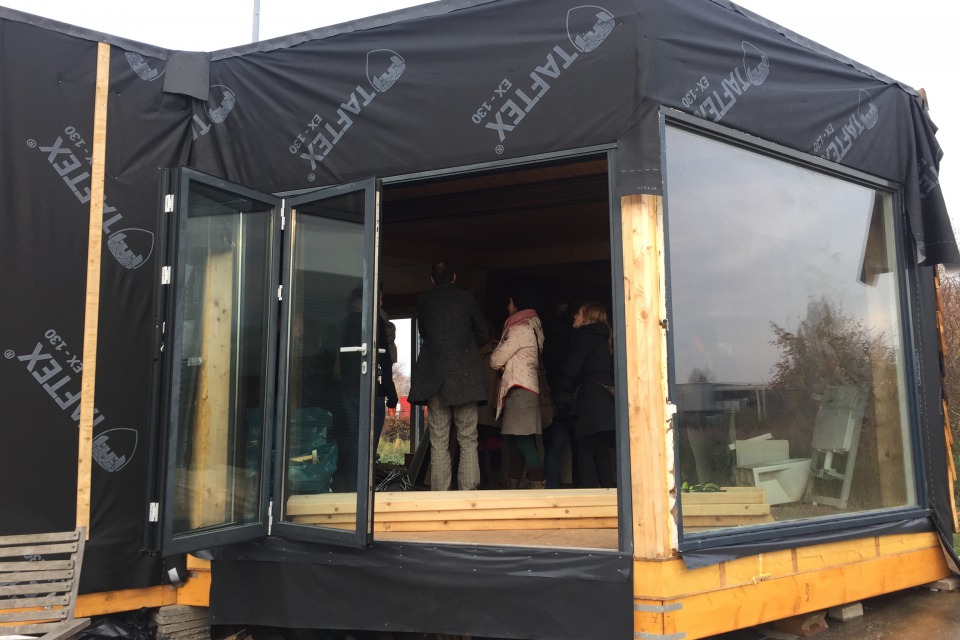 Draagvlak bij de gemeente 's-Hertogenbosch
Een belangrijke voorwaarde voor het ontwikkelen van tijdelijke woningen is draagvlak bij de gemeente. De gemeente is tenslotte de partij die toestemming moet geven voor de tijdelijke ontheffing. Alleen dan kan worden afgeweken van een bestemming bestemd voor bedrijven naar een locatie waar tijdelijk woningen worden geplaatst. De tijdelijke ontheffing wordt ingezet omdat de grond ernstig vervuild is en een permanente woonbestemming dus niet mogelijk was. De tijdelijke ontheffing zorgt ervoor dat er gedurende een periode van vijf jaar van het bestemmingsplan mag worden afgeweken. Deze periode kan maximaal een keer worden verlengd met nog eens een periode van vijf jaar.
De gemeente is ingestapt in het project omdat ze het belang inzag van ruimte geven aan nieuwe woonbehoefte inzag. Door de woonvraag bij bewoners neer te leggen, komen er vele nieuwe ideeën naar voren die mogelijk de nieuwe woonvraag op kunnen lossen. Om een project als Minitopia op te zetten is nauwe samenwerking nodig tussen verschillende partijen: de raad, de commissie en de initiatiefnemers. Met dit project leert de gemeente van de mogelijkheden: het kijken naar risico's, de prijsvorming, grondzaken, faciliteren, wet- en regelgeving en tijdelijkheid. Het succes van het project en de tijdelijkheid van de woningen leidt er toe dat de gemeente op zoek is naar nieuwe locaties om het project door te zetten.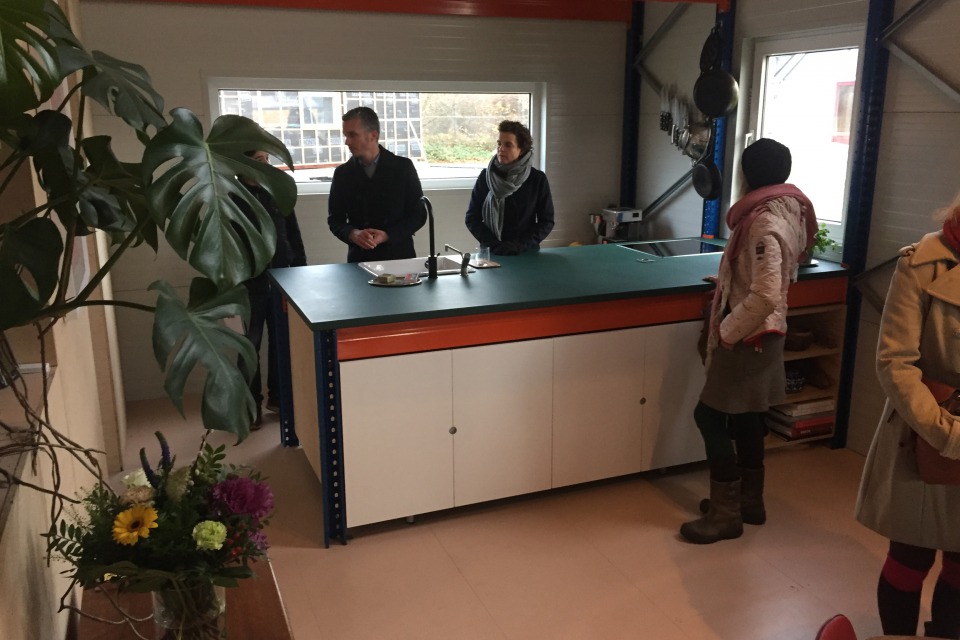 De rol van Woningbouwcorporatie Zayaz
Woningbouwcorporatie Zayaz doet mee aan dit project omdat ook zij op zoek zijn naar nieuwe woonvormen. De woningcorporatie geeft de bewoner zeggenschap. Zo is de financiering geregeld rond de behoefte van de bewoner. De corporatie investeert maximaal 30.000,- euro exclusief btw per woning. De bewoner bepaalt hoe de woning eruit komt te zien en hoeveel de woning gaat kosten binnen dit budget. De huurprijs van de woning worden bepaald door de kostprijs van de woning. Wanneer een bewoner een duurder huis heeft zal hij of zij ook meer betalen per maand. Na een huurperiode van maximaal tien jaar blijft de woningcorporatie eigenaar van de woning. Voorbeeld hiervan is de woning van Stijn. De totale kosten voor zijn woning moet hij uiteindelijk in 10 jaar aflossen, dat komt neer op ongeveer 200-300 euro per maand inclusief vaste lasten. Stijn ervaart met deze regeling een enorme verlaging van financiële druk.
Er is op dit moment nog geen alternatieve financieringsvorm voor tijdelijke woningen zoals een hypotheek. Er zijn wel mogelijkheden om zonder woningbouwcorporatie in Minitopia te wonen, maar dan moet de bewoner zelf over voldoende middelen beschikken.
Woningbouwcorporatie Zayaz ziet met dit project niet alleen kansen om het woongenot van bewoners te vergroten, maar ook een betaalbare en beschikbare oplossing voor sociale huurwoningen. Het is nog wel zoeken naar de beste aanpak. Het aanbieden van verschillende pakketten die de huur bepalen zou een werkwijze kunnen zijn. De pakketten verschillen van grootte, maar worden waarschijnlijk wel kant en klaar aangeleverd. Niet iedereen heeft immers de handigheid en/of tijd om zijn eigen woning te bouwen.
We kijken terug op een inspirerende en informatieve dag en danken de bewoners en initiatiefnemers van Minitopia Poeldonk voor hun enorme gastvrijheid!