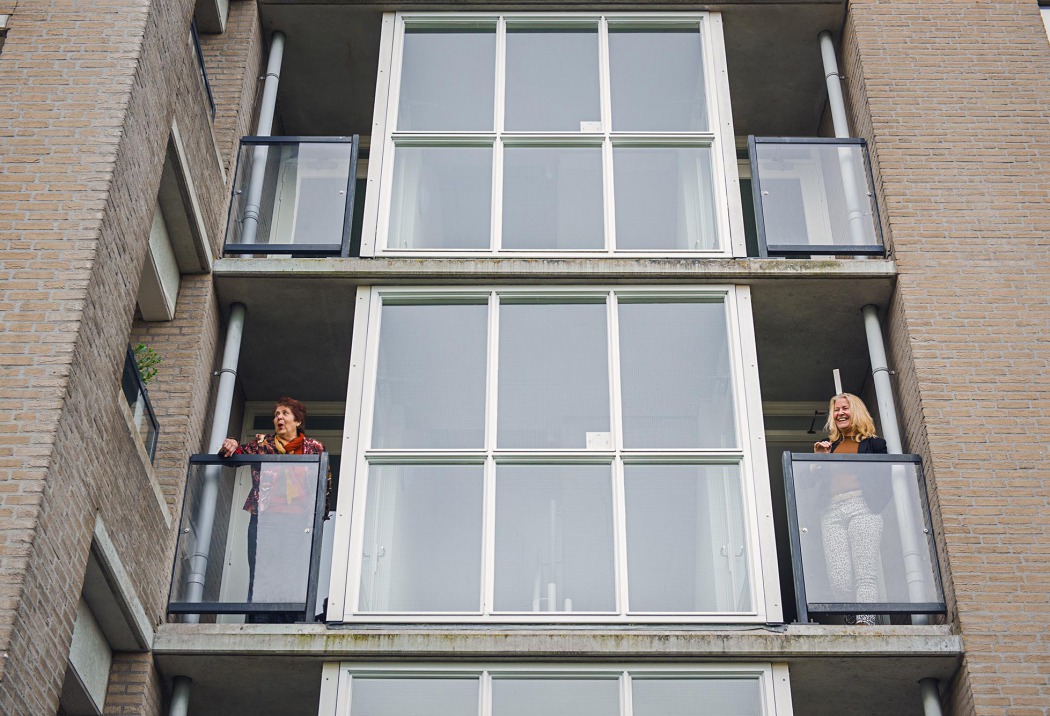 In gesprek met Remco Pols
Sectie

Pandemieportretten
Gesprekken
Participatie
In gesprek met Remco Pols, Regiomanager YMERE over het functioneren van het woon- en participatielandschap tijdens deze crisis. Wat zijn de ervaringen?
In het algemeen sprekend over onze ervaringen; we weten bij Ymere minder van de huurder dan de buitenwereld verwacht. We werken aan visie en verwachtingen. Op dit moment in de tijd moeten we voorzichtig zijn, want we zitten nog steeds in een crisis. De ervaringen zijn vers en langzaamaan kun je verwachtingen benoemen over de betekenis voor de toekomst.
Het gaat per fase. Wij hadden in april 2020 andere verwachtingen wat de coronacrisis voor onze organisatie zou betekenen dan nu. Een goed voorbeeld is digitaal werken. Aanvankelijk dachten we vanuit de eerste schrik dat het een probleem zou opleveren en een paar maanden later dachten we dat het de toekomst zou zijn, thuiswerken, op afstand. Intussen weten we dat we dan iets missen. Als je alleen maar digitaal samenwerkt gaat de creativiteit verloren, want je mist essentiële momenten van samenspraak. Ergens op de lijn van nieuwe mogelijkheden en mindere ervaringen zullen we uitkomen.
De afgelopen tijd was er een van wendbaarheid en flexibilisering, gericht op de toekomst. De situatie kan razendsnel wijzigen, voor je het weet is het alweer anders. Het betekent vooral dat je heel flexibel moet zijn.
Als je spreekt over de ervaringen van Ymere, dan heb je het over spoedreparaties bijvoorbeeld, over digitaal verhuren, maar ook over deelname aan de maatschappij. Mensen zijn veel meer thuis. Er is een verminderde deelname aan de samenleving. Dat betekent dat mensen meer zijn teruggeworpen op zichzelf en op een kleine kring om zich heen. Dat is moeilijk.
Als je kijkt naar het woonlandschap dan is dat voor veel mensen een plek geworden waar je werkt, slaapt en eet. En het vormt het vertrekpunt voor recreatie. De overgangen vervagen. De bewegingsvrijheid is beperkt. Sommige mensen kunnen daar uitstekend mee om gaan en andere mensen helemaal niet. Binnen de eigen organisatie hebben we een breed vitaliteitsprogramma opgezet met aandacht voor rituelen, zoals de overgang van werk naar privé. De vitaliteitsmanager benoemt het belang van rituelen, zoals in je auto stappen op weg naar huis. Het is belangrijk daar nieuwe invulling aan te geven en structuur aan te brengen in de dagelijkse handelingen. We merken dat juist in deze tijd het ziekteverzuim een stuk lager ligt, ver binnen de norm die we onszelf stellen. Het gaat vooral om kortdurend ziekteverzuim, je meldt je niet zo snel ziek, je bent immers al thuis. Langdurig ziekteverzuim, daar maken we ons zorgen over. De omgang met thuiswerken, eenzaamheid of kinderen, het gemis van collega's, dat kan lastig zijn om mee om te gaan. Het vitaliteitsprogramma attendeert medewerkers en leert ze bewust om te gaan met deze situatie.
Welke problemen hebben zich afgelopen jaar voorgedaan?
Een belangrijk vraagstuk in de eerste maanden betrof de financiële kant van het verhaal. De betaalbaarheid. Eerste vraag die wij kregen was of onze huurders de huur nog wel konden opbrengen. Wat betreft de betalingsproblemen hebben zich slechts enkele tientallen huurders bij ons gemeld. Een reden is zeker ook dat we een flink deel van onze woningen verhuren aan ouderen of mensen zonder eigen inkomen, waarbij de uitkering doorloopt. Die mensen kwamen niet in de problemen. Ymere, tussen twee haakjes, dus ook niet: er is daardoor een zekere bedrijfszekerheid. Met de huurders die zich hebben gemeld, is een betalingsregeling getroffen. Op verzoek van de overheid, Aedes en de woonbond zijn de huisuitzettingen of procedures die daartoe kunnen leiden, tijdelijk gestopt. Van de circa vijftien procedures, die we uiteindelijk toch weer hebben opgepakt, heeft er één tot huisuitzetting geleid. Die ene bewoner bleek met de noorderzon vertrokken. Over het algemeen was er heel weinig aan de hand. Dan kun je slechts met verbazing kijken naar de discussie die in Den Haag over de gevolgen van corona voor de huren is gevoerd. De inkomensmaatregelen die de overheid heeft getroffen, hebben voor zover wij dat kunnen overzien, hun doel bereikt. Er zijn veel huurders die financieel niet zijn geraakt en andere huurders hebben waarschijnlijk baat gehad bij compensatiemaatregelen.
Ymere verhuurt ook bedrijfsonroerend goed. Dat is een andere categorie. De kleine bedrijfjes van ZZP'ers zijn geraakt, vooral in Amsterdam. In Haarlemmermeer betrof het ons eigen pand, De Burgemeester, waar direct de eerste week van de crisis de ondernemers de huur preventief wilden opzeggen vanwege de vooruitzichten en de opzegtermijn. Naar die ZZP'ers hebben we ons flexibel opgesteld met bijvoorbeeld het aanbod om opnieuw te huren als het na drie maanden weer kon.
Wat waren de concrete alledaagse hindernissen kenmerkend voor deze tijd?
Ymere heeft veel huurders. Alleen al in Haarlemmermeer gaat het om 12.000 sociale huurwoningen. Aanvankelijk ontving de afdeling overlast minder meldingen. Die heb je altijd; mensen wonen, mensen storen zich aan elkaar, van geluid tot afval. Na de eerste weken werd het drukker bij genoemde afdeling. Achteraf kun je zeggen dat dat ongeveer parallel aan de gesprekken en de toonzetting in de samenleving verliep. Aanvankelijk zaten we allemaal doodsbang thuis en accepteerden we alles aan beleidslijnen en gedragsvoorschriften. Vervolgens raakten we gewend en viel het mee en lieten we de richtlijnen meer los dan misschien verstandig was. En dan ga je je toch weer ergeren aan het geluid van de buurman. Het ging een beetje gelijk op.
Een ander fenomeen is ergernis over bestaande kleine euvels. Als je niet naar je werk gaat, irriteert die lekkende kraan in je keuken je sneller. We kregen ineens veel meer reparatieverzoeken. Dat betekende dat monteurs, 170 personen Ymere breed, naar mensen toe moesten, terwijl dat ongewenst was. Aanvankelijk deden we alleen spoedreparaties, waardoor een enorme achterstand ontstond. Later moesten we die weer inlopen. Als organisatie bewogen we mee op de golven van de crisis en de aantallen. En soms ook wel ertegenin.
Meebewegen met de nieuwe werkelijkheid was ook bij de verhuringen het devies. In het beginperiode van de crisis zijn we overgestapt op digitaal verhuren. Huurders vonden het lastig bij bezichtigingen om zich aan de 1,5 meter te houden. Dat vonden onze medewerkers niet prettig. De gedachte ontstond om heel passend bij de tijd filmpjes van de woningen te maken. We dachten even dat het de toekomst was. Vervolgens merkten we dat het niet werkte, want een filmpje geeft onvoldoende indruk. Het ging vaak om details, het kijken door de ogen van de huurder. Die heeft concrete vragen over de plaatsing van een stopcontact. Na een paar tussenstappen verhuren we inmiddels grotendeels weer fysiek.
Het ging ook om het steeds weer bijstellen van verwachtingen. Van teruglopende aantallen en bijbehorende versoepelingen, naar een volgende lockdown. En nu dan weer versoepelingen. Onze nieuwbouwplannen hebben we voort kunnen zetten. Alle woningen die we wilden opleveren, zijn gelukkig ook opgeleverd. De aannemers konden doorwerken aan het grote renovatieproject in de hoogbouw van Graan voor Visch. Er was enige vertraging, omdat het werk in principe in bewoonde staat zou worden gedaan. Door de crisis konden de aannemers niet zo maar naar binnen, omdat de bewoners in hun woning bleven. Dat betekende dat we logeerwoningen beschikbaar moesten stellen voor de bewoners, waar zij tijdens de werkzaamheden konden verblijven. Die woningen hadden we niet zomaar beschikbaar en daardoor is het project verder uitgesmeerd in de tijd. Het ging concreet om groot onderhoud van 260 woningen dat een half jaar later werd afgerond terwijl het een complex traject was van opknappen, van het gas af naar centrale ketels en compleet elektrische woningen. Het is een mooi project geworden dat ondanks de omstandigheden nu vrijwel klaar is.
Voorzichtig kijkend naar de nabije toekomst, wat zijn aandachtspunten wat betreft de leefbaarheid in binnen- en buitenruimte?
Bij buitenruimte gaat het om vragen over de tuin of de grootte van het balkon, voldoende bewegingsruimte in de buurt, voorzieningen in de buurt, om met elkaar of in je eentje te zijn. Die buitenruimte is van groot belang voor bewoners. Haarlemmermeer is zeer ruim opgezet. Ook als je in een flat woont, kun je naar buiten en dan is er ruimte beschikbaar. Samen met de gemeente dragen we zorg voor veilig, schoon en groen. Er ligt een opgave voor Haarlemmermeer om naast de ruimte ook te voorzien in de behoefte aan compacte woningen, vooral appartementen voor een- of tweepersoonshuishoudens, in alle leeftijdscategorieën. Bij het realiseren van die opgave wordt gestapeld, waarbij je je moet realiseren dat buitenruimte bij stapelen een uitdaging vormt. De vertaling van ruimte kan ook betekenen dat de ruimte niet direct om de woning, maar in de nabijheid van de woning, beschikbaar is. We gaan appartementen verwerven nabij het station, locatie Hyde Park: hoogbouw met een prachtig park richting centrum, dat de beperkte vierkante meters compenseert. Daar kun je op voorsorteren.
Dat geldt ook voor de combinatie werken en wonen in een appartement: dat brengt misschien een andere vraag over het aantal kamers mee. Die nieuwe behoeften nemen we natuurlijk mee in het denken over onze nieuwbouwopgave maar je moet heel erg oppassen om nu al conclusies te trekken over plattegronden en een ander type woning voor een- en tweepersoonshuishoudens. Daar is het echt veel te vroeg voor, over een jaar kan de situatie weer anders zijn. Hetzelfde geldt voor het collectief faciliteren van werkruimte in plinten of andere voorzieningen; dat kan een denkrichting zijn maar gedeelde werkruimtes noemen we nu kantoren. Ymere bouwt woningen voor de eigen portefeuille. We bouwen ze niet alleen, maar we verhuren ze ook zelf. We weten dat we ze voor een heel lange tijd neerzetten. Dan wordt je vanzelf voorzichtig met veranderingen. Een marktpartij bouwt en verkoopt. Wij bouwen en blijven eigenaar van de woning. Dat betekent dat wij gewend zijn in lange periodes te denken. Aanpassingen van de portefeuille doen we stap voor stap, soms misschien ook te langzaam. Zo weten we al een aantal jaren dat we appartementen nodig hebben. Maar het is ook goed dat we niet heel snel zijn want je bouwt minimaal voor 50 jaar dus je moet het weloverwogen doen. Het is een maatschappelijke opgave.
Een moment van herijking, dat is wel nodig met alle uitdagingen waar wij als corporatie op dit moment voor staan. Als het gaat over het gasloos maken van de woningen, dan zie je dat wij dat veel meer dan de markt oppakken. Aan de andere kant hebben wij die investeringen dus nodig voor nieuwbouw. En daarnaast willen onze woningen betaalbaar houden. Dat vraagt voorzichtig handelen.
Is er een boodschap die je mee wilt geven over het maatschappelijk belang in onze regio?
Onze opdracht, het huisvesten van mensen met lage inkomens, is een enorme uitdaging op zich in deze regio. De wachtlijsten zijn lang, de voorraad is gewoon te klein, ook in Haarlemmermeer. Dat is een opdracht waar een andere grote opgave als de energietransitie bovenop komt. Uiteindelijk moet het voor een groot deel betaald worden door onze huurders, dat is best ingewikkeld. Ymere wil meer ruimte om te investeren, hetgeen betekent dat de overheid echt van die verhuurdersheffing af moet. Er liggen prestatieafspraken met de gemeente, waarbij Ymere heeft toegezegd om de komende drie jaar minimaal 300 woningen bij te bouwen. Dat lijkt niet veel, maar is een forse opgave voor ons. Zonder de verhuurdersheffing zouden dat er twee keer zoveel kunnen zijn. Dat is een niet gering aantal. De overheid vraagt dit van ons maar aan de andere kant roomt diezelfde overheid ons af. De overheid heeft een soort straf gezet op het bezit van sociale huurwoningen, daar moet je voor moet betalen. Ymere moet, organisatie breed, in 2021 € 86.000.000 aftikken.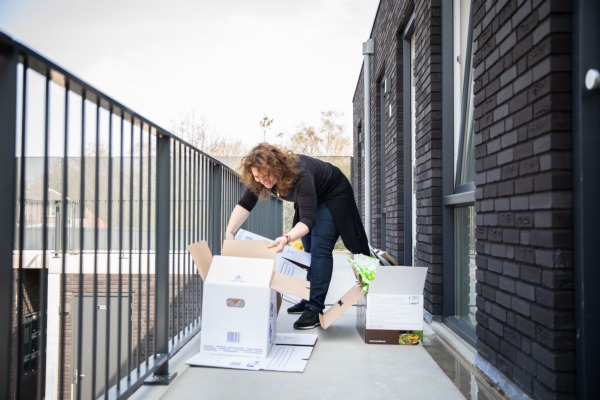 Wat wij het liefst doen is zoveel mogelijk woningen toevoegen. We zeggen niet one size fits all, maar het helpt wel om vaart te maken. Er zijn in Haarlemmermeer veel woningen nodig voor een-en tweepersoonshuishoudens, betaalbare woningen waar een enorm tekort aan is, een klein huis met een tuin of een appartement. Meer bijzondere bouw voor bijvoorbeeld woongroepen vraagt extra aandacht en budget. Daar zijn we terughoudend in. De afgelopen jaren hebben we geëxperimenteerd met de tijdelijke woningen, onder anderen voor jongeren. Dat noemen we nu flexwoningen, die hebben we versneld neergezet. We zijn daar een groot voorstander van en we zijn daar nu opnieuw met de gemeente over in gesprek. Het gaat dan over zaken als locaties en financiële voorwaarden: andere grondprijzen hanteren en experimenteren met langer verhuren of de woningen na verloop van tijd verplaatsen.
Veel gemeentes zien hobbels op de weg bij het benoemen van locaties en er zijn andere modellen nodig om rond te rekenen op de kosten om de woningen neer te zetten. Na realisatie heb je inkomsten uit de verhuur en onderhoudskosten. Zeker als het om een-of tweepersoonshuishoudens gaat kun je op een bierviltje uitrekenen dat je in vijftien jaar niet uit de kosten komt. Op het moment dat je langer rekent dan de vijftien jaar, is er de regelgeving dat de locaties maar tijdelijk mogen. Dus dan moet je andere oplossingen verzinnen. Wij willen dat graag. Haarlemmermeer wordt financieel hard getroffen door de coronacrisis. Wij zijn erin geslaagd goede prestatieafspraken te maken met de gemeente vanuit wederzijds respect en de haalbaarheid op dit moment. We baseren die afspraken op goede samenwerking en vertrouwen in elkaars kracht Er is ook de bereidheid om samen de opgave te realiseren; ieder vanuit zijn eigen rol. Ymere is goed in het ontwikkelen, beheren en verhuren van betaalbare woningen, voor een reeks van doelgroepen. Dat is wat we doen.