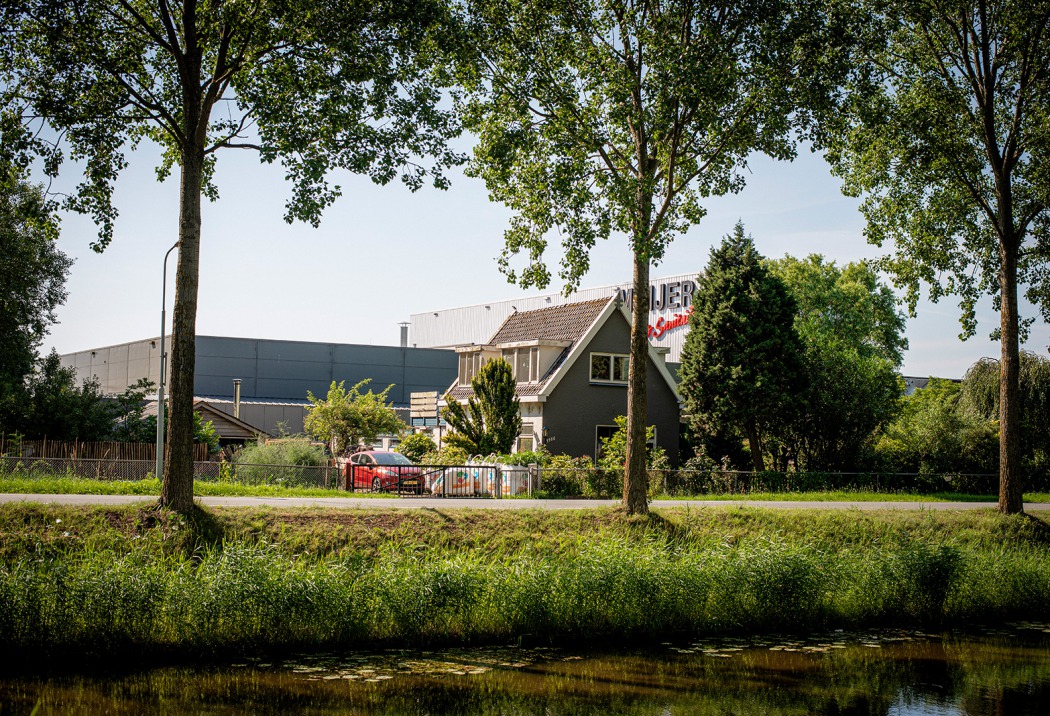 Reinier Bronkhorst bewoner van Nieuw-Vennep
Sectie

Polderlintportretten
Gesprekken
Reinier is voormalig agrariër en verleent tegenwoordig hand - en spandiensten op Landgoed Kleine Vennep. Wat maakt wonen op deze plek aan het polderlint bijzonder?
We hebben lering te trekken uit de dingen die 'fout' zijn gegaan. Benoemen wat we nu zien en waarvan we weten dat het beter was geweest als we het anders hadden gedaan. Bijvoorbeeld waar we hier op uitkijken, het industrieterreintje aan het lint. Het staat te kort op het lint, die dozen, dat gebeurt gewoon.
24 juni, Hoofdweg Nieuw-Vennep
Wat nu langs de Rijnlanderweg gebeurt, die verdozing. De grond is voor milenniumwisseling allemaal al gekocht. Als ouwe boer weet ik dat het daar gaat gebeuren en het gebeurt nu, de verdozing. Nu begint men er opeens over. Wat willen we dan? Wie zorgt er dan voor dat dat niet gebeurt, het is toch de macht van het geld.
Als je naar de toekomst kijkt en enige invloed wilt uitoefenen, moet je sowieso zorgen dat wat er nu open is, open blijft. Er zijn nog open stukken, dat komt door Schiphol, de aanvliegroute. Zorg dan in ieder geval dat als er geen huizen komen onder de aanvliegroutes dat er ook geen bergen dozen komen. We storen ons er al jaren aan, en we doen er ook niets tegen. Er wordt wel gezegd, het is economie en werkgelegenheid maar het zijn allemaal robots en er werken 20 man…in een doos van 6 hectare.
Kleinschalige toevoegingen geconcentreerd om een oude boerderij zou best wel kunnen
Ik fiets veel. De fietspaden zijn best langs de linten. Ik kom de laatste tijd niet meer in Berkel en Rodenrijs, helemaal verhapstukt, oude industrie, nieuwe industrie, nieuwbouw, oudbouw, nieuwe kassen ouwe kassen, dat is wel zo verrommeld. Wij hebben geluk door Schiphol, het is hier nog niet zo verrommeld. Op m'n racefiets langs de oude genie, langs het oude zwembad, de IJweg in, Polderbaan op, heb ik het zelfs in Haarlemmermeer naar mijn zin, ik kan nog ver kijken, ik zie Amsterdam liggen, Halfweg, de Suikerfabriek met de silo's. Vergezichten zijn belangrijk, het vlakke open landschap. Schiphol hoeft niet te groeien, het mag wel iets minder, of er nou 100 of 2000 over die baan gaan, maar door het vliegen blijft het landschap wel open.
Er is al wel verrommeling maar nog niet in een vergelijkbare staat als in het Westland, ook een drama. Dat gebeurt hier gelukkig niet en dat is belangrijk.
Deze plek langs de Hoofdweg, je loopt van de kruising langs de huizen uit de jaren '80 in een groene tunnel. Dat heeft grote waarde en het is niet zo'n grote moeite om aan te leggen, bomen planten is niet zo moeilijk. Eenmaal per 25 jaar gaan de bomen plat. Ook al staan er groene dozen, dan kun je toch nog een groene tunnel maken. Aan beide kanten van de weg planten. Polderlinten van bomen maken.
Aantasting kwaliteit
Een van de mooiste boerderijen, naast de Meerkerk, wat wordt daar tegenover gezet, een doos van een Chinees hotel. Het liefst ging ik er vandaag met een sloophamer naartoe. Hoe moet dat in de toekomst, dit mag nooit meer. Het is niet erg dàt ze hem neerzetten, maar precies RECHT ERVOOR…als het nou net 100 meter verder was geweest, dan was het al minder erg. Een ander voorbeeld is de boerderij van Bulk, waar nu zorg is. Ik had er bedenkingen over omdat ze er huizen omheen gingen bouwen. Geen stolp, het land was van een stichting waar onze boerderij ook van was. Als je daar voorbij fietst, kijk je altijd, omdat je er als kind altijd al langs kwam, de Margaretha Hoeve. Toen dat bord kwam, zag ik meteen allemaal rommel komen. Er kwamen 30 huizen omheen en dat valt nou weer bar mee, dat is best mooi geworden. Het past bij de boerderij. Het is er misschien nog wel beter door geworden. Kleinschalige toevoegingen geconcentreerd om een oude boerderij zou best wel kunnen. Goed gedaan.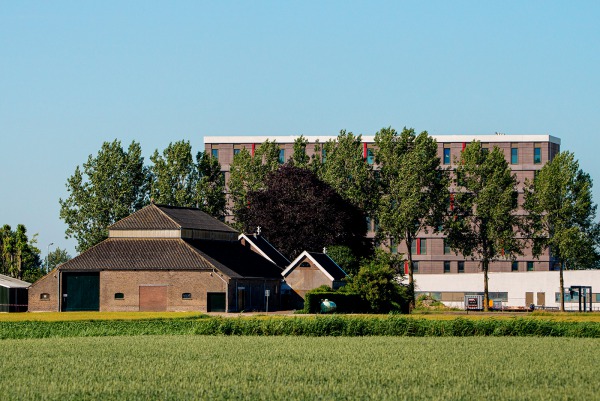 Wat moet je over de Hoofdvaart zeggen. Het is gewoon een mooi ding. De Calatravabrug daar hebben ook veel mensen hun bedenkingen over. Wij zijn er altijd heel positief over gebleven. Haskoning en Oranjewoud, als boer ben ik technisch, dus bij de aanleg heb ik me er ook mee bemoeid, ik lul graag, kraan opbouwen, alles wat je kapot maakt moet je herstellen, maar alles bleef heel.
Een week of zes voor de opening door de koningin, werd ik gebeld, door de gemeente of ' u dan namens de gemeente de koningin wil ontvangen'. Ik ging fietsen en voor ik in Abbenes was, had ik een plan. Ik zat op de fiets en dacht, wat moet ik met dat mens aan, je moet een ingang hebben: 'Van ruisend graan, naar ruisende tuien'. Mijn vader heeft 40 jaar in Oranjevereniging gezeten. Toen Haarlemmermeer 100 jaar oud was, werkten alle Oranjeverenigingen samen. Ouwe Juul kwam toen praten. Ze was er, bij de opening. Ze had zich goed voorbereid ze wist dat haar moeder hier was geweest. Het ging overigens fout. Het geluid deed het niet. Paniek. Dat beginnetje. Ik begon een beetje in de oudheid. Maar Beatrix vond, 'ze kwam nu ook met de bus van Beuk, en niet met de postkoets'. Waar gaat het om? Niet teveel in de oudheid lullen.
Bestemmingsverkeer, dat is al een zegen. Vanuit verkeersafhandeling; de Hoofdvaart is steeds beter ingericht, met de rotondes en deze kant verkeersluw.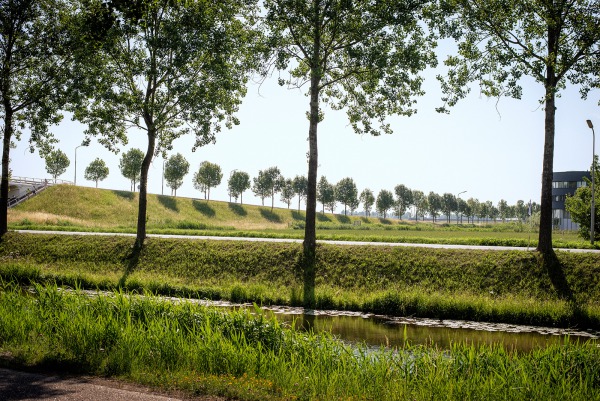 Niet ingrijpen. Niet te veel rarigheid erbij. Niet alle veranderingen zijn altijd verbeteringen. De kant boven Hoofddorp is echt wel fraai. Richting Abbenes ook. Het enige waar de Hoofdweg niet zo fraai is, is door de dozen die er te kort op staan. In Hoofdorp is het nog steen met kantoren. Maar die stalen dozen….
En het industrieterrein Hoofddorp, nu komt er woningbouw op een stukje waar industrie gepland was. Wijzigen van industrieterrein naar woningbouw. Dat hofje dat vormt in de toekomst meteen een compleet eigen getto. Geen voorzieningen, een afgezonderd stukje wonen midden op een bedrijventerrein. Denk gewoon goed na over wat waar komt. Voorkom die incidenten.
Nu zit je weer met grondlawaai van de Polderbaan. Industrie die toch al bejaard is, weg ermee. Een buffer van industrie. Niet perse slim bedacht. Bedrijvigheid, en dan minder, daar zou ik wel voor kiezen. Concentreren zou wel interessant zijn. Hoogbouw.
Beleving & persoonlijke noot
Ook al weet ik het, het winstbejag in de hele ontwikkeling van de maatschappij, dat zou wel eens een beetje minder mogen. Het algemeen belang zou voorop moeten staan.
Vergezichten zijn belangrijk, het vlakke open landschap