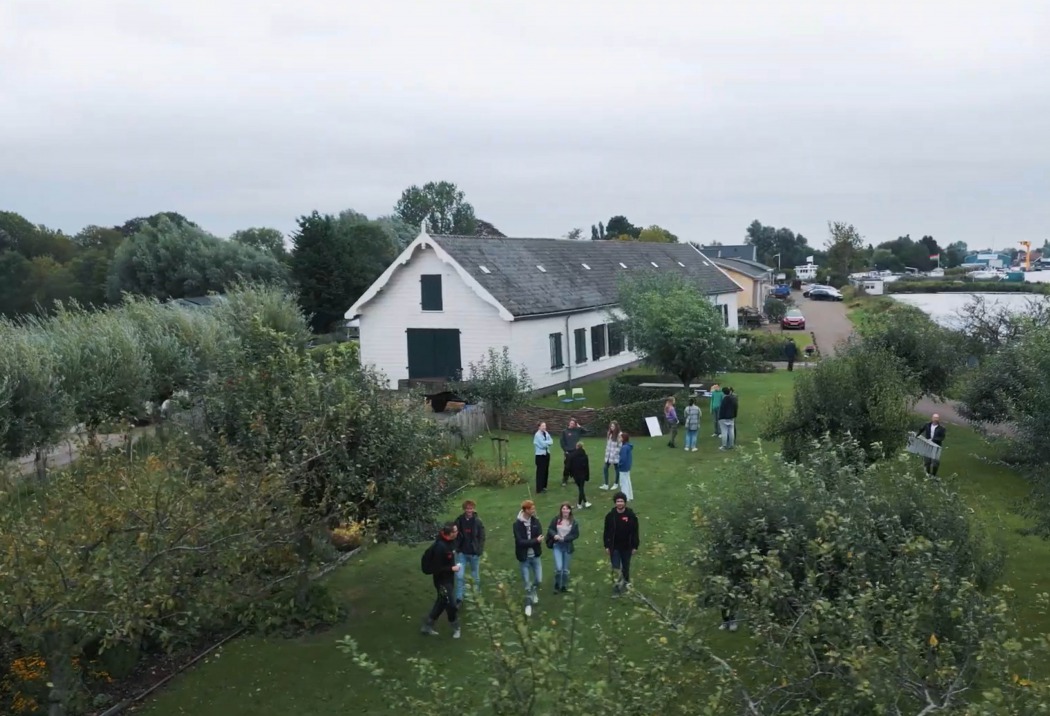 Op 20, 21, 22 september organiseerde Podium voor Architectuur met partners een zogenaamde Makathon bij het Fort bij Aalsmeer. Zo'n 35 studenten van alle leeftijden verkenden in kleine groepjes met elke een coach het ruim honderd jaar oude Fort, bedachten er vervolgens nieuwe plannen voor en maakten ten slotte een ontwerp.
Hoe maak je erfgoed zoals dit fort toegankelijk en 'beleefbaar', en in hoeverre kan circulair denken, ontwerpen en bouwen daarbij helpen? Op de laatste dag van deze makathon, vrijdag 22 september, vond op dezelfde locatie een (mini)conferentie plaats, gewijd aan diezelfde vraag.
Impressies van Pieter Hoexum van de miniconferentie "Accessen tot Erfgoed – de impuls van circulair denken".
1. Toegankelijkheid
Een van de vele intrigerende vragen die in het draaiboek voor deze miniconferentie gesteld werden, was de vraag naar de toegankelijkheid van het Fort Aalsmeer: Hoe toegankelijk ís het fort, hoe toegankelijk kán het worden? Of zelfs: Hoe toegankelijk wíl het fort worden? "Wat wil het fort?", was misschien we de meest intrigerende vraag die het draaiboek noemt. Die vraag is behoorlijk ironisch, want als een fort iets wil, dan is het toch bezoekers weren. De belangrijkste eigenschap van een fort is immers zijn óntoegankelijkheid. Het fort is onderdeel van de Stelling van Amsterdam, die er is om de hoofdstad en de ommelanden, te verdedigen – hermetisch af te sluiten om ongewenste bezoekers uit te kunnen sluiten.
Maar wat het fort oorspronkelijk wilde – waar hij voor bedoeld was – doet er inmiddels misschien minder toe. Het bouwwerk is nogal overbodig geworden. Erger misschien nog wel: het is nooit gebruikt. Tijdens de Eerste Wereldoorlog is het wel in gebruik geweest, in die zin dat de forten bemand waren. Steeds voorbereid op een aanval… die nooit kwam. De bemanning van de forten kreeg te maken met een heel andere, geniepige vijand, die van binnenuit kwam: verveling. Het fort zelf lijkt daar geen last van te hebben, het ligt nog altijd geduldig te wachten. Het fort lijkt alle tijd te hebben. Misschien wil het fort vooral met rust gelaten worden? Het lijkt nu vooral een eiland van rust in een nijvere, overijverige en vooral bedrijvige omgeving. Het fort wordt als een soort grote, ouderwetse koektrommel van alle kanten aangevallen door reusachtige, hypermoderne 'dozen' (bedrijfspanden).
Sinds begin jaren zestig zijn de forten van de Stelling niet meer in gebruik. Dat wil zeggen, ze worden niet meer gebruikt voor de oorspronkelijk, militaire doeleinden. Maar daarmee zijn ze toch niet onbruikbaar geworden. Het Fort bij Aalsmeer is momenteel (gedeeltelijk) in gebruik bij CRASH, het Luchtoorlog- en Verzetsmuseum '40-'45. Een voormalige genieloods is in gebruik van een schietvereniging en een andere voormalige loods was jaren lang een fortboerderij, en doet nu dienst als een soort bezinningscentrum, ideaal voor zogenaamde heidagen ('wij organiseren voor leiders en vakmensen van de toekomst inspirerende sessies over persoonlijke groei, cultuurverandering, samenwerking en leiderschap').
Is dat alles wat het fort nu, op dit moment, wil? Wat kan er nog meer mee gedaan worden, en hoe passend is dat? En misschien nog wel belangrijker: wie en wat, welke dieren en planten, hebben het fort ondertussen al lang in gebruik genomen? Hoe kan ons gebruik daarbij aansluiten? Oftewel: hoe kunnen we het fort de komende tijd gebruiken, zonder het op te gebruiken, uit te putten? Duidelijk is dat je daarbij behoedzaam te werk zult moeten gaan, want het ooit zo stoere, onaantastbare fort is inmiddels nogal kwetsbaar. De Stelling die Amsterdam en ommelanden moest beschermen, heeft nu zelf bescherming en vooral aandacht nodig.
2. Bereikbaarheid
Maar voordat die vraag naar de toegankelijkheid aan de orde kan komen, is er een andere meer praktische vraag: Hoe bereikbaar is het fort? Hoe kom ik daar vandaag (22 september 2023), op deze regenachtige ochtend? De miniconferentie staat in teken van circulariteit, dus de auto lijkt niet de eerste keus. Bovendien waarschuwt de organisatie dat de parkeergelegenheid zeer beperkt is. Fietsen is aanlokkelijk, maar daarvoor is het net te ver (anderhalf uur). Met de trein zou ik naar Hoofddorp kunnen en dan een bus nemen, naar halte Knooppunt Schiphol Zuid, vanaf daar is het een klein half uur lopen. Dat is verleidelijk…. maar de OV-fiets is nog verleidelijker. Als je op station Hoofddorp een OV-fiets neemt, fiets je in een kaarsrechte lijn dwars door de polder naar het fort, langs de geniedijk. Het is ongeveer een kwartier fietsen, precies goed om enigszins gevoel voor de maat van de polder te krijgen, aangezien het fort aan de rand van de polder ligt en het station ongeveer in het midden.
Het wordt dus de trein en de OV-fiets. Dan moet ik nog geschikte kleding kiezen. Een wandelbroek en wandelschoenen, een vest en een regenjas, dat zal toch volstaan. Om kwart voor tien kom ik aan op het station, vind de fietsen feilloos en begeef me naar de geniedijk. Het is gelukkig droog en waait niet al te hard. Aan de ene kant is het een hele aardig fietstochtje, door het groen van het (nog niet voltooide) Geniepark, waarbij je regenmatig uit moet wijken voor schapen (en vooral hun uitwerpselen), wat het landelijk gevoel versterkt. Aan de andere kant vliegen er steeds vliegtuigen over, moet je een snelweg oversteken (met een fraai fietsviaduct, dat wel), en rijd je uiteindelijk tussen bedrijventerreinen door. Je komt onderweg ook alvast wat erfgoed tegen: een hele reeks kleine gebouwtjes, oude munitiebunkers die tegenwoordig dienst doen als ateliers.
3. Aanklooien
Iets na tienen kom ik aan op het fort, dat gerenoveerd wordt. De conferentie vindt plaats in de 'Fortboerderij', die gevestigd is in een voormalige genieloods. Klokslag half elf luidt Yvonne Lub van Podium voor Architectuur daar de bel. Ze heet ons welkom en wijst ons de 'strobalenarena'. Dat is inderdaad een kleine arena, gemaakt van strobalen, met daarop schapenvellen en hier een en daar een kussentje. Én er staan twee grote beeldschermen en een hele batterij apparatuur. Nostalgie en moderniteit gaan hand in hand.
We krijgen een filmpje te zien over de eerste dag van de Makathon, waarna Maurits van Putten van de Rijksdienst Cultureel Erfgoed het woord krijgt. Hij moedigt ons aan deze dag niet bureaucratisch te denken, niet in termen van regels en van wat mag en wat niet mag. De natuur en de verbeelding hebben het vandaag voor het zeggen. En we moeten vandaag niet alleen onze ogen, maar al onze zintuigen gebruiken. Wat dat laatste betreft: het is bepaald niet warm in de strobalen arena, ook al staat hier een daar een heater af en toe aan, maar het tocht behoorlijk. Dat stoort eigenlijk helemaal niet, integendeel, dat houdt ons fris.
Moderator Eva van Breugel (AIR - Architectuur Instituut Rotterdam) introduceert de dag en de sprekers van vandaag verder. Als eerste is dat architect Peter van Assche, die er ook uit ziet als architect: voornamelijk in het zwart met een hippe bril. Hij vertelt over twee kloosters uit de middeleeuwen die met de Franse Revolutie opgeheven werden. Het ene gebouw werd omgebouwd tot een zeer succesvolle papierfabriek, de ander werd stukje bij beetje gedemonteerd door mensen uit de buurt, die stukjes en beetjes hergebruiken voor hun onderkomens. Het gaat Van Assche er niet om de een boven de ander te verkiezen, juist niet: beide zijn goede manier van hergebruik, van circulariteit. Er is niet één ware methode voor circulariteit – die les hebben we alvast geleerd.
Een volgende les van Van Assche is dat je met het oude materiaal een nieuw gebouw zou moeten willen maken. Het gebouw moet er goed, liefst hedendaags, uitzien. Als architect of ontwerper heb je iets toe te voegen aan het materiaal, namelijk vernuft en kunstzin. En dan is er nog iets: er moet iets leuks zijn aan het nieuwe bouwsel, iets dat je vrolijk maakt. Dat is misschien wel de belangrijkste les van vandaag: het verleden is ook vaak een last, die bijna ondragelijk kan zijn; de circulair werkende ontwerper is er juist voor dat verleden dragelijk en licht te maken.
Daarna vertelt architect Gijs de Waal, die er opmerkelijk sportief uitziet, over de Gerritshoeve in Hoofddorp. Dit grote café-restaurant is deels gemaakt van een schuur uit 1880 die in de buurt aangetroffen werd en over de weg hiernaartoe verplaatst is. Ook De Waal benadrukt dat circulariteit niet betekent dat het er armoedig, schamel uit hoeft te zien, integendeel: de klassieke waarden van de architectuur (stevigheid, duurzaamheid en schoonheid) worden in ere gehouden.
Een les die hij mee wil geven is dat circulair werken vooral méér werk betekent: het is zeer arbeidsintensief en dus kostbaar. Maar als het goed is ben je uiteindelijk niet duurder uit omdat het materiaal veel goedkoper is. Het vergt wel een heel andere organisatie, een andere manier van denken en doen. Van Assche, van huis uit wiskundige, had ook al zoiets opgemerkt: wie spaarzaam te werk wil gaan, moet vooral logisch te werk gaan. Niet logisch in de zin van snel en efficiënt, want dat blijkt vaak genoeg juist tijdrovend en verspillend… en ronduit ónlogisch. Het gaat om 'logisch' in de zin van samenhangend, doortimmerd, doorzichtig – zodat je vervolgens kan improviseren. Dat laatste benadrukt De Waal: hij noemt zijn manier van werken graag ambachtelijk, hij denkt met zijn handen. Bovendien werkt hij niet in zijn eentje maar wil hij juist 'de intelligentie van de bouwplaats' benutten. Zo kan je steeds blijven handelen naar bevind van zaken.
Precies dat probeert ook architect Stephan Schagen. Net zo bevlogen als nonchalant vertelt hij over zijn langlopende project 'kijken in de grond'. Hij ging op zoek naar een alternatief voor de baksteen, de op zeer hoge temperatuur gebakken en dus energie slurpende steen. De leemsteen is een lucht gedroogde steen, die maar een fractie kost van de baksteen. Schagen reist met anderen stad en land af, op zoek naar grondstoffen, letterlijk: het spul dat zich in de grond bevind. Ter plekke maakt hij daar een leemsteen van én verzamelt hij verhalen over de plek. Door dat in kaart te brengen, krijg je een heel overzicht van de bruikbaarheid van de ondergrond van het hele land, én van de verhalen van die plek. Het is misschien eerder een poëtisch dan een praktisch of wetenschappelijk project. Schagen bepleit een speelse aanpak: we moeten terug de zandbak in, 'hutten bouwen', 'aanklooien'.
4. Prakkiseren
Na de lunch volgt nog een middagsessie. Om te beginnen vertelt Paul Bos, alias Boer Bos, over zijn verbouwde, hergebruikte fortboerderij. Hij is hier opgegroeid, maar verwisselde het al snel voor het snelle bedrijfsleven… om uiteindelijk weer terug te keren en te vertragen. Na terugkeer vroeg zijn vader hem eerst maar eens vier seizoenen mee te draaien. In dat jaar leerde Bos te handelen naar bevind van zaken. En dat verveling vooral voortkomt uit haast en dat er een goede remedie is: je geduld bewaren.
Bos zou een opvolger willen zijn, omdat de Haarlemmermeer die nodig heeft. In de polder heerst toch nog vooral de pioniersmentaliteit: mouwen opstropen, aanpakken, vooruitgang boeken, oude meuk opruimen en niet omkijken. Een pionier wil liefst een schone lei. Een polder is daar in eerste instantie geschikt voor, maar inmiddels is deze lei beschreven en het zou zonde zijn dat allemaal uit te wissen. Het is nu een kwestie van voortborduren, voortbouwen.
De volgende spreker, Menno Heling, vertelt om te beginnen dat hij met de fiets gekomen is, om dezelfde reden als ik: om het landschap beter te kunnen beleven. Beleving staat voor hem sowieso centraal. Op de door hem bedachte website If then is now (ifthenisnow.eu) staat niet zozeer objectieve, als wel subjectieve geschiedschrijving centraal: het gaat daar om de verhalen over een plek, 'narratieve geografie' als het ware. Hij noemt nog enkele inspirerende voorbeelden van dergelijke vormen van lokale geschiedschrijving, met name Martijn Doolaard. Deze grafisch vormgever en filmer maakt op youtube filmpjes over het verbouwen van zijn hut in de Italiaanse Alpen. Hoewel hij dus 'youtuber' is en enorme hoeveelheden volgens trekt, zijn de filmpjes allesbehalve hip… Ze zijn lekker 'saai', dat wil zeggen traag, bedachtzaam, poëtisch.
Heling laat het woord identiteit vallen. Hij is zich er gelukkig van bewust dat dat woord de afgelopen decennia in handen is gevallen van regio- en city-marketeers. Het is een leus geworden, een manier om een regio of stad te verkopen. Iemand als Doolaard laat zien hoe je ook met identiteit om kan gaan: hij neemt de tijd, luistert en kijkt uitgebreid naar de plek, om zich er stukje bij beetje mee te vereenzelvigen, te identificeren. Zonder dit nu meteen te willen idealiseren, ziet het er in inderdaad erg goed uit, en lijkt er bij Doolaard sprake van een werkelijke symbiose, een samenleven van verschillende levensvormen.
Vervolgens zet Heling het gezelschap nog aan het werk in 'actieve denksessies': in groepjes denken ze hardop na over het herbestemmen van het fort. Tijdens de denksessie ga ik even koffiedrinken en raak aan de praat met Heling, onder andere over het 'aanklooien' van vanochtend. Heling wil daar nog iets aan toevoegen: 'prakkiseren'. Aanklooien en prakkiseren. Dat is wat we deze dag eigenlijk gedaan hebben, en dat is misschien ook wel waar de plek om vraagt, 'wat het fort wil'.
5. Stro
Tot slot van de dag en van de makathon bespreken we de uitkomsten van de actieve denksessie en beluisteren we de 'pitches' van de ontwerpen van de makathon. Een jury kiest uit de zes ontwerpen drie die gerealiseerd zullen worden. Maar eerst was er nog een hele korte presentatie van de resultaten van 'expertbijeenkomst' die parallel aan de actieve denksessies plaats had gevonden onder leiding van Erwin Niedeveld. En we werden herinnerd aan een oude polderwijsheid: "Boompje groot, plantertje dood.": ontwerpen doe je met oog op de toekomst, die je zelf wellicht niet meer mee zal maken. En, voegden zij er nog aan toe, je doet dat ook nog met oude bouwstenen: 'Innoveren in preserveren'.
Iedereen blijkt goed geluisterd te hebben naar de opdracht. En naar het fort. Ze hebben het zeer goed aangevoeld en hebben zich helemaal ingeleefd. De ontwerpen zijn allemaal gericht op beleven, zonder dat je van entertainment kan spreken – niemand komt met zoiets als een escape room of paintball-toestanden. Alle ontwerpen zijn heel beleefd en toch niet saai, maar juist avontuurlijk – kalm avontuurlijk. Het gaat om beleving van stilte, water, groen en ruimte voor dieren. Kunnen we stilte realiseren op erfgoedlocaties?
Inmiddels is het vijf uur geworden, tijd voor een afsluitende borrel. En tijd huiswaarts te keren. Op de fiets schiet de documentaire "Het is een schone dag geweest' van Jos de Putter mij te binnen. Het is inderdaad een schone dag geweest, met gelukkig niet alleen terugkijken maar ook vooruitkijken. In de trein terug wordt ik nog aangenaam verrast door wat plukjes stro uit de strobalenarena die aan mijn broek en sokken zijn blijven haken.