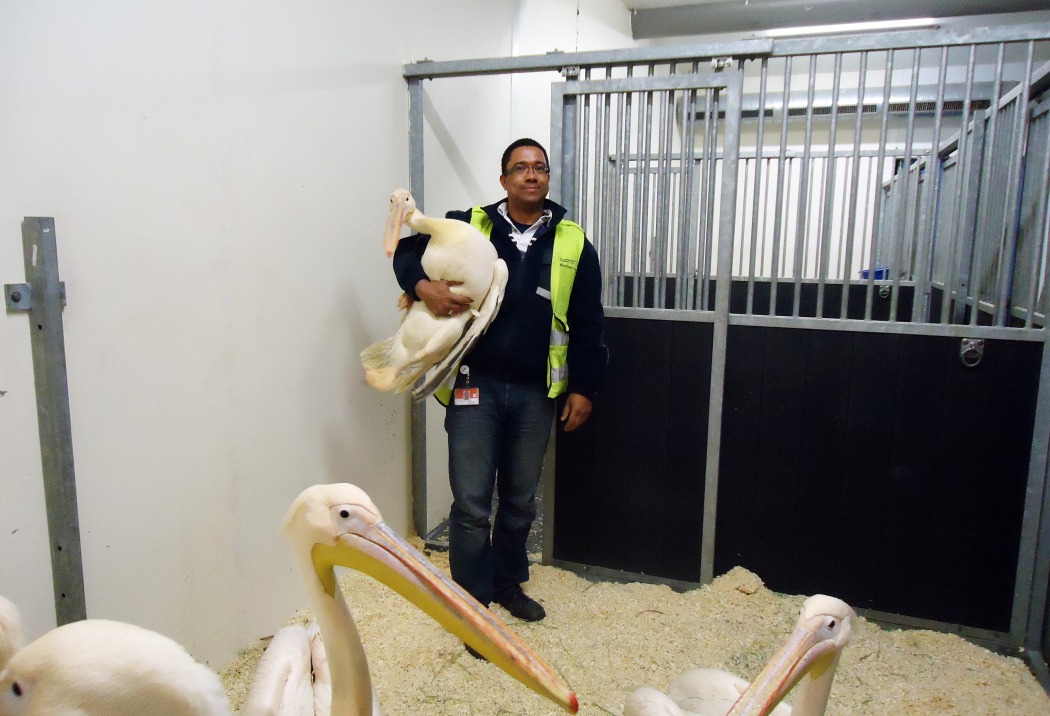 Veiligheidsportret 13 // Raymond
Sectie

Gesprekken
Veiligheidsportretten
Participatie
Raymond woont in Nieuw-Vennep. Geboren in Appingedam, ging hij via Winterswijk en Almelo – waar hij zijn jeugd doorbracht – naar Wageningen voor een studie Dierwetenschappen. Na veel omzwervingen kwam hij bij de KLM, als productmanager bij het dierenvervoer.
Zelf heeft hij ook veel dieren weggebracht, hij reisde bovendien vaak naar conferenties. Dieren houden is een hobby. Hij heeft papegaaien, schildpadden, kippen, vogelspinnen en honden. Bij de KLM houdt hij zich nu meer bezig met de coördinatie van het vervoer in het algemeen.
Het veiligst buiten de deur
Raymond voelt zich juist veilig als hij weg kan. Vanuit Nieuw-Vennep is hij zo op de snelweg. Dan gaat hij bijvoorbeeld naar het strand met zijn honden, of naar vrienden. Dat is prettiger dan in je eigen omgeving blijven. Hij maakt zich minder druk over vragen als "is er wel genoeg straatverlichting?".
"Ik voel me veilig als ik snel weg kan, daarom woon ik hier zo graag."
Die ultieme vrijheid. Niet alleen met de snelweg, ook met Park21 en de Venneperhout. Open stukken. De horizon zien. Vrienden die in de stad wonen zeggen wel eens het uitzicht te missen. In bijvoorbeeld New York is je wereld veel kleiner met al die gebouwen om je heen, net als in São Paulo en Chinese steden. Het parkachtige Sydney is bijvoorbeeld veel prettiger.
Dit heeft van alles te maken met de veiligheidskwesties die hij tegenkomt op het werk. Nadenken over veiligheid thuis doet hij daarom graag zo min mogelijk.
Meer gebouwen, minder veilig
"Haarlemmermeer wordt wel langzaam voller met gebouwen, en vooral met lelijke blokkendozen. Zoals bij de Nelson Mandeladreef, of als je Nieuw-Vennep binnenrijdt. Zo'n mooie open polder, bouw dan eens iets moois. Mooier is de fouragehandelaar aan de Hoofdweg: die heeft bijgebouwd zonder dat het je opvalt. Dat is een heel andere tak van veiligheid: bedreiging van een open landschap."
Veiligheid, geborgenheid wordt dan bedreigd. Een plek waar je je prettig voelt. En dan staat er zomaar opeens iets "in je achtertuin". Zelf heeft Raymond daar op dit moment geen last van, hij heeft een vrij gebied rondom zijn huis. Er zijn ambitieuze plannen om er woningen omheen te bouwen, maar dat is al een paar keer uitgesteld.
"In groen moet je lekker je gang kunnen gaan, tekeer kunnen gaan. Dat is hier zo. Er lopen hier over het algemeen geen enge figuren rond. Als je het vergelijkt met steden wereldwijd, dan is dit echt een dorpje." Hij heeft zijn schuttingdeur soms ook gewoon open staan. Hij voelt zich duidelijk veilig. "Nou helpen die papegaaien ook wel, die kunnen snel gaan gillen. Maar in elk geval hoeven niet altijd alle deuren op slot."
"Dat is een heel andere tak van veiligheid: bedreiging van het open landschap."
Sociaal cement in je woonomgeving
Raymond heeft er eigenlijk nooit zo over nagedacht – wat wel iets zegt over zijn veiligheidsgevoel – maar als je het dorp zo uit kunt, kan een dief of andersoortige misdadiger er ook makkelijk in. "Dan kun je wel op je buren rekenen. Die bellen je als ze iets ongewoons merken. De buren zijn wel 45+, maar niet allemaal 65+. Ze mogen elkaar graag, kunnen makkelijk bij elkaar binnenkomen. Daarom helpen, ondersteunen we elkaar, lenen elkaar ook makkelijk dingen. Dus sociaal cement, eenheid in een buurt. We komen graag bij elkaar iets drinken, en dat komt ook goed uit want het dorp heeft niet zoveel te bieden. Dan rijd je er liever uit."
"Natuurlijk kun je je onveilig voelen als er jongeren samenklonteren, maar omgekeerd: hoe voelen zij zich nou eigenlijk als ze altijd zo bekeken worden? We mogen best wat meer beschermend tegen de jeugd zijn. Dat rondhangen deden we op die leeftijd allemaal."
Veiligheid in de wereld
Op nationaal of wereldniveau gebeurt wel veel waarin veiligheid onder druk staat, maar in Nieuw-Vennep zie je daar niet zo gauw iets van. De toestand in de wereld is best zorgelijk, maar Raymond zelf raakt dat niet echt. Oorlogen elders in de wereld zullen wel economische gevolgen hebben, maar dat betekent niet direct een gevoel van onveiligheid.
Afsluitend: verkeersveiligheid
Toch nog een puntje om te noemen: "Als je naar Schiphol fietst, moet je best veel stoppen, goed kijken. Daar word je ongeduldig van. Het zou echt een stuk veiliger zijn als er een aparte fietsroute was. Een probleem zijn ook de losse stoeptegels, die blijven vaak maar liggen. Dat geeft een veilig gevoel. Net als fietsen op de vele wegen zonder fietspaden."