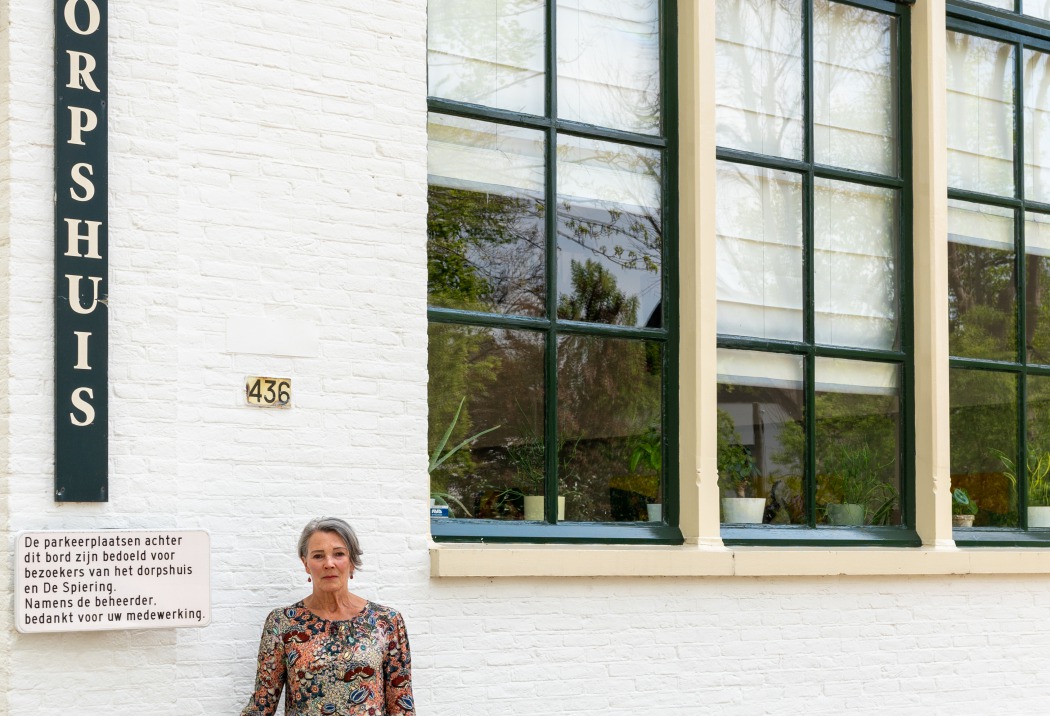 Veiligheidsportret 5 // Fieke
Sectie

Gesprekken
Veiligheidsportretten
Participatie
Fieke woont een jaar of 25 in Vijfhuizen en is actief in de dorpsraad. Na een start in de redactieraad van het dorpsblad is er een jaar geleden een bestuursfunctie bij gekomen. Sinds Fieke gestopt is met haar baan als secretaresse / officemanager, werkt ze als invalkracht in verschillende functies. De dorpsraad heeft maatschappelijke betekenis en geeft Fieke extra binding met het dorp.
Het begrip veiligheid lijkt in het dagelijks leven van Vijfhuizen geen negatieve betekenis te hebben. Dat besef benoemt Fieke als een luxe situatie in een land dat over het algemeen veilig voelt. Op het moment dat het interview plaatsvindt dreigt een Russische inval in Oekraïne. Voor een generatie die geen oorlog heeft meegemaakt, voelt dat bijna onwezenlijk en ver weg. Op lokaal niveau heeft de internationale dreiging geen betekenis. Op dorpsniveau heeft veiligheid een concrete definitie.
"Ik geloof dat ik mij heel veilig voel. En ik realiseer me dat dat een luxe situatie is, wonen en leven in een veilige omgeving, in een land dat veilig is. In ons land weten we dat het nog altijd goed geregeld is: als je ziek bent, weet je dat je wordt opgevangen, dat de gezondheidszorg goed is. Bijna alle inwoners kunnen redelijk wonen, in een veilige omgeving. We hebben in Nederland geen sloppenwijken en wel toegankelijke sociale voorzieningen. Dat is bepalend voor ons gevoel van veiligheid."
"Je veilig voelen zit vaak in kleine dagelijkse omstandigheden die invloed hebben op je welbevinden."
Welbevinden
"Op wijkniveau en binnen het dorp spelen soms gevoelens van onveiligheid. Het kan gaan om burengerucht, hangjongeren. Dat kan klein lijken, maar tast het gevoel van veilig zijn aan. Onveiligheid zit vaak in dagelijkse omstandigheden die invloed hebben op je welbevinden. Deze onderwerpen en de ervaringen van bewoners, daar spreken we over in de dorpsraad en we proberen er iets mee te doen. Het betreft thema's als verkeer, jongeren en kleinschalige obstakels in de directe leefomgeving, zoals losliggende stoeptegels en straatverlichting."
"De basale voorzieningen op microniveau zijn belangrijk voor het gevoel van veiligheid. Dat realiseerde ik me laatst toen de lantaarnpalen kapot waren."
"Wat betreft de leefomgeving is verkeer een aandachtspunt. Doorstroom, bereikbaarheid, mobiliteit zijn van belang voor Vijfhuizen. Anderzijds, de verkeersaders lopen dwars door het dorp en binnen de kern zijn er momenten met grote verkeersdruk. Het is een ontwerpopgave, hoe los je dat op, hoe leid je de stromen in goede banen? Er liggen drie duidelijke opgaven."
"We hebben een school waar 's ochtends een soort heksenketel ontstaat door de hoeveelheid auto's waarmee de kinderen naar school worden gebracht. De dorpsraad verwacht dat de verkeersdrukte zal toenemen op verschillende locaties met de intensivering van de woningbouw bij Wickevoort in Cruquius. De Drie Merenweg is verkeersintensief en moeilijk om over te steken. Er wordt veel door rood gereden. Bij de voetgangersoversteekplaats moet je rennen want de verkeerslichten springen snel terug naar rood."
"Hoe kunnen we jongeren een plek bieden? Rondhangen is toegenomen tijdens de pandemie. Wat kan een veilige plek zijn die past bij hun leeftijd en behoeften, waar je iets kunt drinken, ontmoeten? Die vraag leeft ook bij de dorpsraad."
In gesprek blijven
"De dorpsraad is samen met Meerwaarde in gesprek met jongeren om te horen wat zij graag willen aan verblijfs- en ontmoetingsplekken. Jongeren vinden het heel vervelend dat ze alsmaar weggejaagd worden van plekken in de openbare ruimte, dat geeft een onprettig gevoel. Omgekeerd geldt dat voor bewoners die blikjes in hun tuin vinden of een grote mond krijgen. Het loopt nooit uit de hand, maar het gaat om het gevoel. Mensen lijden het meest aan de vrees."
"We hebben hier de Jungle, een soort jeugdhonk, dat bestaat al 30 jaar. Daar was vroeger veel belangstelling voor. Sinds de alcoholwet mag daar niet meer gedronken worden en daarmee is de belangstelling afgenomen, want de jongelui willen wel iets drinken. Het dorp heeft jonge kinderen veel te bieden maar pubers heel weinig."
"Ook jongeren moeten zich geborgen en veilig voelen. Zijn er voldoende faciliteiten en is er genoeg te doen? Het is vervelend om alsmaar weggejaagd te worden. Dergelijke vragen krijgen meer betekenis in een periode van corona."
"Een vervolgprobleem is dat jongeren hier niet kunnen wonen. Als je hier geboren bent, moet je hier 'gewoon' weggaan als je op jezelf wilt gaan wonen. Er is amper een locatie om te bouwen. Jongeren willen vaak wel een tijdje weg uit het dorp, een tijd wonen in de stad, het 'echte leven', maar dan willen ze na een paar jaar toch graag terug. Het punt is echter: je kunt nergens een woning krijgen. Dat speelt natuurlijk niet alleen hier, dat is een landelijk probleem. Ik zou dat zelf niet onveilig noemen, maar het is wel heel triest en vervelend dat je óf bij je ouders moet wonen óf drie hoog achter in een klein kamertje."
"De identiteit van Vijfhuizen is heel belangrijk. Hoewel je niet namens alle inwoners kunt spreken, is er bij veel mensen het gevoel van veilig en warm."
"Alles bij elkaar opgeteld zijn er veel ingrediënten in het dorp om veiligheid te bewerkstelligen. Kinderen kunnen in het dorp al op jonge leeftijd op voetbal en tennis. Voor ouderen zijn er een ouderensoos, de kerk, er zijn laagdrempelige maaltijden in het dorpshuis en de kerk, alles georganiseerd door vrijwilligers. Als je het een beetje uitkient, kun je drie- tot viermaal per week gezamenlijk eten. Over het algemeen let men op elkaar, er wordt naar je omgekeken. Als er iemand wordt gemist, gaat er iemand langs. Mensen hebben de sleutel van elkaar. We hebben een feestweek waar je elkaar kunt leren kennen en samen doorgroeit. Per jaar komen er steeds meer clubjes die mee willen doen. Dat geeft een band."
"Alles bij elkaar is er een behoorlijk lokaal sociaal vangnet en daarnaast geldt het praktische principe 'wat kun je zelf' en waar heb je hulp nodig van de lokale overheid."
Wisselende schaalniveaus
"Op dit moment, na twee jaar pandemie, voel ik in de samenleving dat we aan onze grenzen komen. De meeste van mijn vriendinnen hebben kinderen en kleinkinderen en maken zich daar veel zorgen over. Ik ben wel getrouwd maar heb geen kinderen. Door de grote zorgen, de wereld en het klimaat, de stemming op de sociale media, word ik minder direct geraakt. Als ik over twintig jaar doodga, hoef ik me over niemand meer zorgen te maken.
Het gebied van onze zorgen en onze veiligheid lijkt klein in vergelijking met het schaalniveau daarboven met klimaat, cyberaanvallen, oorlogsdreiging. Maar dichtbij dreigt de groeiende kloof die ontstaat door bijvoorbeeld de coronacrisis, verharding en financieel kunnen meedoen in de samenleving. Ik denk dat het heel moeilijk is om die verharding tussen die verschillende groepen te bestrijden vanuit de gemeente."
"Het lijkt erop dat de waakzaamheid er wel is in onze gemeente, met de zorg dat alle partijen hun zegje kunnen doen. Zodat we de democratie in de gemeente bewaken."