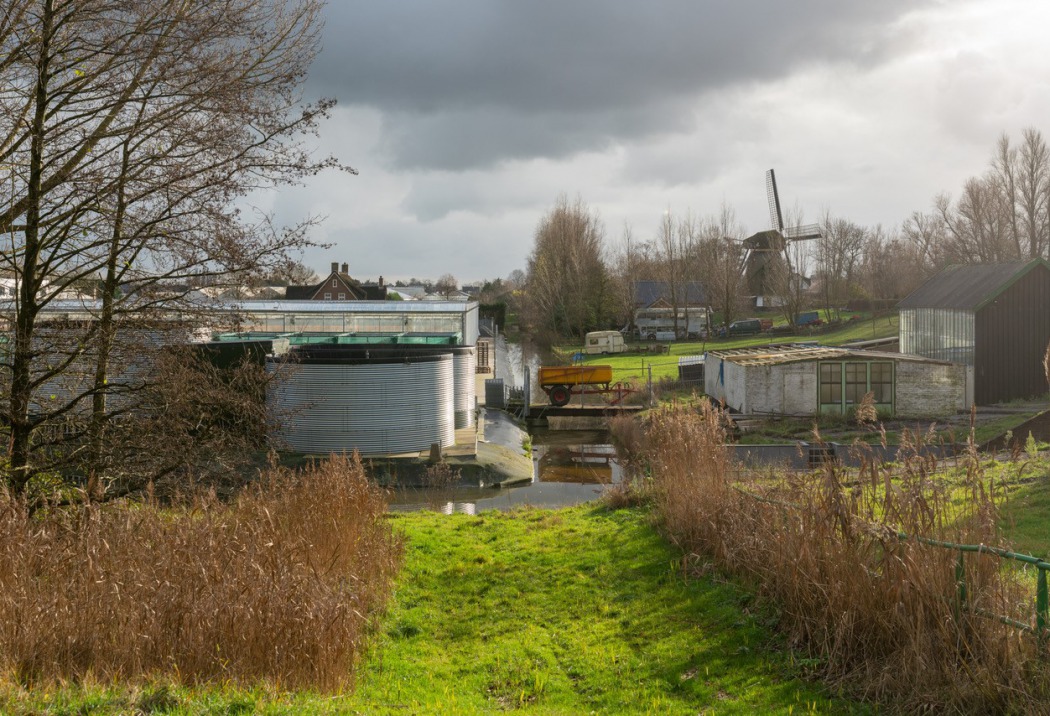 Op de pedalen 4 // Planoloog Bossink en activist Moeijes
Sectie

Theo Baart
Mobiliteit
Fietsroutes
Tijs van den Boomen
Veiling
Op de pedalen
Onder de banen
Samen omspannen ze het groene spectrum: Ton Bossink is als projectleider van de provincie Noord-Holland verantwoordelijk voor de ontwikkeling van de Westeinderscheg en Marga Moeijes vecht als bewoonster van Uithoorn met succes voor een nieuw bos. Top-down versus bottom-up dus? Ja, maar een tegenstelling is dat allerminst.
Verslag van een fietstocht van 27,5 kilometer op dinsdag 14 juni, een warme, zonnige dag met een zwakke noordoostenwind. Tekst & route: Tijs van den Boomen.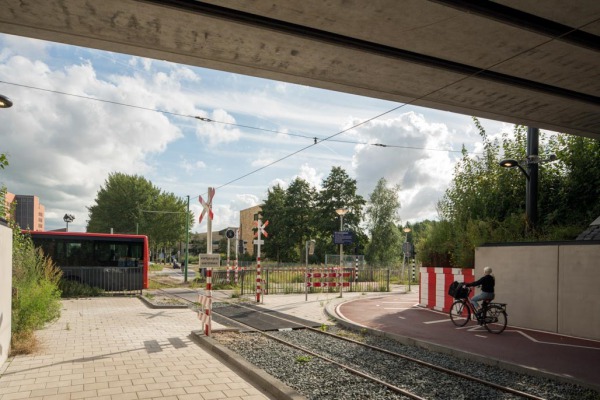 'Fysiek is deze verbinding tiptop, maar als entree slaat het natuurlijk helemaal nergens op', zegt Ton Bossink terwijl we in de twintig meter brede tunnel staan die voetgangers, fietsers en de museumtram onder de A10 doorvoert (1). 'Waarom geen kunst op de wanden in plaats van deze graffiti en vooral: waarom geen informatie over alle prachtige plekken die je van hieruit kunt bereiken. Mensen hebben geen idee en dat is zo zonde.'
Sinds krap een half jaar is Bossink projectleider gebiedsontwikkeling Westeinderscheg, maar de scheggen zijn hem al veel langer vertrouwd, zowel uit zijn Amsterdamse tijd toen hij werkte aan het metropolitane landschap, als later bij zijn werk voor de provincie. 'De groene verbindingen tussen Amsterdam en het omringende landschap zijn een nauwelijks te overschatten erfenis van Van Eesteren. De Metropoolregio Amsterdam groeit de komende dertig jaar van 2,5 naar 3,2 miljoen inwoners, zonder scheggen zou dat tot een onleefbare woestenij leiden. Groen is het goud voor de regio.'
De scheggen mogen dan al bijna een eeuw oud zijn, dat geldt niet voor de Westeinderscheg, die Bossink onder zijn hoede heeft. Dat is een nakomertje, waarvan zelfs de naam nog niet is uitgekristalliseerd. Vaak wordt ze de Amsterdamse Bosscheg genoemd en volgens Bossink zou Schinkelscheg eigenlijk een beter benaming zijn omdat ze vanaf het Centraal Station via de Schinkel naar het zuidwesten loopt, maar beide benamingen zijn te veel vanuit Amsterdam gedacht. Buiten de stad zijn de Westeinderplassen, waar de scheg eindigt, veel bekender, vandaar de keuze voor die naam.
Boter-kaas-en-eieren
'De Westeinderscheg heeft grote kwaliteiten, maar het probleem is dat niemand ze kent. Het begin en het einde zijn goed: het Amsterdamse Bos en de Westeinderplassen. Maar het tussengebied is lastig. De Bovenlanden zijn prachtig, maar nauwelijks toegankelijk. En in de rest van het gebied heerst de economische logica van de veiling en Schiphol. Dat is een realiteit: je kunt er niet met een groene kwast overheen en denken dat je dan een Amstelscheg krijgt. Het gaat om ingrepen die passen bij het gebied.' En dan, ietwat onverwacht: 'Ken je boter-kaas-en-eieren?' Bossink pakt een stukje papier en tekent een raster van horizontale en verticale lijnen. 'Dit zijn de verbindingen en die ontbreken in de Westeinderscheg voor een deel, samen met de entrees vormt dat de eerste opgave.' Vervolgens zet hij op verschillende plekken punten op de lijnen. 'Dit zijn de bestemmingen: plekken waar je naartoe wilt. Daarvan zijn er nog te weinig, dus die moet je toevoegen. Niet zelf, maar door aan te haken bij particuliere initiatieven die er zijn.' En tot slot arceert hij een aantal vlakjes van de matrix: 'Je moet per deelgebied kijken of er dynamiek is. Een gebied dat is aangewezen als nieuw kassengebied zit voor decennia op slot, dus dat laat je met rust. Maar "oud glas", dat moet worden geherstructureerd, biedt kansen waar je op mee kunt liften.'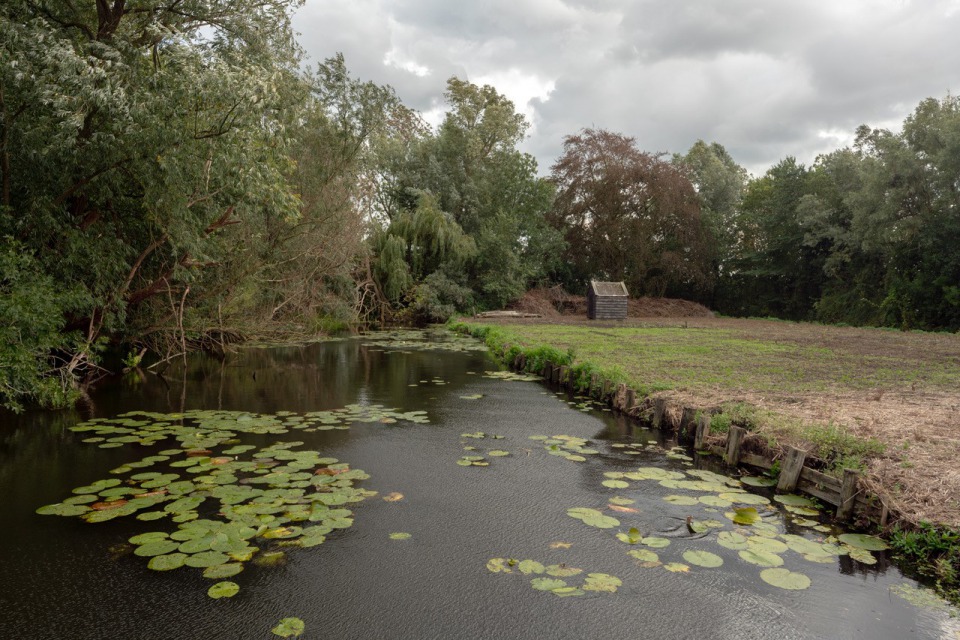 Oké, de structuur is me helder, maar wat moet ik me daar in de praktijk bij voorstellen, heeft Bossink al concrete voorbeelden? 'Zo'n route zou je bijvoorbeeld van Schiphol-Oost naar de Amstel willen. Een nieuwe bestemming zou het Legmeerbos kunnen worden. En een gebied met dynamiek is bijvoorbeeld de Oosteinderdriehoek. Let's go.'
Een nieuwe lijn
We fietsen langs de Bosbaan en vervolgens een stukje langs de Ringvaart en verlaten bij de Schipholbrug het Amsterdamse Bos. Voorbij de kaalslag van de verbreding van de A9 rijden we het terrein van Schiphol-Oost op, langs de voormalige verkeerstoren en een AH to go, bij een druk kruispunt stoppen we. 'Dit', zegt Bossink met enige dramatiek, 'is een entree van de Westeinderscheg. Niet alleen de aankleding is hier ondermaats, zoals bij de A10, maar ook de verbinding zelf: veel te druk en veel te veel infra. Je kunt je niet eens vóórstellen dat er iets moois achter ligt.'
Hij wil bijna een kilometer westelijker, op het terrein dat nu nog achter de hekken van Schiphol ligt, een brug voor fietsers en voetgangers rechtstreeks naar het Schinkelbos (2). 'Zo'n ingreep zou van Schiphol-Oost een echte entree maken. Dat is duur, zeker, maar KLM wil zijn hoofdkantoor van Amstelveen naar hier verplaatsen, dat zou het moment kunnen zijn om samen te investeren. Die brug zou dan het begin zijn van een route onder Amstelveen langs naar de Amstel.'
Voorlopig zijn we nog aangewezen op de N231, die met een ophaalbrug terugvoert naar het Amsterdamse Bos. Bij een rotonde met een aparte oversteekplaats voor paarden moeten we een rare slinger maken – 'Hier zie je dus ook al helemaal niet waar je naartoe moet' – en komen in de overweldigend lege ruimte van het Schinkelbos terecht, met links blinkend moderne kassen en rechts grazende Heckrunderen (3). Aan het einde stuiten we op een lustig begroeide voormalige vuilnisbelt, een achtkantig stoomgemaal en een rietgedekte windmolen (4).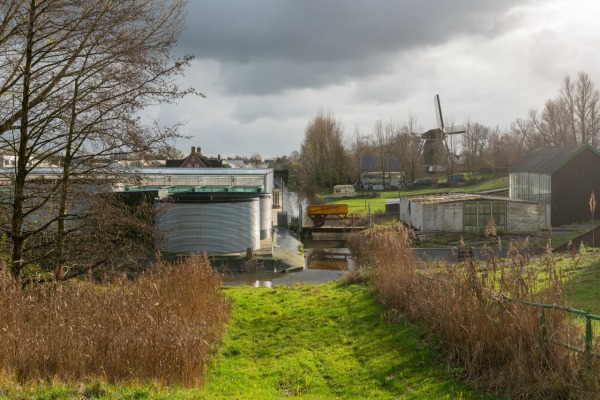 En nog één
Achter het gemaal en de molen beginnen de Bovenlanden, een smalle, langgerekte veenstrook die zich, bijna ononderbroken, acht kilometer langs de ringvaart uitstrekt tot halverwege de Westeinderplassen. Dit is de backbone van de tweede helft van de scheg, een met slootjes doorsneden natuurgebied dat een paradijs is voor wie er woont of een bootje heeft, maar ontoegankelijk voor alle anderen. En dus ook voor ons, we buigen noodgedwongen af naar het oosten.
Aan de toegankelijkheid van de Bovenlanden is niet veel te doen, je zou er hooguit hier en daar een voetpad in kunnen prikken, met aan het einde een bankje. Maar wat wel kan, vertelt Bossink, is een mooie langzaam-verkeerroute erlangs, en die ligt zelfs voor het oprapen. Parallel aan de Oosteinderweg ligt namelijk de Hogedijk, een lieflijk groen dijkje dat achter de tuinen langs helemaal naar Aalsmeer loopt. Hoe laag de dijk in weerwil van zijn naam ook is, hij heeft nog steeds een waterkerende functie en wordt nu iets opgehoogd en versterkt. Er ligt voor een groot deel al een schelpenpad op, maar enkele van de driehonderd eigenaren weigeren passanten de doortocht nog. 'Een kwestie van geduld', zegt Bossink berustend.
Dynamisch oud glas
Bossink heeft geen tijd om langer mee te fietsen, hij moet naar het Provinciehuis, maar wijst me hoe ik verder moet om de lijn naar de Amstel op te pikken. 'Eerst kom je langs de Oosteinderdriehoek, waar een woonwijk gepland staat (5). Dat is zo'n dynamisch gebied uit mijn boter-kaas-en-eierenschema. Door daar een groene bufferstrook aan toe te voegen, creëer je weer een stukje van de verbinding tussen Westeinder- en Amstelscheg.'
Het oude glas in de Oosteinderdriehoek blijkt al goeddeels gesloopt. Via een oud weggetje en een hek dat toevallig openstaat steek ik door naar de Westwijk, slalom tussen de jarennegentigbebouwing door en kom er aan de andere kant bij de Nesserlaan weer uit, een prachtige bomenlaan met aan weerszijden een sloot. Die kan zo in Bossinks balboekje.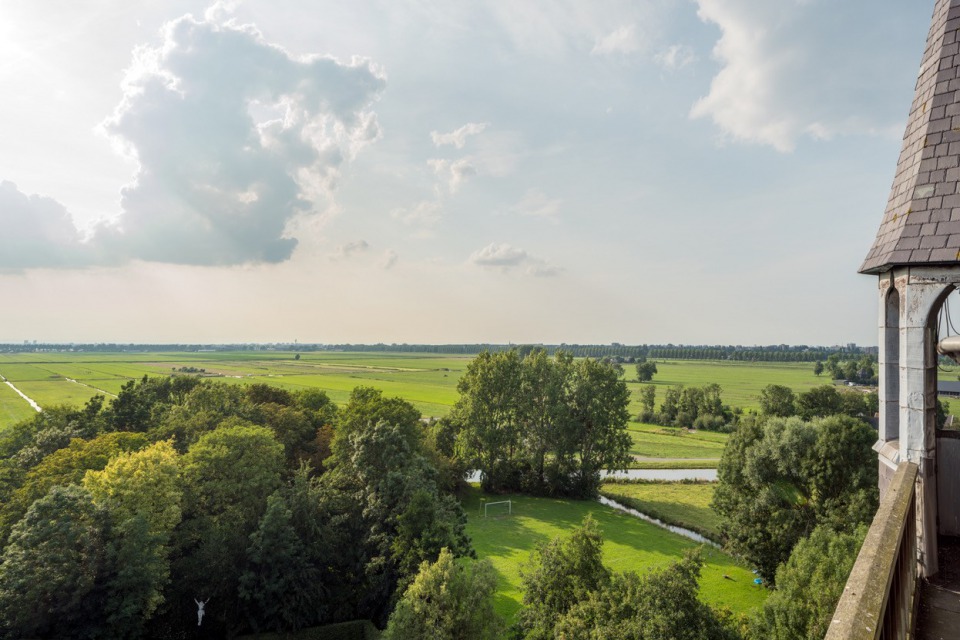 Vlak voor de Amstel sla ik rechtsaf de Middenweg in, die net zo recht is als de Nesserlaan, maar dan zonder bomen en vooral: zonder auto's. Ik fiets door de ongerepte Bovenkerkerpolder, die er nog bijna net zo bij ligt als toen ze in de achttiende eeuw werd drooggelegd, alleen de mobiele vogeltelhutten wijzen op de 21e eeuw.
Aan het einde staat mijn volgende gids al op me te wachten, die me op het laatste stuk van deze verkenning zal vergezellen.
Compensatie
Marga Moeijes is een Amsterdamse die al bijna veertig jaar in Uithoorn woont en op vele fronten actief is: ze is burgerraadslid van de PvdA, voorzitter van Uithoorns actiefste bewonersclub en drijvende kracht achter het Legmeerbos. 'Ik ben daar in 2018 aan begonnen uit wanhoop over een paar dingen die samenkwamen. In de eerste plaats was er de enorme groei van het aantal starts vanaf de Aalsmeerbaan en de daarmee gepaarde gaande overlast. Vervolgens kwam de boodschap dat de tram van Amstelveen werd doorgetrokken naar Uithoorn, waardoor een groenstrook van een kilometer lang met 150 volwassen bomen moest wijken, het uitwaaigebied van de wijk Legmeer. En tot slot kregen we Bedrijventerrein Amstelveen-Zuid (BTAZ) voor onze kiezen, op een steenworp afstand van de huizen. Compensatie was dus heel hard nodig.'
Over de Hollandse Dijk fietsen we naar het westen, tevreden wijst ze links het Libellebos aan (6), een park van 27 hectare dat begin jaren zeventig is aangelegd, en rechts de ruige groenstrook van 20 hectare die de gemeente Amstelveen begin jaren tien aanlegde als watercompensatiegebied voor de nieuwe N201, die Uithoorn afsneed van de Bovenkerkerpolder. So far so good.
Haar vrolijkheid taant bij de Zijdelweg, waar de op- en afritten van de N201 fietsers dwingen tot een flinke omweg. Of tot een illegale en niet ongevaarlijke oversteek, dat kan natuurlijk ook. Meteen na de kruising wijst Moeijes rechts op een hoge hal in aanbouw (7). 'Vier jaar geleden begon die eigenaar daar zonder vergunning te bouwen, we slaagden erin dat stil te leggen, maar sinds het bestemmingsplan voor het BTAZ is vastgesteld mag het wel en kon hij weer verder.'
Het is de eerste grote doos die daar verrijst, maar zeker niet de laatste: de hele strook tussen Aan de Kant, zoals de Hollandse Dijk hier heet, en de provinciale weg komt vol te staan. Toch hebben Moeijes en de haren wel iets bereikt: 'Eerst zouden de dozen op dertig meter van de huizen komen, we hebben een buffer van 56 meter weten te bedingen, zodat er plaats was voor een brede groenstrook met natuurvriendelijke oevers en een wandelpad, en een maximale bouwhoogte van negen in plaats van twaalf meter.'
Een nieuwe bestemming
Vlak voorbij de bouwplaats waar hard wordt gewerkt aan het doortrekken van de tram slaan we linksaf de Randhoornweg in, een van de vreemdste wegen die ik ooit bereed. We slalommen rechts, links, rechts, links en zo verder tot we negen bochten hebben gemaakt om een afstand van negenhonderd meter te overbruggen. Wat is dit? 'Een manier om de snelheid uit het autoverkeer te halen', zegt Moeijes droogjes, 'we wilden de bochten er graag uit om meer plaats voor ons bos te maken, maar dat was niet haalbaar.'
Als ik vraag of de rest van gebied dan helemaal bos wordt, begint ze te lachen en somt alle andere functies op die zullen blijven, van een woonwijkje tot een wielerbaan, van een evenemententerrein tot scholen en van parkeerterrein tot een maximaal beschermd natuurgebied van de provincie waar niemand in mag.
Het Legmeerbos (8) zelf wordt maar klein: drie hectare plus een veld van twee hectare waarvan ze de randen mogen inrichten. 'Natuurlijk hadden we liever meer gewild, maar door slim aan te sluiten op het park van de woonwijk en de tiny forests die we de afgelopen jaren met de scholen hebben aangelegd, ontstaat toch een groene verbindingszone.' Want verbinding, daar gaat het plan om.
De door Moeijes ingeschakelde landschapsarchitecten schetsen het Legmeerbos als schakel in een groene verbinding tussen de Amstelscheg en de Westeinderscheg, precies zoals Bossink graag ziet. De provincie zal financieel dan ook gaan bijdragen aan het bos, net als de gemeente Uithoorn, de Stichting Leefomgeving Schiphol en de Postcodeloterij. Geld blijkt het grote probleem niet, wat vooral knelt is het gebrek aan ruimte. 'We hebben het bos tegen de klippen op moeten bevechten, twee jaar terug wilde de gemeente de honkbalclub uit de Kwakel nog hierheen verplaatsen om daar plaats te maken voor woningbouw. Maar nu is de besluitvorming bijna rond.'
Leeg, maar voor hoe lang nog?
Om te laten zien hoe de groene verbindingszone na de Hollandse Dijk en het Legmeerbos verderloopt, stappen we weer op. Bij de oude N201, die de N196 heet sinds de nieuwe N201 buitenom Uithoorn loopt, opent zich het landschap. Tenminste aan de zuidzijde waar een anderhalve kilometer lang maisveld ligt, aan de noordkant ligt eerst een bedrijventerrein en daarna de veiling. Plaats genoeg voor de gewenste groene zone?
We slaan halverwege het open land linksaf en rijden tussen de akkers door. Moeijes vertelt dat de boer links zijn land het liefst wil verkavelen voor luxe villa's, zoals een stukje verderop al is gebeurd aan weerszijden van de Iepenlaan. Dit gebied valt onder de geluidshinderzone, dus er mogen maximaal 25 woningen komen, dat is, voorzichtig uitgedrukt, niet veel voor bijna 20 hectare land (9).
Rechts is het land in handen van twee eigenaren: de strook parallel aan de N201 is aangekocht door de veiling, en Moeijes heeft het donkerbruine vermoeden dat dat niet is gedaan om er een groene strook van te maken (10). Optimistischer is ze over de andere helft, die parallel aan de Vuurlinie ligt (12). De gebroeders Van Kessler, die het gebied door overerving hebben verkregen, hebben oren naar een zonnepark in combinatie met groene educatieve functies, waaronder wellicht een voedselbos van vijf hectare.
Aangekomen bij de Vuurlinie, een overblijfsel van de Stelling van Amsterdam, slaan we eerst even linksaf waar Moeijes het Vrije Noortveen wil laten zien, een natuurgebiedje dat ook met geld van de Stichting Leefomgeving Schiphol is aangelegd (11). Mooi vindt ze het, maar geïsoleerd en in de praktijk alleen bestemd voor de bewoners van de luxe villa's aan de Iepenlaan. En of dat nou zo zinvol is?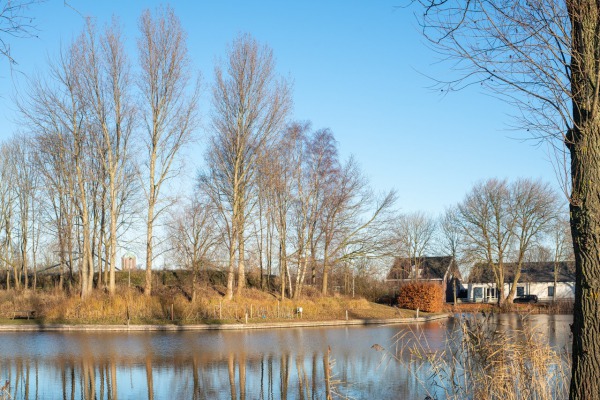 We draaien om en rijden de kaarsrechte Vuurlinie (13) af naar het westen, met links het voormalige schootsveld van de Stelling, waar zich inmiddels een grootschalig kassengebied heeft gevestigd, en rechts de lege akker waarop mogelijk een voedselbos komt. Na de kruising met de N231 is de Vuurlinie verdwenen onder de kassen, en via een kleine omweg bereiken we het eindpunt van deze historische lijn, Fort Kudelstaart (14).
Van het water van de Westeinderplassen is helaas niet veel te zien, maar de plannen voor het fort, waar Bossink het al over had, moeten daarin verandering brengen. Het moet een nieuwe publieksbestemming worden, met vrij zicht op het water.