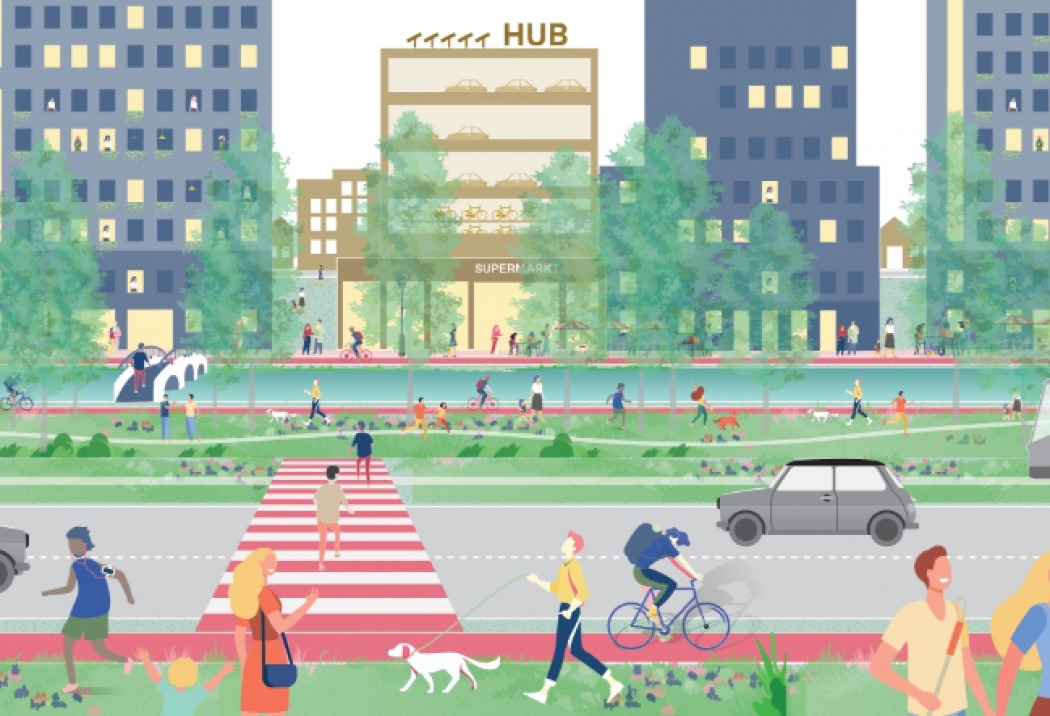 Esli heeft behoefte aan integrale ontwikkeling
Sectie

Gesprekken
Haarlemmermeer Groeit
Ik ben geboren en getogen in Hoofddorp en ben daar altijd blijven wonen. Samen met mijn ex-vriendin woonde ik in een huurappartement en we gingen paar jaar geleden op zoek naar een koophuis. We wilden toen een koophuis, een rijtjeshuis. Toen zijn we ingeloot in een nieuwbouwproject.
Inmiddels is de relatie stukgelopen, maar ik ben in het huis blijven wonen. Vlak bij het centrum, dat is een mooie bijkomstigheid om te wonen in het centrum. Ik kan het centrum inlopen, mijn familie wonen dichtbij, en mijn vrienden ook. Het is wel het gemak van in het centrum wonen.
Behoefte aan ruimte en privacy.
Ik zou wel in een rijtjeshuis willen blijven wonen, maar ik vind niet elke wijk leuk, daar ben ik wel kritisch op. De wijken die ruimer opgezet zijn, vind ik beter dan de vaak wat oudere wijken die erg krap zijn, zoals Bornholm. Daar zou ik absoluut niet willen wonen. Maar het hoeft en hoefde niet per se Hoofddorp te zijn. Ik woon er wel al mijn hele leven, maar ik ben er niet erg aan verbonden. Nieuw-Vennep zou ook kunnen, maar het moet wel een paar bepaalde eisen voldoen.
Of ik hier over twintig jaar nog woon kan ik niet zeggen. Ik sluit het niet uit. Op dit moment woon ik gewoon goed, er is voldoende ruimte, de verbinding is perfect, mijn familie en vrienden wonen in de buurt. Als ik over twintig jaar nog in Hoofddorp woon, dan woon ik niet in Hyde Park maar ik hoef ook niet in een villa op Eiland 5 te wonen. Hyde Park is mij te druk. Twee buren is voldoende, dan heb je wat meer privacy en kan je meer je eigen ding doen zonder het gevoel te hebben overlast te veroorzaken. Iedereen heeft zijn eigen voorkeur, anderen zullen dat vast prima vinden. Kijk, wat gewoon ideaal is, is dat je rustig woont in Hoofddorp, het centrum met de voorzieningen in de buurt en je kan overal binnen een half uur zijn. Echt gezellig is het in het centrum niet, dus je kan net zo makkelijk in Amsterdam of Haarlem afspreken om op het terras te zitten. Het ligt gunstig, je kan ook even naar het strand. Voor mijn werk moet ik vaak naar verschillende locaties. Zo had ik laatst een opdracht in Den Bosch en dan zit je met de auto zo op de snelweg. De centrale ligging bij uitvalswegen is gewoon erg belangrijk.
Langetermijnplan voor het ontwikkelen van Hoofddorp (centrum).
Ik vind wel dat het nodig is om het centrum van Hoofddorp verder te ontwikkelen. Als ik zie hoe dat bijvoorbeeld in Zaandam is gedaan, dan zou ik zo'n ontwikkeling Hoofddorp ook van harte gunnen. Nu heb ik het gevoel dat ze maar wat doen, zonder dat er een lange termijnplan hebben. Kijk naar het Burgermeester van Stamplein. Dat had je gelijk goed kunnen aanleggen, nu is het allemaal net niet. Het is er niet gezellig, je kan er niet lekker zitten en er wordt geen evenement georganiseerd omdat er dan overlast is voor omwonenden. Dus dan krijg je een groot open plein waar geen sfeer is.
Wat je zou kunnen doen is het Raadhuisplein gezellig maken. Daar zit je lekker uit de wind en het voelt wat meer besloten. Plannen voor ontwikkeling voor het centrum zijn er. Wat is het plan met het oude gemeentehuis? Dat is een plek, als je er nu toch gaat ontwikkelen, waar je wat van kan maken. Waarschijnlijk heb je dan te maken met verschillende ontwikkelaars, met elk een eigen idee of belang en dan krijg je vast vergelijkbaar resultaat met in de rest van het centrum al zichtbaar is. Als je door het centrum loopt, dan is alles anders. Dan zie je een ontwikkeling, vervolgens een eigenaar die niet meedoet, en dan wordt daar omheen gebouwd. Ja, dat stoort en heeft effect op de beleving van het centrum. Het is gewoon onsamenhangend.
Er lijkt wel niet goed over nagedacht te zijn. De Kruisweg is ook ontelbaar keren opengebroken en heringericht. Althans, er is heus wel goed over nagedacht door de gemeente, ik heb er wel vertrouwen in dat dat gebeurt, maar het lijkt wel alsof ze dat stukje per stukje bekijken.
Ik mis het geheel, een goede aanpak voor een integrale visie. Waar wil je heen over dertig jaar? En hoe komen we daar?
Kijk naar PARK21, er ligt een park maar niet echt uitgewerkt. Er ligt een lap grond, maar wat is het plan? Het lijkt ergens begonnen maar het lijkt alsof het niet is afgemaakt. Is dan opeens het geld op? De leefomgeving wordt beter als erover nagedacht wordt.
Als je kijkt naar bijvoorbeeld Badhoevedorp, dat is een voorbeeld van een ontwikkeling die goed is. Met het verleggen van de A9. Als je de tijd hebt, staat er gewoon iets moois. Daar is een lange termijnvisie en je ziet dat het gewoon een goede, integrale ontwikkeling is. Daar is in het centrum van Hoofddorp ook behoefte aan. Doe het goed, of doe het niet. Anders blijf je bezig, zonder daadwerkelijk kwaliteit toe te voegen.